Is it Italian? Is it Japanese? Pizza rice bowls offer tasty twist on a popular dish
by
Theron Godbold
Stars and Stripes
June 17, 2021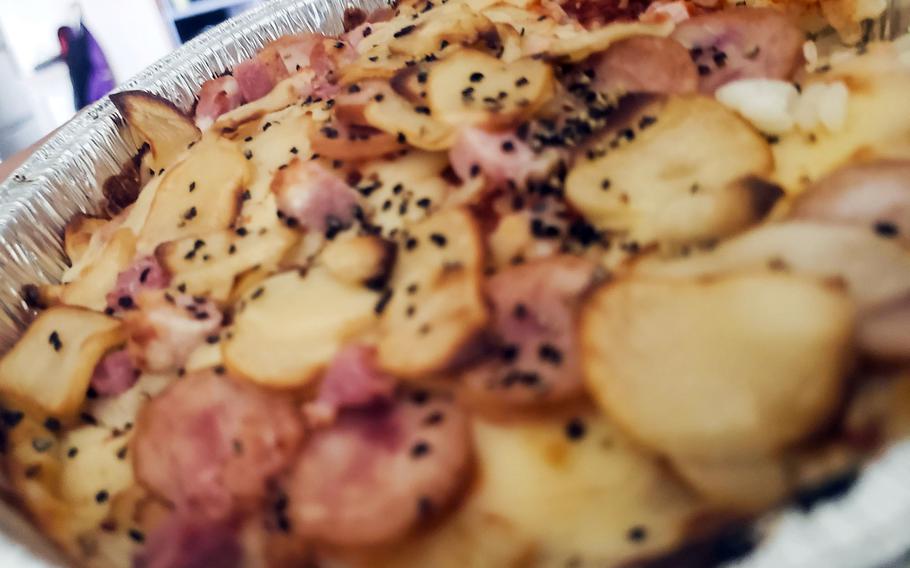 In the 1979 American comedy film "The Jerk," Steve Martin's character espouses the virtues of pizza in a cup.
Four decades later, Domino's Pizza locations across Japan are doing the same for a similar offering – pizza in a bowl – and with rice to boot.
In a nutshell, these pies, introduced late last month, include all the same cheesy and meaty toppings as their circular savory counterparts, but with a bed of buttered rice replacing the crust.
A tongue-in-cheek video on the Domino's Pizza Japan website tells how the pizza bowl's creators came up with the idea after failed experiments with pizza sushi, pizza tempura and pizza ramen. "No good," a bearded man says after biting into a pie comically topped with a hardboiled egg, whole slices of chashu pork and spring onions.
There are seven pizza bowl combinations available, ranging in price from 799 yen to 999 yen (about $7.30 to $9.10). Here's the full roster: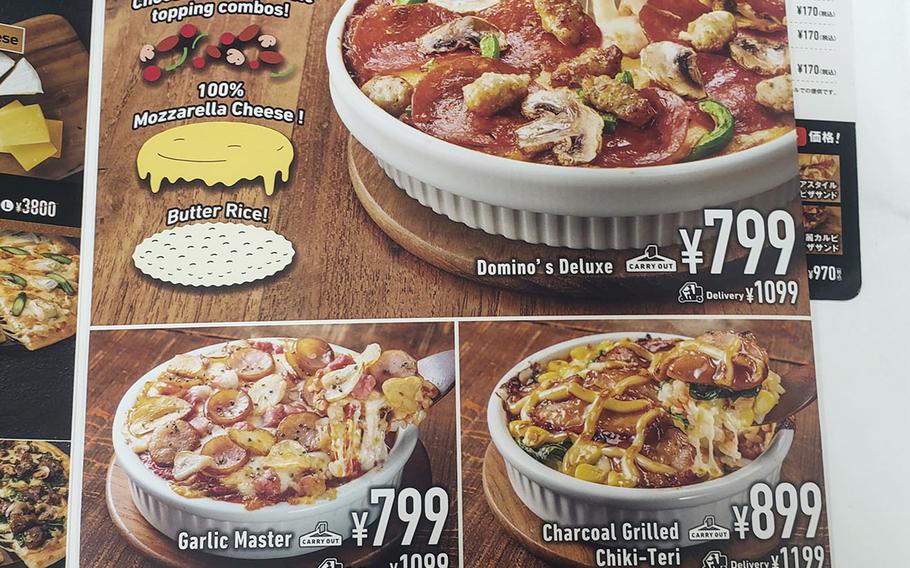 Deluxe (pepperoni, Italian sausage, mushrooms, green peppers, onions and tomato sauce); Garlic Master (a double serving of garlic, pancetta, pork sausage, black pepper and tomato sauce); Charcoal Grilled Chiki-Teri (teriyaki chicken, teriyaki sauce, spinach, corn, mayo and tomato sauce); Goryeo Galbi (Korean-style beef ribs, cheese, green peppers and garlic); and Char-grilled Beef (char-grilled beef, cheese, spinach and mushrooms).
Two options have white sauce: Seafood Special (shrimp, octopus, mussels, two types of clams, two types of cheese, and cherry tomatoes); and Five Cheese (bocconcini, camembert, parmesan, gouda and cheddar).
I tried the Deluxe and Garlic Master. The former, which seemed to me the safest option, came out looking almost exactly like any deluxe pie you'll get in the States.
The flavor was spot on as far as the toppings go, and I really enjoyed it. But, as I continued to eat, a nagging feeling kept telling me something was missing. I came away realizing how important that soft, buttery crust is for tying everything together on pizza. Rice was a poor substitute.
The Garlic Master ended up being my favorite, maybe because I wasn't forced to compare its flavors to a crusted counterpart. More pilaf than pizza, the bite of the garlic and pepper blended well with the mildness of the buttery rice and melted cheese. Highly recommended.
Each bowl serves one person, according to the pizza giant, and I agree that they would be great to grab for a quick lunch or takeout for dinner. Just be open to something a little out of the ordinary.
godbold.theron@stripes.com; Twitter: @TheronGodbold
---
---
---