Following his footsteps: J.R. Martinez
by
kiracofed@stripes.osd.mil Danielle L. Kiracofe
November 22, 2011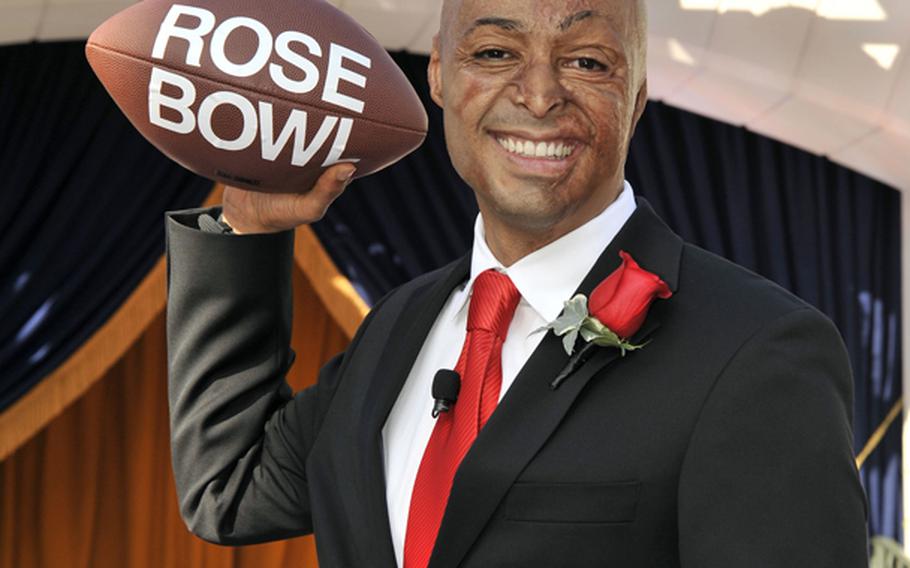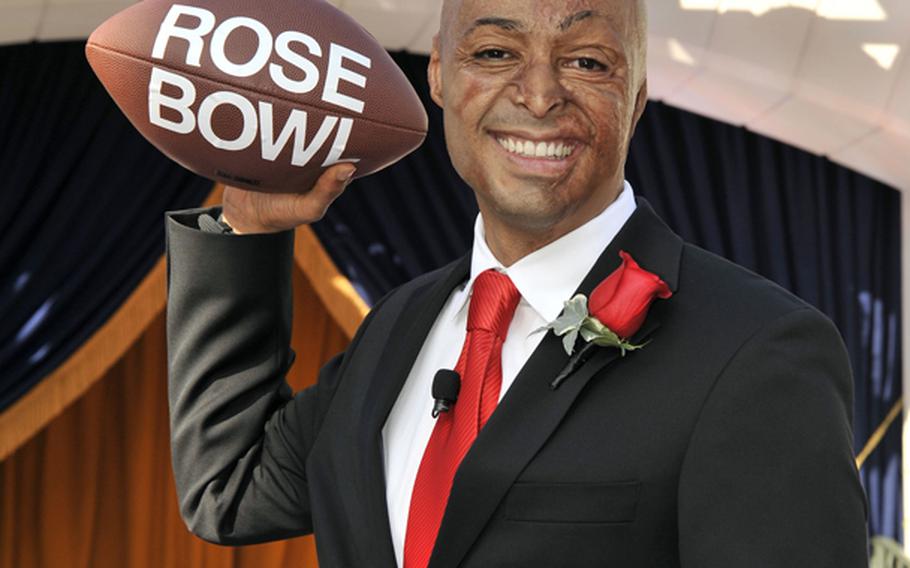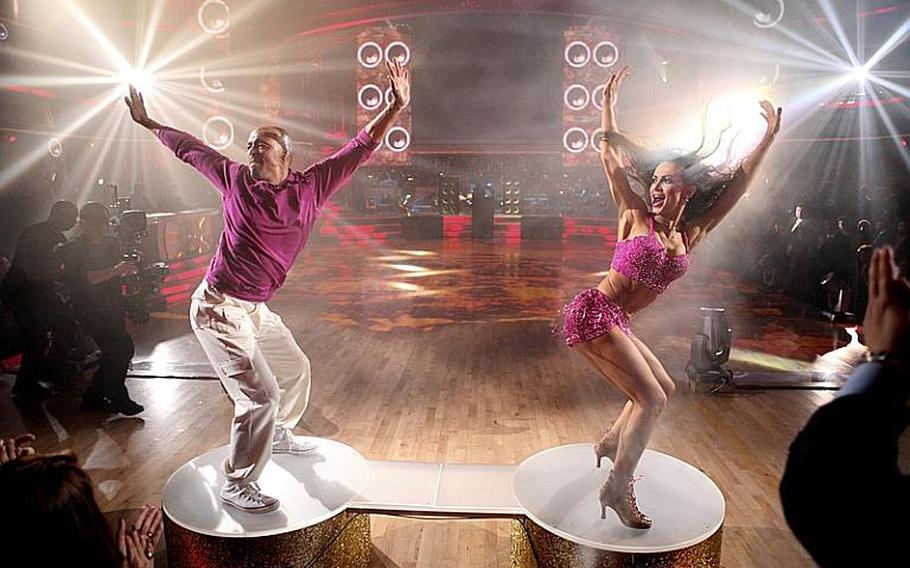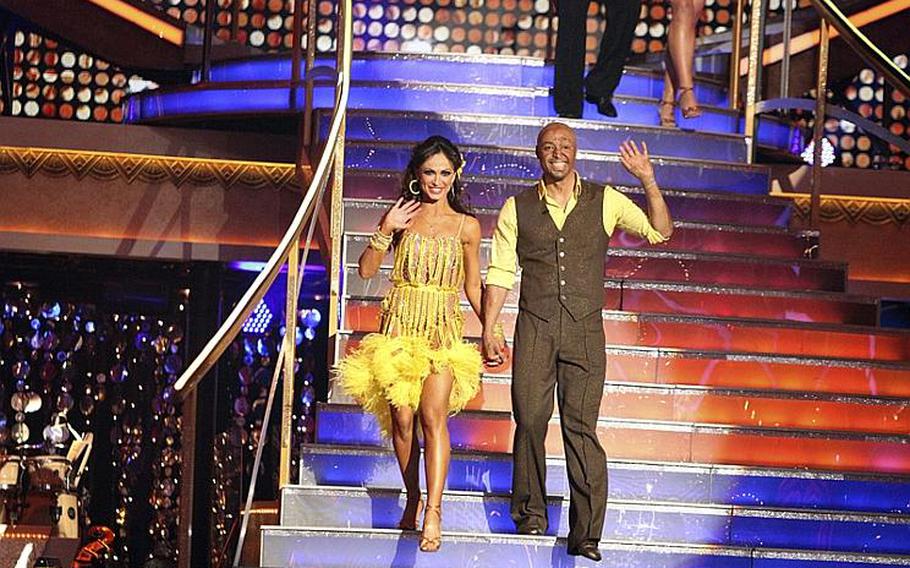 Let's just get this out of the way:
J.R. MARTINEZ WON! HE WON! HE WON "DANCING WITH THE STARS"!And his partner, professional dancer Karina Smirnoff, won the competition for the first time.
"I want to thank everybody who voted for us for 10 weeks.... Thank you, America for believing in us," the Army veteran and actor said afterwards. And then he looked at his partner. "I'm so grateful that I was able to be a part of your first mirrorball trophy."
And what a win it was. In third place after the previous night's performance, #TeamMartinoff came roaring back with two solid performances.
The show opened with what they called "round 3." For this round of competition, each couple – Martinez and Smirnoff, Ricki Lake and Derek Hough and Rob Kardashian and Cheryl Burke performed their favorite dance this season. The judges watched all of the couples in turn, then ranked them from first to third and gave them a 30, 28 or a 26 depending on how they placed.
Martinez explained in a clip before he and Smirnoff danced third why they chose their jive from Week 2. The first time they did this program, they scored a 22. Martinez recalled that judge Carrie Ann Inaba took off points for the lift and judge Len Goodman felt like the dance was more lindy than jive. He wants to improve on these. Martinez's impression of Goodman was spot on.
Then Martinez and Smirnoff shared a sweet moment when they realized this will be their last rehearsal. Martinez points out that they have spent hours of every day together for 3 1/2 months. "As much as I wanted to go home, I'm going to miss it," he said.
The jive meant there was another newspaper shout-out! They started the lift, then Martinez shook his finger at the judges and the dancers went to something else. He missed a step or three after the jump off the stage. I have to be honest, I liked the first time they did this performance better. Not only because of the missed steps, but because Martinez didn't seem to have the same oomph that he'd shown the first time.
From the judges
Inaba: "You are such a catalyst for joy!"
Goodman: "J.R., you did exactly what I asked you to. You've got such a sparkling personality. You light up this room."
Bruno Tonioli: "Fun fun fun! And I loved it."
Afterwards, Brooke Burke Charvet asked Martinez if he was certain this jive was the right choice. "It fits my personality and it fits our personality," Martinez said. "We had fun."
Martinez came in second for round 3, ahead of Kardashian and behind Lake. At this point, Martinez is third overall, but the stars are separated by only a point or two. It's still anyone's mirrorball.
At about the 9:45 p.m. (Eastern time in the U.S.) mark, a competitor was eliminated: Ricki Lake. I was stunned. "You really get the feeling if you can do this, you can do anything," she said.
The other stars and dancers went down to the floor and hugged Lake and her partner, Hough, after the elimination. I got the impression this season that a lot of the stars were very close and rooting and supporting each other. Later on, host Tom Bergeron talked to competitor Chaz Bono and mentioned Bono had come back every week since being voted off. Bono said that the group had turned into a family and after he left, he'd wanted to come back to support and root the rest on.
Martinez and Kardashian draw to find out their order for their instant samba -- round 4 -- to "Shake Your Bon Bon" by Ricky Martin. There were a lot of jokes about shaking bon bons. Martinez will go first. I'm really thrilled that the samba is the dance tonight – Martinez did a wonderful samba on Week 5. He scored a 28 for that performance, which was the highest score that night. And, of course, Monday night's 10! 10! 10! freestyle was Latin-inspired.
While the two finalists rehearsed the samba, the viewers were treated to wild performances from the eliminated stars. Chynna Phillips redeemed herself with a wonderful performance to the program that she flubbed, leading to her elimination. I loved the dance to "Vogue" from Carson Kressley who was thrilled to get to dance with a Chmerkovskiy – Val. I also got a kick out of Chaz Bono's dance with partner Lacey Schwimmer and Schwimmer's dad, who can move. After David Arquette's performance, he pretended to run off with the mirrorball trophy. "Put that back!" yelled Bergeron.
And then, the last dance. "Shake Your Bon Bon" keeps playing and the next team just segues in. Martinez and Smirnoff gave an OK samba, featuring a really lovely samba roll. It's not really a high-energy or risky performance. There are a few flaws by having an instant dance as the last. First, it's tough on the camera people, who don't know where to look to show off a performance at its best. Second, I think it's tough on the dancers. It's their last chance to perform and it's not likely to be their best performance because it's put together so quickly. There's no reason to go all out, to make it memorable. It's the last night, and the scores are very close. And both teams get the same score from the judges when it's over. A score I felt was overinflated for both.
From the judges, on Martinez:
Goodman: "Well done." He rose and applauded both teams. His scores: 10.
Tonioli: "J.R., you can turn it on at will. You just bring it on, and they love you." His scores: 10.
Inaba: "For one of you, that was your victory dance. Both of you went for it, and that was a great way to end this season." Her scores: 10.
"My body, my mind is grateful that is the last dance, and I get to relax for a couple of days, but I'm going to miss it," Martinez said after the performance.
The final scores from the judges totalled 112 for Martinez and 113 for Kardashian.
But when this night is over, as Goodman said earlier in the show, "One's going to hold the mirrorball trophy; one's just going to hold memories." And it was Martinez who held the mirrorball trophy. The other stars and dancers hoisted him and Smirnoff on their shoulders while Martinez held the ball above his head.
Thank you to everyone who read this recap, and retweeted it, and shared it and commented on it at Stars and Stripes' Facebook. I really was thrilled to get to follow J.R. Martinez's dance steps this season, and I'm glad you were, too. #TeamMartinoff was such a joy to watch this season.
And if you're not following me on Twitter, I'm @dorogaya26. And J.R. Martinez is @knowjr.
---
---
---