Fun, floats await at these seasonal European parades
By
Stars and Stripes
September 16, 2022
---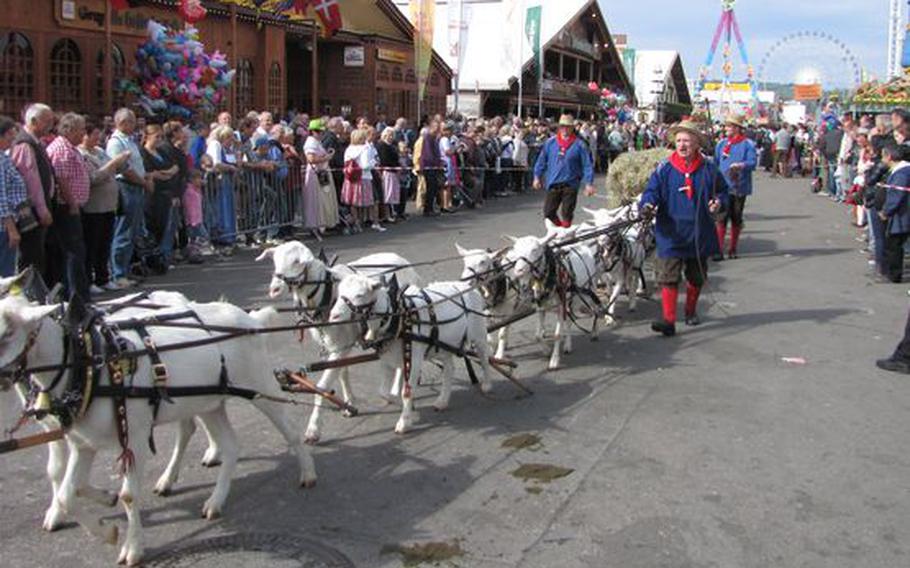 Love a parade? You're not alone, particularly in Europe. Religious holidays, significant dates in history or the crops of the season provide inspiration for countless displays of costumed marchers, decked-out floats, brass bands and other entertainers. Here are just a few such events sure to add a splash of color to the autumn season.
Tiel, Netherlands: The term "corso" refers to a parade made up of floats decorated with flowers of the season or other organic matter. Each float is brought to life through the efforts of volunteers, and the floats compete against one another to be named most beautiful by a jury. The complexity and grand dimensions of the floats, along with the way in which the construction process unites communities, landed Corso culture in the Netherlands a place on the UNESCO Representative List of Intangible Cultural Heritage of Humanity in 2021.
Of the some 30 corsos staged throughout the Netherlands, the event held in Tiel stands out for its use of fruits and vegetables as the decor in its floats. The chance to see this unique display brought to life comes on Sept. 17, the date of two separate events. The daytime version of the Fruit Parade sees a procession of some 20 floats get underway from 1:30 p.m., followed by an evening version of the event starting at 8:30 p.m. Entry tickets cost 8 euros; extra charges for grandstand seating apply. Online: fruitcorso.nl
Munich, Germany: Bavaria's most famous party, the Oktoberfest, always starts at noon on a late September Saturday, when the mayor taps open the first keg and proclaims "O' zapft is!" The day following this opening ceremony is no less traditional, and so, on Sept. 18, Munich's residents and visitors alike will once again take to the streets to witness the "Trachten- und Schützenzug," or Costume and Riflemen's parade.
Starting at 10 a.m., a parade made up of roughly 9,000 participants clad in traditional costumes will make its way through downtown Munich to the Theresienwiese, or Wiesn, short form for the grounds where Oktoberfest takes place. Those marching in unison include members of rifle clubs and historical groups, brass bands and flag-wavers from Bavaria, other regions of Germany and far beyond. Elegant carriages holding local VIPs and horse-drawn brewers' wagons also make up part of the colorful procession first staged in 1835 in honor of the silver wedding anniversary of King Ludwig I and Therese of Bavaria.
The four-mile-long procession sets off from the Max II monument on Maximilianstraße. Paid grandstand seating is available, or watch from the side of the road for free. Online: tinyurl.com/523jrvrb
Stuttgart, Germany: Just like its larger cousin, the Cannstatter Volksfest kicks off festivities with a historical parade. From 11 a.m. on Sept. 25, a two-mile long procession of lavishly decorated horse-drawn brewery wagons, groups in traditional costume, bands, historical militias, farm animals and others will make its way through the narrow streets of Bad Cannstatt and on to the Wasen, the site of beery celebrations through Oct. 9. Entry to both the parade and festival is free. Online: tinyurl.com/4yhwe7ky
Neuchâtel, Switzerland: The Fête des Vendanges, or Grape Harvest Festival, attracts hundreds of thousands of wine lovers to this French-speaking part of the country. From Sept. 23-25, visitors will sample various whites and reds, including the region's specialties of Oeil de Perdrix, Pinot Noir and Chasselas. A highlight of festivities is always Sunday's floral procession, in which some 55 floats bedecked with carnations, dahlias and other blooms makes its way through town. Marching bands playing traditional carnival music and confetti-shooting cannons add more sound and color to the festive atmosphere. The purchase of a festival bracelet for 10 Swiss Francs (about $10.25) entitles its wearer to a standing-room spot from which to view the parade and serves as the means of payment for food and drink. The procession gets underway at 3 p.m. Online: fete-des-vendanges.ch
Barcelona, Spain: Each year, the city by the sea bids farewell to its long hot summer with large-scale celebrations known as La Mercè, set for Sept. 23-26 in 2022. The festival, held in honor of the patron saint Mare de Deu de la Mercè, brings action to the streets in the form of human-pyramid building displays and the staging of Correfocs, fire runs in which spark-emitting dragons and firework-hurling devils interact with the crowds. Protective eyewear and clothing is a must for anyone brave enough to get up close to the action. The Gigantes parade, in which huge effigies of kings, queens and other noble figures are paraded through the streets, is popular with the younger set. Online: barcelona.cat/lamerce/en
Karlstejn, Czech Republic: The looming Gothing Karlštejn Castle, founded in 1348 by Holy Roman Emperor-elect and King of Bohemia Charles IV, makes a majestic setting to a wine fest with plenty of historical touches, from medieval music to performances by fire artists. On Sept. 24-25, costumed reenactors portraying King Charles IV and his entourage make their way through the site from 2:30 p.m. both days. Online tickets cost 200 Czech Koruna (about $8.15) for entry on Saturday and 150 Koruna to visit on Sunday. Those under 15 enter free. Online: karlstejnskevinobrani.cz
Neustadt, Germany: The city of Neustadt along the German Wine Road hosts a wine fest that reaches its festive peak with the staging of the country's largest vintner's parade. From 1:30 p.m. on Oct. 9, the crowds will turn out in force to admire the festive floats, costumed marchers and marching bands. The presence of the newly crowned German Wine Queen, chosen on the basis of not just an attractive appearance but also her knowledge of wine and wine-making, is an additional draw. Admission is free. The wine festival itself runs Sept. 23 through Oct. 10. Online: tinyurl.com/5xt6vnpr
---
---
---
---