New harvests take center stage in upcoming festivals
By
Stars and Stripes
September 9, 2022
---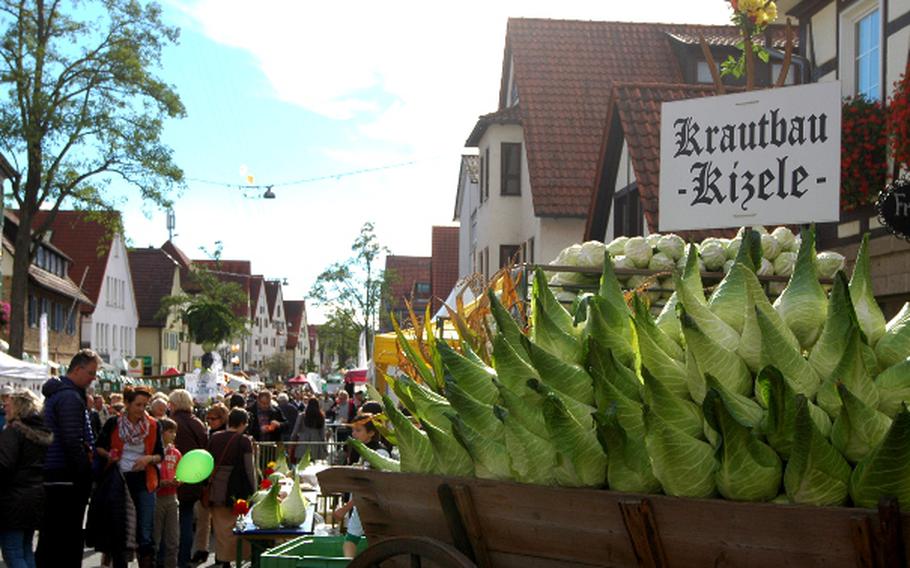 The glory of Europe in autumn is reflected in its crisp, cool days, gold-tone palette and the bounty of field and forest. From France to Finland, this is the time of year to enjoy the newly harvested crops and regional fare at its finest. A number of festivals and special events showcase and celebrate the fruits, fungi, nuts and vegetables associated with this time of the year.
Germany
Pumpkins: Blühendes Barock is the name given to the vast gardens surrounding the Ludwigsburg Residential Palace about 10 miles north of Stuttgart. Each year in autumn, the grounds made up of ancient trees, greenhouses, flowerbeds and fairy tale-inspired buildings host what's billed as the world's largest pumpkin exhibition. To keep visitors returning year after year, each year's show is designed around a different theme; in 2022, creatures from the jungle and rainforest serve as the inspiration.
Pumpkin fans can enjoy the appearance of the beloved gourd in pasta dishes, stir-fries, bread, waffles and even sparkling wine cocktails. Those who indulge in a savory bowl of soup on the weekend of Sept. 24-25 will be eating from Germany's largest pot of the stuff, cooked up to benefit a worthy cause. A number of autumn weekends offer additional incentive to check out the exhibition, including a boat race between watercraft carved out of pumpkins (Sept. 17-18) and the chance to carve one's own pumpkin (Oct. 22-23 and Oct. 29-31). Online: tinyurl.com/yckfxrcn
Plums: The city of Bühl in Baden-Württemberg is famous for a sweet blue plum known as a Zwetschgen. Through Sept. 12, the fruit lends its name to a traditional folk festival offering rides, on-stage entertainment, wine village, a beer tent and plenty of stands selling plum-based treats. A parade gets underway from 2 p.m. Sunday. Online: tinyurl.com/4x4ykzef
Cabbage: The town of Leinfelden-Echterdingen, located some six miles south of Stuttgart, is known for the cultivation of a variety of cabbage that's easily recognizable due to its pointed shape. Filderkraut is said to have fewer and finer veins than its round cousin and to be milder in taste.
The Filderkrautfest, a fest known for its rustic, rural atmosphere, pays the cruciferous veggie its just dues. Festivities include competitions for the heaviest specimen and various athletic challenges, many of which will be watched over by the young pair elected King and Queen Cabbage. Visitors can enjoy sampling tasty cabbage dishes to the accompaniment of live music from brass bands to Latin American rhythms and perusing dozens of stalls. Festivities take place Oct. 14-15. Online: tinyurl.com/2puadnyn
Those residing closer to Wiesbaden can celebrate cabbage, along with the grape harvest, at nearby Eltville's "Kappeskerb" slated for Oct. 28-31, one of the last folk festivals of the Rheingau region.
Onions: A highlight of Weimar's annual events calendar is its Zwiebelmarkt, or Onion Market. Several hundred thousand visitors flock to the city to enjoy the volksfest's on-stage entertainment, attractions and market stalls. Of the some 600 booths scattered throughout the Old Town, 100 or so sell onions or products made from them. Specialties to indulge in might include the savory pastry known as onion cake, beef and onions, or Mutzbraten, pork shoulder smoked in birch wood. Even if those onion braids can't ward off disease, they do make for pretty décor of one's kitchen back home. Weimar celebrates Oct. 7-9. Online: zwiebelmarkt.org
Italy
Fruits and more: For five Sundays in October, a town just north of Catania in Sicily hosts a culinary event titled "Ottobrata Zafferanese," a showcase of the many crops that thrive in the volcanic soils of Mount Etna. The sprawling site offers several zones, including an area devoted to locally cultivated grapes, apples, chestnuts, mushrooms and honey. The afternoon's cooking demonstrations by top chefs and family-friendly entertainment are followed by live music and a party atmosphere. The municipality of Zafferana Etnea is encircled by five large car parks from which shuttle bus service is offered. Online: ottobratazafferanese.it
Chestnuts: The town of Marradi lies some 30 miles northeast of Florence and is surrounded by extensive chestnut groves which yield the star crop of the "Sagra delle Castagne e del Marron Buono." Indulging in freshly roasted chestnuts, cakes, jams and other tasty wares is made all the sweeter by performances by street artists, magicians and wandering musicians. The fair takes place Oct. 9, 16, 23 and 30. Online: tinyurl.com/mtendrxf
Truffles: The city of Alba in Piedmont and its surrounding area produces two noteworthy products: wine and white truffles. On weekends from Oct. 8 to Dec. 4 the pungent, musky fungus is the object of reverence at the "Fiera Internationale Tartufo Bianco d'Alba." Live music, auctions and tours round out the offerings, while the chance to sip and sample wines made from the region's Nebbiolo, Moscato Bianco and Barbera grapes is an added bonus. On Oct. 15 and 16, locals dressed in lavish costumes evoke the look and feel of the Middle Ages. Online: fieradeltartufo.org
---
---
---
---