Small-scale beer festivals mean it's time for brew fans to get hoppy
By
Stars and Stripes
September 2, 2022
---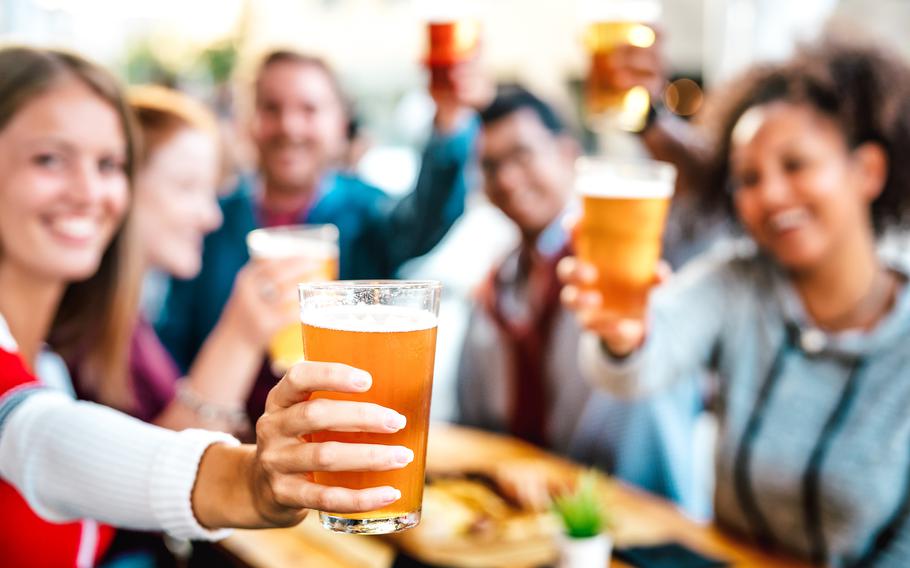 In less than three weeks' time, party people from around the world will be descending upon Munich, Germany, for the return of one of what's surely one of Europe's best-known social events. While the Oktoberfest racks up some astounding figures in terms of beer consumption— 7.3 million liters of hoppy goodness were consumed at the 2019 edition of the epic party— it's safe to assume not all revelers were giving careful consideration to the taste, smell and mouth-feel of the contents of their mugs. Those who consider a good brew something worth savoring might wish to attend one of these upcoming beer festivals in which the contents of one's glass is every bit as important as the accompanying program.
Belgium
The Belgian Beer Weekend pays homage to a proud brewing history stretching back nearly one thousand years. Through Sept. 4, Brussels' Grand Place makes an elegant stage for the presentation of more than 400 different beers from more than 40 breweries. The brewers on site, who represent a mix of large and small-scale operations, will be serving styles ranging from sour gueuzes to super-strong tripels. Those who appreciate a touch of folklore will enjoy the Brewer's parade scheduled for 2 p.m. Sept. 3.
The event runs from 6 p.m.-10:30 p.m. Sept. 2, noon-10:30 Sept. 3 and noon-8 p.m. Sept. 4. Admission is free, and payment for beers consumed is rendered in the form of tokens that can be acquired on site. The sale of tokens ends an hour before the closure of the site itself. Online: belgianbeerweekend.be
Other upcoming beer tasting events in Belgium include a HopFest at the Bellevaux Family Brewery in Bellevaux, Malmedy, where microbrewery beer combines with art and music (Sept. 9-11); the Modeste Bierfestival at the De Koninck brewery in Antwerp, at which more than 30 brewers present their wares (Oct. 1-2) and the Poperinge Beer Festival, at which some 125 beers are poured by 25 brewers from Belgium, France, Netherlands, Germany, Italy and the United Kingdom (Oct. 29-30).
Czech Republic
The city of Žatec, located about 50 miles northwest of Prague, stages its annual Hop and Beer festival Sept. 2-3. More than 40 breweries present their beers as a lively program of events spills across several stages. Street foods accompany Friday's program, while on Saturday, a historical market sends visitors back in time. Online: docesna.cz
The Nomad Beer Festival in Prague, slated for Sept. 9-10, shines a light on beers made by smaller breweries. Entry to the festival and its program of entertainment are free; to take part in tastings, the purchase of a 0.3-liter glass mug and a degustation card at a cost of 100 CZK (about $4) is essential. The event takes place in the market hall located at Pražská (Holešovická) Tržnice, Praha 7 from 2 p.m.-10 p.m. Sept. 9 and 10 a.m.-10 p.m. Sept. 10. Online: nomadbeerfestival.cz
Pilsen's well-established annual beer fest known as "Slunce ve skle" (Sun in a Glass) is powered by dozens of microbreweries from both the Czech Republic and abroad. More than 150 types of beer, from the style that bears the city's name to smoked beers and ales, await sampling as live music on stage keeps things hopping well into the evening hours. The event plays out on the evening of Sept. 16 and throughout the day on Sept. 17. Online: slunceveskle.cz
England
The St Albans Beer & Cider Festival caters to a broad range of tastes over its four-day run. In addition to sampling local, regional and international brews, visitors can enjoy meeting with the people behind the products. The Hertfordshire Bar shines a spotlight on the brewers of the home county, while bottled beers from around the globe are served at the international beer bar downstairs.
The festival runs Sept. 28-Oct. 1 at the Alban Arena. Entry costs 2 pounds ($2.35) for afternoon sessions and 5 pounds for all other sessions. The advance purchase of a ticket and beer package helps avoid the queue. Online: stalbansbf.org.uk
Germany
The Bierborse is a traveling fair that alights in more than 20 cities throughout the land during the warm months of the year. Its combination of entertainment on stage and beers from around the world brings a touch of the exotic to inner-city settings.
Through Sept. 4, the pedestrian zone near the Town Hall of Offenbach is the place to be to sample on site or to pick up some bottles to enjoy at home. Some 30 stands serve up some 400 choices, from thirst-quenching Kölshes to hearty chocolate beer. Festival hours are noon-midnight Friday, 11 a.m.-midnight Saturday and 11 a.m.-8 p.m. Sunday. Entry is free. Online: bierboerse.com/city/offenbach.htm
The Craft Beer Festival held at Maisel's Bier-Erlebnis-Welt in Bayreuth introduces a curious public to 10 lesser-known breweries from England, Italy and Sweden as well as Germany. Street foods, live graffiti art, walking acts and beats spun by DJs provide a lively backdrop to the scene. The festival runs from 6 p.m.-10 p.m. Sept. 9 and from 2 p.m.-10 p.m. Sept. 10. Admission is free; a 3-euro glass fee applies to the tastings. The FABRIK club will host Saturday night's after-party. Online: tinyurl.com/2s3p8vve
Italy
The EurHop Roma Beer Festival features some 50 beer brewers who will set up their stands in the extraordinary setting of the Salone delle Fontane, based in Rome's swanky modern EUR district. Beer will flow from 400 taps, creating what's surely one of Europe's longest pub counters, in a building renowned for its industrial design. Food and music complete the upscale ambiance.
The festival runs Oct. 7-9. Single-day entry tickets go for 10 euros when purchased online in advance or 12 euros at the door. Beers can be purchased by means of tokens available onsite. Online: eurhop.com
---
---
---
---