Cows, cheese and chestnuts among alpine wonders
By
Stars and Stripes
August 26, 2022
---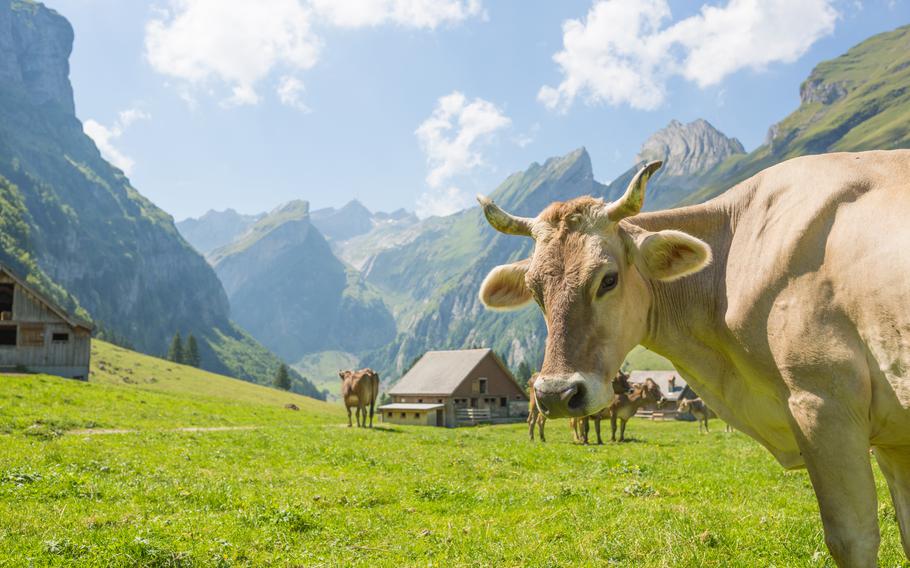 Once family summer vacation time has passed, but before the first snows of winter have fallen, the masses that flock to the Alps year-round tend to subside a bit, and the mountains exude a special kind of magic. Now is the time to enjoy harvest festivals, spectacular foliage-filled hikes and other wonders of the autumn season. Here are just a few reasons why visiting the Alps in the weeks to come is a splendid idea:
Cows: The Almabtrieb, also known as Viehscheid, is the name for the annual village fetes thrown in honor of the return of the livestock, primarily in Germany, Austria and Switzerland. During the summer months, cattle (as well as goats and sheep) are driven up to the high Alpine pastures, where they feast on the ecologically clean and abundant meadow grasses. But even bovine holidays have to end, so when it's time for them to return to the barns that make up their winter quarters, they're welcomed home in style. Should the entire herd have made it through the summer without death or serious misfortune, the cows are adorned with headdresses bedecked with flowers, thistles, pine boughs and religious symbols. On the day when the cows descend from their mountain havens back into town, residents don their own traditional garb and celebrate the return of the animals so closely intertwined with the Alpine livelihood with song, schnapps, games and merriment.
While dozens of rural villages celebrate the return of their beloved animals, some fetes are of particular touristic interest. Amongst Germany's most notable is the Bad Hindelang "Viehscheid," which is accompanied by a market, fest tent and carnival rides (Sept. 10). In Mittenwald, the warmest of welcomes home are accorded to goats (Sept. 3) and sheep (Sept. 10 and 11). For dates of all such events, see tinyurl.com/yeyvafz8.
Cheese: Unsurprisingly, all that high-quality Alpine milk is the secret to the spectacular cheeses of the Alps -- the hard or semi-hard cheeses formed into large wheels with a hard rind that makes them convenient to transport. Switzerland's "Schaukäsereien," or show dairies, are the place to learn about the cheese-making process, but to skip to the best part, the tastings, consider adding a cheese festival to the to-do list. The "Käsefest Luzern" or Lucerne Cheese Festival slated for Oct. 15 offers a market, milking and cheese-making demonstrations, music and a chalet constructed of Swiss cheese; other smaller cheese festivals take place in Basel (Oct. 1); Huttwil (Oct. 1-2), Thun (Oct. 8-9), Bern (Oct. 29), Appenzell (Oct. 29-30) and Rapperswil-Jona (Nov. 5). Online: cheese-festival.ch
Chestnuts: For centuries, chestnuts made up a good part of the caloric intake of many residents of the Alps' southern reaches. Flour made from smoke-dried chestnuts found its way into pasta, bread, cakes and other dishes. The Swiss city of Ascona, perched prettily on the shore of Lake Maggiore, celebrates its connection to this traditional crop on Oct. 8 with its annual Festa delle Castagne, or Chestnut Market. The scent of chestnuts roasting in pans over open fires is a call for immediate consumption, while the farmer's market offers local specialties to take home and enjoy at a later date. Online: tinyurl.com/5n946fkb
Chestnuts are also revered in Italy's South Tyrol region, where "Törggelen" is a favorite autumn activity. The custom involves imbibing the new wines made from the still-fermenting, freshly pressed grapes while sampling local dishes such as dumplings and heaping platters of cold cuts. Hiking through a chestnut forest beforehand is the perfect way to work up an appetite; the South Tyrolean Chestnut Trail, a 50-mile-long trail through the Valle Isarco between Vilpiano and Bressanone, is but one of countless trails. Many single-day festivals and culinary weeks dedicated to chestnuts and the Törggelen tradition are held in October. Online: tinyurl.com/mpjjecrp
Other culinary fests: Tasty dishes made from the bounty of the harvest season await sampling at numerous other festivals and events. One of the best-known autumn food festivals takes place in Lugano, Switzerland. From Sept. 30 through Oct. 2, visitors to the Festa d'Autunno converge upon the streets of the Old Town to sample local cuisine alongside wines from the Ticino region. Traditional music performed by folk bands provides the backdrop to this free-entry festival. Online: tinyurl.com/3sus62dh
Vaduz, the capital of tiny Liechtenstein, launches a new culinary event this year. The Genussfestival, slated for Sept. 1-11, invites producers of local specialties, from food truck owners to top chefs, to present their food and drink around the Town Hall Square. The city's bars and restaurants will also be offering unique dishes. On weekends, the program will include musical entertainment. Online: genussfestival.li
---
---
---
---