German Rail ticket includes events just beyond country's borders
By
Stars and Stripes
July 8, 2022
---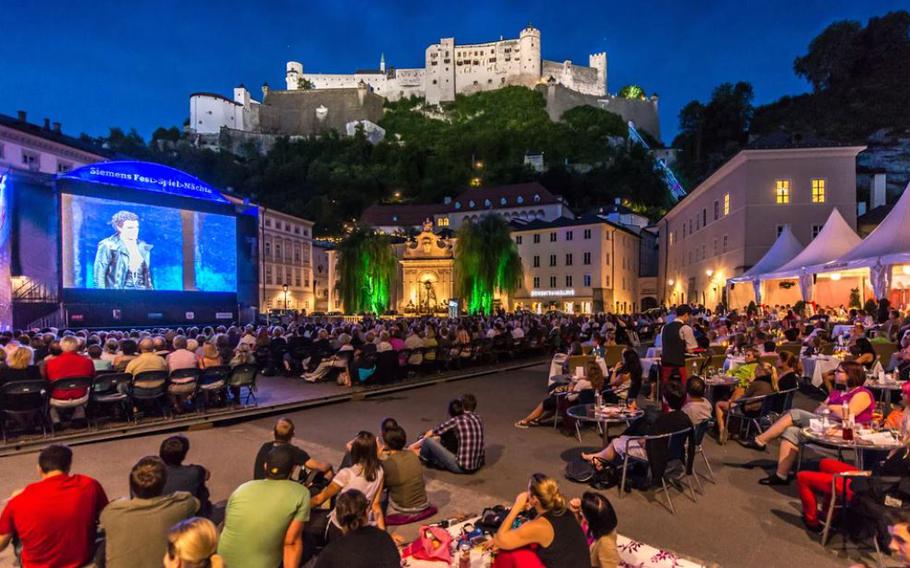 Enthusiastic travelers lucky enough to call Germany home have had the benefit of almost-for-free train travel for more than a month already, and German Rail's (in)famous 9-euro-ticket deal's validity through the end of August means adventures by rail can continue for a while yet. For those who would rather save big than move at breakneck speed, the use of regional trains to get where they want to go, eventually, has been a godsend.
While there's no end of delightful destinations within Germany, a number of cities nestled just outside its borders have suddenly become accessible at a deeply discounted price as well. Here's a look at some events to be enjoyed in the neighboring lands before the opportunity to ride the rails for cheap ends on Aug. 31.
Military Tattoo in Basel, Switzerland: The sounds of bagpipes and wind instruments will echo through the dusky skies as the world's second-biggest festival of military music plays out. The Kaserne Basel, a former military barracks converted into a cultural center, makes the perfect backdrop to a show in which not just music but stunning uniforms and flawless choreography make for hauntingly memorable performances. This year's performance marks the fifteenth edition of the event, a milestone its organizers plan to celebrate with an emphasis on "Swissness" and bagpipes. The 1000-strong lineup also includes His Majesty The King's Guard Band and Drill Team from Norway, the Band of Her Majesty's Welsh Guards from Great Britain and The United States Air Force Honor Guard. The popular Scottish act Red Hot Chili Pipers will also take to the stage. This year's edition of Basel Tattoo runs July 15-23. Ticket prices start at 49 Swiss Francs (about $51.20). For a taste of the spectacle, check out the Basel Tattoo Parade as it marches through the city center from 2 p.m. July 16. It's free to watch the parade, but the purchase of a badge helps support its organization. Online: baseltattoo.ch
Getting there: Basel Bad Bahnhof can be reached on the regional trains of German Rail without paying any additional charges.
Blues fest in Luxembourg: One of the city's top summer events makes its post-Coronavirus comeback on July 16, as the Blues 'n' Jazz Rallye rocks the capital. The streets of Clausen, Grund and Pfaffenthal come alive as more than 200 artists perform on open-air stages and in clubs and restaurants. Expect a mad mix of jazz, soul, funk and the blues. Entry is free. Online: tinyurl.com/4bhkrb6y
Getting there: From Trier, Germany, it's a 50-minute train ride to Luxembourg City's central train station. Public transportation throughout Luxembourg is free.
Classics and Culture in Salzburg, Austria: One of the world's most important festivals for opera, music and drama features world-renowned artists and an ever-expanding program of events geared toward young people. With 174 performances taking place at 17 venues over 45 days, there really is something for everyone here. Opera highlights include Mozart's The Magic Flute, Verdi's Aida and Dante Alighieri's Divine Comedy, while classical music concerts are given by the likes of Vienna Philharmonic, the Mozarteum Orchestra, Lang Lang and the Berlin Philharmonic. Young attendees can fall in love with the classics through performances geared toward them, a musical education program or an opera camp for ages 9-17. An enduring feature of the festival are the performances of Jedermann, the festival's founding play. Hugo von Hofmannsthal's play about the death of a rich man, based on the tradition of medieval mystery plays, has been included in most editions of the Salzburg Festival since it first premiered in 1920. Catching one of its performances on Cathedral Square is many a drama lover's bucket-list item. The festival runs July 18-Aug. 31. A number of performances offer free entry. Online: tinyurl.com/2ykf4sw3
Getting there: The 9-euro ticket is valid for regional trains that stop in Salzburg, including the RE5 from Munich and the S3 from Freilassing.
Wine fair in Colmar, France: The difficulty one finds in summing up just what the Alsace Wine Fair is all about is no indication of poor planning but rather a source of pride to its organizers. This event with Alsatian wine at its beating heart is also a fun fair, music fest, agricultural show, folk festival and more. The eclectic mix somehow works, and has been pulling in the crowds since 1948. The 2022 edition of the "Foire aux Vins d'Alsace" runs July 22-31. Cost of entry is dependent upon the time of arrival, growing more expensive the later it gets. Entry between 11:30 a.m. and 1 p.m. is free except for on Sundays. Performing artists at the concurrently running Music Festival include Deep Purple- Alan Parsons Live Project, Zucchero and Ben Harper & the Innocent Criminals, among others (separate tickets required). Online: foire-colmar.com
Getting there: A convenient way to get to Colmar is via Strasbourg. Take German Rail to Kehl, then travel by tram to Strasbourg's central train station. The train journey to Colmar from Strasbourg takes about half an hour and costs around 5 euros.
Gourmet dining in Maastricht, Netherlands: Billed as the largest culinary open air festival in the Benelux, Preuvenemint imparts an upscale party atmosphere to the pretty Vrijthof Square. Over the course of four days, sample-size dishes created by some of the best restaurants of the city and Limburg province are paired with great wines and live music. Some 25 stands will be plating up the creations of their top chefs. Entry to the festival is free; payment for the food and drink is by means of the so-called PreuveneCard, which can be purchased online in advance or onsite. Preuvenemint runs Aug. 25-28. Online: preuvenemint.nl
Getting there: From Aachen, Germany, Maastricht is a 53-minute train ride; trains run hourly, one-way fares start at 12.80 euros. Aachen's central train station has a Dutch ticket machine.
---
---
---
---