European festivals, events that put children first
By
Stars and Stripes
June 24, 2022
---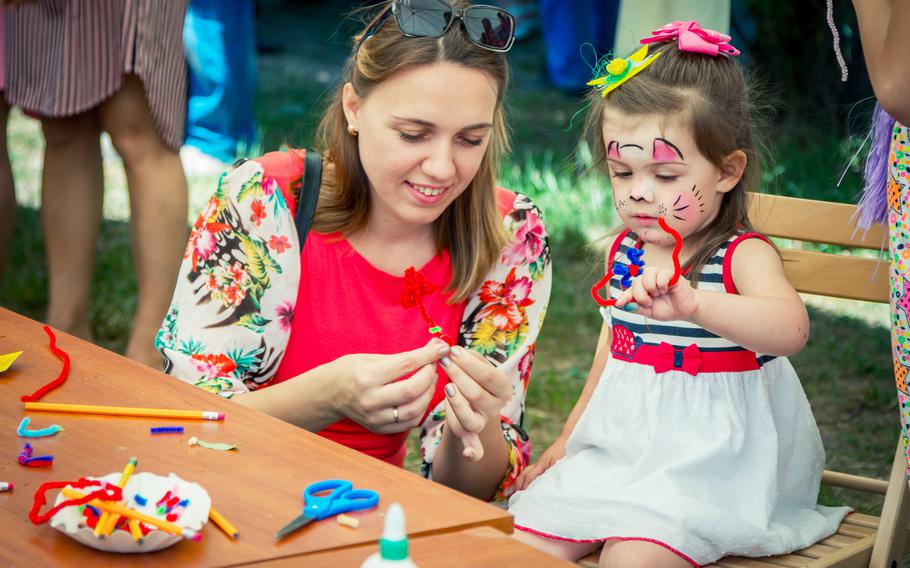 School's out for the summer! The closing of the books on another academic year gives us ample reason to celebrate. A variety of festivals and events in which children feature front and center, and their need to play in order to learn and grow is nutured, go far to reassure us that society's youngest members are seen and heard in many parts of Europe.
Austria
Stadt der Kinder, Bregenz: This pretty town on Lake Constance encourages younger children to let loose their inner pirate or princess with activities laid out at six stations throughout the town's core. Things to do on July 2 might include creating massive soap bubbles, having one's face painted or learning a new trick or two. Entry is free. Online: tinyurl.com/2p8uufam
Germany
Stuttgarter Kinder und Familien Festival, Stuttgart: One of Germany's best and largest festivals aimed at children plays out across the Schlossplatz, Eckensee and Königstraße. The town's clubs and institutions set up hundreds of activity stations centered around the themes of sport, science and technology, games, healthy eating, action and adventure and creativity. Things to do June 25-26 might include taking a lesson in Taekwondo, learning about recycling, preparing something simple to eat or making a pretty floral wreath. Entry is free. Online: kinder-und-jugendfestival.de
Kinderzeche, Dinkelsbühl: This delightful Franconian town, considered to have one of the best-preserved late medieval townscapes in all Germany, is considered one of the pearls along the touristic route known as the Romantic Road. Each year in July, many children of the town get busy with the reenactment of an event that makes up an integral part of their town's history.
In 1632, Swedish troops laid siege to the town as part of the 30 Years' War. According to popular legend, a girl by the name of Lore, accompanied by other chidren, approached the Swedish commander with a plea to spare her home town. He acquiesed, and since 1897, Dinkelsbühl has been recalling this act of mercy by means of a festival play.
The Kinderzeche festival play runs July 15-22. Entry to the festival grounds is by means of the purchase of a pin at a cost of 6 euros; tickets to the performances cost 9 or 13 euros and can be reserved in advance through the town's tourist office.
The event marks its 125th anniversary edition in 2022 with additional activities, including a photo exhibition of the play throughout the years at the Spitalhof July 29-Sept. 11 and an evening of food and drink at the temporarily erected Swedish Camp on July 23. The Kingerzech-Zeughaus, a museum tracing the history of the festival, can be visited Wednesdays through Sundays through Oct. 1. Online: kinderzeche.de
Kinderfest, Memmingen: As part of a tradition that dates back over 440 years, the town's schoolchildren are feted on the second Thursday before the start of their summer vacations. Originally, the three best schoolboys and three best schoolgirls were dressed up and honored as kings and queens; nowadays, all the town's primary and middle school pupils make up part of the festivities. This special day, which falls on July 21 this year, gets off to an early start with a musical procession crossing through the town center from 6 a.m. Church services are followed by singing and dancing on the market square, and in the afternoon, the children march in tandem to a playground by the stadium. The staff carried in the procession, known is a "Stängele," traces its roots back to the decorated rods and the royal insignia of sceptre and crown that were used in the ceremony centuries earlier. Two days after the Kinderfest, the town's residents celebrate "Fischertag" by hauling out their nets in hopes of being the one to catch the largest trout and thus be crowned king of the day. The July 23 event is accompanied by numerous other traditional activities, along with good food and drink. Online: memmingen.de
Lindauer Kinderfest, Lindau: On July 27, the town's schoolchildren will be rewarded for all their hard work during the academic year by means of this traditional fest. Festivities in this handsome town alongside Lake Constance kick off at 6 a.m., when the sound of firecrackers gives the start signal for the parade of festively dressed children to cross the pier leading to the island on which the heart of the city stands. Drummers, minstrels, flags and wreaths of flowers add a sense of timelessness to the atmosphere evoked upon the Biskmarckplatz. The afternoon of the fest day sees the children return to the sections of town in which they reside for more games and festivities. Entry is free. Online: tinyurl.com/2p8uxa8p
Leipziger Kinderfestival: For two days, Augustusplatz is turned into a massive playground at which six distinct areas serve up some 80 possible activities. From climbing over boxes to experiencing a roller coaster ride in virtual reality, all ages are sure to find something to do here. It's all fun and games Aug. 27-28. Entry is free. Online: leipziger-kinderfestival.de
Trier spielt, Trier: What's arguably Germany's oldest city and indisputably a very nice one hosts its annual one-day fest just for kids on Sept. 10 this year. Various clubs and institutions set up hands-on stations throughout the city at which kids can try out tons of new activities, from games to currently trending sports. Admission is free. Online: treffpunkt-trier.de
Italy
Tocati, Verona: The beloved festival whose name translates roughly to "you're it!" makes its post-Corona comeback on Sept. 15-18. From Friday to Sunday, traffic will be sealed off from the city center and area by the Adige River to create a vast playground in which children can take part in traditional street games or activities such as shooting a slingshot or playing "s-cianco," a forerunner to baseball. Each year sees a new country participate as an invited guest to introduce its own traditional games, adding an international element to the scene. Online: tocati.it
---
---
---
---