Volksmarch season has fans of nature walking hot to trot
By
Stars and Stripes
June 10, 2022
---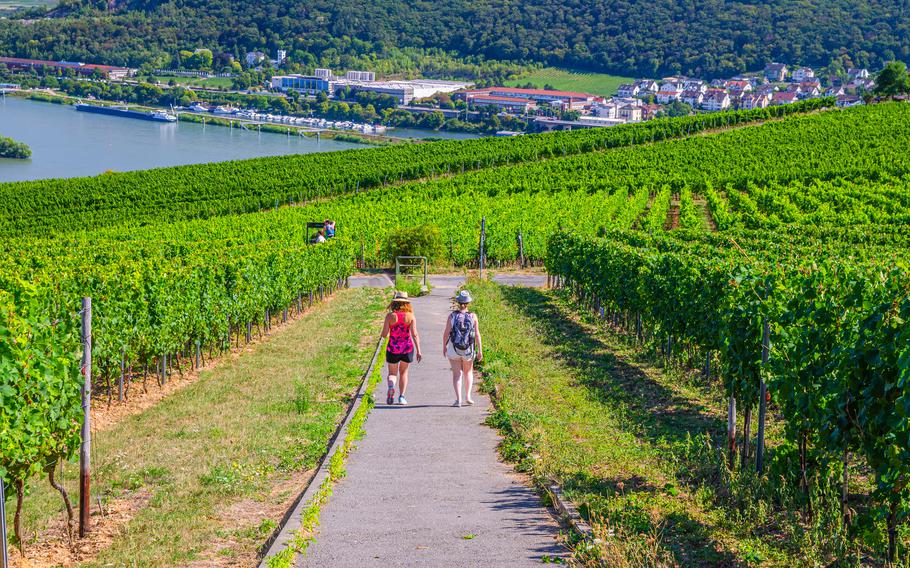 In the depths of the COVID-19 crisis, many individuals discovered the joys of taking long walks; for others, covering impressive distances by foot has always seemed to make up part of their DNA. In many countries of northern Europe, taking part in a Volksmarch, an organized, non-competitive event in which the goal is to complete the circuit, is a popular weekend pastime. This convivial sport is also practiced by countless members of clubs formed to promote this low-impact, close-to-nature pursuit. Those up for the challenge of racking up an impressive tally of kilometers within a given time frame are likely to enjoy some of the following events slated for the next few months:
European March of Memory and Friendship: Each year in June, the Marche Européenne du Souvenir et de l'Amitié, or MESA for short, sees more than 10,000 walkers take to the paths of the Ardennes mountain range in the south of Belgium. The event, organized by the Belgian Defense and its partner cities in the Province of Luxembourg, brings together civilians and military members, the old and the young, Belgians and their fellow Europeans, to remember the victims of the two World Wars and the heroic actions of ordinary people who lived in the affected cities and villages.
The walk's 55th edition, slated for June 21-24, offers four days of walking along routes of 8, 16, 24 or 36 kilometers. Cities hosting a course in 2022 include Martelange, Arlon, Vielsalm and Houffalize respectively. The MESA TRAIL, organized on June 22, offers trail runners a 24 km course to tackle as well.
Those wishing to take part have until June 13 to register online. Although various packages for participation, meals and accommodation were previously on offer, at this point the only option is to sign up for the walks only, with participants obliged to reach the start and end points on their own. It will also be possible to register online on the same day a particular stage is set to start. The cost of participation in a single day's march is 6 euros. Online: marche-mesa.com
Megamarsch: The Megamarsch is a series of walking events organized throughout Germany, as well as Vienna, Austria and the Spanish island of Mallorca. First held in Cologne in 2016, the event which sees participants walk a distance of either 50 or 100 km has grown in popularity and is slated to take place in over a dozen cities in 2022. The 100 km course is to be finished within 24 hours and the 50 km course must be completed within 12 hours. Stations offering drinks and snacks are located at every 20 km on the 100 km stretches, and at every 10 km along the 50 km routes.
Places in which Megamarsch events will take place in 2022 include Bremen (50 km, June 11); Düsseldorf (50 km, July 2); Erfurt (50 km, July 9); Ruhrgebiet (100 km, July 23); Hamburg (50 km, Aug. 13-14); Berlin (50 km, Aug. 27); Stuttgart (100 km, Sept. 10); Cologne, (100 km, Sept. 17); Freiburg (50 km, Oct. 1); Frankfurt (100 km, Oct. 8); Sylt (100 km, Oct. 22) and Nuremberg (50 km, Nov. 5). Marches, with the exception of the Hamburg one, begin in the early morning. Participation in a 50 km march costs around 65 euros, whereas taking part in the 100 km marches costs about 75 euros. Online: megamarsch.de
Sahrtal Trail: On July 2, the Sahrtal Trail will challenge walkers with its 60 km route through mountainous terrain in the northern reaches of the German state of Rhineland-Palatinate. The walk is organized as an alternative to the 100 km Rhein-Ahr-Marsch, a race that remains canceled for the second year running following the disastrous floods that hit several stretches of the Ahr River back in July of 2021. Repair to homes and infrastructure in the affected areas continues to date.
The march, which must be completed within 14 hours, challenges with 1,600 meters (5,250 feet) of ascent, and organizers note participants should be sure of foot and not be prone to dizziness. The trail leads through three valleys and benefits from significant tree cover. The start and end point is the village of Rheinbach, some 15 miles southwest of Bonn. Participation in the march costs 40 euros. Online: rhein-ahr-marsch.com/sahrtal-trail
Stoaberg March: This 24-hour, 48 km hike between Tyrol and Salzburg, Austria, is made extra special due to the night on which it occurs. On the night of June 18, the mountains in this region come alive as bonfires are set alight, a longstanding tradition to mark the shortest nights of the year. Hikers pass through the Steinberge and Grasberge mountain ranges on challenging routes that vary from year to year.
The walk begins at 9 a.m. in the town of Weissbach, near Lofer. New this year is a shorter, 12-hour hike offered between Weissbach bei Lofer to Fieberbrunn. Should the weather be too rough for hiking on the day, a rain date has been set for June 25. The cost of participation in the 24-hour walk is 71 euros, whereas the entry fee for the 12-hour march has been set at 55 euros. The costs include services of a guide and refreshments at stations along the route and at the finish line. As the last day to register is June 10, be sure to act quickly or be prepared to wait until next year. Online: tinyurl.com/2p9cbakb
AdventureWalk Pfälzerwald: Those residing in the Kaiserslautern Military Community need not travel far for a walking event of their own. The stunning Palatinate Forest— Germany's largest contiguous forest— is the pretty green backdrop against which these 30 km and 50 km challenges are staged. The routes run along narrow paths through dramatic landscapes including vineyards, castles and historical sites and promise significant gains in altitude.
The entry fee includes refreshments at the stations along the way, shuttle service, baggage transport from the start to the finish line, a printed certificate, time measurement, shuttle services and an after-walk party. The 50 km walk begins between 6 a.m. and 7:45 a.m. in the town of Grünstadt and the 30 km must be started between 8 a.m. and 10 a.m. The finish line is found in Hertlingshausen. Participation in the 30 km walk costs 44 euros; the entry fee for the 50 km walk is 54 euros. Online: adventurewalk.de
---
---
---
---