June brings a plethora of colorful Pride events
By
Stars and Stripes
June 2, 2022
---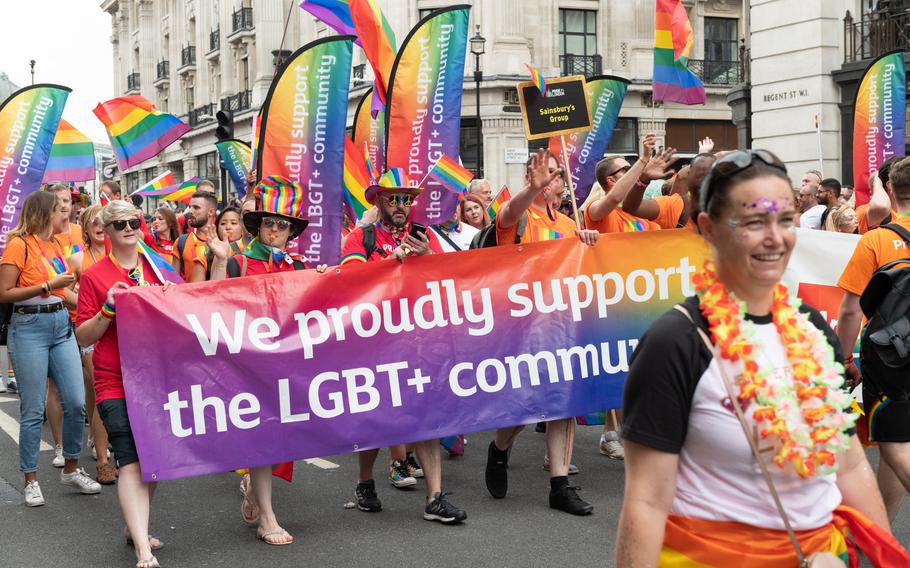 If each month were to have its own color, it would be hard to select just one for June, when the rainbow flag flies proudly across many nations of the world. Pride Month remembers the Stonewall Uprising in New York City, when a number of spontaneous demonstrations by gay activists broke out in response to a roughly conducted police raid on the Stonewall Inn in Greenwich Village on June 28, 1969. The organized demonstrations held to mark this anniversary gradually evolved into the events that form an important part of today's cultural landscape.
Europe's most vibrant Pride events unfold not just in June but throughout the summer. Part party and part serious agenda, members of the LGBTQ+ community and their friends come together at street parties, carnivals, picnics, concerts, debates, demonstrations and other events. Here's a look at some of the largest, quirkiest and best-situated events coming our way in 2022:
Ibiza, Spain: The beautiful Balearic Island with a penchant for partying hosts a week of fun June 10-18, when sun-drenched days on beaches give way to concerts and live acts on stage. The highlight of the festivities is the parade, which makes its way through the streets of Ibiza Town starting at 8 p.m. on June 18. The motto of this year's event is "Proud of our Identity." Online: ibizagaypride.eu
Rome, Italy: The so-named "Peace and Love" edition of Roma Pride unfolds on June 11 under the motto of "our only weapon is music," and the partying takes place to the sound of "Let the Sunshine In." Exact times and further details will be announced online at romapride.it.
Paris, France: The Marche des Fiertés LGBT, formerly known as Gay Pride, makes its way through the city streets on June 25. Each year sees some half a million marchers demand equal rights and their rightful space within society at large. At the end of the march, a large podium set up at Place de la République offers well-known international artists a space to perform and representatives of the numerous associations present a platform for their speeches. Online: inter-lgbt.org/marche-des-fiertes
Cologne, Germany: The Christopher Street Day festival offers three days of street parties and 60 hours of programmed entertainment. Both German and international artists perform across three stages located at the Heumarkt, Alter Markt and Gürzenich. Expect DJs, tribute acts and a legendary dance stage featuring electronic music, go-go dancers and other live acts. The action unfolds July 1-3. The demonstration, a colorful parade of floats, sets off from the Deutzer bridge at 12 p.m. July 3. Online: colognepride.de
Madrid, Spain: The Spanish capital's festivities, considered some of the best in Europe, take place from July 1-10. While much of the action of "Madrid Orgullo" is concentrated in the Chueca neighborhood, known for its cozy cafes and vibrant nightlife, the rest of the city parties right along, with stages for concerts and parties set up at the Plaza del Rey and other prominent venues. In addition to the main event, the Madrid Pride Parade on July 9, other program highlights include the High-Heels Race (July 7), the LGBTIQA+ Art Walk (July 8) and the Mr. Gay Pride España contest (July 8). Online: madridorgullo.com
London, UK: This year's edition of Pride in London, to be held on July 2, is significant in that it commemorates 50 years since the first Pride event took place in the United Kingdom. The campaign pays tribute to the movement's original torchbearers while recognizing the challenges still faced nationally and globally. Following a two-year hiatus, the parade returns to the streets, paying homage to the 1972 march by passing significant sites from the UK's first LGBT+ movements. The parade route kicks off at Hyde Park Corner, where mining communities showed solidarity with the LGBT+ community back in 1985. From there, the parade continues down Piccadilly, through Piccadilly Circus, south onto Haymarket and through Trafalgar Square, before culminating at Whitehall Place. Online: prideinlondon.org
Amsterdam, Netherlands: "My Gender, My Pride" is the theme to Pride Amsterdam, which unfolds July 30-Aug. 7 this year. The motto is a nod to the diversity of gender identities and one's right to self-determination. The program consists of a Pride Walk and Pride Park events taking place in the Vondelpark on July 30, along with a three-day beach party at the nearby Zaandvort Beach (July 31-Aug. 2). The clear highlight of the celebrations comes on Aug. 6, when the Canal Parade sees some 80 decorated watercraft bearing jubilant, costumed revelers take to the city's waterways. The water parade gets underway from Oosterdock at noon and winds up at the Westerdok. Online: pride.amsterdam
Belgrade, Serbia: EuroPride, a pan-European international LGBTI event featuring a Pride parade, is hosted by a different European city each year; in 2022, the event moves to Belgrade, Serbia. While the capital's first pride event back in 2001 was marred by chaos as opponents terrorized participants, recent editions have been executed much more smoothly. The party in the Balkans is set to unfold Sept. 12-18. Online: epoa.eu/europride/europride-2022
---
---
---
---