May merriment traditions include dancing, drinking, burning
By
Stars and Stripes
April 29, 2022
---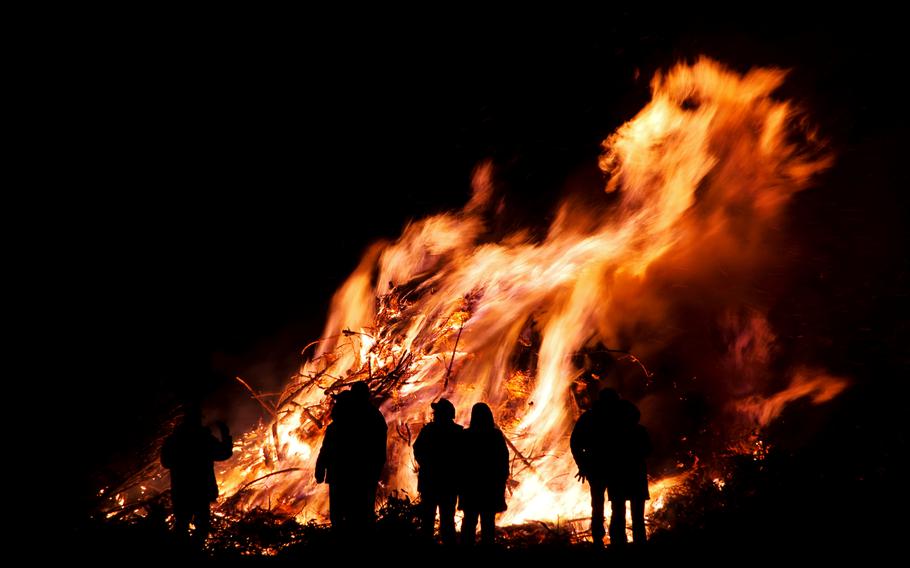 On the last night of April each year, many of those residing in Germany stay out well past their bedtimes as they take part in a custom known as Tanz in den Mai, or Dancing into May. The tradition celebrates the coming of spring and warmer weather.
With May 1 falling on a Sunday this year, many that would otherwise prefer to get a good night's sleep before their workdays were set to begin will no doubt be joining in on the fun. Anticipate locally organized events in spacious outdoor settings such as market squares or the fields in which folk festivals are held. In areas near Cologne and in parts of Bavaria, a "Maibaum" tree adorned with colorful crepe paper will serve as the essential décor. The beverage of choice for many will be a Maibowle, a drink made with white and sparkling wines and flavored with an herb known as woodruff; strawberry or elderflower versions are other popular options.
Another custom on the eve is not so light and bright. April 30 is also known as Walpurgis Night, when, according to medieval beliefs, witches would gather with the devil to plot all kinds of acts of depravity for the coming year. According to pagan legend, upon this date, the devil Wotan wed his bride Freya. The marriage was said to have taken place atop Brocken, the highest peak in central Germany's Harz mountain range, the purported scene of the annual witchy meet-ups. In order to protect themselves from the evil deeds of the witches, local townsfolk would set huge bonfires alight, burn straw effigies and produce deafening noises throughout the night.
With the arrival of Romanticism in the 19th century, ancient customs and folk beliefs were given a makeover, and the once-scary Walpurgis Night became a time for celebration throughout the land. Communities in the Harz Mountains keep tradition alive by hosting a number of fun activities on the last few days of April. The small town of Schierke am Brocken turns back time with a medieval market populated by craftsmen, traders, jugglers, minstrels, knights and Vikings. From April 29 through May 1, visitors can dance to the sounds of medieval folk rock or visit camps and taverns. On April 30, a massive bonfire will be set alight, followed by a fire and laser show. Tickets are essential; get them online at die-walpurgis-schierke.de
The town of Thale also hosts a market from April 29 through May 1, where Walpurgis spectacles play out on a stage set up on Rathausplatz, merchants sells their wares on Karl-Marx-Strasse, and craftsmen and creative types offer their handiwork in the gardens of the city's spa. Entry is free. Online: tinyurl.com/y3v4a2w9
Beautiful Goslar, a favorite residence of many Holy Roman emperors, also celebrates Walpurgis with great flair. The market square is transformed into a bubbling cauldron of merriment, where dancing to live music takes place against a background of witches' brooms and blood-red lighting. The fun kicks off at 1 p.m. April 30. The wearing of a witchy wardrobe is encouraged. Online: goslar.de
Plans already set for the weekend? Many other places throughout Europe don't shy away from their connections with witches, magic and sorcery.
Denmark: The country's oldest town of Ribe was the site of several witchcraft trials, including that of Maren Spliid, who was burned at the stake in 1641. The town's thoroughly modern HEX Museum of Witch Hunt sheds lights on these dark times, not only in Denmark but throughout Europe. Guided tours of the museum are offered in English. Private guides also offer walking tours of Ribe with a focus on sites connected to witchcraft. Online: hexmuseum.dk
England: The pretty coastal village of Bosworth in northern Cornwall is home to the Museum of Witchcraft and Magic, in which British magical practices from ancient times to the present day are illustrated through the display of hundreds of objects, from instruments of torture to skulls to stuffed cats. To make the slip into another dimension complete, consider booking a stay at the Wellington Hotel, which featured on a 2004 TV episode of "Most Haunted." Online: tinyurl.com/2ddp3uc4
Italy: The town of Triora, located near the French border in the region of Liguria, has a longstanding connection to witches. In 1587, extremely hot weather and crop failure convinced locals that witchcraft was the source of their run of bad luck. In quick order, a group of some 20 "witches," poor peasant women from an impoverished community, were accused and tortured into confessions which fingered yet more victims. Triora's Ethnographic and Witchcraft Museum contains documents and artifacts from the trials, along with models demonstrating the means by which the interrogations and torture were carried out. Witch-related signs and kitsch serve as further reminders of the town's grisly past. Each year in summer, a witchcraft festival pulls in a select crowd; the next edition of the "Strigòra" is slated for Aug. 21. Online: museotriora.it
Netherlands: The town of Oudewater in Utrecht province is home to the Museum de Waag, better known as the Heksenwaag, or Witches' Weigh House. Centuries ago, each Dutch city had its own weigh house, in which merchandise could be weighed before it was sold. As it was commonly thought that witches, in order to fly on broomsticks, must weigh next to nothing, Oudewater's scales were also used to weigh those accused of practicing witchcraft. Fortunately, no incident in which someone was found to be too light and sentenced was ever recorded. Today's visitors to the museum, after being weighed upon the circa-1482 scale and ascertained not to be as light as a feather, can obtain certificates attesting to the fact they are not witches. Online: tinyurl.com/3keub659
---
---
---
---