Wine hiking weekend encourages locals to get steps, sip local specialties
By
Stars and Stripes
April 22, 2022
---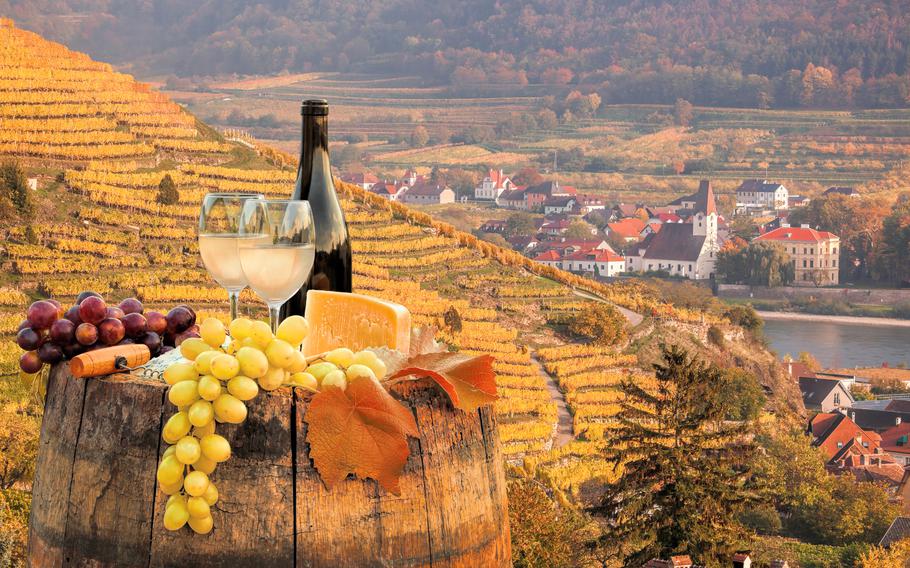 The German Wine Institute, an organization tasked with marketing and serving as the central mouthpiece for the country's wine industry, is also active in encouraging wine-related tourism. To this end, each year in spring, it promotes "WeinWanderWochenende," or wine hiking weekend. Geared more toward domestic tourists, the initiative encourages oenophiles to get out and explore the stunning scenery of the vineyards, capping off their visits to nearby wineries, where sampling wine and the regional specialties that pair so well with them feature high on the agenda.
While reservations are required for many of the events slated for the weekend of April 23-24, a handful of organizers are happy to have visitors drop by spontaneously. Some of the wine regions hosting events open to all comers include Ahr (culinary hikes along the Red Wine Hiking Route between Rech, Mayschoß und Altenahr); Baden (open wine cellars and a sparkling wine lounge in the Kaiserstuhl Nature Garden by the Burkheimer winemakers in Vogstburg im Kaiserstuhl); Mittelrhein (Wine Spring, with 16 stations serving wine and drink on a 3-mile stretch between Boppard and Spay, April 24 only); Mosel (Zell Black Cat Festival, culinary hike with routes through the vineyards, April 24 only) and Nahe (Kreuznach Wine Spring, with wine tasting by the Nahe on the Roseninsel in Bad Kreuznach). For a complete list, see tinyurl.com/4wecf4fe.
This is not the only weekend when hiking through vineyards pairs so nicely with wine and food events. Mark calendars for these upcoming culinary wine hikes: Bergstrasse Vineyard Hiking, 14 miles between Heppenheim and Zwingenberg, May 1; Saale Wine Mile, four miles between Bad Kösen and Roßbach, June 4-5; Neuenahrer Burgunderfest, five miles between Bad Neuenahr and Ahrweiler July 30; for more dates, see weinwanderung.net.
Even in the absence of special events, the German vineyards are welcoming places for hikers, who are welcome to bring food and drink for picnics. With thousands of miles of beautiful trails to choose from, it can be hard to narrow down one's route, but the German Wine Institute helps orient would-be wanderers with its "most beautiful vineyard view" initiative. Each of Germany's 13 recognized wine regions has at least one panoramic view included on the institute's list of 39 winning views. Just a few of these stunners include the Wachtenburg Castle ruins in the Pfalz wine region; a bend in the Saar River near Kanzem (Mosel), and the Texas Pass in Oberbergen (Baden). For more of Germany's most stunning vineyard views, see tinyurl.com/2kax75uw
Of course Germany has no monopoly on stunning vineyards. Other lands in which trekking past the growing grapes is a heady delight include these beauty spots:
Austria: Some 45 miles northeast of Vienna, the Wachau Valley entrances with its steeply terraced vineyards rising up almost above the banks of the Danube. The 20-mile stretch between the towns of Melk and Krems lends itself to both cycle tours and hiking; to enjoy the latter, the Wachau World Heritage Trail offers more than 100 miles of trails connecting the region's 14 villages. While in the region, sample Rieslings and Grüner Veltliners. A fine time to visit is around the summer solstice, which is marked by numerous celebrations, including fireworks, torchlit vineyards and thousands of lights floating on the Danube. Online: donau.com/en/sonnenwende
France: The Burgundy wine region gained its spot on the UNESCO World Heritage list thanks to its "climats," a term that refers to age-old, precisely delineated vineyard parcels on the slopes of the Côte de Nuits and the Côte de Beaune, south of the city of Dijon. The Route des Grands Crus, passing through the most prestigious parts of Burgundy's vineyards, is a great way to explore the area. Over a length of some 40 miles, 38 wine villages, each one more picturesque than the next, welcome hikers. Along this narrow strip stretching from Dijon in the north to Santenay in the south by way of Nuits-Saint-Georges and Beaune, villages with opulent wine merchants' houses and limestone houses with tiled roofs vie for attention against gently sloping vineyards, often surrounded by drystone walls, rivers or hedges. A fine time to visit is during "Le Mois des climats," six weeks of guided tours, tastings, exhibitions and other fun and educational activities. The event's next edition takes place June 3-July 17. Online: beaune-tourism.com
Italy: Amongst the tasty wines produced in the Veneto region is found the fizzy Prosecco, and the place to discover this sparkling favorite is found just an hour's drive from Venice. The Prosecco Road, a land of steep, terraced slopes, is dotted with small, family-run wineries given to the cultivation of the fruity, aromatic white grape known as the glera. While the entirety of the 20-mile stretch running between Conegliano and Valdobbiadene can be explored by bike or on foot, a popular route is "L'Anello del Prosecco," a five-mile loop starting and ending in San Pietro di Barbozza. A great time to visit is the third weekend in May, when the "Vino in Villa" festival unfolds in the splendid surroundings of the San Salvatore Castle in Susegana. Online: tinyurl.com/mryskchb
Switzerland: The Lavaux wine-producing region offers some of the steepest terraced vineyards in the world; these come with dizzying views to Lake Geneva below, and off in the distance, Alpine peaks. Running along the lake's northern shores between Lausanne and Chateau de Chillon, the 23 communities comprising the appellation area are best known for their white chasselas grapes. The area between Lausanne and Vevey is considered the most dazzling for hikers. The Discovering the Terraces of Lavaux hike, stretching from Ouchy in Lausanne to Chateau de Chillon Castle between Montreux and Villeneuve, is a 22-mile route that can be completed in just over eight hours. Alternately, head to Rivaz, where pleasure cruises depart from its boat landing and a Vinorama offers tastings from the area's estates. While the views here mesmerize throughout the seasons, autumn sees the scenery at its most spectacular. Online: tinyurl.com/yc2fjnja
---
---
---
---