Easter launches week of religious holidays throughout Europe
By
Stars and Stripes
April 15, 2022
---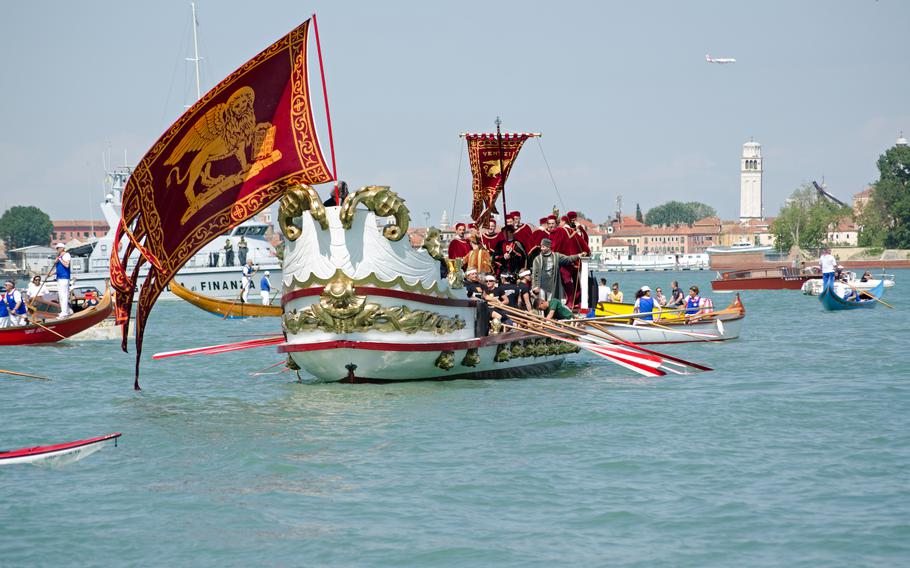 Catholic and Protestant communities throughout most of Western Europe will celebrate Easter Sunday on April 17, a date that shifts each year according to complex ecclesiastical rules put into place at the First Council of Nicaea held in 325 AD. For practical purposes, the rule of thumb that Easter Day is the first Sunday after the full moon following the spring equinox is often accurate. The date of Easter, in turn, determines the dates of the feast days for Ascension, Pentecost and Corpus Christi. Across Europe, this cycle of religious holidays is met with folkloric and traditional events which are a pleasure to behold, or even better, take part in.
Easter Sunday
Florence, Italy celebrates the day with a stunning show of fireworks. In a ritual dating back over 350 years, The Scoppio del Carro, or Explosion of the Cart, sees a pair of garland-bedecked bulls pull an elaborate cart through the streets to its usual spot on the Piazza del Duomo. Drummers, flag throwers and other costumed historical figures add pageantry to the scene. Once the cart has been brought into position, an elaborate ceremony concludes with a dove-shaped rocket symbolic of the Holy Spirit crashing into it, setting off a spectacular delay of fireworks. The procession will take place on Easter Sunday April 17 from 10 a.m. and the explosion from 11 a.m.; entry is free. Online: tinyurl.com/47wp9sxx
Easter Monday
Emaischen is a traditional folk festival held on Easter Monday in Nospelt, a small Luxembourgish village just northwest of the tiny nation's capital. The stars of the day here are not bunnies or chicks but rather "Péckvillercher," small clay whistles fashioned into the shapes of birds. Festivalgoers can also enjoy concerts, traditional foods, watching the town's potters at work or visiting the pottery museum. Emaischen is also celebrated in the capital, where festivities will play out along the rue Marché aux herbes and on Place du Marché-aux-Poissons. Online: tinyurl.com/5n85d33z
The citizens of Herve, Belgium, a small town outside Liège, also celebrate Easter Monday in a big way. The Cavalcade of Herve is a procession of colorful floats pulled by the magnificent, locally bred Ardennais and Brabant draught horses. Some 150 horses in all, along with folk groups from different countries, take part in this spectacle dating back to 1876. Contemporary versions of the event feature dancing, live music and the "Tir de Campes" explosives show, set off by a local brotherhood specializing in pyrotechnics. Related festivities including a market and horse fair take place throughout Easter weekend. Entry to the parade, which begins at 2 p.m., costs 4 euros for those ages 12 and above. Online: cavalcadeherve.be
Orthodox Easter
While both Western and Orthodox Easters are calculated based on the same formula, they most often fall on different dates, due to the fact that Western churches use the Gregorian calendar, whereas Orthodox churches use the much older Julian calendar as their point of reference. In 2022, Orthodox Easter will be celebrated on April 24. European countries that officially observe Orthodox Easter include Bulgaria, Cyprus, Greece, Republic of Macedonia, Romania, Russia and Ukraine.
While all of Greece marks Easter with great reverence, the village of Pyrgos on Santorini, one of the Cyclades islands, is particularly well known for its celebrations. On the night of Good Friday, residents of the well-preserved town perched high on a hill stuff flammable materials into countless aluminum cans and place them on ledges of buildings, alongside paths, atop roofs and along the ramparts of the ancient Venetian castle. When set alight, the sight of so many flickering flames is a moving backdrop to the funeral procession. As a representation of the body of Jesus Christ is carried through the narrow streets, thousands of the faithful follow, holding lit candles as they go. Online: tinyurl.com/2p97wbxf
Ascension Day
Ascension Day marks the 40th day after Jesus Christ's resurrection and is celebrated as the day he led his disciples to the Mount of Olives, from where they watched as he rose up to heaven. What is heralded as the end of the Easter season is an official holiday in many countries. Although it is not an official holiday throughout Italy, Venice's celebrations marking the "Festa della Sensa" commemorate two important dates in history. The first event took place in 1000 AD, when the Doge Pietro II Orseolo managed to defend the inhabitants of Zara and Dalmatia from incursions by the Slavs; the second hails back to 1177 AD, when the Doge Sebastiano Ziani facilitated a peace agreement between the Papacy and the Holy Roman Empire. To celebrate both events, a ceremony titled "Sposalizio del Mare," or "Marriage of the Sea," includes a maritime parade of traditional rowing boats, an evocative ceremony celebrating the rites of marriage with the sea, the launching of a ring into the waters and a religious ceremony at the church of San Nicolo on the Lido. The program concludes with a Venetian-style rowing competition. Online: tinyurl.com/2p9dsuyv
---
---
---
---