Flower festivals popping up again across the Continent
By
Stars and Stripes
April 8, 2022
---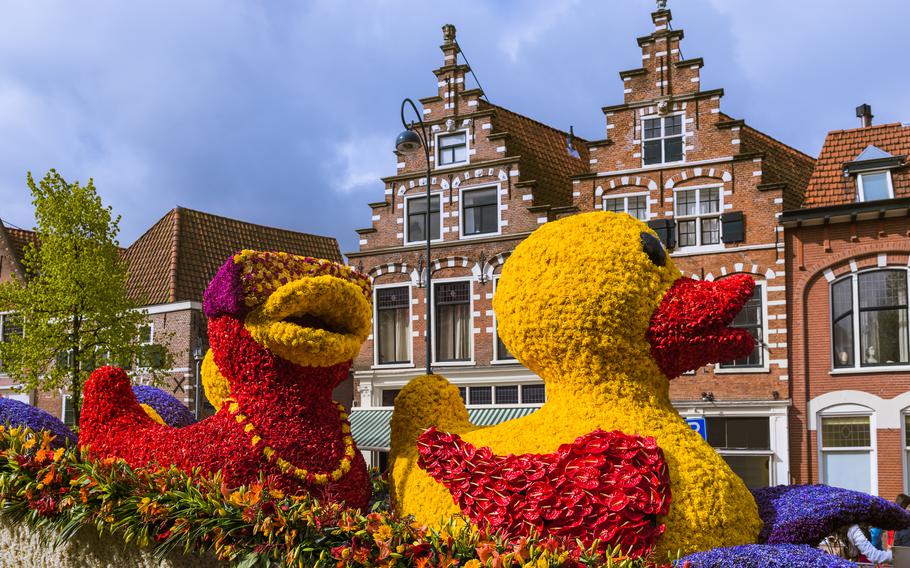 Europe is coming up flowers, and everyone's invited to the show. Here are just a few of many great places to take in blossoming beauty in 2022.
Keukenhof: After two missed seasons, the Netherlands' unparalleled "kitchen garden" park has opened its gates to the public. Through May 15, visitors can immerse themselves in its spacious, meticulously landscaped gardens, greenhouses and landmarks including a windmill and children's playground.
As spring advances, an ever-changing progression of flowers steals the show. Gardeners work tirelessly behind the scenes to ensure all plants are always at their blooming best. Each year's display revolves around a theme: in 2022, "Flower Classics" pairs the flowers appearing in art, architecture and design with their real-life counterparts. On the occasion of the 200th anniversary of The Hague's Mauritshuis museum, the Girl with a Pearl Earring, one of Vermeer's masterpieces on display there, will come to life in floral form, along with other replicas of paintings from its renowned collection. Entry to the garden costs 19 euros for adults, 9 euros for youth ages 4-17 and is free for those ages three and under. Online: keukenhof.nl/en
Bloemencorso: Many visitors time their visits to Keukenhof to coincide with the "Bloemencorso van de Bollenstreek," a nearly two-mile long parade made up of floats done up in a colorful riot of daffodils, hyacinths and tulips. It's anticipated that more than a million people will turn out on April 23 to enjoy the 75th edition of this annual spring highlight, either from the side of the road or in specially erected tribunes. The theme of this year's parade is "Freedom."
From 9:30 a.m., the parade will traverse a 25-mile route stretching between Noordwijk and Haarlem, passing by Keukenhof at approximately 3:30 p.m. As the roads in and out of the park will be closed between 2 p.m. and 5 p.m., planning to arrive before noon on the day is highly advisable. Alternately, find a spot along the route in the towns of Teylingen, Hillegom, Bennebroek or Heemstede. The procession concludes in Haarlem at approximately 9 p.m. Online: bloemencorso-bollenstreek.nl/en
Floriade: The Netherland's horticultural exhibition and garden show known as Floriade is so large and ambitious in scope that its organizers put it together just once every ten years. The show's seventh edition will take place in Almere, a city built on land reclaimed from the sea, for a six-month stint opening April 14 and running through Oct. 9, 2022.
Visitors can enjoy not only flowers but plants in all their green glory as they explore a show built around the theme of "Growing Green Cities," exploring how the latest technologies in the area of climate, food, energy and health can make urban settings sustainable and attractive places to live. Amongst the gardens, greenhouses and flower beds are found 40 pavilions in which many countries shine a spotlight on their cultures as well as native species.
Single-day entry ticket prices begin at 29 euros for adults and 19 euros for children ages 4-12 and increase on weekends and during peak vacation weeks. Almere is an approximately 20-minute train ride from Amsterdam's Central Station. Online: floriade.com/en
Euroflora 2022: The parks of Nervi, a suburb of Genoa, Italy, will be enlivened with rare plants and flowers, art collections, water features and the latest in gardening trends as the Euroflora horticultural show returns after a one-year, pandemic-induced delay.
From April 23 through May 8, landscape artists, floral designers and nursery workers will combine forces to transform an already magical setting into a space of exquisite beauty. An extraordinary park's pathways, streams, fountains, villas and sweeping elliptical spaces are bedecked with rare and artfully arranged displays of plants and flowers, while views out to sea complete the exquisite scenery.
In addition to the outdoor areas of the exhibition, Nervi's network of superb museums including the Gallery of Modern Art, Frugone Collection and the Wolfsonian Collection serve as the backdrop to floral compositions. A series of concerts performed by the Carlo Felice Opera House adds classical music to the mix. Various competitions reward the show's most dedicated and visionary participants. The Mercato Verde, or Green Market, offers a space where visitors can purchase plants and flowers.
Euroflora will be open to the public from 8:30 a.m. to 7 p.m. daily. Tickets can be booked online in advance; adults ages 17 and over pay 24.50 euros, ages 9-16 pay 17.50 euros, and those ages eight and under enter free. Tickets include use of the public transportation needed to gain access to the grounds. Onine: euroflora.genova.it
RHS Shows: The Royal Horticultural Society (RHS), the UK's largest gardening charity, strives to enrich the human experience with plant life and make the country a greener and more beautiful place through its inspirational gardens and shows. In addition to its five permanent gardens, the organization organizes eight flower shows visited by hundreds of thousands of visitors each year. Amongst the most visited are those held in Chelsea and Hampton Court. The RHS Chelsea Flower Show, which attracts an international audience, showcases cutting-edge garden design and serves as inspiration for countless home gardeners; the RHS Hampton Court Palace Garden Festival is celebrated for its storied location in the historic grounds of a sumptuous palace.
Show dates in 2022 include the RHS Malvern Spring Festival May 5-8; the RHS Chelsea Flower Show May 24-28; the RHS Hampton Court Palace Garden Festival July 4-9; the RHS Flower Show Tatton Park July 20-24; the RHS Garden Hyde Hall Flower Show Aug. 3-7; the RHS Garden Rosemoor Flower Show Aug. 19-21; the RHS Garden Wisley Flower Show Sept. 6-11 and the Malvern Autumn Show Sept. 23-25. Online: rhs.org.uk
---
---
---
---