Rice farms a unique tour opportunity in regions across Europe
By
Stars and Stripes
February 11, 2022
---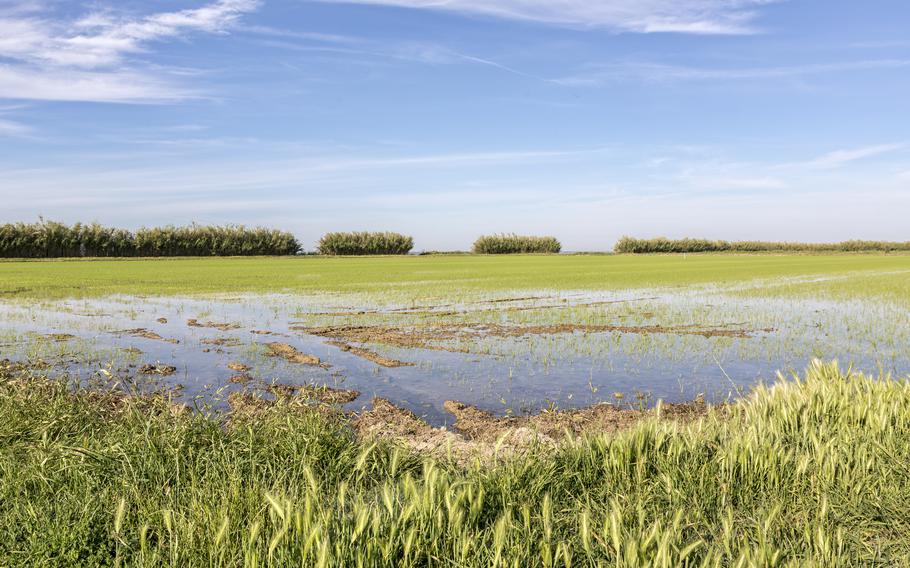 Rice is a foodstuff most commonly associated with Asia, but the grain has a long history in Europe as well. According to the Ricepedia website, rice was introduced in Greece following Alexander the Great's expedition to Asia in about 320 B.C. The Arabs are credited with bringing rice to the Iberian Peninsula's southern reaches in the eighth century, and there is evidence of rice growing in 13th-century Portugal. Rice was traditionally sown in areas considered unhealthy and inhospitable but with abundant water resources, including the deltas of major rivers and alluvial plains. As a "pioneer" crop, rice would leach the soil, making it suitable for other crops such as grapes and other grains. Even today, rice cropping plays an important role in the maintenance of ecological equilibrium and ensuring the biological richness of fragile ecosystems. From touring rice-planting areas to tasting regional specialties, Europe offers plenty of experiences related to one of the world's most important staple foods.
Italy: Some 50% of the rice produced in the European Union is grown in Italy, where cultivation is largely confined to three northern regions: Lombardy, Piedmont and Veneto. Some of Italy's most important rice varieties include Carnaroli, Arborio and Baldo, all well suited to the preparation of risotto due to their high starch content. As starch mixes with the broth, the desired creamy, al dente texture of the dish is coaxed out.
"La Strada del Riso Vialone Nano Veronese" is a rice-themed route passing through 22 history-rich villages south of Verona. The journey begins in the town of Isola della Scala and passes by several opulent villas, an old rice processing mill and paddies kept underwater throughout much of the growing season. For a taste of regional cooking, make way to a "rissoteria" offering set menus of rice dishes incorporating ingredients such as zucchini flower, oranges, red chicory, gorgonzola and spinach. La Festa del Risotto is an autumnal celebration of the region's rice dishes, and at the annual Fiera del Riso rice fair, a variety of products made of rice, from biscuits to beer to shampoo, can be purchased. The Risotto Fest typically takes place in Isola della Scala's historical town center over three weekends in September. Online: stradadelriso.it
Portugal: The Moors brought rice to Portugal during the Middle Ages. Considered a luxury product, its consumption was limited to the upper classes. The spread of malaria in the rice fields tampered enthusiasm for production of the crop, and it was only in the 19th century that rice made its comeback. Today, much of the country's rice is cultivated in the estuaries of the Sado, Mondego, Tagus and Tejo rivers. Two important Portuguese varieties of rice include Agulha, a long-grain rice used for duck rice, and Carolino, a wider grain prized for its ability to absorb the taste of the foods and spices with which it is prepared.
Travelers to the Sado Estuary Nature Reserve near Alma de Comporta have the chance to explore rice paddies first-hand. With its dense pine forests and sand dunes along the Atlantic coast, the area increasingly attracts well-heeled vacationers. Storks happily roam paddies that change colors with the seasons, and the picturesque port of Carrasqueira, built on rough wooden stilts, evokes simpler times. Dishes to try include "risotti" with eel or octopus, or rice prepared with cabbage, beans, peas and tomatoes. Comporta's Rice Museum gives insight on the crop that has been shaping the region's appearance and way of life since 1925, and its restaurant serves a variety of rice dishes typical to the region. Online: tinyurl.com/mrxfuv97
Spain: Rice grown near Valencia constitutes the main ingredient in the city's most famous dish, Paella Valenciana, traditionally made from equal parts chicken and rabbit. An ancient mill has been converted into the city's Rice Museum, where visitors can learn about the grain's history, cultivation, processing techniques and cultural impact. Some 20 miles south of Valencia is found the Parc Natural de l'Albufera, a freshwater lagoon in which rice is grown. Some 300 species of birds shelter in the park throughout the year, including flamingos. The lake can be explored by means of a boat tour. Departures are from the town of Palmar, home to more than a dozen restaurants serving up tasty rice dishes. Online: tinyurl.com/yckwyeff
France: The only French region to produce rice at any scale is the Camargue, where cultivation dates back to the 16th century. Just beyond the regional capital of Arles, in the Parc naturel régional de Camargue, are found salt lagoons known as étangs. In this wild natural landscape where the Rhône delta spreads into the Mediterranean, black bulls graze amongst the reeds, flamingos strut across sand bars and the famed white Camargue horses roam freely. The Maison du Riz, or Rice Museum, in Albaron is worth a visit to learn more about production techniques and pick up products from soaps to salts to sausages. A must when touring the area is sampling the nutty, aromatic Camargue rice, considered by many a superfood. It's the traditional accompaniment to Camargue's signature dish, "Gardianne de taureau," beef stew steeped in red wine and seasoned with dried orange peel, vinegar, onions and garlic. Online: tinyurl.com/2p88x266
Greece: Skopelos, a verdant hilly island of the Northern Sporades, does not produce rice, but it is known for a very particular dish that has been likened to an ancient form of sushi. Taverns and home cooks in the village of Glossa serve moray eel stuffed with rice or, alternately, plums and vegetables, then salted or smoked on a wood-burning stove. This method of preparation, unique to the island, was taught to Skopelos residents by the monks of Mont Athos, who are thought to have learned it from the Arabs and Byzantine Greeks. Online: tinyurl.com/k2accm2u
---
---
---
---