Large-scale events in 2022: We'll take what we can get
By
Stars and Stripes
January 14, 2022
---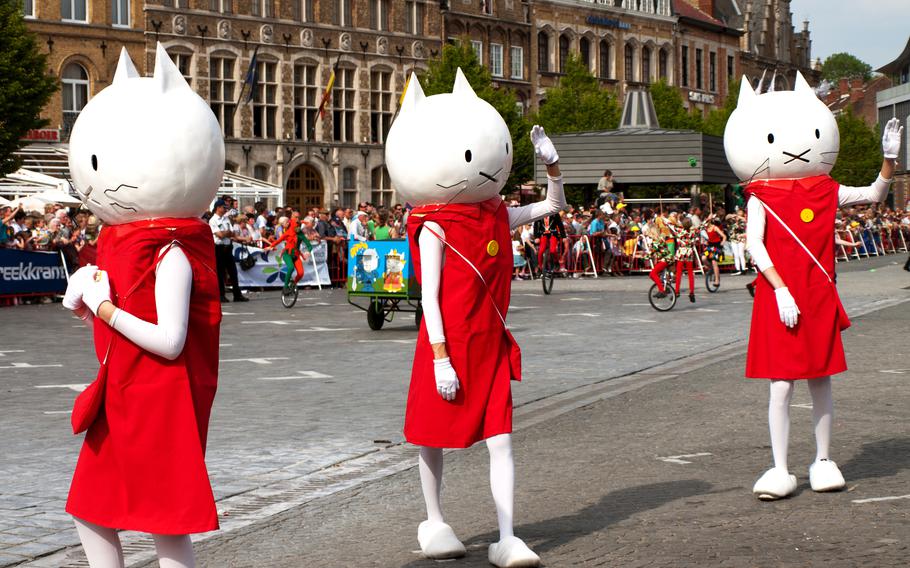 While travel might appear to be making a cautious comeback in 2022, the fate of large-scale events, at least those normally held in the first few months of the year, is looking just as star-crossed as ever. The Rose Monday parades in Mainz and Cologne, which count amongst Germany's largest carnival celebrations, will not be taking place on Feb. 28 as many had hoped; Düsseldorf, meanwhile, has pushed its own carnival festivities back to May 29.
Which of Europe's larger festivals and celebrations will ultimately come to pass remain anyone's guess; meanwhile, we can take a hopeful look at some events that remain in the pipeline, as well as find an alternate activity to give us a taste of what we will miss, should said event be canceled.
The Queen's Platinum Jubilee: In 2022, Her Majesty The Queen is set to become the first British Monarch to celebrate a Platinum Jubilee, with celebrations to mark her seventy years of service reaching their peak June 2-5, an extended bank holiday weekend. Major events include The Queen's Birthday Parade, also known as Trooping the Colour, in London on June 2 and a party and live concert at Buckingham Palace to be broadcast on BBC on June 4. On June 5, The Platinum Jubilee Pageant, featuring over 5,000 people from across the U.K. and the Commonwealth, will take place against the backdrop of Buckingham Palace. Street arts, theater, music and more will celebrate Her Majesty's reign and honor the collective service of people and communities across the land. Online: tinyurl.com/ycktufyb
In celebration of the milestone date, Windsor Castle will host a special display of the Coronation Dress and Robe of Estate worn by The Queen on the occasion of her coronation at Westminster Abbey. The exhibition can be visited on dates between July 7 and Sept. 26; entry costs from 26.50 British Pounds, about $36. Online: tinyurl.com/4ancf5k5
Documenta art exhibition: Kassel, Germany is best known for its role as host city to the documenta art exhibition, held just once every five years. A vast exhibition of contemporary art that occupies indoor and outdoor spaces across the city, much of the works on display are experimental in nature and often controversial. The artistic direction of Documenta 15 will be determined by a collective of artists and creatives from Jakarta, Indonesia. The show is scheduled to go forward from June 18 through Sept. 25. Online: documenta.de
Contemporary art lovers who miss documenta might wish to make way to the Gemäldegalerie in Berlin, where the temporary exhibition titled "David Hockney. Four Seasons" explores the British artist's relationship with nature by displaying Hockney's canvases next to some of the artists who inspired his work. The exhibition runs from April 9 through July 24. Online: tinyurl.com/2pw7b84y
Cat's Parade in Ypres: The Flanders city of Ypres, Belgium has a long and complicated history with felines, a relationship that's celebrated every three years with the Kattenstoet, or Festival of the Cats. Following the cancellation of this triennial event in 2021, the 46th edition is now scheduled to take place on May 8. Nowadays, it's strictly plush toy versions of cats that are tossed from the belfry tower of the Cloth Hall. Tickets to the parade are available online and cost 18 euros and up. Online: kattenstoet.be
Cat fanciers who miss the parade can content themselves with a visit to Kotor, Montenegro, where a quirky cat museum offers paintings of cats in human-like poses, along with stamps, postcards, books, medals from cat shows and other curiosities. Online: tinyurl.com/2pzknuch
Eurovision Song Contest in Turin: When the Italian hard rock band Måneskin clinched victory at the Eurovision Song Contest in 2021, it brought the honor of hosting the long-running music competition to its homeland. Piedmont's capital city hopes to welcome many of Eurovision's countless fans in person at the Pala Olimpico, a multipurpose stadium originally built to host the ice hockey matches of the Winter Olympic Games in 2006. The final stage of the competition will play out on May 14. Online: eurovision.tv/event/turin-2022
Music lovers shut out of Eurovision can instead chill out at Our House, Amsterdam's museum of electronic music. The museum, which opened in October of 2021, bills itself as the world's first modern museum dedicated solely to electronic music culture. Six themed areas trace the origins and predict the future of the genre in a space once occupied by one of the first dance music clubs in Europe. Our House, located at Amstelstraat 26, welcomes visitors Wednesdays through Sundays; adult entry costs 19.95 euros. Online: our-house.com
Bloomsday in Dublin: Each year in June, many residents and visitors to Ireland's capital city celebrate Bloomsday in honor of Leopold Bloom, the central character portrayed in James Joyce's novel Ulysses. The book traces the thoughts and movements of Bloom on a single day, June 16, 1904. Celebrations include dressing up like characters from the book, visiting the places mentioned and eating the breakfast described in the novel. As Ulysses was first published in full in February of 1922, anticipate fans of Joyce's work to be celebrating the book's centenary with more spirit than ever.
In addition to its role in organizing the Bloomsday Festival, The James Joyce Centre is a museum and cultural venue dedicated to fostering understanding Joyce's life and works. Set in a handsome three-story Georgian building, a permanent exhibition sheds light on Ulysses and the Dublin that inspired Joyce's writing. The center also offers walking tours of Dublin, exhibitions, courses, readings and performances geared to various audiences. The center, located at 35 North Great George's Street, costs 5 euros to enter; at present it remains closed due to COVID-19 containment measures. Online: jamesjoyce.ie
---
---
---
---