European sites populate lists of best destinations in 2022
by
Karen Bradbury
Stars and Stripes
January 7, 2022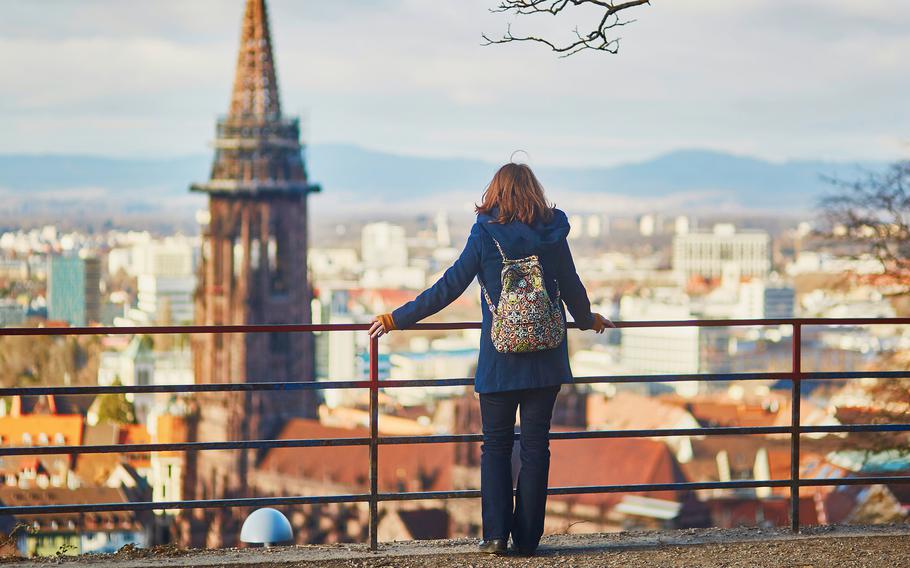 It's that time of the year when some of the most influential players in the travel industry release their lists of must-see destinations, and as usual, Europe is well represented. Based on what often seems more like whim than strict criteria, an eclectic mix of cities, regions and countries both obscure and famous have made their cuts. Augmenting these lists of places are experiences and activities, resulting in a delightful mashup of places to go and things to do as travel makes its comeback in fits and starts.
Balearic Islands, Spain: Conde Nast Traveler's awards these hugely popular summer sun destinations a place on its list of The 22 Best Places to Go in 2022 for their newfound artistic ambitions. These include the recent opening of Hauser & Wirth Menorca, a sprawling new arts center in a former naval hospital in Mahón harbor on the less-trodden island of Menorca; new boutique hotels in Mallorca and Formentera, and the Six Senses Ibiza, featuring farm-to-table dining, music, art and wellness.
Burgundy, France: Lonely Planet's 2022 Best in Travel List of regions proposes this area of central France best known for its wine production. Canals crisscrossing the landscape make cycling or traveling by river cruise a great way to explore the rolling vineyards and the elegant chateaus, many of which have been converted into luxurious hotels. Its capital city of Dijon is famous for its medieval and renaissance architecture, along with its signature product, mustard. This spring sees the opening of Dijon's International City of Gastronomy and Wine, a complex featuring a cooking school, a new hotel, restaurants and a wine cellar offering the chance to sample by the glass.
Crete, Greece: Travel + Leisure's list of the 50 Best Places to Travel in 2022 suggests Crete not only for its stunning beauty and history of human settlement dating back to the 7th century B.C., but also for its rich creative community, mostly centered around Chania and its environs. The ruins of a 16th century arsenal facing its harbor now house the Mediterranean Architecture Center, a museum and venue for events and exhibitions.
Freiburg, Germany: Landing at number three on Lonely Planet's 2022 Best in Travel List of cities, Freiburg is known for an abundance of sunshine in comparison with other German towns, a student population that keeps nightlife vibrant and fun and a picture-perfect medieval core. Its Black Forest location promises nature lovers plenty to do outside its centuries-old gates. At the end of July, the square in front of the cathedral erupts in good cheer as a wine festival plays out over 10 days.
Procida Island, Italy: National Geographic's list of 25 Amazing Journeys for 2022 includes this island city southwest of Naples that's easily reached by high-speed ferry in under an hour. Italy's chosen Capital of Culture for 2022 puts on an ambitious program of contemporary art exhibitions, festivals, and performances, spread over 300 days to encourage travel throughout the year rather than just at the height of summer. Basking in the spotlight is the Palazzo d'Avalos, first a Renaissance palace, then a prison, now taking on a new life as a cultural venue and urban park.
San Sebastian, Spain: Ovation Travel Group compiled a list of 22 Best Places To Travel In 2022 exclusively for Forbes; this city on the northern coast of Spain garners a spot first and foremost for its Basque cuisine and pintxo bars serving the local take on tapas; a beach to laze upon by day and a rich cultural scene to explore at night are an added bonuses. The old wooden roller coaster at the Monte Igueldo Amusement park pairs thrills with stunning panoramic views of the coastline far below.
Seine River cycling trail, France: Earning a spot on National Geographic's list of 25 Amazing Journeys for 2022 is La Seine à Vélo, a newly completed cycling trail running 270 miles between Paris and the Normandy coast. Highlights along the 15-stage trail include a reserve for migratory birds; an ancient, still-working abbey; a chateau with tea room; and the town of Giverny, where Claude Monet painted his famous water lilies.
Serbia: Conde Nast Traveler's list of The 22 Best Places to Go in 2022 suggests Serbia's time has come based on capital city Belgrade's pulsing nightlife scene, its many restaurants serving stunning examples of East-meets-West culinary traditions and the 2022 opening of a St. Regis hotel, a 42-floor tower anchoring waterfront urban revitalization efforts. Serbia's second-largest city, Novi Sad, has been named as one of three European Capitals of Culture for 2022. Disused spaces from a pasta factory to a silk-dyeing facility are gaining new life as art galleries and performance spaces.
Slovenia: Fifth on Lonely Planet's 2022 Best in Travel List of countries, this nation that emerged from the breakup of Yugoslavia in 1991 offers a wealth of beauty spots from the Julian Alps to deep caves to an Adriatic Sea coastline, and activities such as hiking, canyoning and rafting make the most of its natural assets. Its largest city and capital, Ljubljana, is a treasure trove of art nouveau splendor.
Tromso, Norway: Tripadvisor's compilation of the Best Bucket List Experiences to try in 2022 features as its number two pick a tour taking in the culture of the Sami, an indigenous people inhabiting some of Europe's most extreme northern reaches. Following a reindeer-drawn sled tour through the snowy countryside, visitors head to a lavvu tent to sample soup and hear stories about the local culture and traditions.
Zurich, Switzerland: The Daily Beast's list of where to go in 2022 highlights destinations suitable for long-term stays; Zurich makes the grade for its cosmopolitanism and a size and pace that feels just right. With architecture ranging from historical to cutting-edge, traditional dishes alongside an international food scene and edgy nightlife coupled with endless outdoor activities, the city by the lake offers something for every mood and every person.
---
---
---
---