Light up your holiday season by visiting these displays
by
Karen Bradbury
Stars and Stripes
November 26, 2021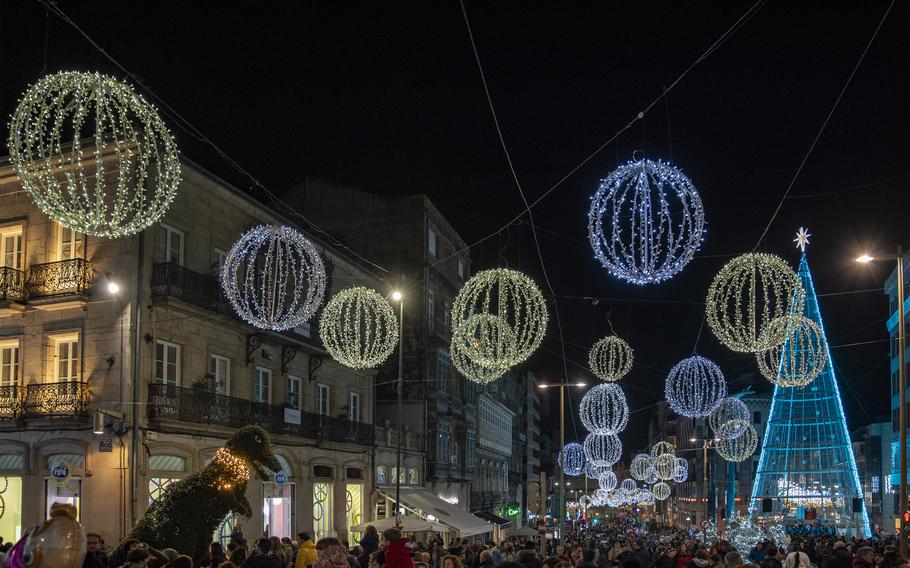 Think of Europe in the run-up to the holidays, and chances are the first thing that comes to mind is cozy and cheerful Christmas markets. Wonderful they may be, but they're far from the only delight of the season. The stringing of holiday bling along the city streets is another means by which cities get residents and visitors alike into the holiday mood. When it comes to decking out for the season, here are a handful of places that throw out all the stops:
Colmar: Even in France's Alsace region, an area famed for its magical Christmas atmosphere, Colmar's display of lights stands out. The illuminations given off by more than a thousand sources of light are conceived to highlight rather than conceal the architectural details of this canal-lined city brimming with half-timbered houses. Strolls through the Old Town reveal subtly illuminated monuments, museums and churches, some dating as far back as the Middle Ages. The Place Rapp offers a skating rink as its centerpiece. The Christmas market at Little Venice, featuring colorful cottages and a nativity scene, is specifically geared toward young visitors. Online: noel-colmar.com/en/christmas-agenda
Hamburg: Germany's second-largest city shines brightly throughout the Advent season. Sights to see include the elaborately dressed shop windows along the Spitalerstraße, the Jungfernstieg boulevard awash in a sea of light and the Ditmar-Koel-Strasse, where seamen's churches combine forces to host a Scandinavian-inspired market offering the food and drink of Germany's northern neighbors. The city center's Little Alster Lake is graced by a large tree whose lights shimmer prettily in the waters below. In addition to its more conventional Christmas markets, the open-minded city offers a handful of cheekier alternatives, including a Winter Pride Christmas market and the Santa Pauli market, featuring live music and a strip tent. The Hamburger Winterdom, a massive fun fair done up in neon lights, offers rides, games of chance, tasty treats and fireworks displays on Fridays.
Lisbon: Some two million light bulbs strung across the grand avenues and stately squares of the Portuguese capital create a shimmering and at times otherworldly atmosphere. The theme of the décor takes its inspiration from local culture: imagine whimsical sea creatures or intricate Portuguese lacework. The best installations are usually found along the Avenida da Liberdade and the historical center, particularly the Baixa and Chiado neighborhoods. Lisbon can also boast of hosting Europe's largest holiday tree. This behemoth towering more than 200 feet is no natural beauty, however, but instead a metallic conical structure covered in lights. "Presépios," or manger scenes, are also ubiquitous this time of year. Wonderland Lisbon, held annually in the Parque Eduardo VII, offers treats of the season, arts and crafts, a skating rink and a Ferris wheel. It runs Dec. 1 through Jan. 2, 2022. Online: cultuga.com.br/natal-em-lisboa-portugal
London: In a city ablaze with spectacular seasonal décor, Carnaby Street's Christmas lights consistently manage to stand out. Carnaby is a blanket term for 14 streets in the heart of London's West End known for their shops, restaurants, bars and cafés. This year's edition, named Carnaby Kaleidoscope, sends more than 600 hand-decorated butterflies with glittery wings and neon patterns into the skies above, as the Carnaby arch basks in a vivid pink glow. The "Choose Love" charity shop offers the chance to send refugees shoes, blankets and other vital supplies. Online: carnaby.co.uk/christmas
Salerno: This port city southeast of Naples, Italy, greets the season with its annual Luci d'Artista, an extravaganza of Christmas lights meant to be taken in by means of a walking route through town. Each year, the decorations revolve around a certain theme; this year's topic remains under wraps for the moment, but will be revealed upon its opening date Dec. 3. Another sight not to be missed is the massive Christmas tree to be set up on Piazza Portanova. Online: lucidartistasalerno.com
Turin: This city in northern Italy shines bright with light installations as part of its own Luci d'Artista event. Inaugurated in 1998, it was this event's success that led Salerno to launch its own edition in 2006. The conceptions of contemporary light artists grace the main squares and city streets, as well as the Mole Antonelliana, a landmark building of massive proportions. The lights remain on through Jan. 9. Online: guidatorino.com/luci-d-artista-torino
Vigo: This small city in Galicia, on the coast of northwest Spain, is an unlikely place to host the country's largest illuminations, but Vigo's mayor has grand ambitions and Christmas in his sights. The work of stringing the some ten million LED lights that make the city shine so bright commenced back in August. Last year's display covered 334 streets and featured 450 trees, a number the city plans to double in 2021. Other attractions include a giant Ferris wheel, a slide covered with artificial snow, skating rinks and small trains to ferry visitors from one site to the next. Online: tinyurl.com/bd8zfsek
---
---
---
---