Walk, don't run, to participate in these wintry events
by
Karen Bradbury
Stars and Stripes
November 19, 2021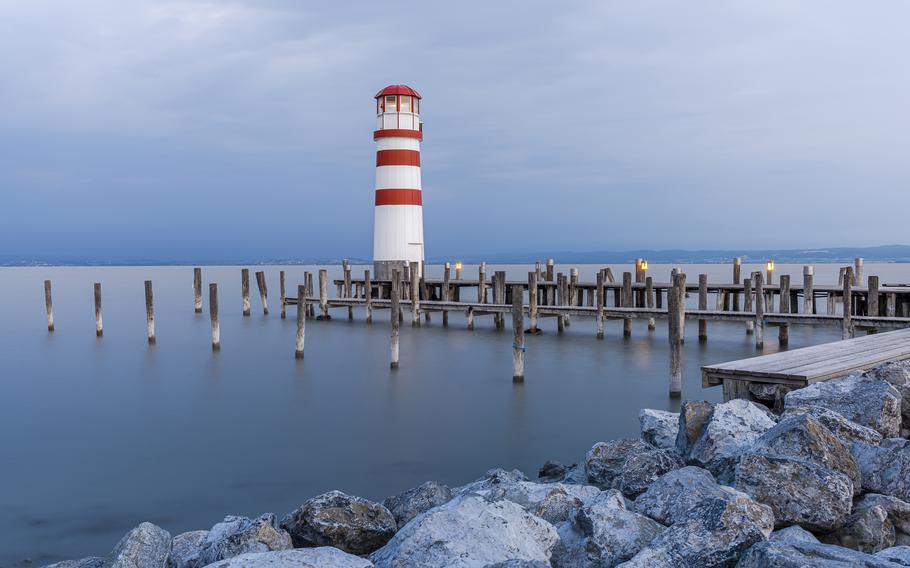 Walking an 80-mile stretch without pause would be an achievement any day of the week, but all the more so in the dead of winter. Not far into the new year, thousands will be attempting just such a feat as part of an event that puts endurance and resilience in the face of the elements to the test.
The Burgenland Extreme Tour is a timed and organized long-distance walk through a unique landscape in southeastern Austria. As the goal is to complete the circuit within a given time frame, it's not so much a race as a challenge. In addition to the unusual time of year in which it's held, its route and binational character are rather remarkable as well.
The event gets its name from the state in eastern Austria in which it takes place. Its route traces the perimeter of Lake Neusiedl, a unique environment on several counts. This UNESCO World Heritage Site is Central Europe's largest endorheic lake, a term that refers to a lake with no outflow to other bodies of water. The lake is also astonishingly shallow: at no point is it more than six feet deep. The lake and its shoreline belong to both Austria and Hungary.
The event, now in its 11th edition, takes place on Jan. 28, 2022. Participants can choose from a variety of trail lengths, all of which terminate in the Austrian town of Oggau, some 50 miles south of Vienna. The Original Trail is a complete, 74-mile circuit around the entirety of Lake Neusiedl; the Memorial Trail covers 50 miles and starts in Hungary; the Final Trail entails 37 miles of walking, and the Golden Walker, intended for senior walkers or those with less experience with distance walking, covers 19 miles.
The walk covers a variety of terrains, from soggy to frozen solid ground, and weather conditions ranging from freezing rain to heavy snow are not unheard of. The trail has various support stations along the way, and those who are forced to give up will be picked up and brought back to shelter by means of a shuttle bus.
In order to take part, joining the 24 Stunden Burgenland Association is mandatory; once a member, participation in the walk is free. The annual cost of membership is 94 euros, but new members who join prior to Dec. 31 can enjoy 75% off that cost, meaning membership and taking part in the challenge would cost just 23.50 euros. To receive a code entitling you to a discount, send your full name, date of birth and mobile phone number to extrem@24stundenburgenland.com.
Not up for such a long walk in wintry conditions, or need a bit more time to build up your endurance? A number of long-distance walking events take place throughout the year. These include:
• The Marche du Grand Est, held in the Vosges region of northeast France in mid-April (the exact date has not yet been announced). Online: tinyurl.com/y769ky6t
• The International Four Days Marches in Nijmegen, Netherlands, which covers a distance of up to 200 kilometers, July 19-22. Online: 4daagse.nl/en
• The Ultra Race Romania, a 155-mile walk or run to be completed over six days, Aug. 11-19. Online: ultraraceromania.ro
• The Dodentocht, a 62-mile walk that must be completed within 24 hours, held Aug. 12 in Bornem, Belgium. Online: dodentocht.be/en
Most walking challenges don't offer prizes to those quickest around the circuit, the idea instead being completion of the walk equates to the fulfillment of a personal challenge.
Those intrigued by the binational aspect of the Burgenland Extreme might forgo an organized event in favor of a distance walking trail straddling international borders that can be completed at one's own pace. Here are just a few to consider:
The Deutsch-französischer Burgenweg (German-French Castle Trail) is a hilly, 20-mile trek through the Pfälzerwald-Nordvogesen biosphere, one of the largest contiguous forests of Europe. The route passes by numerous castle ruins and bizarre rock formations and features breathtaking, 360-degree views. The trail is meant to be completed in two days and offers the possibility of an overnight stop along the route. Online: dahner-felsenland.de
The Anton-Günther-Trail is a 37-mile trek through the Ore Mountains on the border between the German state of Saxony and the Czech Republic's Bohemia. The picturesque trail named after a local poet and folk singer winds through moor, mountain and meadow and is meant to be completed over four days. Online: tinyurl.com/8c33rcz9
The Lechweg is a 68-mile route following the course of the Lech River, which flows from Austria to Germany. From its source in Austria's Vorarlberg region to the Bavarian city of Füssen, the hike is meant to be completed within six to eight days. Good connections on public transportation make day trips or hiking without heavy rucksacks viable options as well. Online: tinyurl.com/xnyj3a