Find tastes of Thanksgiving wherever you roam in Europe
by
Karen Bradbury
Stars and Stripes
November 12, 2021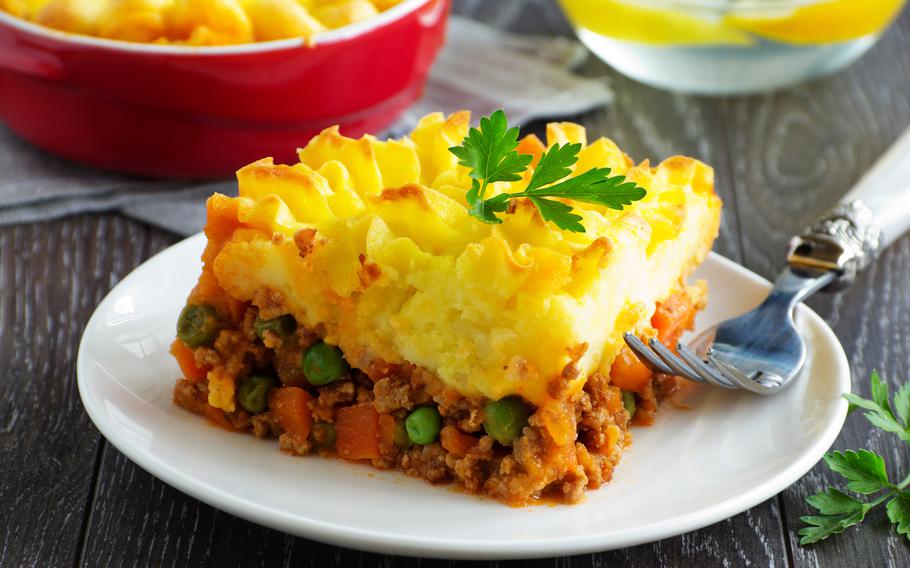 As Thanksgiving approaches, the question as to whether to stay home and cook a bang-up traditional meal or to patch together a four-day weekend and use it to travel afar has vexed many an American making his or her home in Europe. It's a win either way, but what about all those tastes so indelibly associated with the holiday table? It's likely that the place you're visiting offers a dish or two that can stand in nicely for the old classics.
Germany: While whole turkeys do make an appearance in larger German supermarkets at this time of year, November's fowl of choice locally is the goose. According to legend, the Gans appears as the centerpiece on the day of St. Martin on Nov. 11 due to its betrayal of the saint as he hid in a coop amidst a flock, attempting in vain to evade an appointment to the position of bishop. A typical Martinstag menu might include a roast goose with crispy skin, red cabbage and dumplings, followed by a dessert such as bread pudding with apples. St. Martin's Day is also celebrated in France, Scandinavia and Eastern Europe.
Italy: A specialty of Lombardy, but not unheard of elsewhere in the country, is gnocchi di zucca, or pumpkin gnocchi. These mild and slightly sweet, oval-shaped pillows are seasoned with the familiar autumn spices of nutmeg and cinnamon and served with grated parmesan cheese. The addition of sage butter adds yet another familiar Thanksgiving flavor to the dish.
Sweden: While whole cranberries are easy to find in European supermarkets, cranberry sauce is virtually unheard of. But cranberry isn't the only berry used to create a contrast to a savory main. Lingonberries, a tart red berry native to the high-latitude boreal forests of Scandinavia, find their way into jams and other condiments that accompany meat perfectly. Should a trip to Stockholm, Sweden be in the cards, look for lingonberry jam to be served as the side to Swedish meatballs. The restaurant named Meatballs for the People, located at Nytorgsgatan 30, is the obvious place to sample them, and with their preference to organic ingredients and responsibly sourced meats, it's a feel-good choice. (Online: meatball.se) Should travel plans collapse at the last minute, many branches of the furniture giant IKEA sell Sylt Lingon, an organic lingonberry jam.
Poland: Although putting stuffing in the cavity of an animal that's heading for the oven is a tradition that goes at least as far back as Roman times, something one is perhaps even more likely to run into in Europe is a stuffed cabbage leaf. The dish so popular from the Baltics to the Balkans has countless regional variations. The Polish iteration, known as gołąbki, are rolled up cabbage leaves stuffed with minced pork or beef that's mixed with rice or buckwheat groats, along with onion and spices. These are served in a tangy tomato or savory mushroom sauce or with a dollop of sour cream.
England: A firm part of the cuisine known as pub grub, a shepherd's pie should be easy to find. While the lamb typically used as the meat in this classic dish isn't a Thanksgiving craving, its creamy mashed potato topping is, as is the gravy from its bottom layer. Those who find lamb's gamey taste too off-putting will be better off ordering cottage pie, which is made with ground beef instead.
Greece: In the dish known as fasolakia giaxni, or steamy green beans, beans in tomato sauce are combined with sautéed onions and allowed to simmer until the flavors meld and is garnished with fresh parsley and crumbled feta cheese. Green beans are just one of several vegetables that are cooked by the so-called lathera method, in which vegetables are cooked in olive oil and tomato sauce. As lathera are made with seasonal vegetables, it may be easier to find such a dish made with cauliflower at this time of the year.
France: A clafouti or clafoutis is a baked dessert of flour, milk, eggs and sugar, topped with fruit. Although cherries are the most common add-in, variations with apples are popular as well. This sweet treat with a consistency somewhere between that of custard and cake is a specialty of the Limousin region; there, you'll hear the word flognarde used in reference to this dessert when it's made from a fruit other than cherries.
Switzerland: You won't miss pecan pie when there's an Engadiner Nusstorte — a tart stuffed with nuts— on your plate. This pie-like dessert, also known as Büdner Nusstorte, has a shortbread crust filled with walnuts surrounded by silky-smooth caramel. Try a piece in Graubünden, the canton of its origin.