Wrap up your souvenir shopping with traditional, locally made scarves
by
Karen Bradbury
Stars and Stripes
October 15, 2021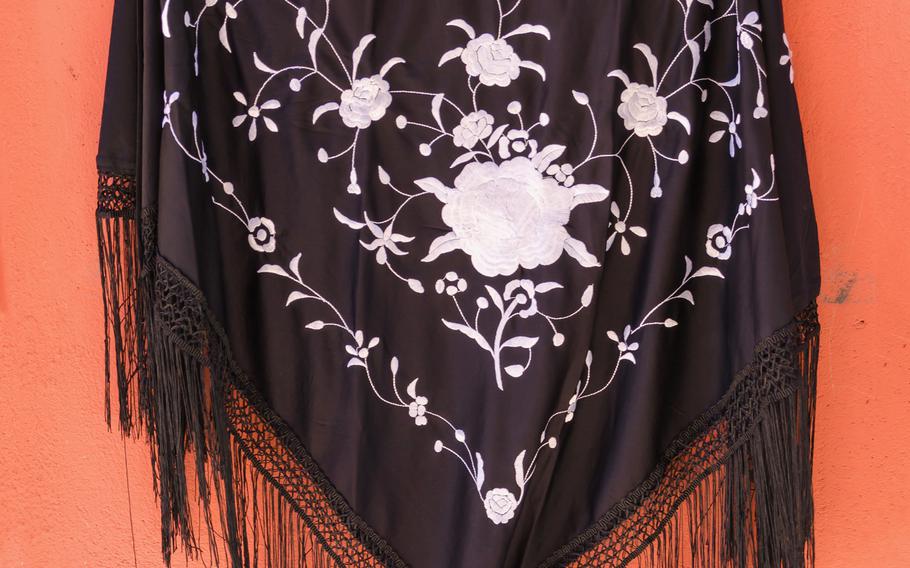 Across the Northern Hemisphere, winter is coming. When a cold wind blows, a woman knows it's time to wrap up tightly. Centuries back, the place she called home had everything to do with the form her warmth-giving scarf or shawl would take. Fortunately, many of these styles live on across Europe to date. Souvenir shopping is at its best when the goods are authentic, so keep an eye peeled for some of these beautiful drapings in your travels — or make the quest for one the point of your next trip!
Estonia
The Haapsalu shawl is an intricate lace-like creation in a solid, off-white shade. Rectangular and consisting of a center, border and edging, it is knit from a fine lambswool yarn on short, single-pointed knitting needles. Its delicate, shimmery look is often compared to that of a spider web. The ability to pass a finished scarf through a wedding ring is considered a testament to the mastery of the artisan who knitted it.
The shawl takes its name from the seaside resort town in which it gained popularity during the early 19th century. Haapsalu, with its healing muds and early spa culture, was a favorite destination of Russian aristocrats, including the Romanov family. These esteemed visitors were quick to recognize the quality and artisanship of this locally made item. The Knitters Guild of Haapsalu has preserved the tradition, and their productions are available at the Haapsalu Shawl Museum or on their website. Online: haapsalusall.ee
Ireland
Perhaps most interesting about the Galway shawl is the fact it was produced outside Ireland. These thick woolen shawls were woven on jacquard looms in Paisley, Scotland, a textile manufacturing center and important place for the production of shawls from the early 19th century. The shawl was based on examples from Kashmir brought to Europe by travelers and traders, and their designs often featured the boteh or teardrop shape recognized in the west as paisley. The model that came to be known as the Galway shawl was richly patterned and featured a wide, multi-colored decorative border and a solid color center. The fringe was added only after the shawl reached Galway. Such shawls were among the last styles produced in Paisley prior to the industry's collapse in the 1940s.
A Galway shawl almost steals the show in the 1952 film "The Quiet Man" featuring John Wayne and Maureen O'Hara. The shawl worn by O'Hara in the movie is displayed in The Quiet Man Museum in Cong, County Mayo, where much of the movie was filmed. Galway shawls are no longer produced commercially, although a handful of independent weavers occasionally sell replicas on sites such as Etsy.
Russia
Russia's women complete their winter look with a platok, a large, square shawl decorated with roses or other designs and a generous fringe. These can be worn around the shoulders or as a head covering. Amongst the most coveted of such shawls are those made in a factory in Pavlovo Posad, a town outside Moscow. The Pavlovo Posad Shawl Manufactory, in business since 1795, continues to produce these timeless, traditional shawls, along with kerchiefs of wool, silk and other natural fibers.
There's no need for a trip to the country to acquire this shawl, as most shops that sell top-end Russian souvenirs keep them in stock; in Moscow, a factory store is located steps away from Red Square. Online: platki.ru/en
Scotland
For centuries, Scottish Highlanders kept themselves warm in winter with plaid woolen blankets draped about their cores. The arisaid is the woman's variant of this wrap-around garment. Plaid, striped or woven of a solid color, it draped down to the ankles, was worn without underclothing and fastened at the front with a brass or silver buckle. In stormy weather, the upper part could be manipulated to serve as a hood, and Moms could swaddle an infant within its folds. Inside its warm embrace, a woman might be able to grab a few winks of sleep during an endless church sermon. Worn by all classes, those of lower status would wear arisaids of undyed wool, whereas the more affluent would wear colorful, patterned ones.
In Scotland's larger cities, today's shoppers might have some luck finding arisaids or serapes, another type of draping garment. Edinbugh's Old Town area has a number of shops specializing in traditional Scottish woolens and cashmere.
Spain
Synonymous with Andalusia is the mantón de Manila, or Manila shawl, a silken square embroidered with flowers, birds or fantastical patterns and finished with a generous fringe. The garment takes its name from the Philippines' capital, Manila, an important stop along maritime trade routes as part of the Spanish Empire. The garment has similarities to the alampay worn by native Philippines women; this too was folded to create a triangle and worn across the shoulders. Such shawls gained popularity in Spain throughout the 18th century. When The Philippines gained its independence in 1898 and Spain lost its easy access to the silk trade, Spanish weavers began to create their own renditions.
The accessory remains fashionable to date, particularly in Anadusia, where it is worn as part of a flamenco costume and often used as an element of home décor. On special occasions such as Holy Week or the Seville Fair, women proudly wear such shawls, whose price tags can run to thousands of euros. Some wonderful examples of such shawls can be procured along the Calle Sierpes, Seville's main shopping street. Online: tinyurl.com/cw77xum5
---
---
---