Healthy breakfasts take different forms across the Continent
by
Karen Bradbury
Stars and Stripes
September 24, 2021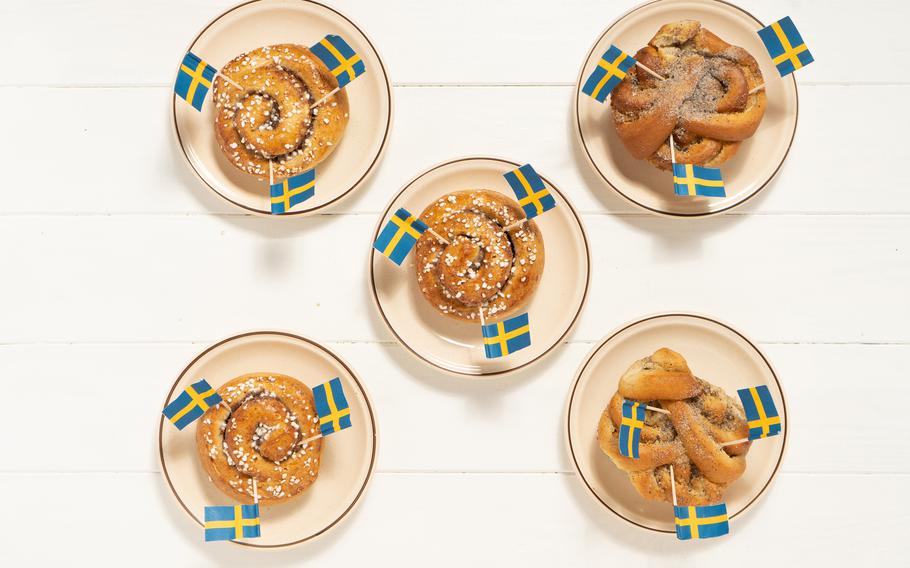 Countless times we've heard about the importance of starting the day with a healthy breakfast. In one's travels through Europe, one is quick to observe just how different that first meal of the day might be, depending on one's location. From dairy-laden sweet treats to savory snacks built around local produce, a world of tastes stand ready to awaken one's taste buds from the earliest hours of the morning. Why not make like the locals and find inspiration in what they consume as part of their daily routines or when they're after something special?
Crete: Staka me ayga are poached or fried eggs accompanied by staka, a buttery cream mixed with flour that is commonly used as a spread, dip or side dish. The use of goat's milk and a specific type of cheese makes the dish hard to replicate away from its native island. It's often served with apaki, a smoked and salted pork marinated with mountain herbs.
Croatia: As in many parts of the former Yugoslavia, the Balkans and beyond, a snack for both morning and throughout the day is burek. Phyllo dough pastry is filled with ground meat, a salty crumbly cheese, spinach, apples or other additions, then folded into triangles or rolled up into a tube and coiled before being baked to achieve a crispy outer layer. Burek are widely available at bakeries at all hours of the day.
Czech Republic: The favorite national pastime will often precede the creation of this dish. Mushroom pickers take home their bounty from the forest, sautee these tasty brown mushrooms along with a bit of onion and serve them mixed in with scrambled eggs, creating the beloved Houbová smaženice s vejci. A hint of garlic and cumin finishes off this tasty fall favorite.
Denmark: What an American would recognize as a Danish goes by another name here. Wienerbrød is the blanket term for any number of pastries made with a multilayered yeast dough containing fillings from fruits to nuts to custardy creams. The name, which directly translates to Viennese bread, is ascribed to a strike by Danish bakery workers in 1850. Bakery owners sought help from abroad, amongst them Austrians, whose baking traditions stuck. Be sure to sample a spandauer, a round pastry filled with marzipan and cream or jam, glazed and topped with chopped hazelnuts.
Greece: A Koulouri Thessalonikis is a type of wheat flour bread that's been shaped into a ring and coated with sesame seeds before baking. Similar in taste and appearance to the Turkish simit, their exact origin is the subject of some dispute between the two countries. Try one in its plain, quite dry state, or cut down the middle and spread with butter, honey or jam.
Netherlands: The Dutch take on America's French toast is Wentelteefjes, made of slices of day-old white bread dipped in a mix of eggs, milk and cinnamon, then fried in butter to make it crisp. A sprinkle of sugar just before it hits the skillet creates a pleasing layer of caramelization. Popular toppings include honey or powdered sugar.
Northern Germany: North Sea crab and scrambled eggs is a dish likely to appear at a leisurely brunch on one of Germany's North Sea islands or in the port city of Hamburg. Technically not crab at all but rather a small brownish prawn, sautéed in butter, it gains the slightly nutty taste so key to the dish's distinct taste. Krabben mit Rührei is traditionally served with buttered black bread.
Scotland: In coastal towns, the day might begin with a pungent plate of fish. Kippers are a type of herring butterflied along the dorsal ridge, smoke-cured and served alongside oatcakes. Along the east coast, one might be served Arbroath smokies, dried and salted haddock placed into a jute bag and smoked in a barrel overnight.
Sicily: This is the rare place where breakfast might come served in a frozen form. A granita is the Sicilian take on a slushie, ice flavored with lemon, berries, almonds or coffee and scraped continuously while freezing to achieve its finely grained texture. A local flavor specialty is that of gelsi, or mulberry. A brioche col tuppo is a soft sweet bun that gets its name for the fact its top resembles a tiny hat. Cut in half and stuffed with gelato, it's not unheard of as a snack, even in the early hours of the day.
Spain: Throughout the country, a popular choice is a generous slice of tortilla. This is nothing like the Mexican version but rather a sturdy omelet filled with onions, potatoes and other ingredients. A common accompaniment is pan con tomate, a slice of bread rubbed with garlic and a ripe tomato that's been mashed to a pulp. Salt and extra virgin olive oil are this simple sandwich's crowning touch.
Sweden: Breakfast in Stockholm is soft and sweet when a kanelbullar touches the plate. In contrast to the American version of cinnamon buns, these smaller sisters are twisted into knots and sprinkled with a crunchy textured sugar; hints of cardamom add just the right note. They're a common component to Sweden's beloved fika tradition, a coffee break shared with friends. So popular are these tasty buns in their native land that they even have a day of their own: Oct. 4 is celebrated as Kanelbullans Dag.