Tiny bubbles result in sparkling European vineyard experiences
by
Karen Bradbury
Stars and Stripes
August 27, 2021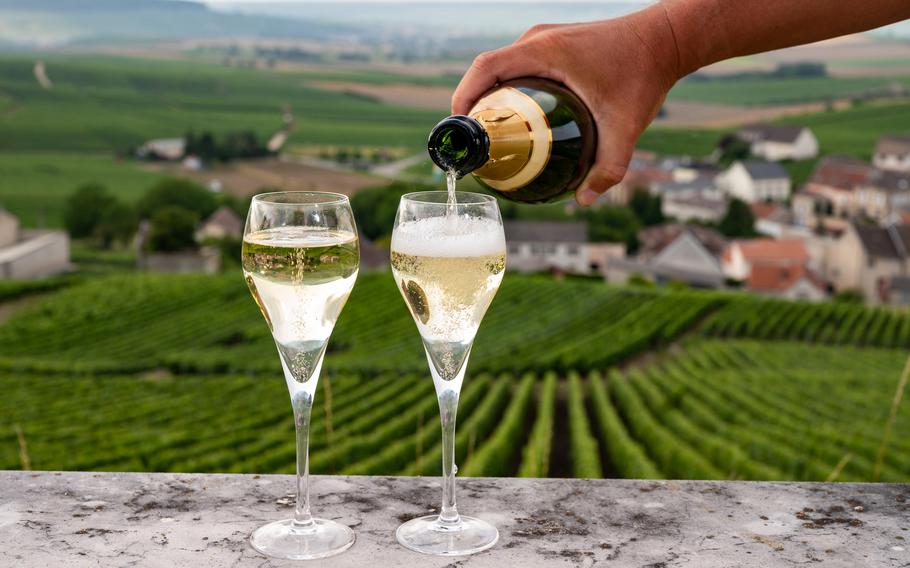 When it comes to celebrating momentous occasions, Champagne immediately comes to mind. While Champagne refers exclusively to the famous sparkling wine produced in France's region of the same name, sparkling wines are produced and consumed widely across Europe. The grapes that make sparkling wines are grown in spectacular locales, and they're well worth a visit. Here are some experiences that promise to make time spent in the wine country all the more memorable:
Sip Champagne in a treehouse: The Perching Bar nestles high in the trees of a national park. Wooden suspension bridges lead the way to a cozy hideaway that feels sealed off from the rest of the world. Its blonde wood interior manages to be at once elegant and rustic. Visitors particularly enjoy sitting in their swinging seats and gently rocking as they imbibe their flutes of bubbly. The bar is open Wednesdays through Sundays through December, and booking in advance is essential. Children under 12 are not allowed. The 21-euro fee includes entry and a glass of champagne. The Perching Bar is situated in Verzy, some 12 miles southeast of Reims. Online: perchinglife.com/bar-a-champagne-reims
Experience Espumante in Bairrada: Portugal's version of bubbles is made in the DOC Bairrada, south of Vinho Verde. Forming the western part of this wine region is Beira Atlântico, which produces much of the country's Espumantes. A handful of the region's wineries offer guided tours, including the Caves do Solar de São Domingos, whose cellar lodges more than two million bottles of sparkling wine. A variety of tours are offered through its spaces, from galleries hewn into the rock to a museum with a tasting room. The winery's "Rare Moments" experience consists of a guided visit through the cellars, tasting of two types of sparkling wines, a white wine, a red wine, a charcuterie board of cheeses and sausages, breads and a regional sweet. The tour is available daily except for Sundays and goes for 22.50 euros. The winery is located in Anadia. Online: cavesaodomingos.com/enoturismo/en
Pedal through Prosecco's homeland: In the foothills of the Alps, north of Venice, lies this corner of the Veneto famous for the production of Italy's favorite fizz. The ancient terraced vineyards between Valdobbiadene and Conegliano lend themselves well to exploration by bicycle. A 20-mile, self-guided tour suggested by Conegliano's official tourism website takes riders past some of the UNESCO-listed area's best sights. Amongst medieval castles, stately villas and ancient churches is found Carpenè Malvolti, Italy's oldest family-run sparkling wine house and the hamlet of Rolle, in which ancient vineyards preserve Prosecco's original genetic lines. As the area is hilly, exertion can be eased by renting an E-Bike. The company Vibe offers rentals of these pedal-assisted bikes and organizes a variety of themed tours. Online: vibemotion.it/en/e-bike-rental
Crack open the Cava: Spain's sparkler known as Cava is made by traditional methods in several locations including the Penedès wine-making region outside of Barcelona. Those on a city break can switch urban hip for rolling hills by signing up for a bus tour offered by the local tourism board. Barcelona Turisme's Wine and Cava Tour takes guests to three of the area's best known wineries: Freixenet, Bodegas Torres and Bodegas Jean-Leon. The itinerary includes tours of the premises and sampling pairings with local delicacies including cheese and Catalan produce. While this tour isn't offered at the moment, a tour of Freixenet only includes a visit to the premises, a ride through the caves on a miniature train and a glass of Cava. This tour costs 15 euros, plus the cost of train fare to reach Sant Sadurní, a 40-minute ride from Barcelona. Online: bcnshop.barcelonaturisme.com
Quaff Alsatian Cremant at a fest: The word Cremant refers to a sparkling wine made according to the traditional "Methode Champenoise" but produced outside France's Champagne region. The sparkling wines of Alsace, made of Pinot Gris, Pinot Blanc or Gewürztraminer grapes, are considered to offer high quality at a reasonable cost.
Those missing wine fests might wish to check out the "Fascinant Week-end Vignobles & Découvertes" scheduled for Oct. 14-17 along the Alsace Wine Route. Some 70 activities will be on offer by the winemakers, restaurants and others catering to tourists. Things to enjoy include blind tastings, exploring food and wine pairings, geocaching, games for families, vineyard tours by moped and more. As many activities require preregistration, advance planning is advisable. Online: wineroute.alsace