Paris bounces back with cycling, festivals, summer events
by
Karen Bradbury
Stars and Stripes
July 15, 2021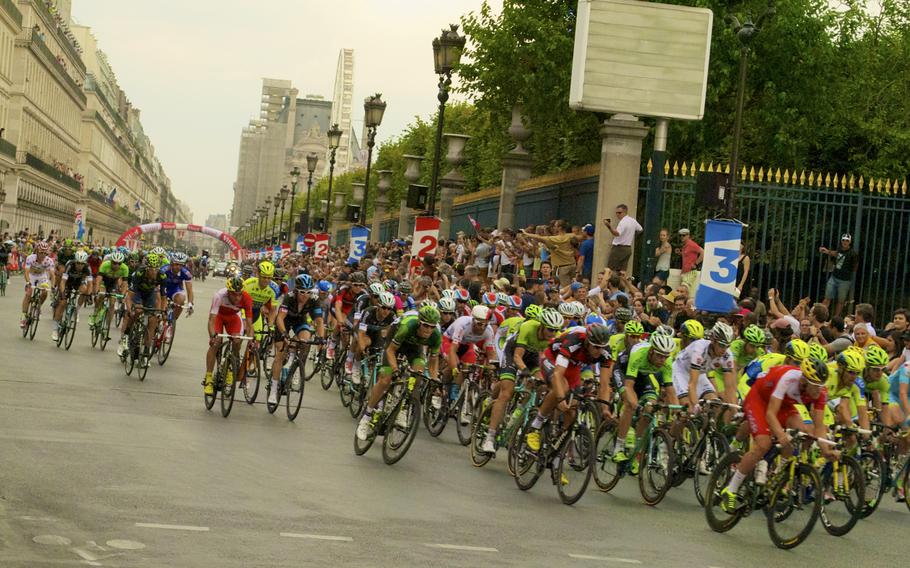 On July 18, the cyclists taking part in the Tour de France will enter Paris, where they will be greeted by throngs of cheering spectators. In a tradition that began in 1975, the final stage of the 2,122 mile bike race ends with several laps along the famed Champs-Élysées avenue and is capped off by an awards ceremony in the evening.
While the return of cheering masses marks a step closer to normalcy, those wishing to view the finish must present a pass sanitaire, or health certificate showing a negative PCR or antigen Coronavirus test result or attesting to their vaccinated status. The rule applies to those ages 11 or older.
The iconic cycle race is far from Paris' only major event to follow on the heels of France's gradual reopening. The French capital celebrates the return of public events and attendees with an agenda brimming with outdoor activities, concerts, sports, exhibitions and more. Here are just a few reasons why a cautious visit to Paris prior to the return of the usual hordes of tourists might be in order.
Paris Plages: Since 2002, residents and visitors alike have looked forward to Paris' annual transformation to seaside resort. With the Seine standing in for the sea and its banks a sandy beach, a holiday vibe sweeps in like a summer breeze. Parasols, deckchairs and palm trees take over at three main locations: the Parc Rives de Seine, the La Villette canal basin and the Trocadero gardens.
The chance to try out numerous types of sports foreshadows Paris' hosting of the Olympic Games in 2024. Activities to enjoy through Aug. 22 include climbing, skateboarding and free group classes in fitness, kick-boxing, boxing, Thai Chi and other sports. La Villette offers the chance to swim, kayak, and take a ride on a pedal boat.
Fête des Tuileries: It's a far cry from Disneyland Paris; nevertheless, this fun fair made up of some 60 attractions including bumper cars, ghost train, shooting gallery, a hall of mirrors, vintage merry-go-round, giant slide, trampolines and more has a charm all its own. The fair is open daily in the Tuileries Gardens through Aug. 29; entry is free.
Parc Floral: The Paris Jazz Festival blends lazy melodies with a leafy backdrop. The vitality and diversity of the local jazz scene is on full display here, although major international artists perform on the Espace Delta stage as well. Daytime performances are free, save for the 2.50 euro park entry fee; tickets to the evening concerts go for 26 euros. Concerts take place through Sept. 8. Online: festivalsduparcfloral.paris
Parc de la Villette: Another event for fans of the genre is the Festival Jazz à la Villette, which consistently impresses with its broad array of artists and performances in smaller, more intimate environments. In addition to concerts, its "under the radar" section highlights unknown artists, special or experimental projects, and "Jazz à la Villette for kids" offers a program geared to young audiences. The festival runs Sept. 1-12. Online: lavillette.com
Paris La Défense: The Garden Parvis is a lively temporary summer terrace made up of a food market, bar, relaxation areas, children's play zones and more. Across its four themed areas, visitors can play games from boules to table tennis, participate in workshops, chill to DJ music, and of course, eat well. The Garden remains in operation through Aug. 13. Online: garden-parvis.parisladefense.com
Les Extatiques is a temporary open-air exhibition of monumental works of art. The show's fourth edition features 69 sculptures and installations set up on the esplanade between La Défense and the gardens of La Seine Musicale. The works are the creations of the French and international artists invited to take part in the show. They will remain on display through Oct. 3. Online: tinyurl.com/4z753juz
Hôtel des Invalides: The Nuit aux Invalides is a show of light and sound projected onto the indoor façades of the Hôtel des Invalides. To mark the bicentennial of Napoleon's death, the story of the famous Emperor's exploits and the civil and military heritage he left behind is told. The show titled called "Napoléon, l'envol de l'Aigle" (Napoleon, the Flight of the Eagle) can be concluded with an optional visit to Napoleon's Tomb in the Eglise du Dome by candlelight. Ticket prices begin at 18.99 euros. Online: lanuitauxinvalides.fr
The venue hosts another event, the Open Air Opera. Each summer, a well-known director puts on a great opera from the classical repertoire in various outdoor settings. This year's production is Madame Butterfly. Bars and food trucks cater to attendees' needs beforehand. Performances are scheduled daily Sept. 1-4; ticket prices begin at 25 euros. Online: operaenpleinair.com
Bourse de Commerce: A historic building imaginatively redesigned by the architect Tadao Ando has a new function: housing some of the works making up the legendary collection of the French billionaire François Pinault. The collection consisting of paintings, sculptures, videos, photographs, audio works, installations, and performances come from all corners of the globe and reveals Pinault's penchant for emerging trends. The ensemble currently on display is dedicated to art from the 1960s to the present day. Adult tickets go for 14 euros. Online: pinaultcollection.com/fr/boursedecommerce