An altitude adjustment can help travelers beat the heat
by
Karen Bradbury
Stars and Stripes
July 1, 2021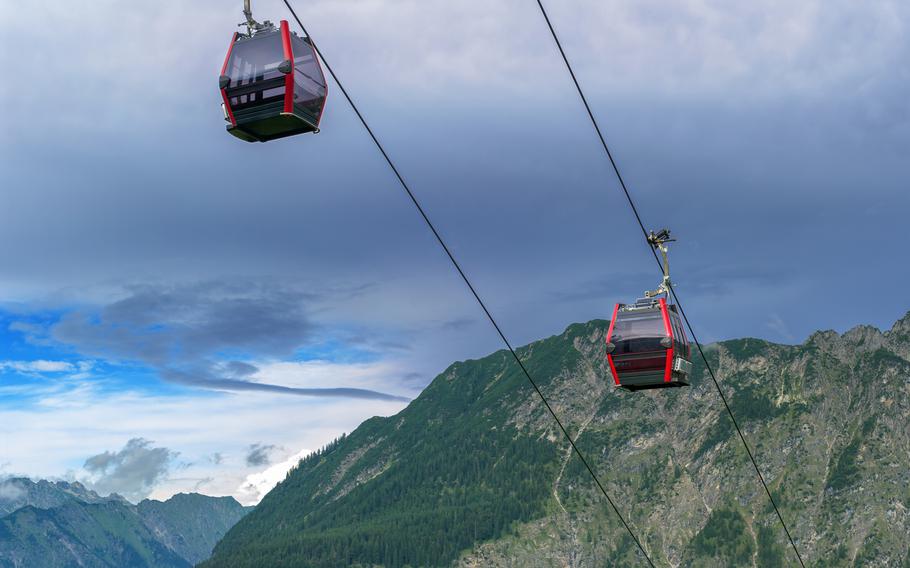 In the event of a northern European heat wave, there's often not much in the way of air conditioning to save the day. So where can one go to beat the heat? Up! According to the scientific theory known as the standard lapse rate, air temperature can be expected to fall by roughly 3.5° F for every 1,000 feet of altitude gained, making this a great time of year for exploration of some of Europe's most charming high-altitude villages and towns. This trio of high places offers plenty to do and see:
Germany: The municipality of Oberstdorf, located in the Allgäu region of the Bavarian Alps, is made up of five villages: Oberstdorf itself, at 2,667 feet above sea level, and Kornau, Reichenbach, Rubi, Schöllang and Tiefenbach. These specks on the map count as not only the country's southernmost settlements but also amongst Germany's highest towns. A skier's dream in winter, the area offers plenty of summertime pursuits too.
The Fellhorn, a mountain peak straddling the German-Austrian border, can be reached by cable car in all seasons. A hiking path between the Kanzelwand and the Fellhorn middle station is signposted with information about the blossoming beauty of Allgäu's "flower mountain," an area famous for its alpenrose, which despite its name is actually a type of rhododendron. Online: tinyurl.com/yyrdr4vs
When great tastes are amongst one's travel goals, what's called for is a visit to a "Sennealpe." At this special type of Alpine dairy, cheese is made from the happy, grass-fed cows living on the premises. The Alpe Schlappold, found in the middle of a nature reserve on the Fellhorn, is a favorite destination of hikers. Germany's largest and highest-altitude dairy welcomes visitors from May through October. Although no guided tours will be offered in 2021 due to Coronavirus, guests can sample the wares on its terrace. Online: alpe-schlappold.de
Another unique attraction of the area is the Heini-Klopfer-Skiflugschanze, a 236-foot high hill dedicated to the sport of ski flying, a sport akin to ski jumping but in which athletes can achieve much greater distances. One of only five such facilities in the world, the foot of the tower is easily reached by means of a barrier-free inclined elevator. Guided tours familiarize visitors with facility and this fascinating adrenaline sport. Online: tinyurl.com/whwc8xp6
Italy: Sestriere, Italy's highest village, hovers 6,676 feet above sea level in the Susa Valley. Ensconced by mountains, Sestriere is home to one of the country's largest ski resorts and regularly hosts major ski competitions. Sporty types will find the area equally appealing during the warm months of the year.
Golfers can enjoy a round at the Circolo Golf Sestrieres, Europe's highest 18-hole course. The par-65 course, which shares space with the slopes of the Vialattea ski resort, also includes a putting green and a driving range. Visitors with a valid handicap certificate from their home clubs are welcome.
Cyclists can also have a field day in this area that has served as both start and arrival point to the Tour de France and the Giro d'Italia. Road, mountain and e-bikes can be rented at a handful of shops right in town, and instructors stand ready to accompany those looking to up their game. The Downtower Downhill Biking Track is reserved for expert bikers only.
The Sestriere Sport Center, billed as Italy's largest sports center, offers a gym, squash courts, climbing gym, athletic track, football pitch, fitness room, sport fishing lake, wellness area and a children's fun zone. Courses from spinning to total body workouts are offered with advance reservations. Other local offerings include hiking, horseback riding, tennis and a swimming pool. Online: sestriere.it/en/summer-in-sestriere
Scotland: Perched in the Lowther Hills at an altitude of 1532 feet, Wanlockhead is Scotland's highest village. This town some 50 miles southeast of Glasgow tells the story of the rise and fall of a local industry.
For many centuries, the village's economy was fueled by lead; other minerals mined locally included zinc, copper, silver and gold. The Museum of Lead Mining offers insight into the mining process and the lives of the miners and their families. Visitors can follow a trail leading through the village, an 18th-century Miners' Library, past industrial relics, and into the Lochnell Lead Mine itself. The Straitsteps Cottages offer a glimpse of daily life of long-ago mining families. Another area offers the chance to pan for gold.
The Leadhills and Wanlockhead Light Railway, which once transported refined lead, closed back in 1938, but a length of small-gauge track has been re-opened, and on summer weekends when Coronavirus is a thing of the past, trips between Wanlockhead and Leadhills should once again be offered. With the driving left to someone else, a stop at the Wanlockhead Inn, Scotland's highest pub, is a fitting end to a hard day's play. Online: tinyurl.com/kn5m89hw