Finding Europe's finest playgrounds is as easy as A-B-C
by
Karen Bradbury
Stars and Stripes
June 11, 2021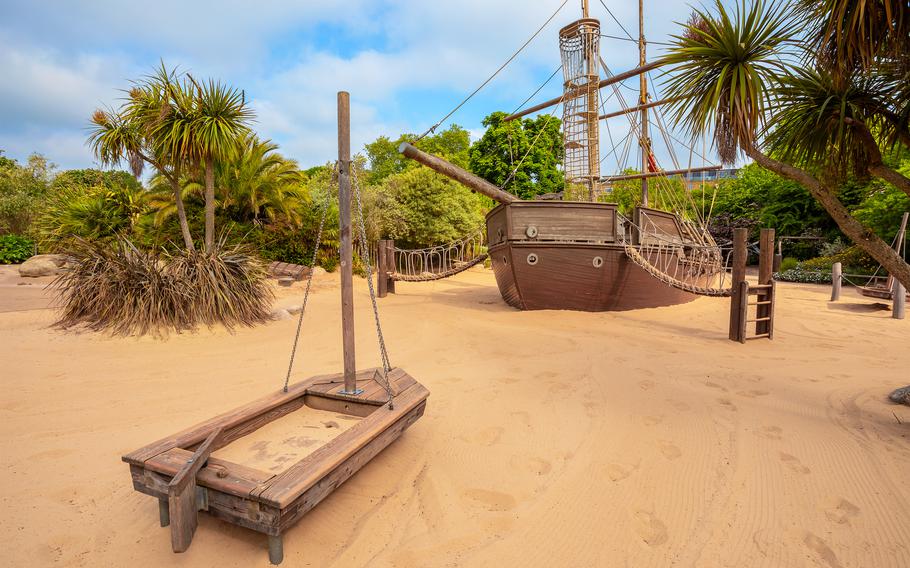 From the London Eye to Tivoli Gardens in Copenhagen, there's certainly no shortage of European landmarks that kids are bound to enjoy as much as the adults will. Once a destination's must-see sights have been checked off the to-do list, clear an afternoon for a laid-back play date in a spot so unique it just might crowd out the memories of the place you came for to begin with.
Here's an elementary list of epic places young families are sure to find adventure.
Acrefair, Wales: The Land Plas Madoc Adventure Playground encourages adventures and risk-taking for youth ages 5 through 16 with its assortment of hammers, saws and other building materials. This space strewn with pallets and old tires might look like a junkyard to some, but to kids with a bit of imagination, it's a land of infinite possibilities. Three "playworkers" on site are there to help, rather than teach or supervise.
Bennebroek, Netherlands: The Linnaeushof playground near Haarlem is billed as Europe's largest playground. More than 350 play sets, many of which employ modern technology, encourage interactive role play. Attractions include cable cars, trampolines, bouncy castles, pedal boats, a miniature golf course, a super slide, 30-foot-tall replica of a pirate ship and other attractions, all grouped into age-appropriate zones. Admission to the park costs 15 euros. Online: linnaeushof.nl
Cologne: Since 1998, the German Alpine Association has maintained a massive climbing wall on the Hohenzollernbrücke, a busy railway bridge spanning the Rhine River. This free-entry public facility offers some 70 different climbing possibilities of varying degrees of difficulty. The wall can only be used between the months of March and October, and visitors must register online prior to entry. Online: tinyurl.com/zwr4y5uy
Copenhagen: Tower Playground resembles a tiny version of the Danish capital, with five of its most famous buildings in miniature: Our Savior's Church, City Hall, Round Tower, Marble Church and Exchange Tower. Each structure's tower incorporates elements of play, from rope bridges to climbing walls. The play area makes up park of the expansive Fælledparken, in the eastern part of the city. Online: tinyurl.com/tt56ahbf
London: The Diana Memorial Playground near Kensington Palace built two decades back in honor of "the people's princess" was inspired by the timeless tale of Peter Pan. Mermaid fountains, teepees, totem poles, slides and sensory trails beckon, but the real star here is a massive wooden pirate ship, perfect for climbing in and around, surrounded by sand and palms. Expect waiting times to enter, as the park is popular year round. Online: tinyurl.com/4hmytr38
The Hague, Netherlands: The Monkeybos is a forest perfectly formed for active play, with trees pruned specifically for climbing and stumps left to form pathways. Zip lines offer a quick way down, and piles of branches take on the form of huts and caves. The setting, a seaside dune between The Hague and Wassernaer, is magical in and of itself. Online: dunea.nl/duinen/spelen
Stockholm, Sweden: The Fruit and Scent Park is a produce-themed playground featuring a banana slide, orange seesaw, pear huts, watermelon jungle gym and cherry swings. Online: parker.stockholm
Valencia, Spain: Based on the story penned by Jonathan Swift, the "Parque Gulliver" is designed around a giant's body sprawled across the ground. Children can make like Lilliputians by climbing, hiding and exploring his fiberglass physique covered by slides, stairs, ramps, caves and other fun spaces. The giant makes his home in the Jardí del Túria gardens. Online: tinyurl.com/kwb7kmw2
Wattens, Austria: The Swarovski Crystal Worlds is a unique attraction in the Tyrolean town in which the glass manufacturer's headquarters are located. At once a park, art museum, restaurant and retail space, in 2015, a playground entered the mix. A four-story play tower with rope swings, climbing net and slides is complemented by outdoor play space, water play area, maze and carousel. Admission costs 19 euros for adults and 6 euros for ages 6-17. Online: tinyurl.com/2x5463by