On the right track: Enjoy some R&R with a tranquil trolley ride on an old German railroad 
By
Stars and Stripes
August 18, 2022
---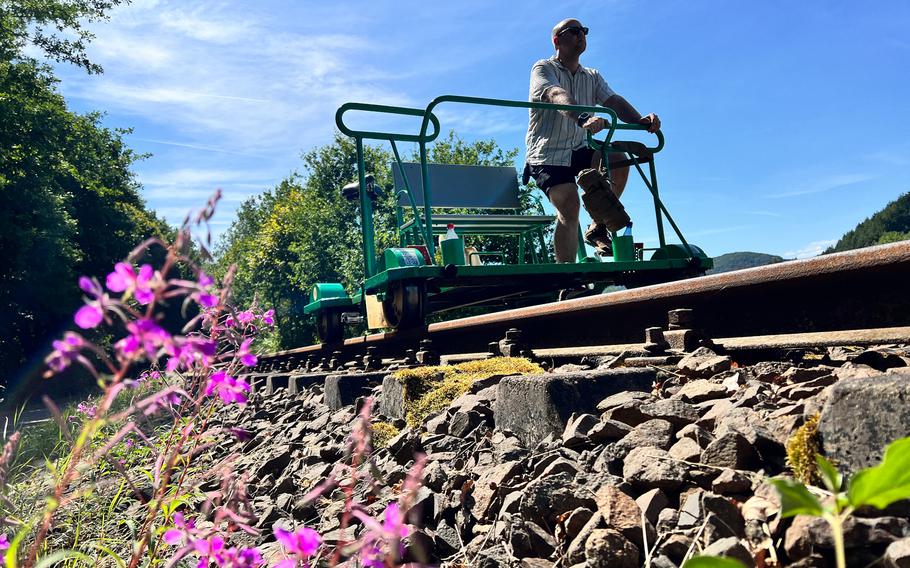 When I told my wife what I had planned for a recent Sunday outing, she didn't quite know what to expect: We were scheduled for a "draisine" tour.
Like me, she had never heard of a draisine before. Sometimes called a handcar, it's a nearly obsolete vehicle that once transported rail service workers and tools along inaccessible portions of railroad tracks.
You may be familiar with them from old Hollywood films and cartoons. The often comedic scenes show a heavy cart with a hand lever in the middle being propelled along the tracks with great physical exertion.
But the draisine tour in Germany's Glan Valley does not require lifting and lowering the hand lever like a Wild West miner in a gold-rush hurry. Instead, like a bicycle, the trolley is powered by pedals and runs on four wheels on the track.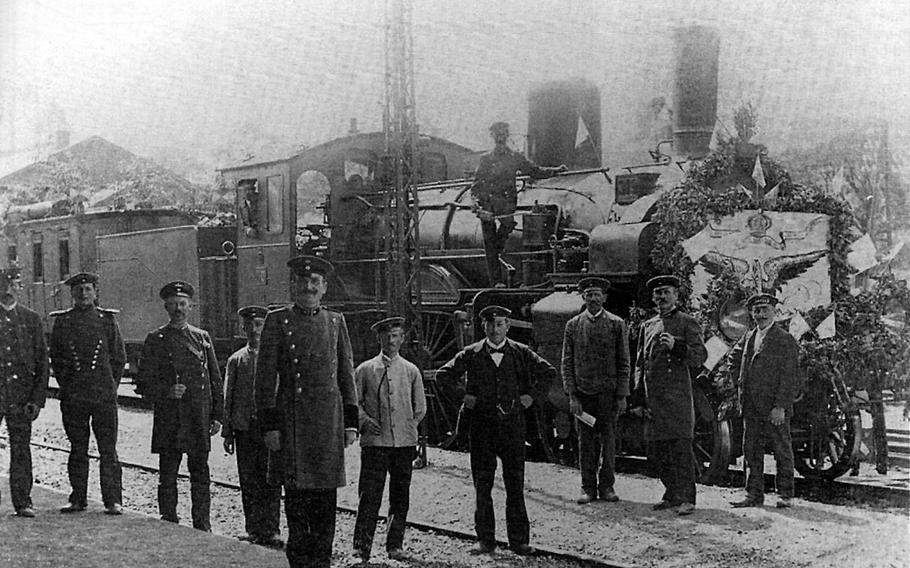 The term draisine is derived from German engineer Karl Friedrich Drais, who in 1817 applied for a patent for a "walking machine," a precursor to today's bicycle that was later modified for rail use.
We started our journey in the small town of Altenglan, located in the Palatinate hills roughly 20 minutes east of Baumholder. A jovial attendant with a thickly accented English introduced us to a few safety, braking and road-crossing procedures, and we were on our way.
The ride follows the route of the old Glan Valley line, which once took train passengers to each of the little village stops. Built in the late 19th century, the rail line had strategic meaning during the two world wars.
Starting in the 1960s, however, many stations closed for passenger traffic because of population decreases in the eight remaining rural towns on the way.
Since the early 2000s, the draisines have ruled much of the abandoned line. They rumble past the old train stations, sandstone reminders of the towns' railroad history.
Riding side by side, my wife and I pedaled slowly, without having to worry about traffic or time. The rusty rail passed underneath with the familiar and soothing clickety-clack rumbling of the metal wheels.
We rolled by brooks and under the cool shade of old railroad bridges, past wooded hills and sun-drenched golden wheat fields.
At 49 euros per cart on the weekend, the ride isn't cheap. But the price applies for the whole day regardless of the length of the route you choose. You have plenty of time to explore at your own pace.
Riders are allowed, even encouraged, to stop in the villages for breaks. Although the draisines are significantly heavier than bicycles, weighing nearly 250 pounds each, they can be relatively easily lifted off the rails one axle at a time, allowing others to pass.
Pro tip: Bring a bicycle chain. Some stops feature anchor points to secure the cart while you explore a village or have a bite.
There is plenty of space behind the seat for coolers or bicycles, so the trip can also be combined with a cycling detour or picnic. While much of the track is shaded by large trees and hedges, other portions go over open fields. Sunscreen, hats and plenty of fluids are a must.
We took a break in the small hamlet of St. Julian, where Larry and Isas All American Diner is located right alongside the tracks and beckons with homemade lemonade, beers, burgers and tacos.
The town is home to one of the last functioning oil mills in Europe. Built in 1730, the mill once produced plant oils and today is a unique industrial artifact that is protected by the German government. Unfortunately, we hadn't registered for a tour ahead of time.
Draisine rental stations can be found in the villages of Altenglan, Lauterecken and Staudernheim. Since the excursion is on a single rail line, on odd calendar days, the rides start at Altenglan and travel north. On even calendar days, they go the other way, starting in Staudernheim instead.
Going in one direction, there is really only one other choice to make: how long you want to ride. Traveling the full length of the route can take almost five hours without breaks, according to staff.
Considering that we had arrived in the afternoon and were not looking for an athletic challenge, we completed our relaxed ride in Lauterecken, about 12 miles from each starting point, after nearly three-and-a-half hours.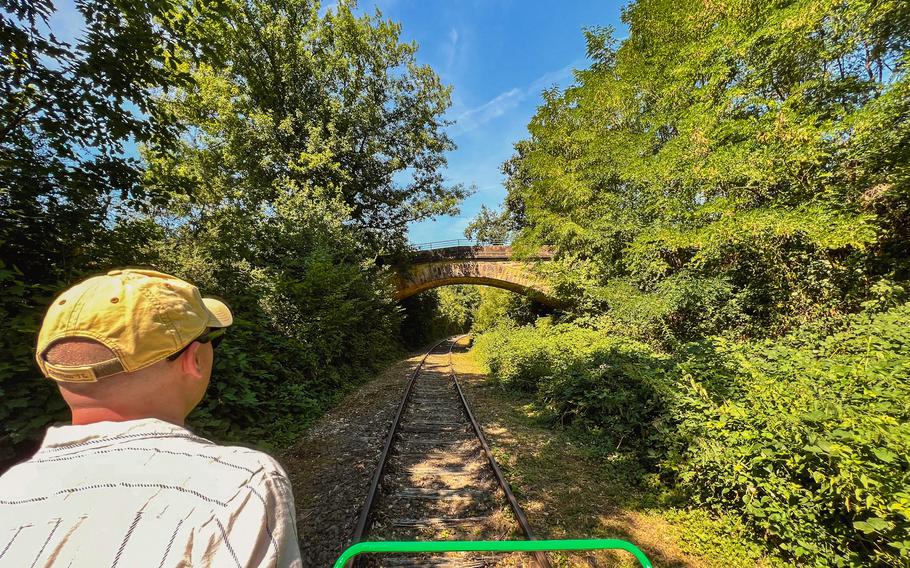 The draisine tour at first can feel a bit silly, but the little kid in me couldn't help but enjoy the ride.
Since 2021, the company also offers electric draisines, which make the journey even more relaxed, and a barrier-free draisine with a hand crank that allows people in wheelchairs to join the ride.
Looking for the extra historical touch? A hand-lever draisine is indeed available, along with a covered wagon trolley for larger groups.
On the QT
Address: Of the three stations, we recommend starting at Altenglan, which is closest to both Baumholder and Kaiserslautern. Using trains from Kaiserslautern, take the S1 to Homburg (Saar) Hbf. Change trains at Landstuhl, taking RB67 to Kusel, with stop at Altenglan.
Hours: Draisines are available from March to October, 9 a.m.-3 p.m.
Costs: Bike draisines are 39 euros per day Monday through Friday, and 49 euros on weekends. Each draisine fits up to four adults. Group trolleys start at 69 euros. Plan on an additional 5-10 euros for a return bus fare to your starting location if arriving by car.
Food: A comprehensive listing of sites and rest stops can be found in an online map at draisinetour.de.
Information: The booking website draisinentour.de is available in English and German.
---
---
---
---