K-town card shop a fun stop for cardboard combat
By
Stars and Stripes
July 7, 2022
---
People in Kaiserslautern summon dragons and lead troops into battle almost every day, and everyone comes out of the experience unscathed.
The scenarios play out through trading cards. Battle Bear, a shop near the K in Lautern mall, sells collectible trading card games and also hosts events on most nights for players of the various games.
It makes a fun stop for Americans who have seen their fill of castles in Germany and would rather immerse themselves in games featuring knights who fight wizards and space demons.
Visitors to Battle Bear will see aisles filled with boxes and packs of collectible trading cards such as Magic: The Gathering, the Pokemon Trading Card Game and Yu-Gi-Oh.
There is a wall with rows of plush toys and board games. The store also offers tables for games like Warhammer 40,000, in which players put miniature units on a three-dimensional map and maneuver them into combat against opponents.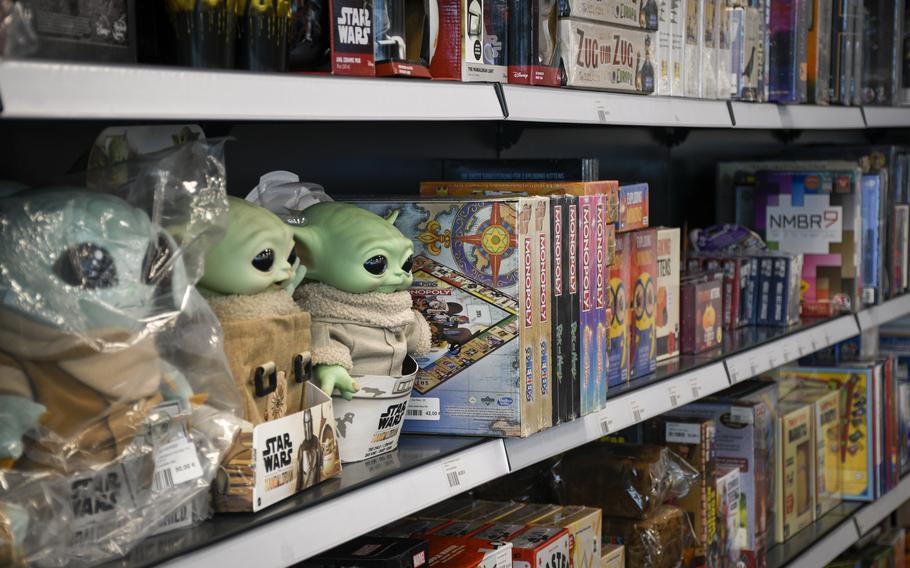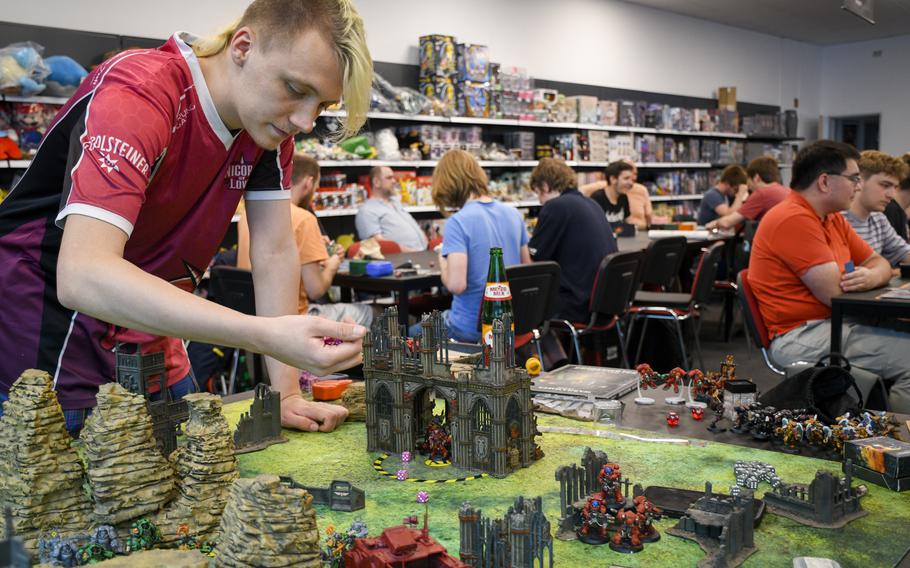 The shop opened in 2018 and moved to its current location near the mall last year. The new location has enough table space for 60 people to play games at nightly events, employees told me.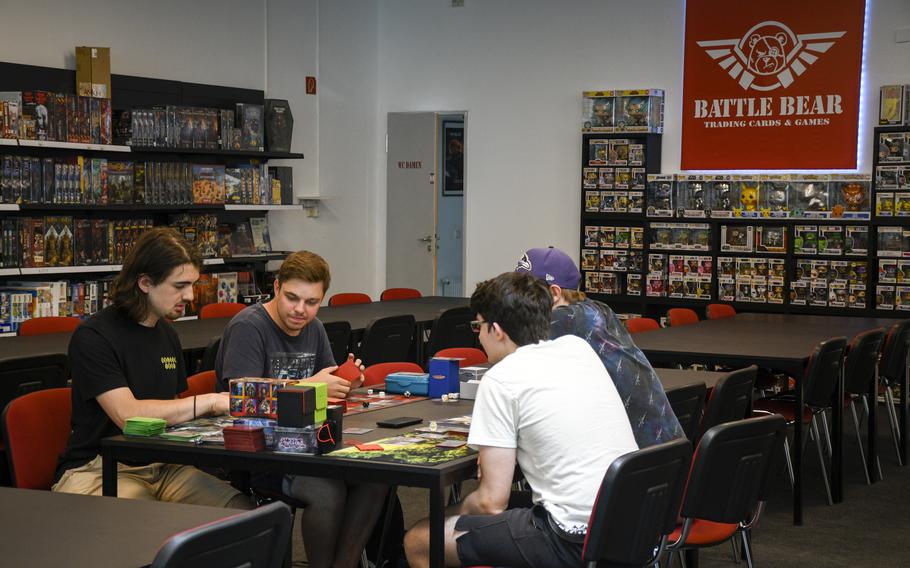 I saw some parents with their very excited children looking at Pokemon cards at the shop. Buyer beware, these card games are expensive and addictive hobbies.
Battle Bear has a glass display with particularly shiny and rare trading cards, some of which sell for hundreds of euros.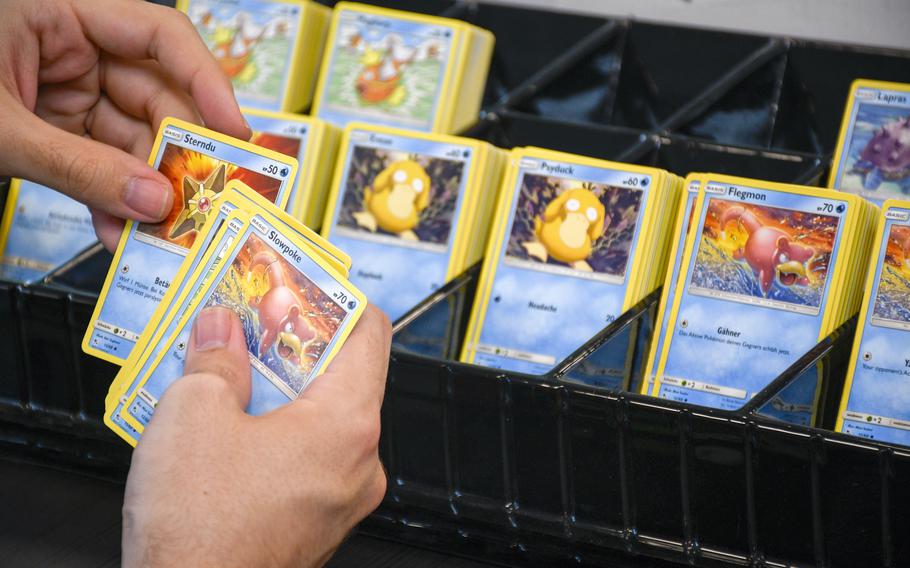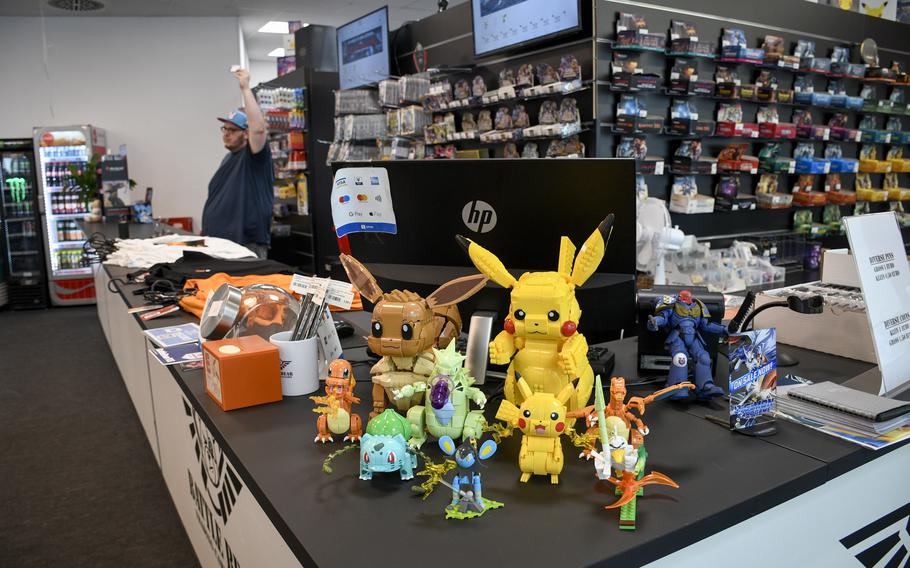 I first went to the shop to buy cards for Yu-Gi-Oh, a game I had played as a child. Yu-Gi-Oh is like chess combined with poker, and the luck of the draw determines what pieces you'll have.
But buying these expensive pieces of cardboard has little point if you can't play them in a match with other people. Hence the Thursday evening Yu-Gi-Oh contests bringing players together to do battle.
I had worried that my inability to speak German would prevent me from joining in the fun, a common fear among Americans, the staff told me. But Battle Bear has taken steps to cater to the large American community around Kaiserslautern.
All staffers speak English, said Aaron Boenig, a sales clerk at the shop. Anyone who wants an introduction to the games played there can ask for a 30-minute primer in either English or German, he said.
Most of Battle Bear's cards come in English or German versions. It also buys cards in either language and even has purchased some in Korean from American troops.
If you're browsing the board games and find something you like in German, the shop can obtain an English version from a supplier in the U.K., Boenig said.
During the competitions, there are judges who speak English and can step in during games to translate, Boenig said. But most of the German-speaking players speak English anyway, he added.
The Yu-Gi-Oh game night I attended drew about 20 or so people. The Friday night Magic: The Gathering events are the most popular, I was told.
Saturday afternoon sessions are usually the best for new players, as a range of games are hosted that day, staff member Daniel Decker told me.
I saw some Americans who had come to the shop from Ramstein Air Base and watched them play. After the competition, many people stuck around, showed off the cards they had collected and just hung out.
It was fun to geek out with like-minded folks, sharing a feeling of enjoyment that translates across borders.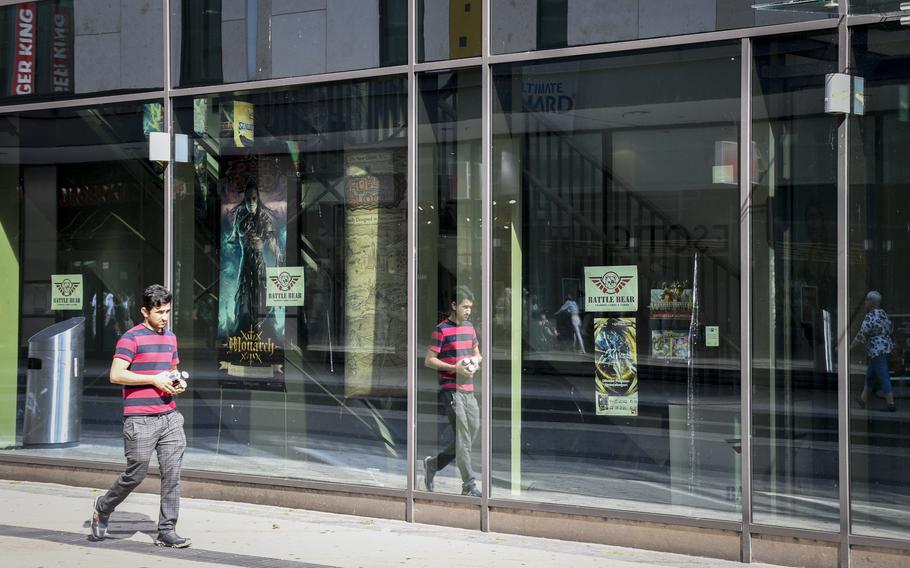 On the QT
Address: Fruchthallstrasse 31, Kaiserslautern, Germany. The card shop is above the Burger King next to the K in Lautern mall. The entrance is across the street from the Dunkin' Donuts and Starbucks. There is a staircase across from a nail salon that goes up to the card shop.
Hours: Monday through Saturday, 10 a.m.-7 p.m. There are events Tuesday to Friday starting at 5 p.m., and on Saturday starting around noon.
Cost: A booster pack of trading cards can go for 4 euros, and boxes of cards can go for 150 euros. The shop also buys cards.
Information: store@battle-bear.de; 0631 3547-7280; Online: battle-bear.de
---
---
---
---