Discover the thousand faces of Buddha at meditative Moselle village museum
By
Stars and Stripes
June 23, 2022
---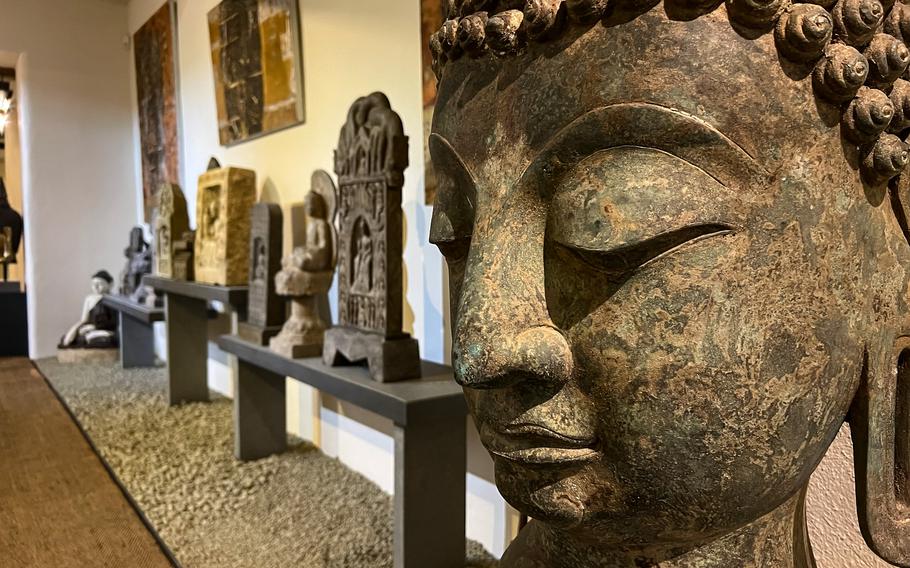 Sitting cross-legged in meditation with a serene smile, the Buddha is one of the most recognizable figures in the world.
But one doesn't have to travel the banks of the Ganges River to dive into the Siddhartha story. Traben-Trarbach, a small wine-producing village along another river, is awash in fulfillment thanks to the Buddha Museum.
After learning about the museum, I was intrigued. Having visited temple sites in China, Japan and Vietnam, I wondered how impressive a Buddha attraction in Germany could really be. Turns out I was in for a surprise.
The museum is in a castle-like building at the edge of the tranquil town on the Moselle. As one might more readily expect from its surroundings, the building was once a winery, a thought-provoking home for an ascetic sage, I mused.
In the main exhibit room, Buddha statues, pictures and pagodas from around the globe stretch across 43,000 square feet of exhibition floors as calming monk chants play softly from the speakers.
The museum offers more than 2,400 statues, sculptures and pieces of art depicting the three main Buddhist branches: Theravada, Mahayana and Vajrayana. The items come from China, Japan and elsewhere in Southeast Asia.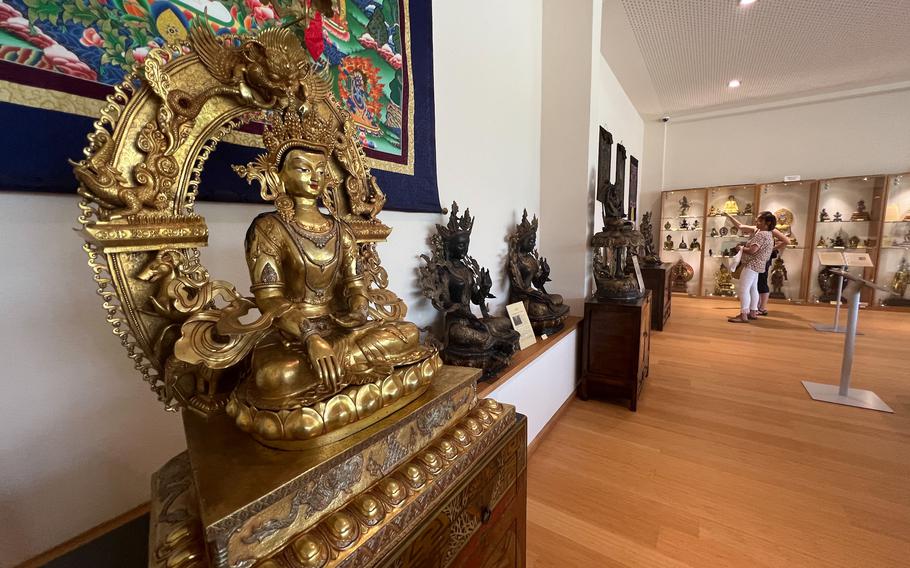 Much as is the case with Jesus, nobody really knows what Siddhartha really looked like. The first renderings of him, the museum reminds visitors, were created 500 years after his death.
What is striking, however, is the large variety in size, color and design features artists chose in their renderings of this iconic figure through the ages.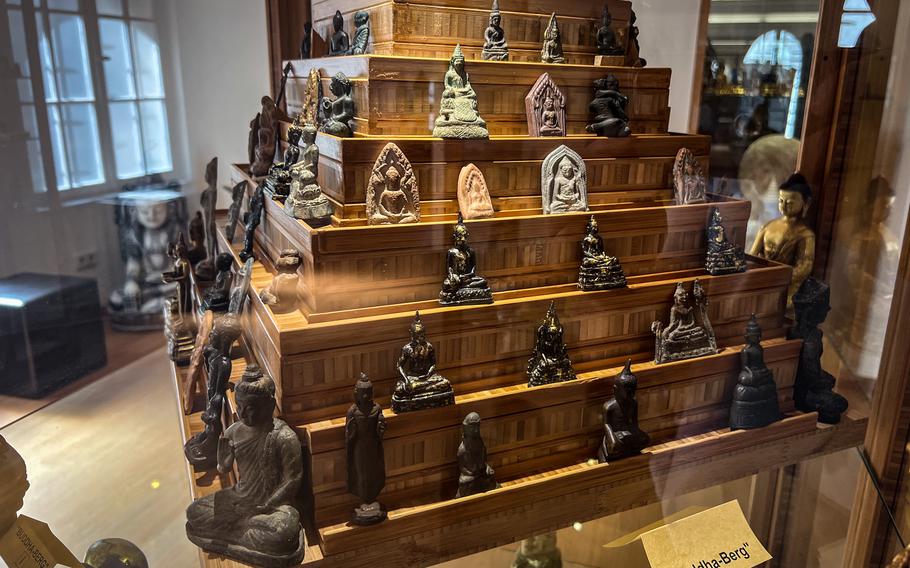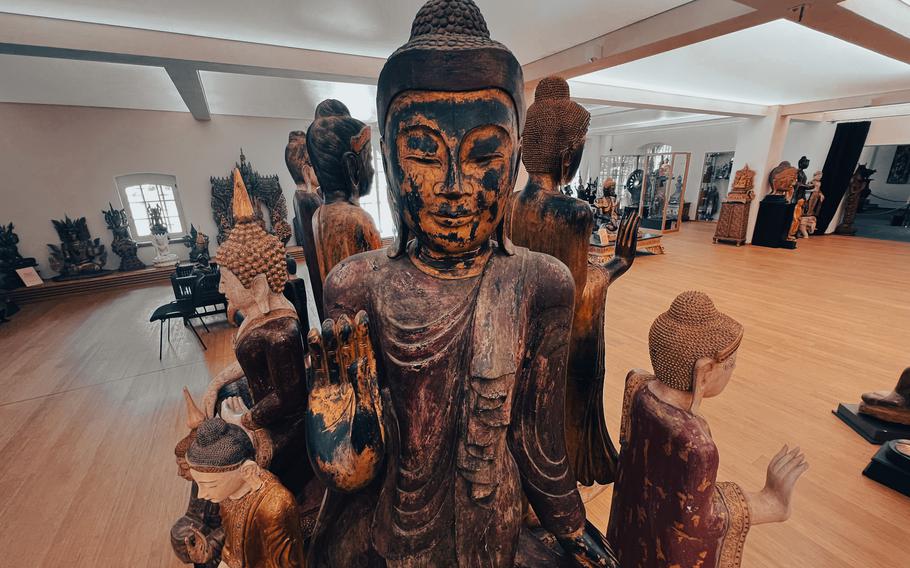 The oldest displays on site are exhibits of four Gandhara Buddhas, from the border region of what today are Afghanistan and Pakistan. It was where artists first created statues of the Buddha in human form, in a mix of Hellenic and Eastern style elements.
The museum does a good job explaining the stylistic features. Every hand gesture, or mudra, has a deeper meaning, for instance. Some symbolize fearlessness, while others stand for wisdom or the moment of enlightenment.
One of the standout exhibits is what the museum bills as the world's smallest Buddha statue. It's as tall as a matchhead and made the Guinness Book of World Records, according to museum staff.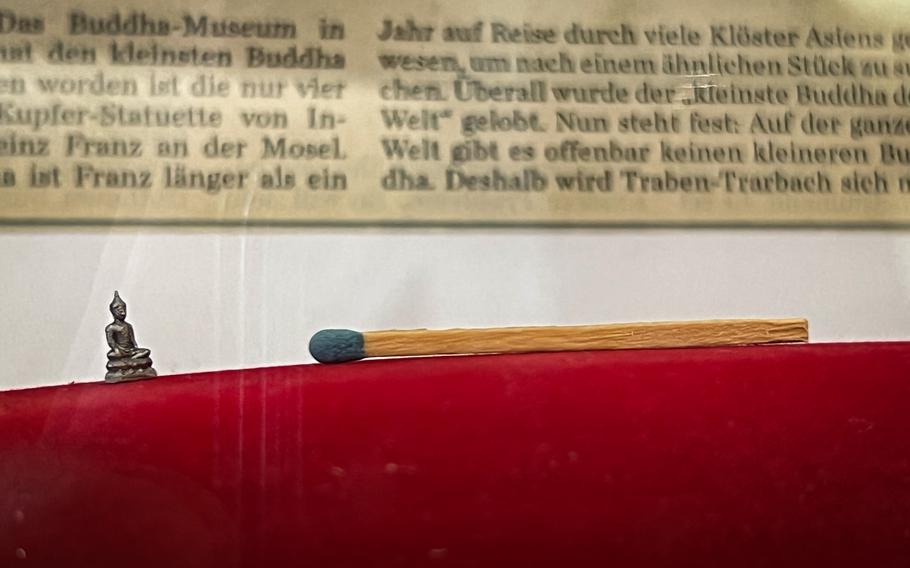 One character visitors will not find among the exhibits is the grinning, rotund personage seen in restaurants and on T-shirts. A museum display explains that this isn't actually a Buddha, even if many people mistake him for one.
He was a Buddhist monk and is called Budai in China and Hotei in Japan. Depending on the legend, he wandered around with a cotton sack collecting and removing ailments or bringing joy and good fortune.
For those inspired by their surroundings, the museum features a small nook set aside as a meditation room, where visitors can test their lotus position abilities and practice meditation.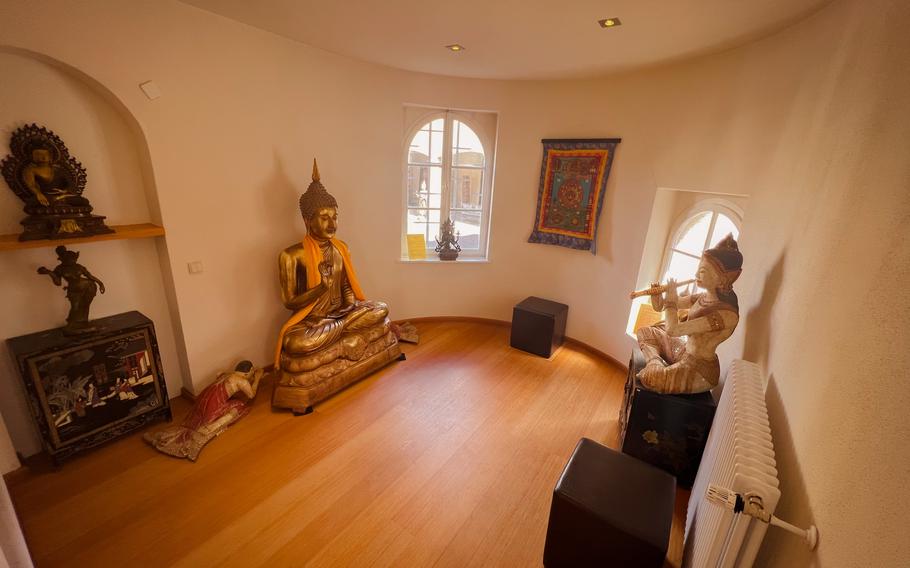 As a final treat, my wife and I climbed a narrow set of stairs to arrive on the rooftop garden, complete with fountain, outdoor seating and yes, even more meditating Buddhas. The open space offers further relaxation along with views of the winding Moselle River and surrounding town.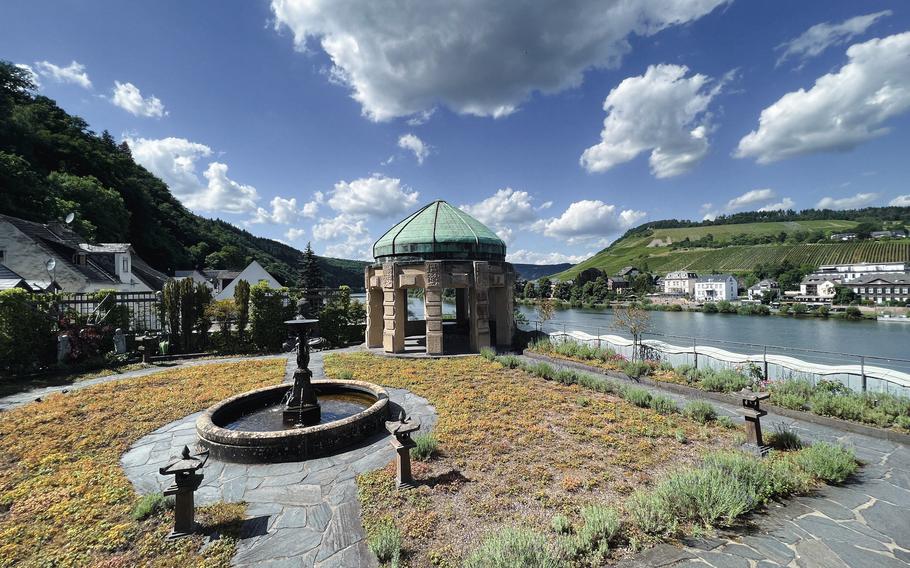 Founded in 2009 by husband-and-wife team Brigitte and Wolfgang Preuss, the museum grew from a personal collection to the vast display today.
Casual visitors may be overwhelmed by the single-minded concentration on a lone subject. My wife and I, however, enjoyed the peacefulness and spent nearly three hours there.
We concluded our visit with a pick-me-up at the nearby Namaste Shiva restaurant, which offers affordable vegetarian treats from the Buddha's home of India.
Adherents of Buddhism believe that Siddhartha achieved what was considered unattainable: a way of life that fosters calmness and freedom from suffering. In Traben-Trarbach, some of that tranquility rubbed off on us.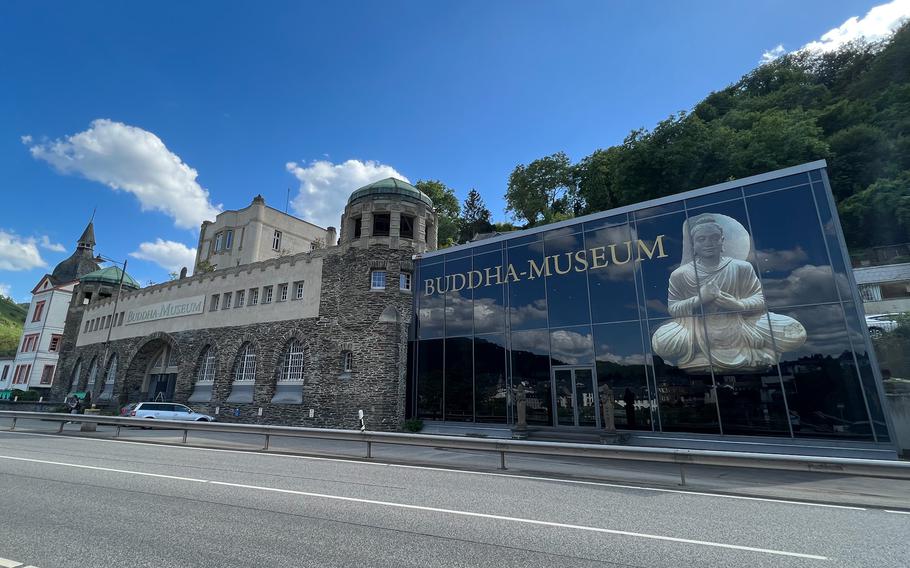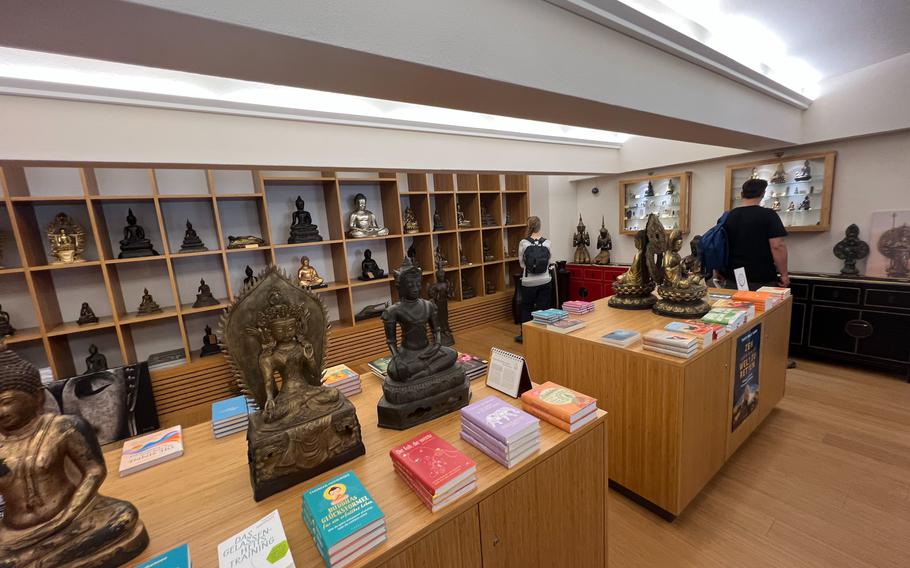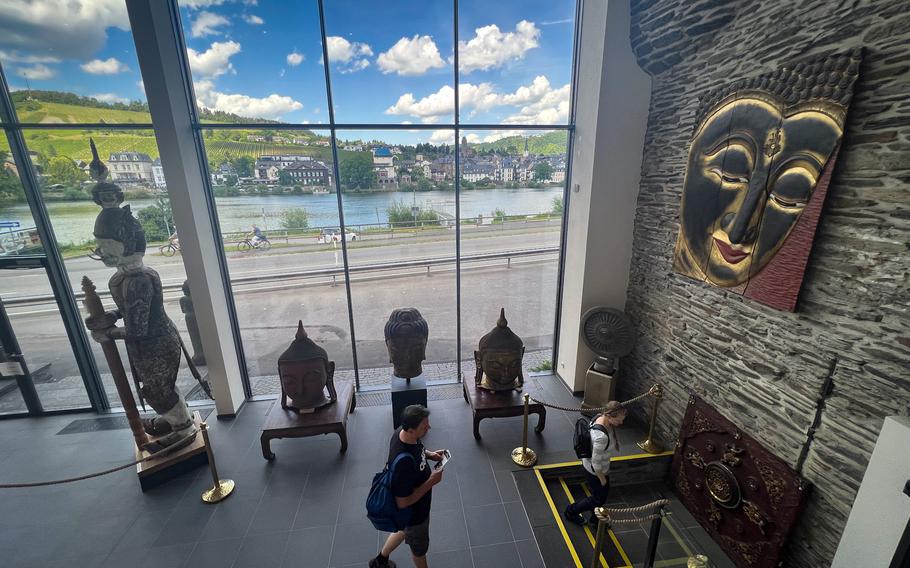 On the QT
Address: Bruno Moehring Platz 1, Traben-Trarbach, Germany
Hours: During summer, Tuesday through Sunday, 10 a.m.-6 p.m., except on German holidays. Closed on Mondays.
Cost: Admission is 15 euros for adults, 7.50 euros for children 6-14, 8 euros for students with identification and 13 euros per person for groups of 10 or more. Guided tours in English are available by appointment for groups of 10 or more for an additional fee of 5 euros per person.
Information: Email info@buddha-museum.de or call +49 (0) 6541-816-5180. While currently down for maintenance and redesign, the museum website is buddha-museum.de
---
---
---
---