Indulge in an affordable spa day at Ischia's Negombo
By
Stars and Stripes
June 9, 2022
---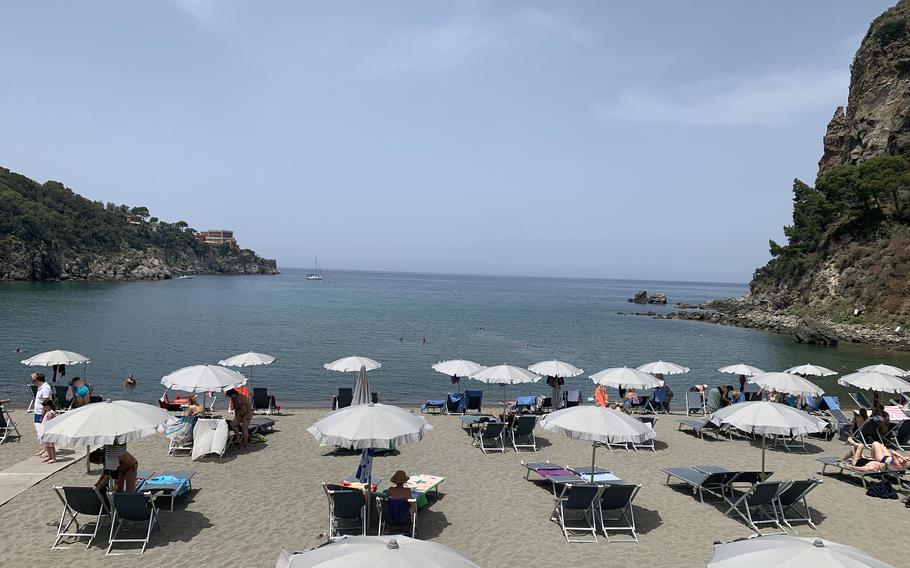 The largest island in the Bay of Naples, Ischia is renowned for its mineral-rich thermal waters, which attract Italians and tourists looking for rest, relaxation and rejuvenation.
That makes Ischia home to dozens of hotels and water parks offering access to the hot springs along with amenities such as pools, beaches and spa treatments.
But unlike its tonier cousin Capri, a spa day in Ischia doesn't have to be pricey, especially if you visit Negombo Park.
Pack a lunch, a liter of water and your own beach towel, and a visit to Negombo can be had for about 80 euros, including a round-trip ferry ticket from Naples.
Just a few miles out of the town of Ischia, Negombo is a favorite with Italians fond of its lush gardens, meandering pathways leading to secluded thermal and marine, or saltwater, pools, private beaches and delicious dining options.
The 22-acre park is situated on San Montano Bay with breathtaking views of the Tyrrhenian Sea from a heated Olympic-sized pool and several locations throughout the park.
Getting there requires a 50-minute ferry ride across the Bay of Naples that includes views of the city and Mount Vesuvius as you sail past the islands of Capri and Procida.
A one-way ticket from Molo Beverello port in Naples costs about 21 euros, and ferries depart several times a day starting about 9 a.m. If you're not staying the night, keep in mind that the last ferry for Naples leaves Ischia just before 7 p.m., so plan accordingly.
Once at Porto d'Ischia, you can take a bus for about 1.30 euros or hire a taxi for about 25 euros to get to Negombo. If you take the bus, be certain to get off at the San Montano stop in Lacco Amenio. From there, it's about a 10- to-15-minute walk to the park.
It's a bit hard to find, but Google maps and step-by-step directions should get you there. Hint: About a third of a block from the bus stop, there are stairs on the right side of the road that will cut your walking time.
Stepping into Negombo is transformative.
The crowded, chaotic streets of Naples are replaced by quiet, peaceful curving paths surrounded by the dense foliage of trees, flowering shrubs and vines. The landscape includes liberal use of volcanic rock and contemporary art.
As you walk to the park's changing rooms, you'll see waterfalls, intimate seating areas and some of the park's thermal baths and pools, carefully designed to appear as if they are in natural settings.
Entry to the park is based on how many hours you'll be there. If you arrive early in the day, expect to pay about 105 euros for three adults. The price includes private beach access, an umbrella, two lounge chairs and a deck chair.
Prices are lower for half-day and evening sessions and children's admission.
Reservations aren't required but are recommended, especially if you visit during the summer months, when the park is typically full.
With your swimsuit on, you can choose one on any of several plazas outfitted with lounge and deck chairs or have an attendant help you stake out a spot on the beach.
Then it's time to explore Negombo's more than a dozen themed pools scattered throughout the park. There's a Japanese-inspired attraction featuring cool and warm pools to wade through, and the Templare has several stone pillars with cascading waterfalls that gently massage you with 86-degree water.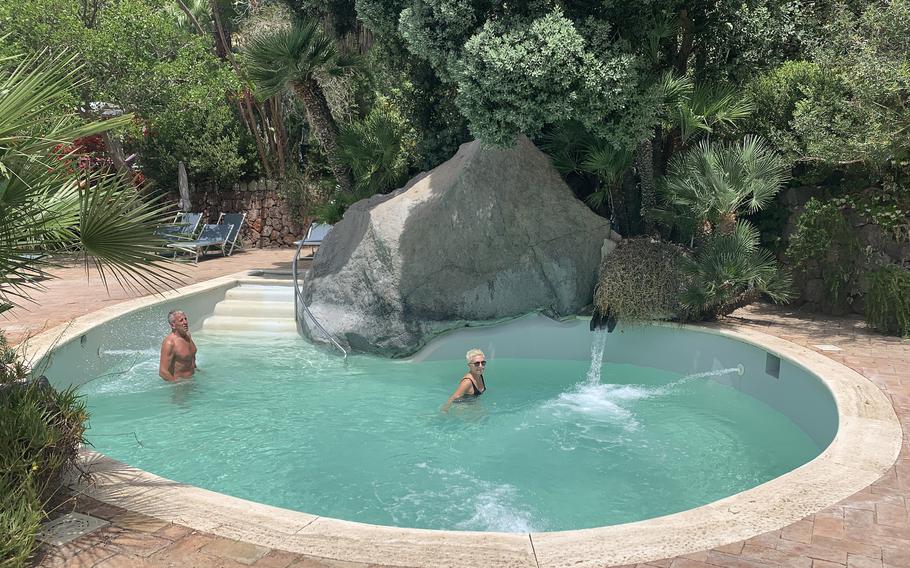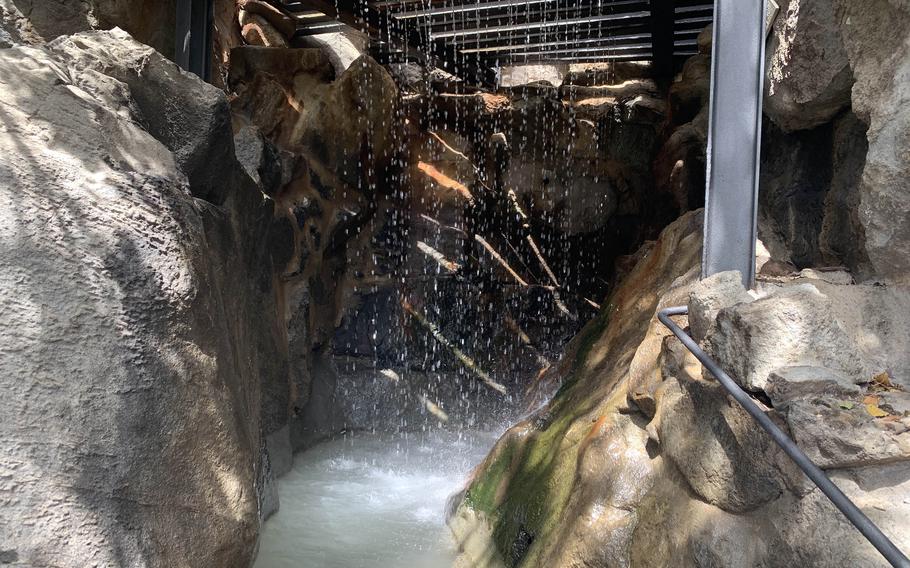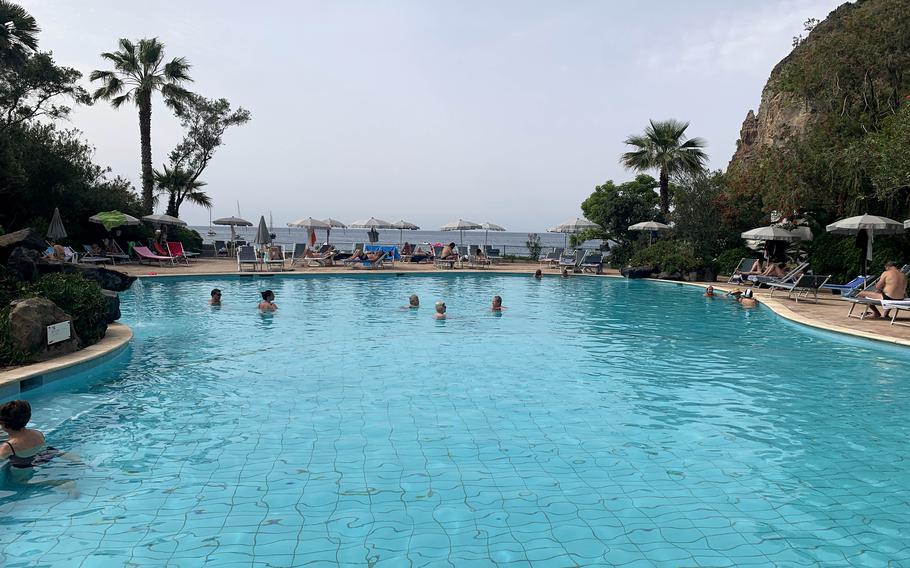 Other pools, including the Buco Nero (Black Hole) and the Tuff grotto, feature walk-through rain paths, waterfalls and seating areas with water temperatures ranging from cool to nearly 90 degrees. The water is rich in minerals, salty and non-acidic. 
While Negombo is affordable, amenities such as towel rental are costly. If you forget your towel, expect to pay about 5 euros for rental and a 10-euro deposit, which you'll get back provided you return the towel in good condition.
The spa also offers pedicures, massages, facials and other services. But they'll add substantially to the cost of your visit. For example, a basic pedicure without colored nail polish costs about 55 euros, not including a tip.
Negombo has several dining options with traditional Neapolitan menus, but care also is taken to offer salads, juices and other "clean eating" options. There is a full-service restaurant, cafe, outdoor self-service cafeteria and two bars.
Lunch for three at Negombo's self-service restaurant cost us about 105 euros and included four pasta dishes, two salads, several drinks and a fruit dessert.
Negombo isn't a place to be seen or heard. If you're looking for a partylike atmosphere, it's probably not for you.
But if you want to step away from Naples' hectic pace and indulge in some affordable self-care, it's the spot to be.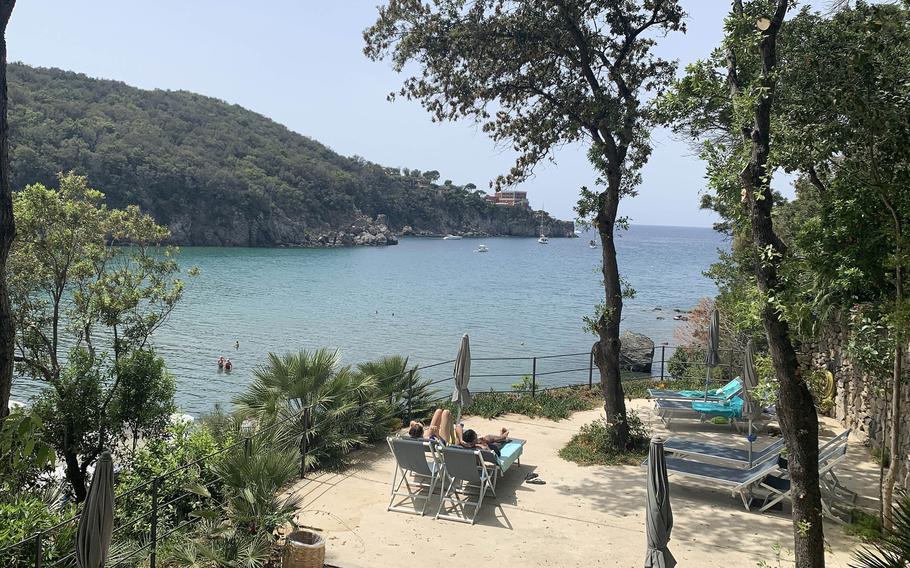 Negombo Park
How to get there: Take the ferry from Molo Beverello port in Naples to Ischia. You also can take the ferry from other locations in Naples or from Pozzouli. Alilauro, Caremar SNAV and Medmar offer ferries to Ischia. At the port in Ischia, take a bus or taxi to the water park, which is about 4 miles away.
Cost: There are full-day, half-day and afternoon options. A full-day fee for an adult is about 35 euros. Prices are lower for children.
Hours: 8:30 a.m.-7 p.m. daily (holidays may affect hours or opening)
Information: Online: negombo.it/en
---
---
---
---