Playgrounds and peace abound at Luisenpark in Mannheim
By
Stars and Stripes
May 12, 2022
---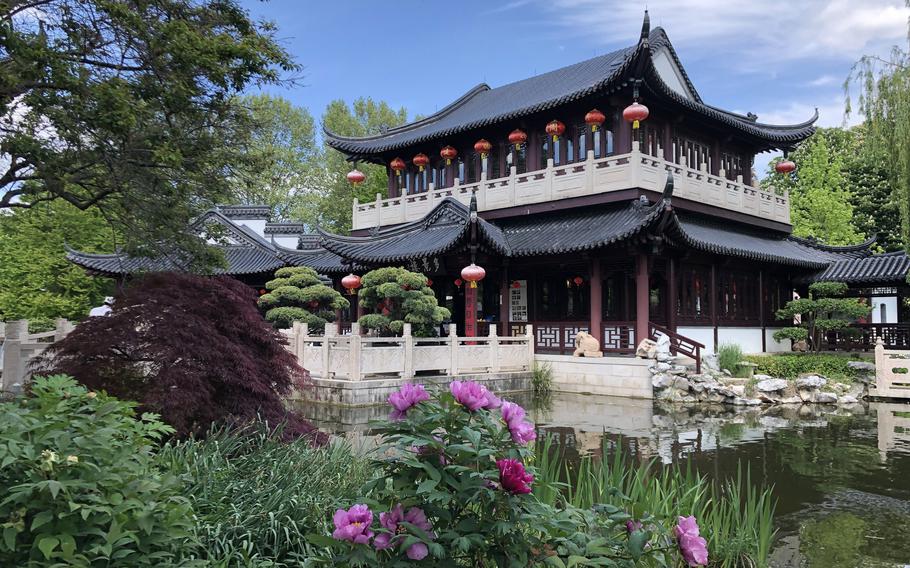 Wandering white storks, gardens, green spaces and gondolettas are just some of the eclectic delights of spending a spring day at Luisenpark in Mannheim, Germany. 
My visit in May was inspired by two seemingly opposing goals: finding peace among the peonies and burning energy at the playgrounds. 
The 100-acre park along the Neckar River is known for family fun and some of the nicest gardens in Europe, and it is being expanded through a project expected to continue through 2023.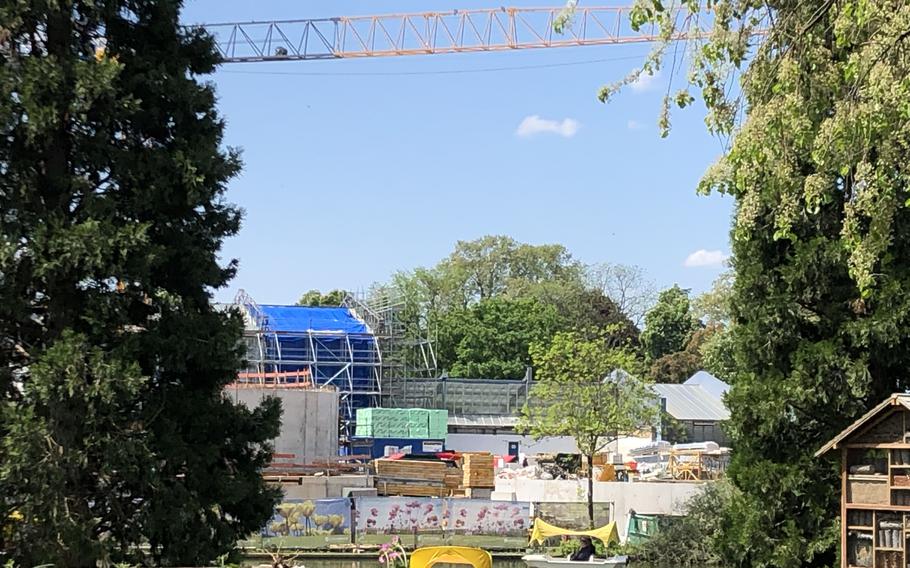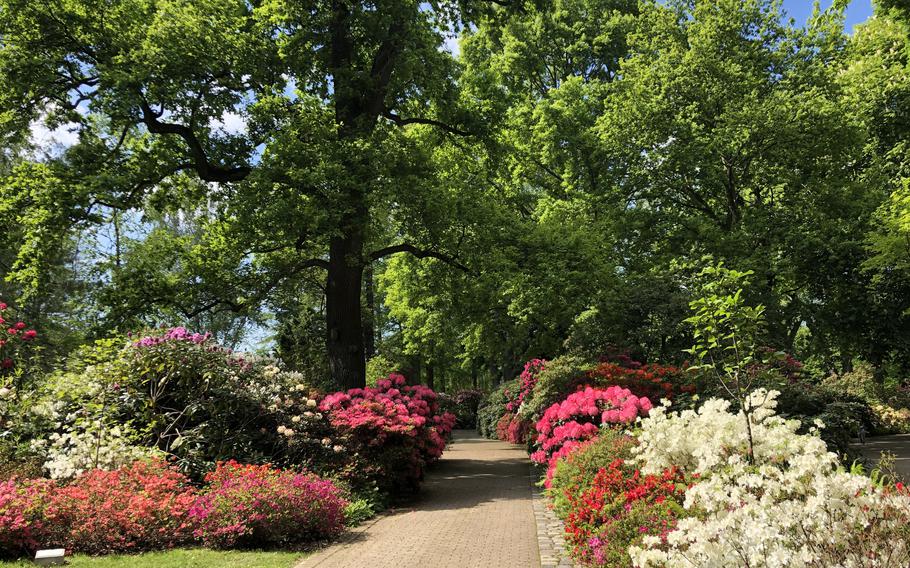 The work interferes with the serenity and scenery in some parts of the park. Fortunately, my travel companion was a little boy who thinks construction cranes are as exciting as storks strutting around. 
There are seasonal gardens throughout Luisenpark, and peonies bloom in May at the Chinese tea garden, which surrounds a 2,400-square-foot traditional tea house at the eastern end of the park.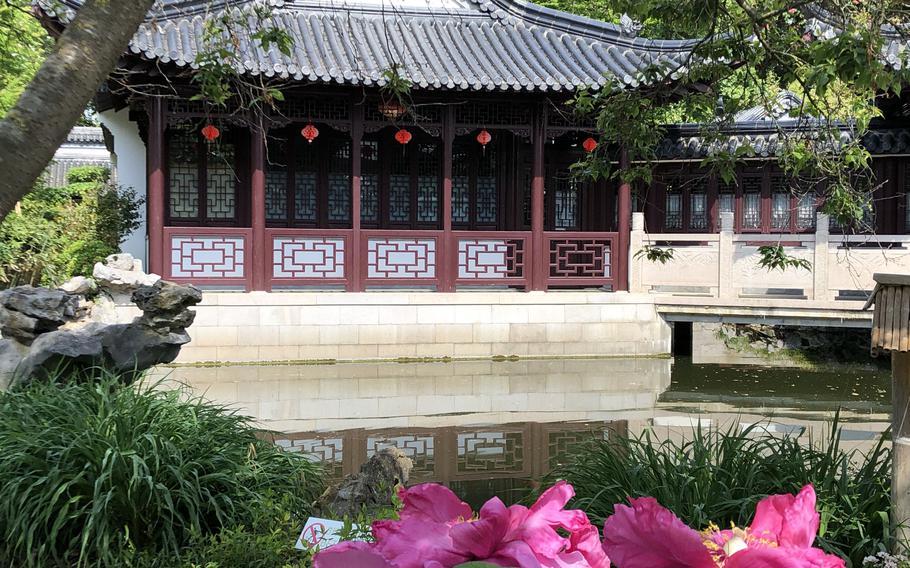 The garden, designed using the principles of feng shui, offers a tranquil space away from the bustle of the city and noise of construction.
There is a foot bridge crossing a koi pond and a rock path that leads under a small waterfall. The cascading water sounds like a sigh of relief as a feeling of relaxation takes over. 
The tea house was built in 2001 and is the largest original Chinese tea house in Europe, according to Luisenpark literature. The site has a stage for tea ceremonies and a large terrace where visitors can sip any of the 30 teas on the menu and eat warm dumplings and pastries.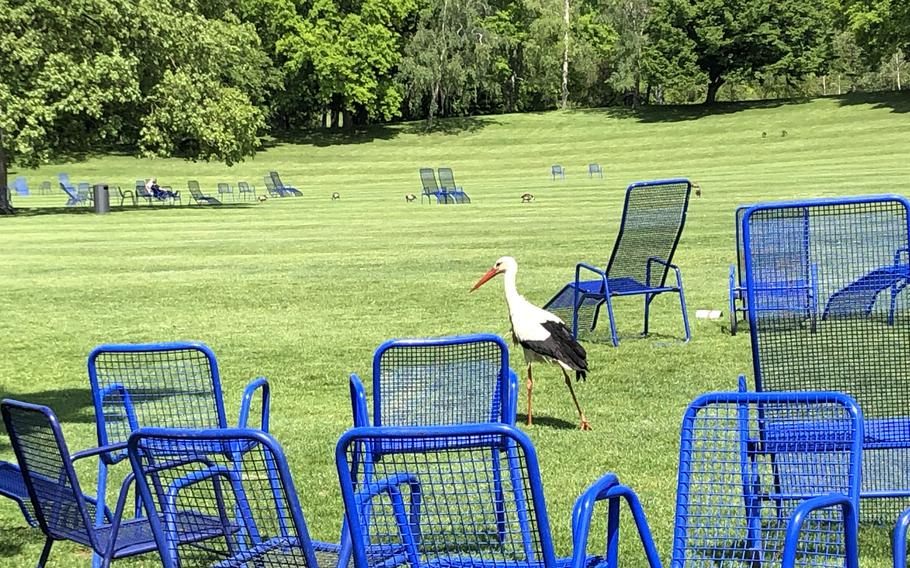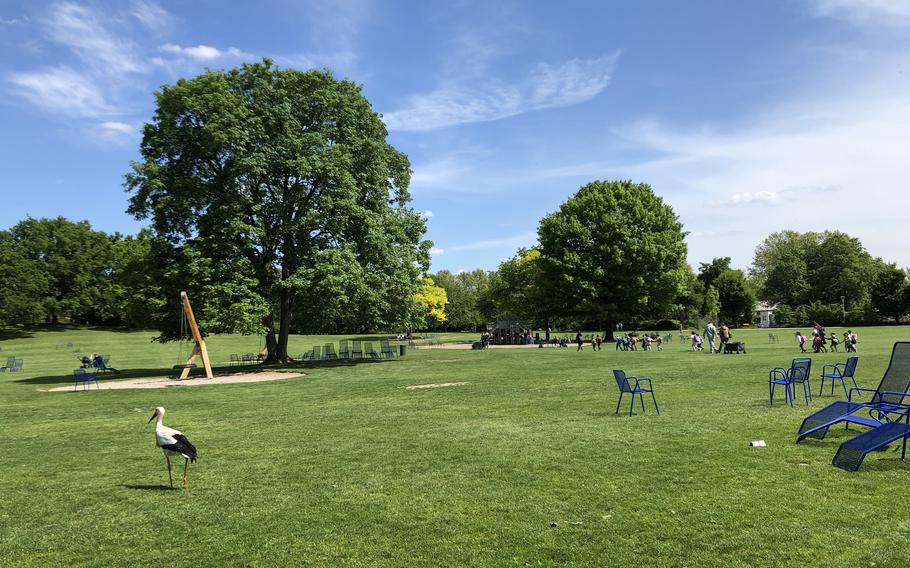 In front of the tea house and garden is the park's largest Freizeitwiese, or leisure meadow. People relax on blue chairs or lounge on the green grass as resident white storks forage for earthworms and insects next to them.  
The leisure meadow has a children's play area and several tire swings that shift the vibe from chill to children at play. 
Near the Freizeitwiese is one of the park's many popular playgrounds. It has water pumps and mud and bumps up to another space with wooden cars and slides.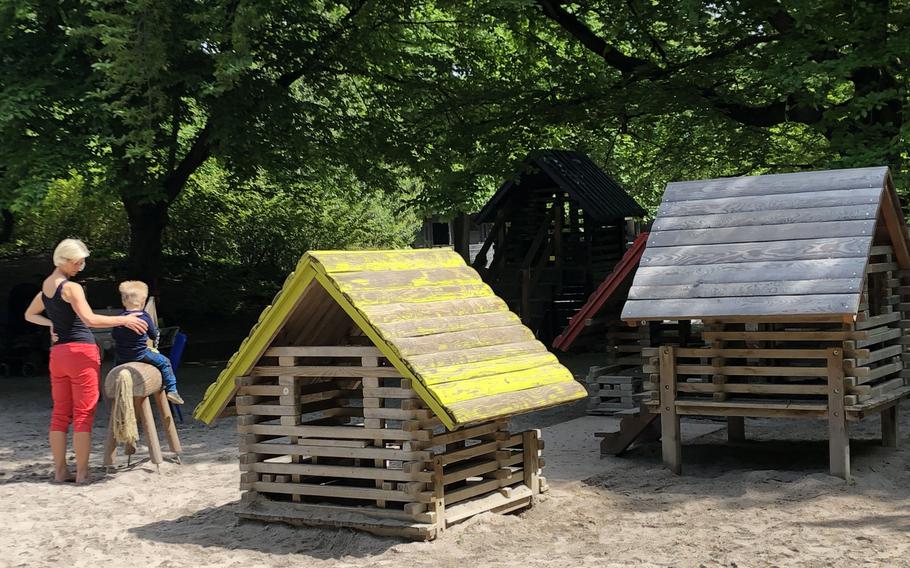 The area has a small farm with two cows, Shetland ponies, sheep, pigs and rabbits. There is a small barn that visitors can enter. 
During our visit, we tested the trampolines, drove miniature cars in circles on a tiny track and crossed wobbly wooden bridges before discovering our favorite spot: a water playground where happy kids, from age 1 to teens, splashed around for hours. 
After a full day at the park, there was still much more to see. Luisenpark has a zoo, programs like a science school, and walking paths with fountains, sculptures and wild birds. 
Wet and worn out, we headed home having been successful in discovering both tranquility and adventure.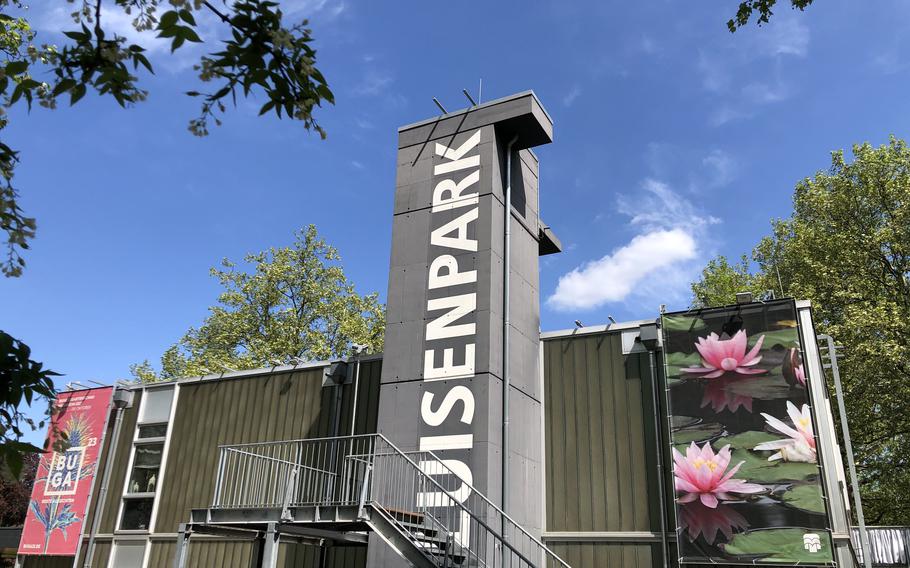 On the QT 
Address: Theodor-Heuss-Anlage 2, Mannheim, Germany  
Hours: Opens 365 days a year at 9 a.m.; closing times vary, depending on the time of year.  
Cost: Adult admission from March to October is 7.50 euros for adults and 3.70 for children 6-15. See website for annual pass prices and winter rates. 
Food: There are reasonably priced cafes and food stands at the park. 
Online: luisenpark.de
---
---
---
---