Linderhof Palace is a grand, relaxed way to experience Bavarian royalty
By
Stars and Stripes
March 31, 2022
---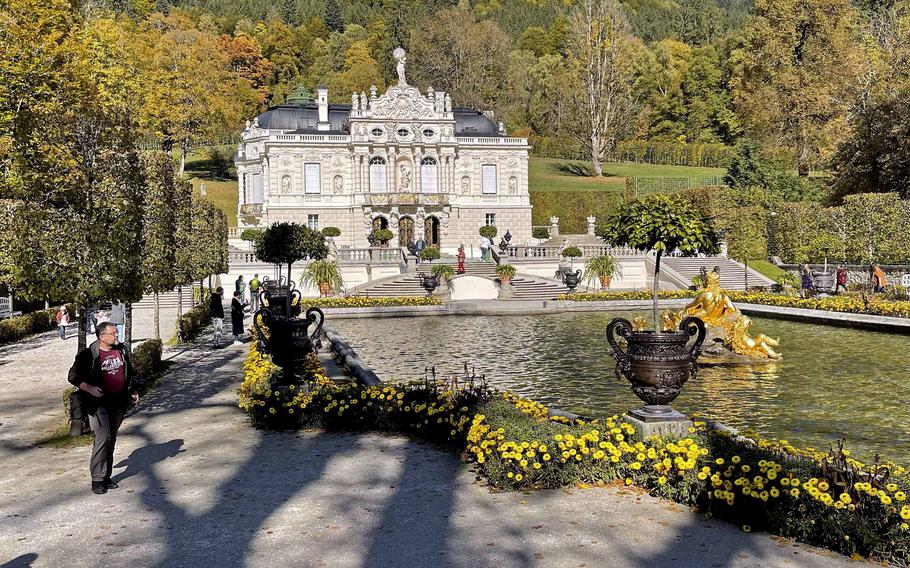 The fame of Bavaria's Neuschwanstein Castle is immense and enduring, as attested to by the fact that it served as inspiration for the fairytale castle at Disney World.
But about a 45-minute drive away, there is another splendid royal residence build by the mad monarch King Ludwig II that draws far fewer people: Linderhof Palace. That comparative lack of crowds makes it a good choice for spontaneous trips.
Ludwig II's initial planning for Linderhof commenced in 1868, and it was the only large palace he lived to see to its completion, according to the official palace website.
In 1869, a royal lodge was built in phase one of construction, followed by phase two in 1870 with another building added. The third and final phase was built in 1871.
Although Ludwig's visions for a Byzantine palace and one inspired by France's wondrous Palace of Versailles never came to fruition, Linderhof is plenty opulent in its own right. The Bavarian's bling can be found at almost every stop.
The palace also boasts a magnificent park. Its centerpiece is a large pool with a fountain that shoots water about 80 feet in the air. Adjacent to the pool is an enormous, three-centuries-old linden tree from which the palace is said to take its name.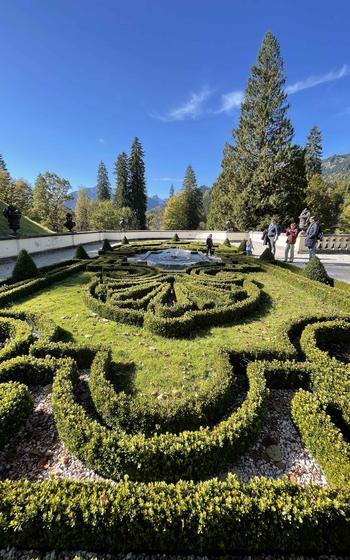 The park is also dotted with an array of other charms. An artificial cave known as the Venus Grotto houses a lake and a waterfall and has a seashell-shaped boat. However, the Venus Grotto is temporarily closed for repairs.
The Moorish Kiosk and the Moroccan House beautifully render Islamic motifs, and in the former is a dazzling seat decorated with polished Bohemian glass, known as the Peacock Throne.
Other attractions in the palace park include a swan pond, a cascading Neptune fountain and a pretty chapel dedicated to St. Anne, the mother of the Virgin Mary.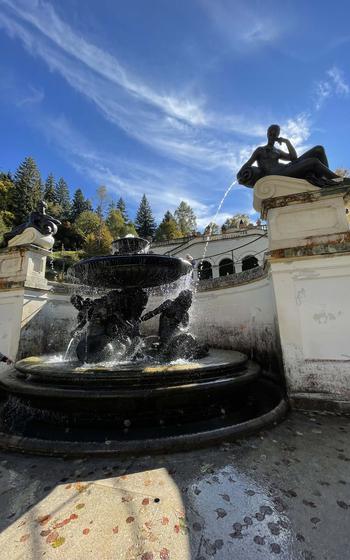 Food, drinks and palace memorabilia can be purchased at a combination bistro and gift shop. A hotel at Linderhof offers lodging, but both the hotel and the restaurant on the premises are currently closed.
Although photography is permitted on most of the palace grounds, visitors may not take pictures inside the palace or the hunting lodge.
In the park, dogs are allowed if they are kept on a leash. Dogs brought into the palace must be carried, according to the website.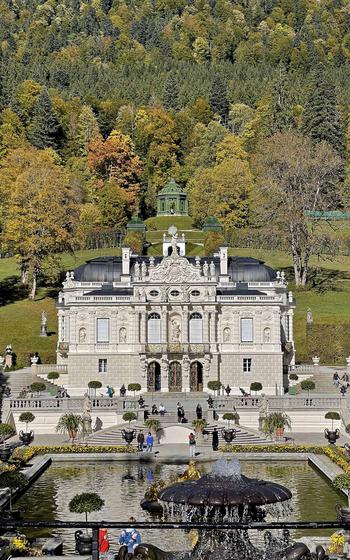 Linderhof Palace
Address: Linderhof 12, Ettal, Germany
Time: April to Oct. 15, 9 a.m.-6 p.m.; Oct. 16 to March, 9:30 a.m.-4 p.m.
Cost: Parking, 2 euros. Palace admission, 10 euros. Children under 18 are free.
Information: Online: schlosslinderhof.de Phone: +49 08822 9203-0
---
---
---
---