Get acquainted with the waters of Italian resort town Abano Terme and free your inner hedonist
By
Stars and Stripes
February 17, 2022
---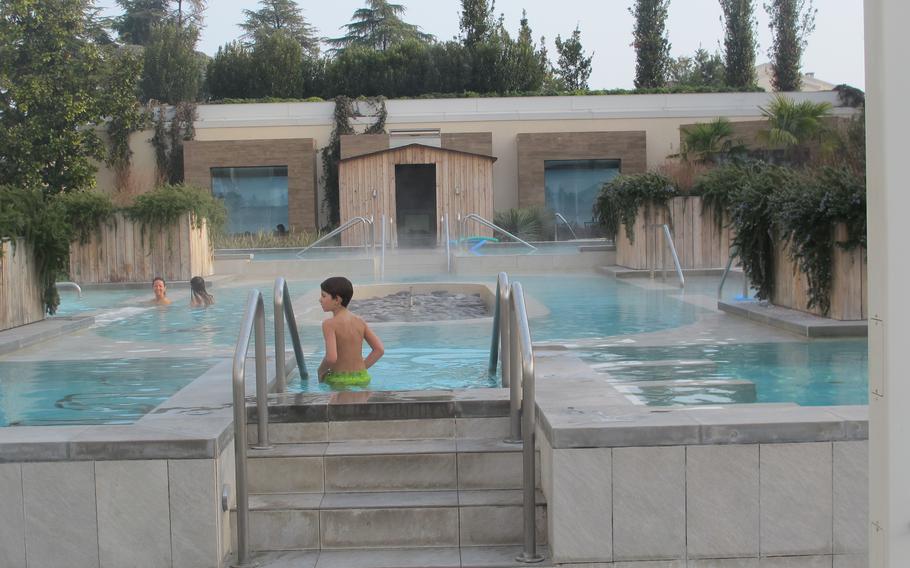 "I came for the waters," Humphrey Bogart's character Rick tells Capt. Louis Renault in the film "Casablanca" in answer to the question of why he's in the Moroccan city.
Renault notes that they're in the desert. 
"I was misinformed," Rick replies.
I thought of that quote, one of so many in that 80-year-old classic, while taking the waters at Abano Terme. 
About an hour from Vicenza, the spa town is awash in warm mineral waters from the Euganean Hills funneled into hundreds of hotel spas and baths, many of them old and grand, with a focus on wellness and a path toward gluttony and sloth.
Most hotels offer day-spa packages, but I decided to spend a long weekend. I chose Mioni Pezzato, a modern, four-star hotel with six pools and several saunas.
For an additional fee, hotel staff will massage you for nearly an hour, give you a pedicure or cover you in therapeutic mud. It was a hedonist's dream.
I paid for breakfast and dinner, and both included an enormous buffet whose bountifulness was almost obscene: platters and giant bowls of nearly infinite variety, fruits, salads, cured meats, raw tuna, crispy fried things, multiples of breads, scores of desserts.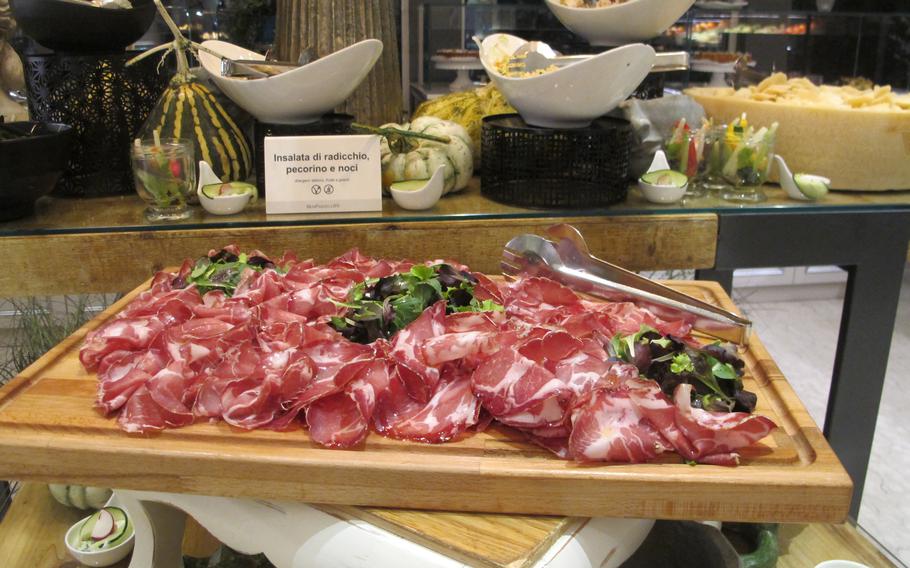 The uncanny thing is how fresh and good it all was. The strawberries, to take just one example, though not in season, were the best I've had in years.
After the buffet, I tried the cooked-to-order dishes. The portions became dainty: a tiny omelet with peppers, onions and cheese for breakfast, and each evening, my server's recommendation on the three options for first and second courses.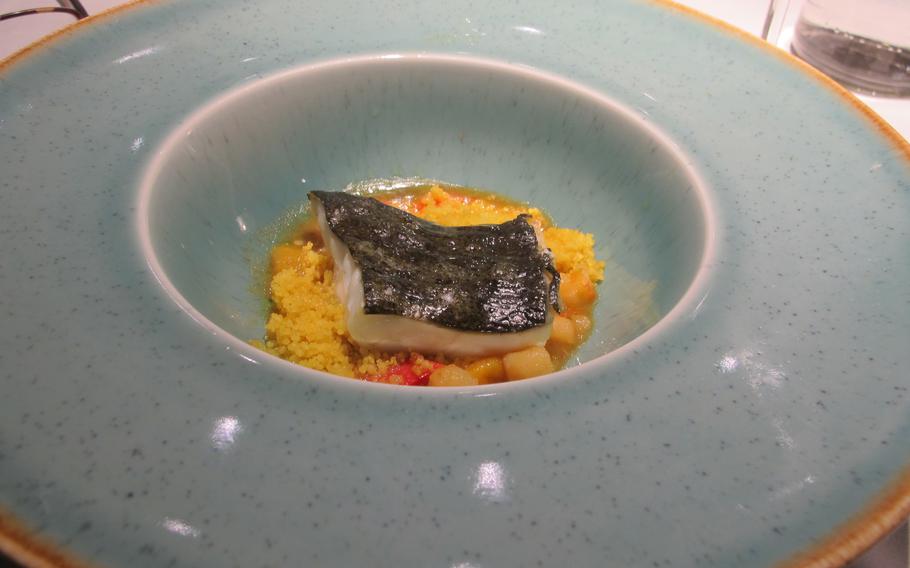 I had calamarata pasta with redfish and red onion dressed in a thin, tomato sauce, and I was sad when it was gone. Another night, a pearl pasta with shrimp had the same effect.
Maybe the waters had awakened my appetite, although there wasn't much exercise involved.
As an ad for Abano suggests, "Discover the pleasant feeling of slow-motion in thermal waters. Everything becomes softer, slower, every gesture becomes light and relaxing thanks to the density and naturally lukewarm temperature of the water."
In fact, people mostly floated — foam noodles were everywhere — or sat with their heads tipped back as bubbles boiled up around them. 
I pretty much stuck to the main outdoor pool and a smaller adjacent pool, which featured a fun circular current and led to a tiny, hotter pool with a fireplace.
As nice as the pools were during the day, with steam rising above the water, they were fantastic after dark, when lights would turn the water bright green, blue and purple.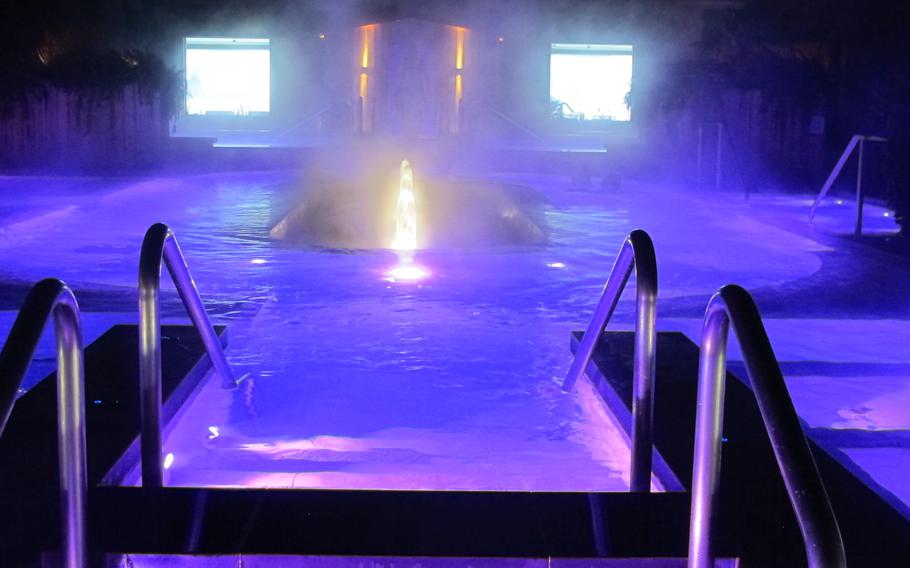 But alas, my canine companion and fellow vacationer did not have a good time..
Although the hotel was listed as "pet friendly," I learned on arrival that my miniature poodle, who doesn't shed and is frankly more civilized than many male humans, was to be confined to the room. Even the lawn was off-limits.
For all that hospitality, the hotel tacked on an extra 15 euros a night and a 50-euro "cleaning" charge. I wouldn't take him there again.
But everything else was delightful, so I'm leaving open the possibility that my acquaintance with Mioni Pezzato will turn out to be the beginning of a beautiful friendship.
montgomery.nancy@stripes.com
Twitter:@montgomerynance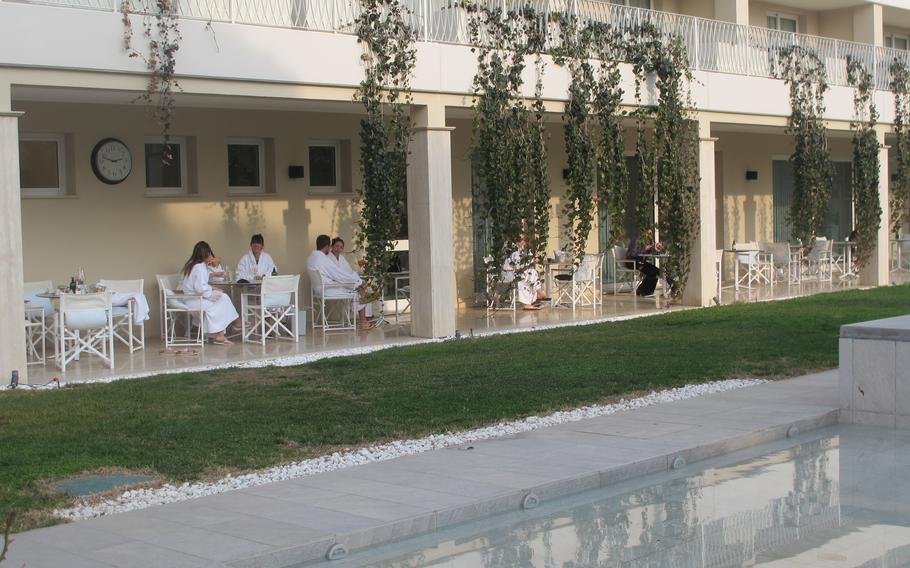 On the QT
Directions: From Vicenza, take the A4 toward Venice, exiting at Padova Ovest, SS 47 (Corso Australia), Via Armistizio and Via Romana Aponense.
Cost: The Hotel Mioni Pezzato is a splurge, with rooms around 170 euros per night. A less expensive, well-related option with thermal pools is Hotel Terme Patria, currently about 100 euros per night.
Information: Online: hotelmionipezzato.com; Email: info@hotelmionipezzato.com; Phone: +39 049 866-8377; town website, comune.abanoterme.pd.it
---
---
---
---