Add others for more photo fun at Kaiserslautern's 'selfie museum'
by
Chad Garland
Stars and Stripes
November 4, 2021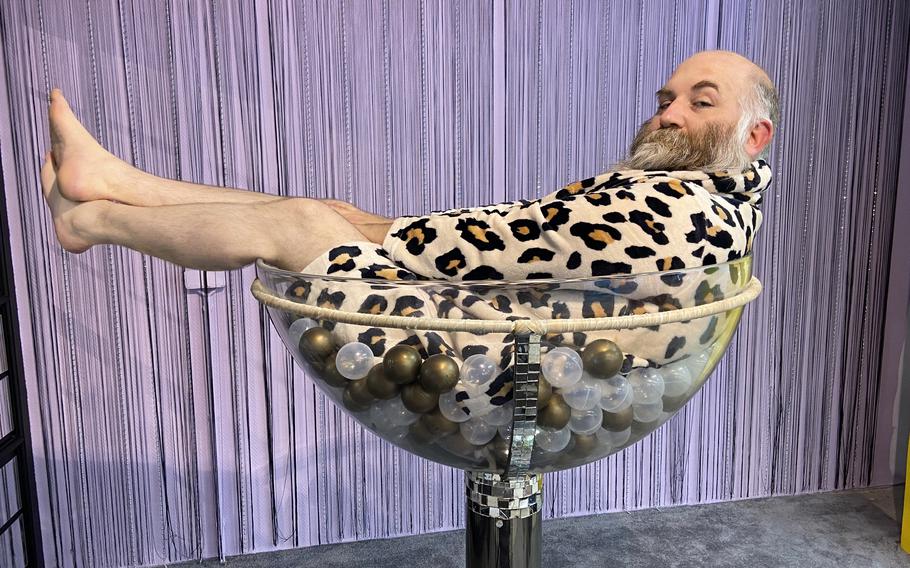 I visited SnapMySelf in downtown Kaiserslautern "for the 'gram," as they say.
The ideal demographic for "dein selfie museum" probably isn't chubby, 40-something bald men, but I couldn't pass up the chance to step into a giant Champagne glass.
"Selfie museum?" a fellow older bald man asked when I first mentioned it. "So you go look at other people's selfies?"
Not even, grandpa. There are apps for that.
No, the SnapMySelf concept is simple: a couple rooms host nearly two dozen eye-catching backdrops and sets, against which self-portraiture enthusiasts can capture all their own best angles to share online.
It's kind of like that exhibit on the presidency at the Smithsonian National Museum of American History, where visitors can pose as the leader of the free world behind a replica presidential podium.
I mean, it's like that, but minus the informative exhibit, thematic coherence or souvenir value. I'll grudgingly admit it's also more fun than I'd expected.
The street-level entrance on Schneiderstrasse and Fruchthallstrasse is steps from the K in Lautern mall. Its doors open onto a stairway down to a brightly lit and colorfully decorated basement level. I'd been curious since its July opening was announced, but it wasn't until a gray October day in Germany that I was moved to check it out as an indoor winter activity.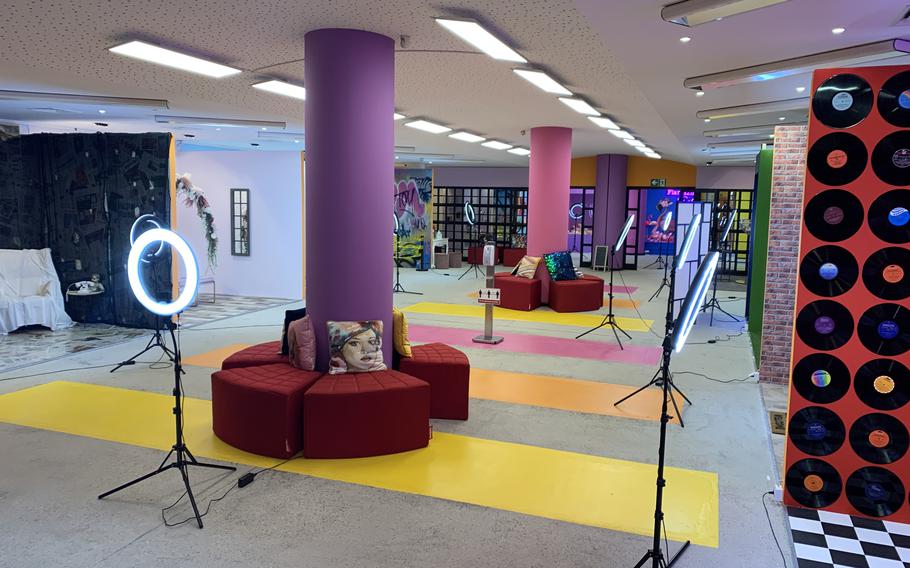 The first second of a promotional video on YouTube signaled the target market — hip, young women — but I was ready to buy a ticket 27 seconds later, when the Champagne glass showed up.
That's also what caught the eye of my colleague Ann Pinson, who volunteered to help me scope it out. She wanted to see if it might be a fun activity for her and her daughter some day.
Sets include a 50s-style diner, a ball pit, a "deluxe" jail cell with a golden toilet, a graffiti-covered alleyway and a loose replica of the coffee shop from TV's "Friends."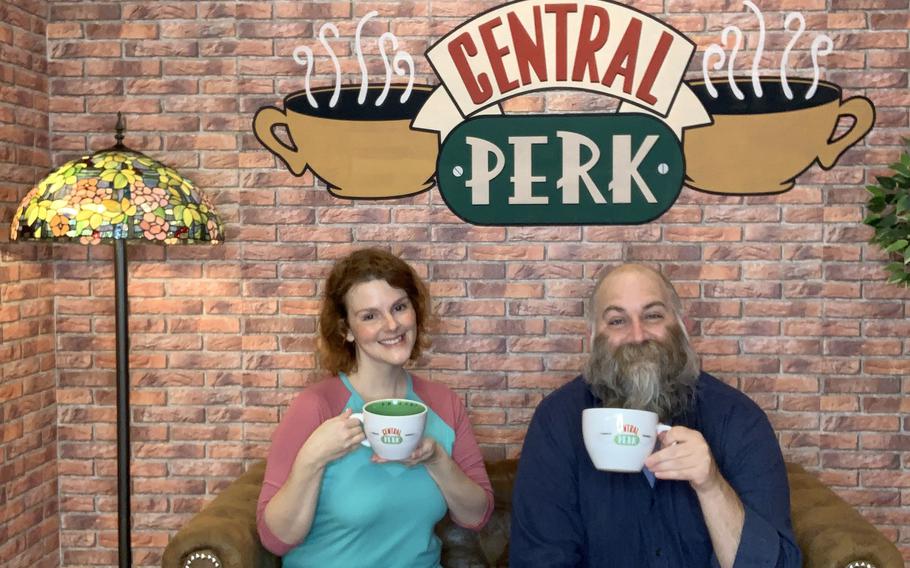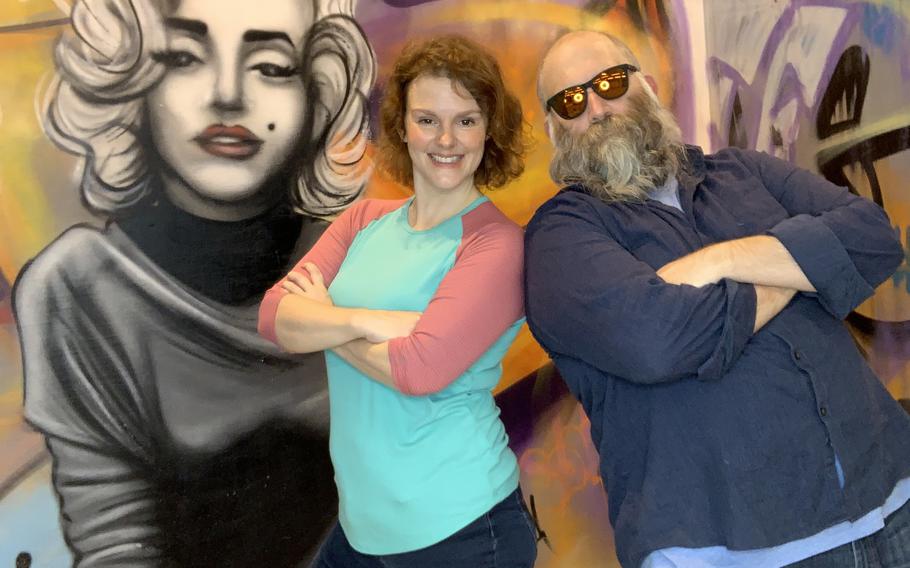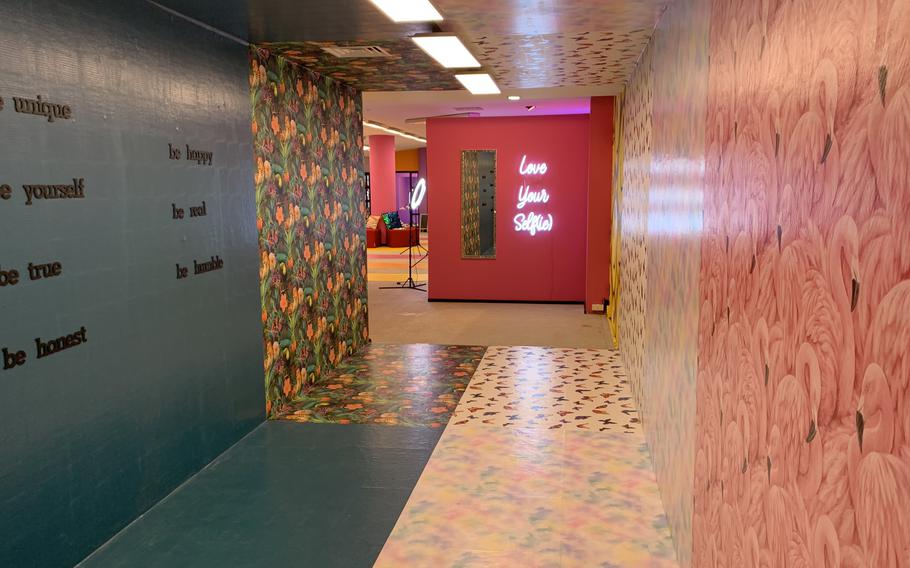 There's a dressing and styling area for those who bring outfit changes — which I did. I wanted a fabulous look, so I had purchased a leopard print velour dressing gown for 19 euros at the nearby TK Maxx.
I donned the robe and clambered into the precariously unsecured bowl of the Champagne glass. Ann channeled her inner Annie Liebowitz as she directed me and snapped iPhone photos.
Later, I shot a few as she plopped into a pit full of rainbow-colored, stuffed llamas. Then I donned reflective sunglasses and tried to look cool in front of a dramatic lighting feature.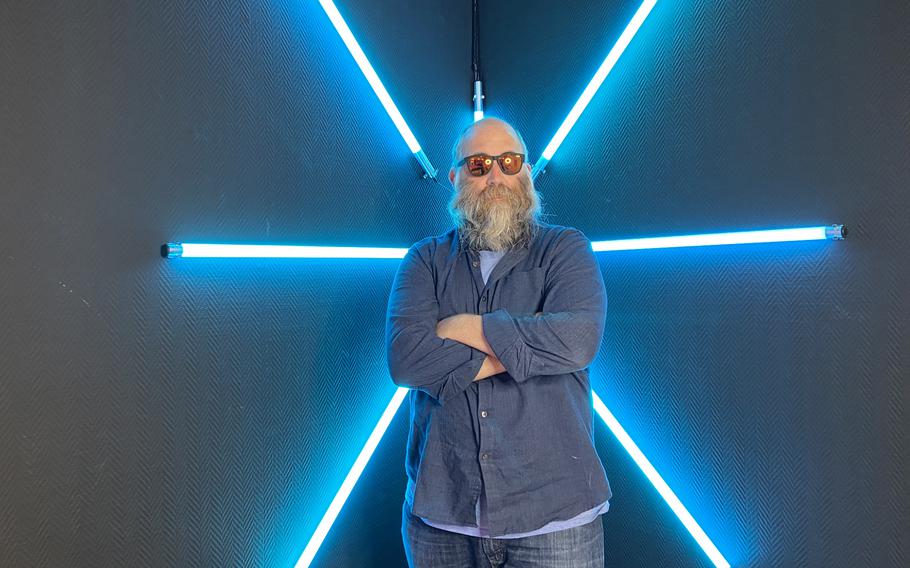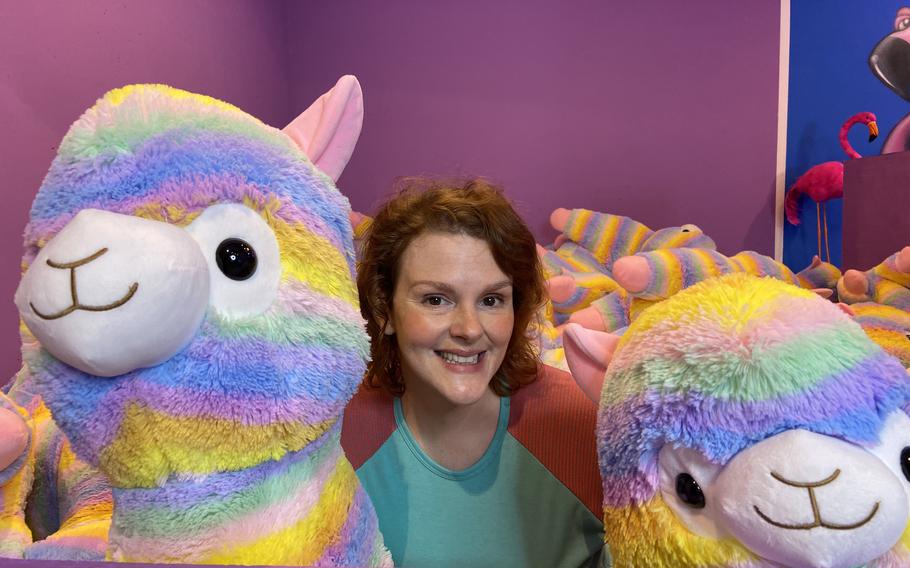 Taking turns pulling goofy poses and laughing over each other's resulting photos provided about an hour of fun — if not a little less — before it started to feel vapid.
Individually, a two-hour visit costs 29 euros for ages 14 and up, which seems pricey for what's ultimately a generic novelty in a medium-sized German city. I might feel differently if it was located somewhere I was already expecting to splurge on experiences.
For example, I'd expect to pay a premium for a selfie museum in New York City or Paris, but probably not so much in Madison, Wis., or Rockford, Ill.
It would have been a little bit cheaper with a couple more friends. It's 100 euros for a group of four, which comes out to about a 13% discount.
And while the SnapMySelf name and various affirmational wall art inside suggest it's all about "you," I don't doubt it would have been much less fun if I'd have been there by myself.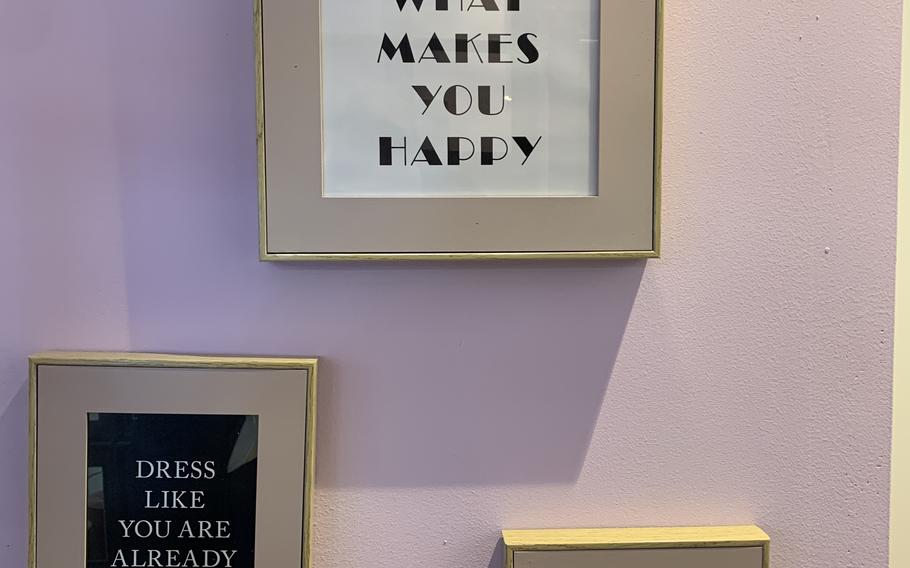 SnapMySelf
Address: Schneiderstrasse 12, 67655 Kaiserslautern
Hours: Thursdays and Fridays, 2 p.m.-8 p.m.; Saturdays and Sundays, noon to 8 p.m.
Cost: 29 euros for a single adult ticket, 24 euros for children under ages 6-14, free for children under 5; 100 euros for a group of four; facility can be rented for parties and special occasions.
Information: Online: snapmyself.de; hallo@snapmyself.de; +49 0631 89297766.
---
---
---