Oh, my gourd: Finding the perfect pumpkin at Hitscherhof farm
by
Jennifer H. Svan
Stars and Stripes
October 14, 2021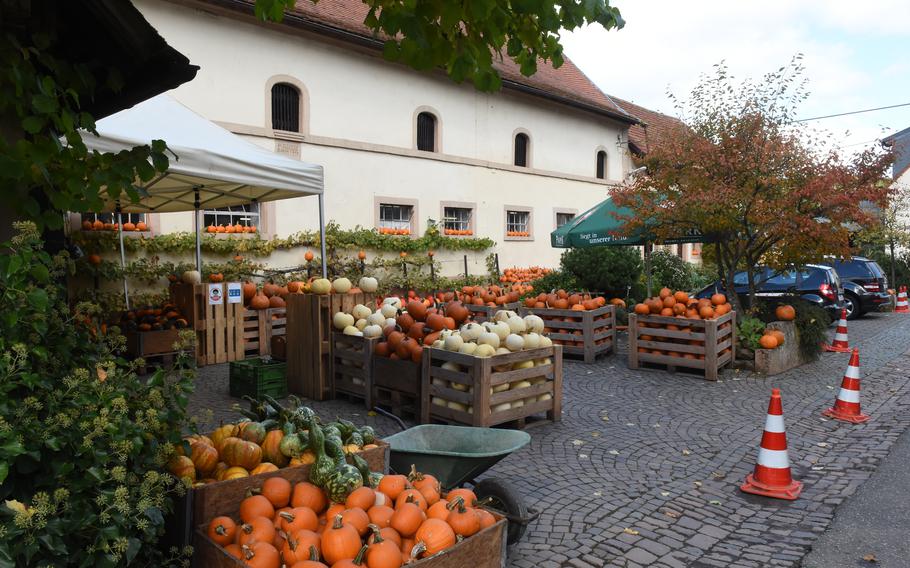 Every year before the pandemic, Hitscherhof farm put on a fall festival that drew vendors from around the region and crowds to rival Germany's most popular Christmas markets.
The festival won't happen this year, either, but Hitscherhof is still one of the best places in southwestern Germany to get in the autumn spirit, particularly if you like all things pumpkin.
The farm is stocked with assorted pumpkins, squash and gourds, for eating and decoration, in all shapes, sizes and colors.
You can pick up some pumpkins to be carved for Halloween and a few Hokkaidos to make pumpkin soup, or some acorn or sweet mama squash to be roasted or baked.
Most of the pumpkin and squash varieties are labeled, and edible items include a description in German of how they taste and how they should be cooked.
Gooligan, for example, a white pumpkin also known as winter squash, can be baked, fried or enjoyed raw.
The cutest varieties I saw were the miniature Jack be Little and Sweetie Pie pumpkins, suitable for Halloween decor.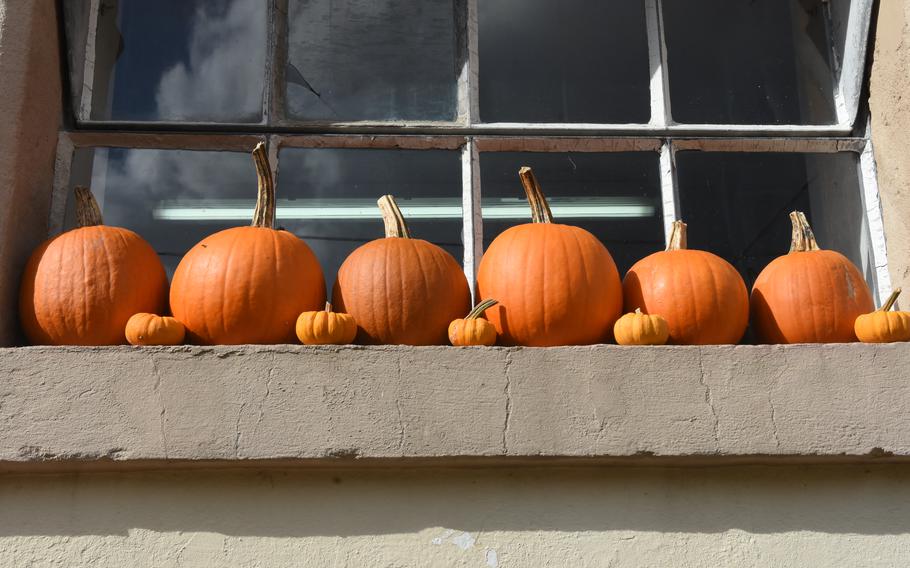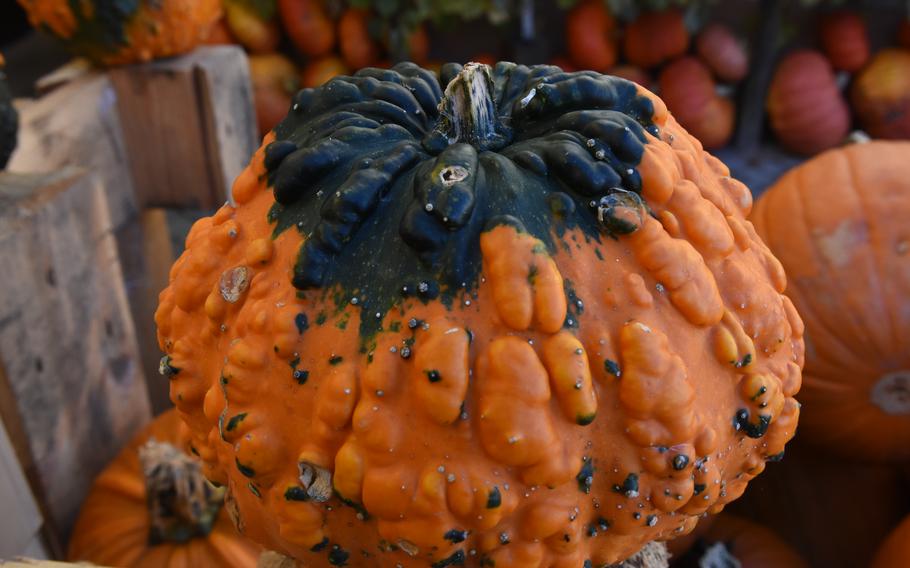 The pumpkins are piled up in a courtyard between a charming bed-and-breakfast and a barn converted into a farm shop. Children will get a kick out of the giant pumpkins in the courtyard. These behemoths can weigh more than 800 pounds.
A scale is set out so customers can weigh their pumpkins before purchasing.
Inside the farm shop are more pumpkins and a slew of products made with them. Hankering for some pumpkin tea? Try the "Smashin' Pumpkins," a package of loose-leaf tea leaves with dried pumpkin and other seasonings. What about some pumpkin bratwurst? The shop sells that in a can, the meat seasoned with pumpkin and chili.
Other items made with pumpkin include wine and champagne, waffles and waffle mix, pumpkin oil and pumpkin seeds, canned pumpkin, canned or fresh sausage, syrup and a variety of jellies. 
The shop is open afternoons Tuesday through Sunday through the end of October. On the weekends, warm food and beverages are available, including a delightful pumpkin soup.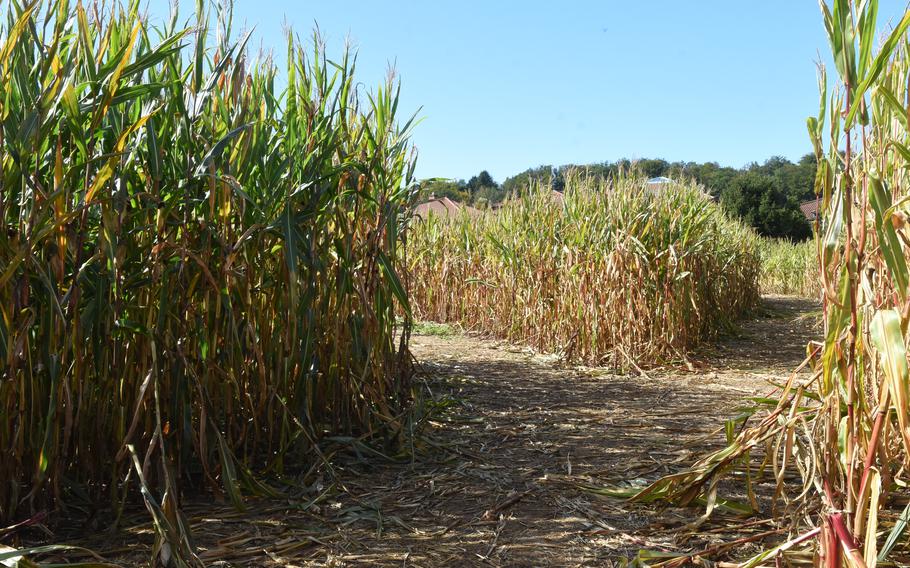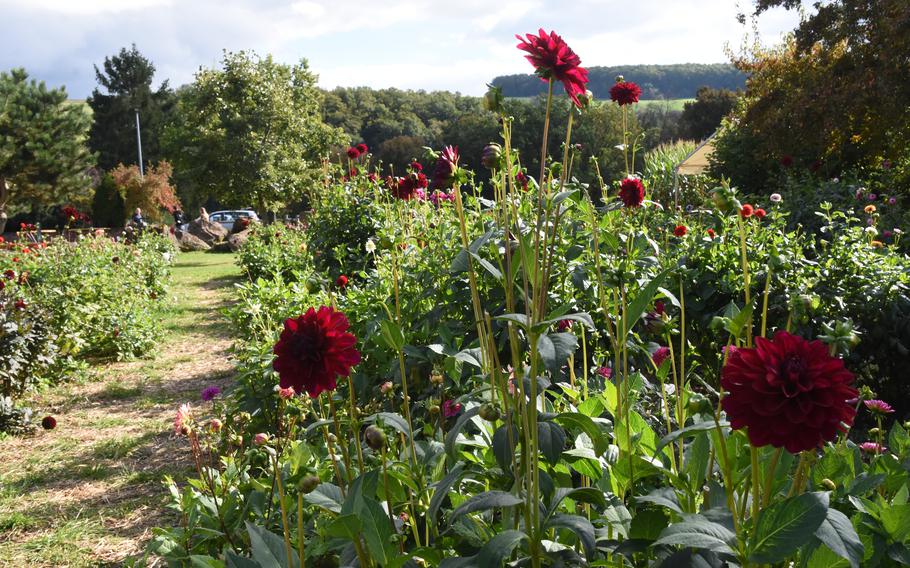 Outdoors, there's plenty of room to walk and places to sit and relax. Children can roam around a large corn maze or climb on hay bales. Dahlias, sunflowers or cornflowers can be cut and purchased from the flower field.
Guests can stay year-round at Hitscherhof's bed-and-breakfast, and an 18-hole golf course and restaurant are a short walking distance from the farm.
Nearby are miles of walking and biking trails. A note on the farm's website hints at possible events being planned for the Christmas season.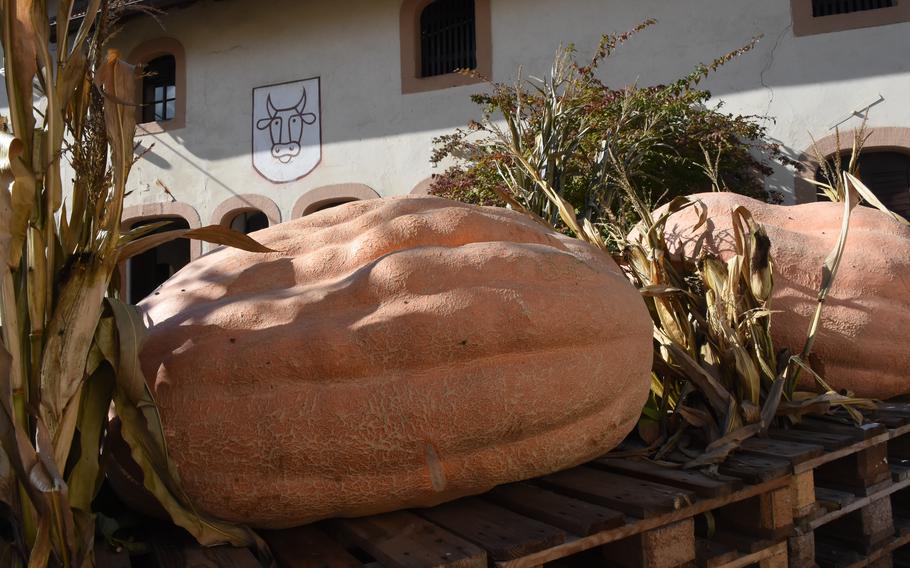 Hitscherhof
Directions: Hitscherhof farm is in Massweiler, Germany, about a 40-minute drive southwest of Kaiserslautern. The address is Hitscherhof 3, 66506 Massweiler.
Hours: The farm shop, corn maze and flower field are open Tuesday to Friday, 2-6 p.m.; and Saturday and Sunday, 1-6 p.m. The farm is closed on Mondays. It's open through the end of October.
Cost: About 20 euros should cover a few pumpkins, depending on the size and variety, and a food item or two. Halloween pumpkins cost 1.20 euros per kilogram (about 2.2 pounds). Visa and Mastercard accepted.
Food: Warm food and beverages sold on the weekends.
Information: http://www.hitscherhof.com; 06336-839989.