Procida offers beaches, fishing villages and old-world charm
by
Alison Bath
Stars and Stripes
September 30, 2021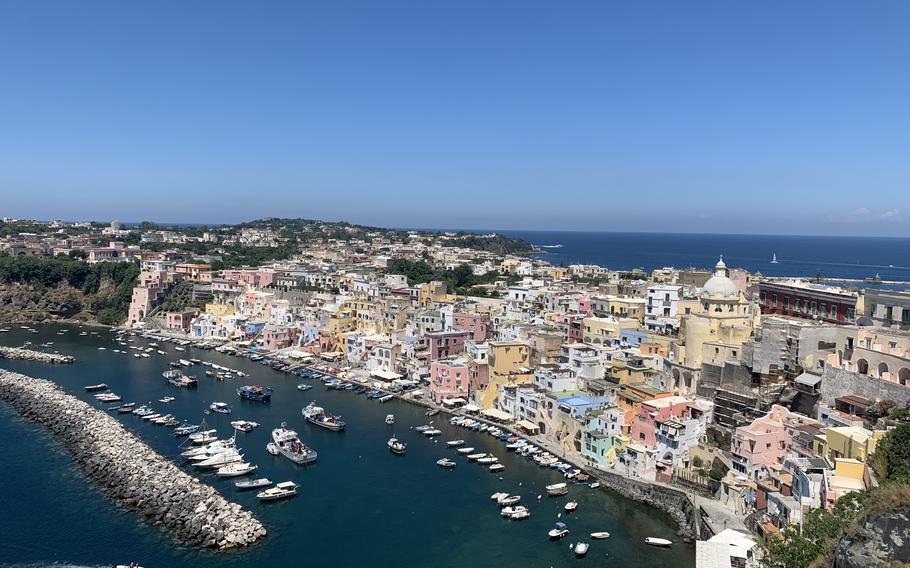 Just a short ferry ride across the Bay of Naples, the peaceful island of Procida offers a relaxing way to spend a day, tantalizing visitors with its colorful homes, picturesque streets and stunning beaches.
Considered a commune of Naples, Procida is in the northwestern portion of the bay between Cape Miseno and the island of Ischia. It's a speck of land just over 1.5 square miles with a population of about 10,298, according to Citypopulation.de.
Visitors arrive via ferry from Naples or Pozzuoli, disembarking onto Via Roma. Arrive in the morning if you can, and walk west toward the Chiesa di Santa Maria della Pieta.
The church, one of several on the island, offers a charming visual backdrop as you fuel up on a coffee and a lingua di Procida, a puff pastry with a cream filling flavored with the island's lemons and offered at a nearby cafe.
You can explore the ornate church, which is small by Naples' standards, and then head up the hill toward the Santuario Santa Maria delle Grazie Incoronata.
Look inside the sanctuary and continue up for a vista of the fishing village of Marina Corricella. This is the place to get that perfect selfie with the village and its homes in the background. According to lore, the houses are painted striking colors so fishermen returning from sea can easily spot their home.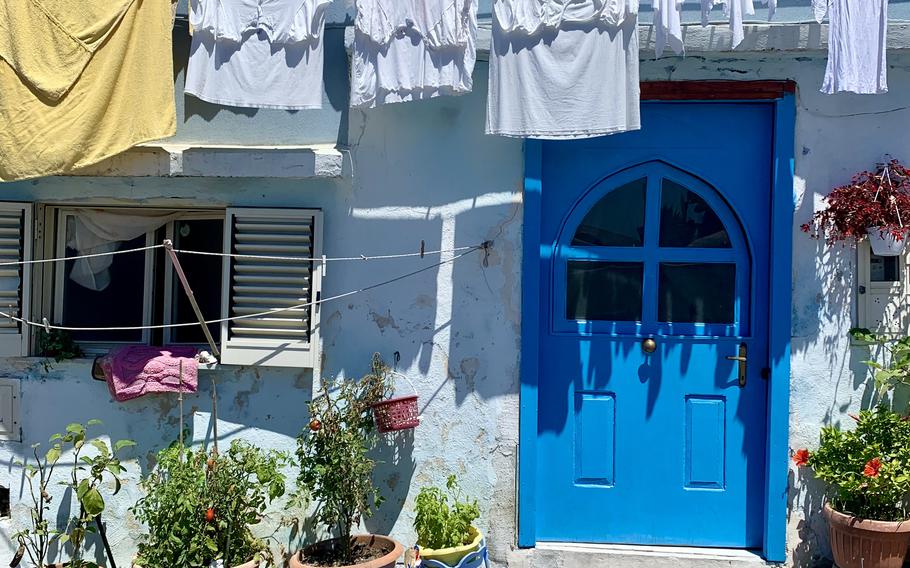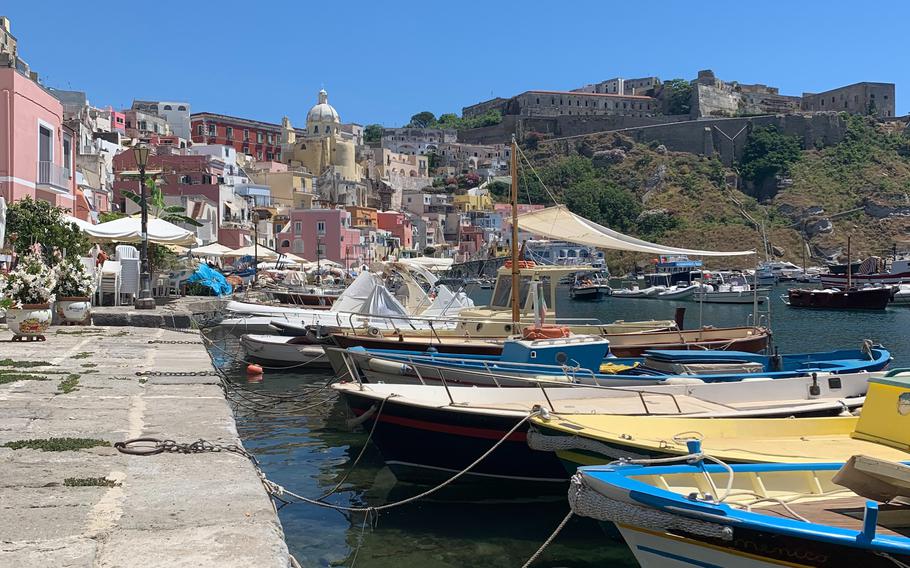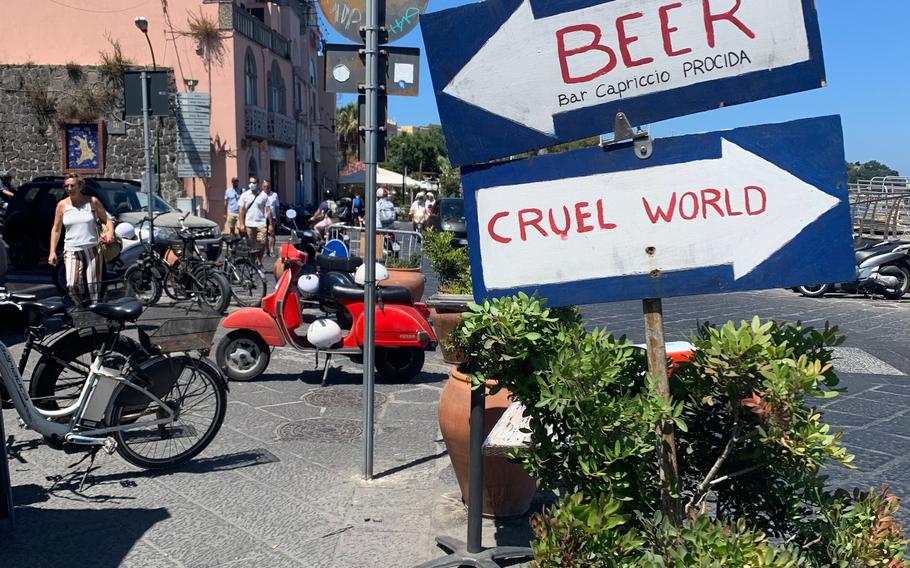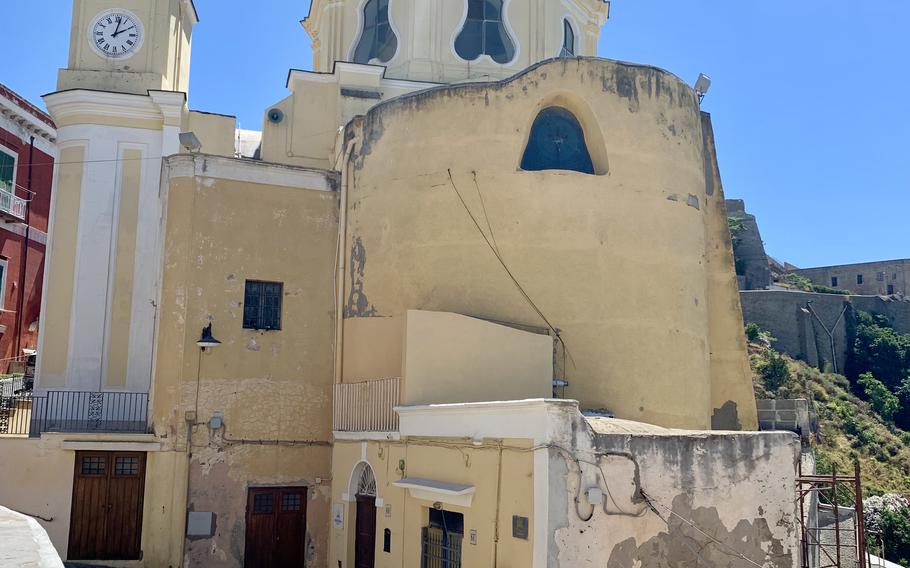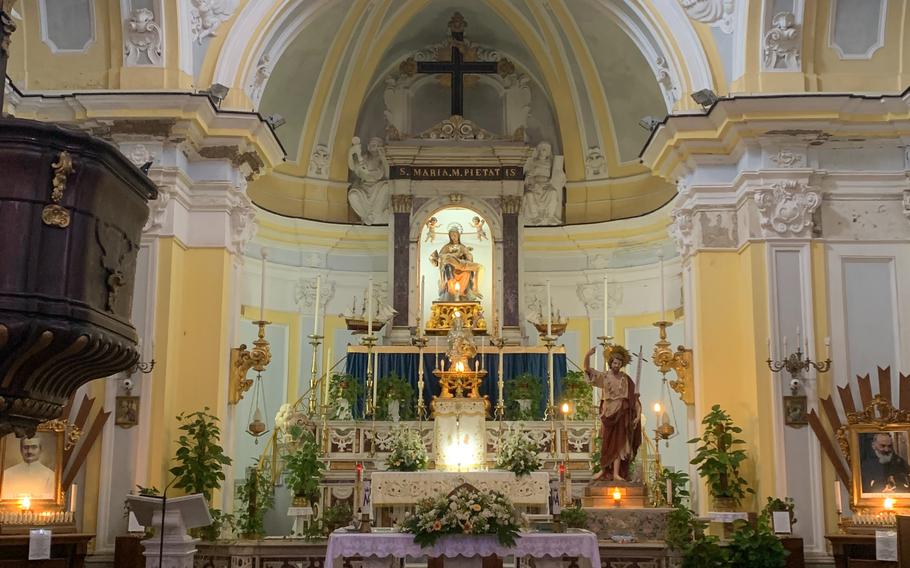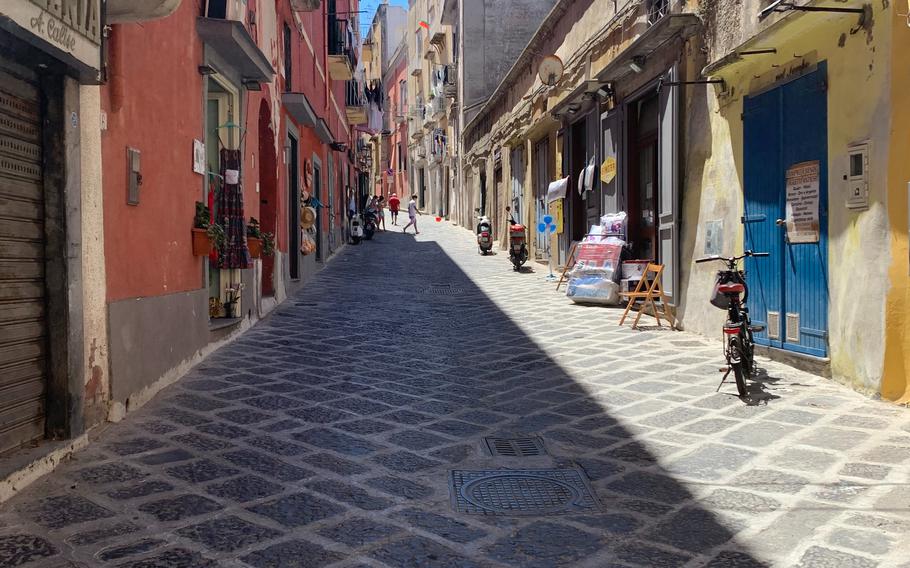 Depending on your preferences and the time available, you can head to one or all of Procida's five beaches, visit Terra Murata, a medieval village overlooking the sea, or see the city center, known as Sant'Antonio, and its famed Piazza Olmo. The small open space has many alleys leading from it, allowing for exploration. From here, visitors can walk to all points on the island, with no destination more than a mile away, according to Visitprocida.com.
Marina Corricella should not be overlooked. Full of cafes, restaurants and shops, it is ideal for a slow-paced stroll and exploration.
While you're there, have lunch or dinner at one of the restaurants by the marina. You can savor seafood or a tempting pasta dish while watching the fishing boats come and go.
Try the insalata di limone, a specialty of the island. It consists of sweet lemon rinds marinated in olive oil, seasoned with salt and pepper and served with arugula. It's surprisingly tasty.
While Procida may lack the fame and luster of its big siblings Capri and Ischia, it more than makes up for it with a casual, unhurried atmosphere, friendly residents and old-world charm.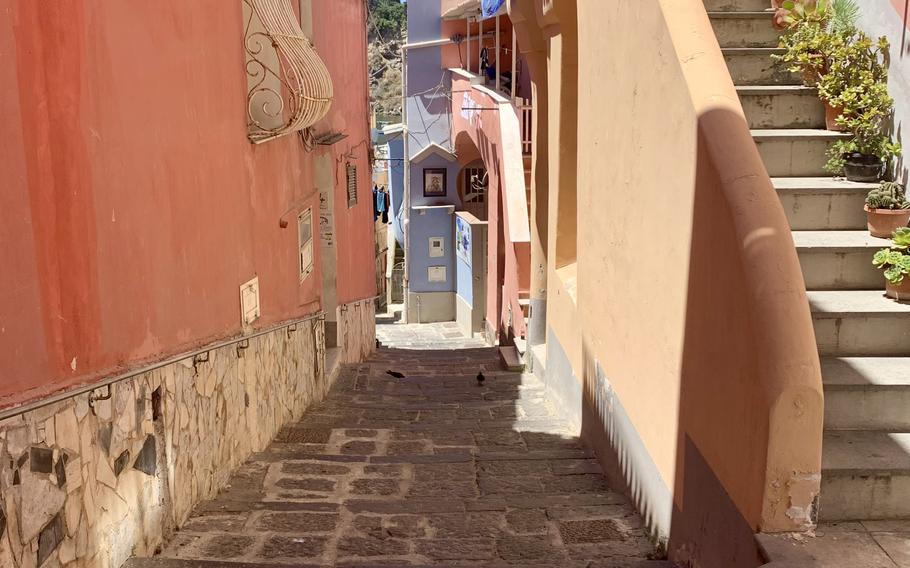 If you go:
How to get there: Ferries depart from Naples and Pozzuoli. Fares range from about 8 to 11 euros one way per adult passenger, and the trip takes from 40 minutes to about an hour. An Italian green pass or a U.S. vaccination card is required to ride a plane, high-speed train, ferry or interregional coach. Ferries include Caremar, online at shop.caremar.it; and Medmar, online at at medmargroup.it.
What to wear: Comfortable shoes (there's plenty of uphill walking). Don't forget sunscreen and a hat.
Food: Skip the pizza and opt for seafood or pasta. The island is famous for its lemons, so indulge in a granita di limone, lingua di Procida or insalata di limone.
Pro tip: Visit on a weekday, when there are fewer people and the restaurants, shops and beaches aren't as crowded.
Online: visitprocida.com