Bad Nauheim pays tribute to famous former resident, US Army Pvt. Elvis Presley
by
Karin Zeitvogel
Stars and Stripes
August 26, 2021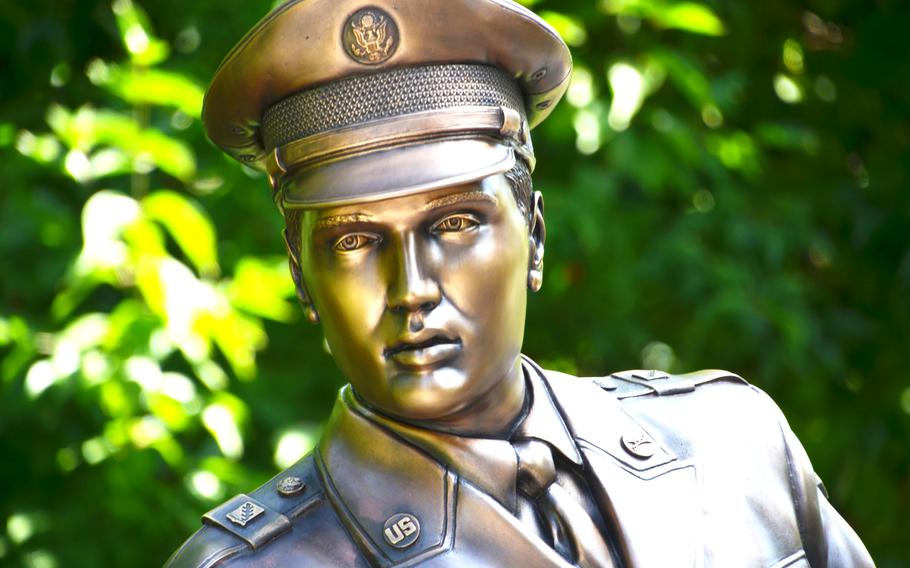 Two years after Bad Nauheim last rocked to the strains of Elvis Presley soundalikes with slight German accents, it again welcomed thousands of visitors to its mid-August celebration of the king of rock 'n' roll.
Women in swing dresses walked through the spa town's parks, and couples danced in the street on Aug. 15, the last day of the European Elvis Festival.
Next to the Hotel Villa Grunewald, where Elvis briefly stayed in 1958 when he arrived in Germany to serve as a U.S. Army private, people laid flowers and left candles and pictures at a stone memorial to the star. Nearby, Germans had their picture taken next to shiny Chevrolets and Cadillacs.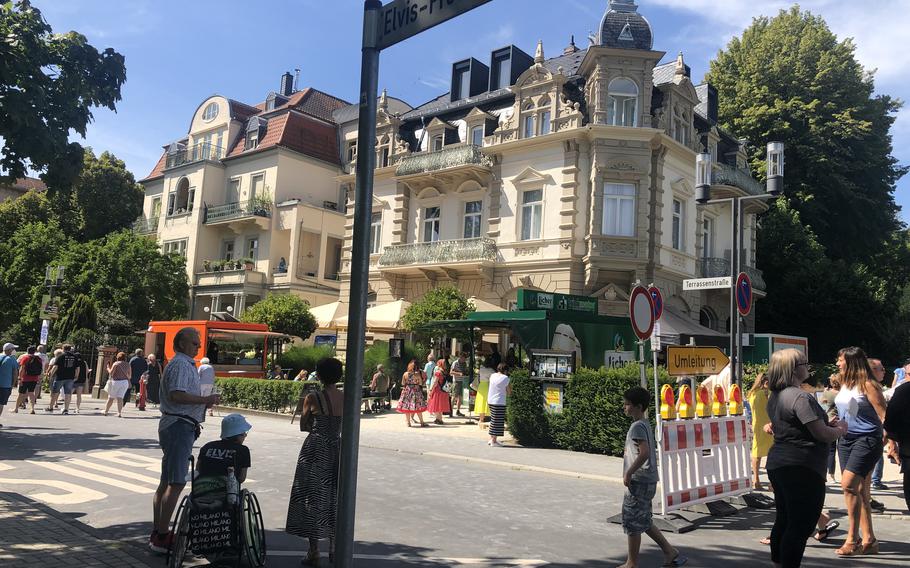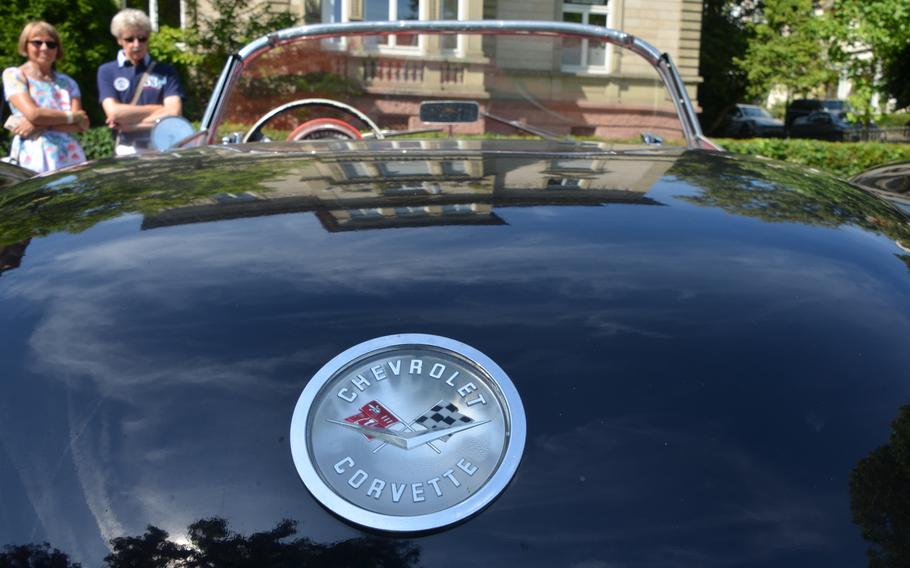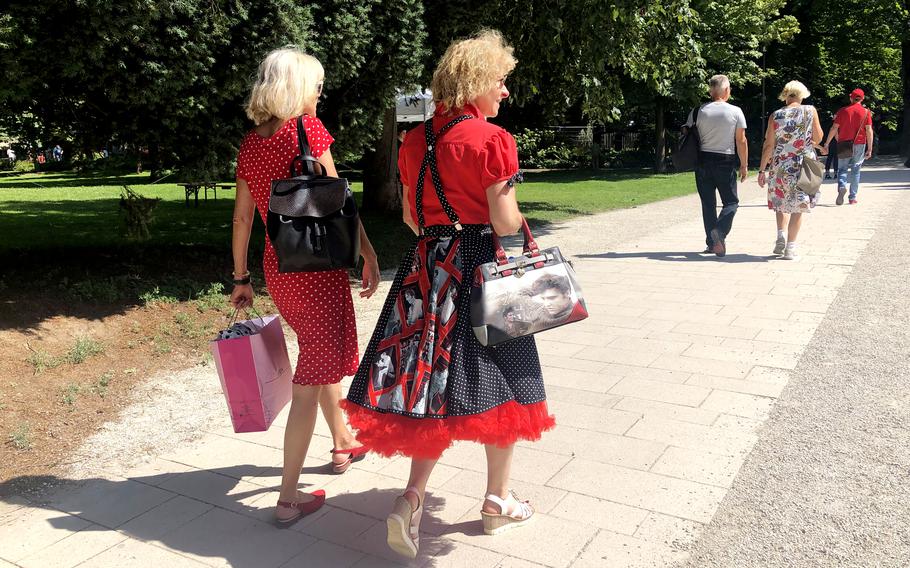 The 19th edition of the Elvis festival also brought a new attraction to Bad Nauheim: a bronze statue of the American icon on a bridge spanning the aptly named Usa River.
To comply with social distancing rules, crowd control officials allowed only small groups of people onto the bridge to take pictures by the statue, which replicates a pose Presley struck on the same spot in a photo shoot in March 1959.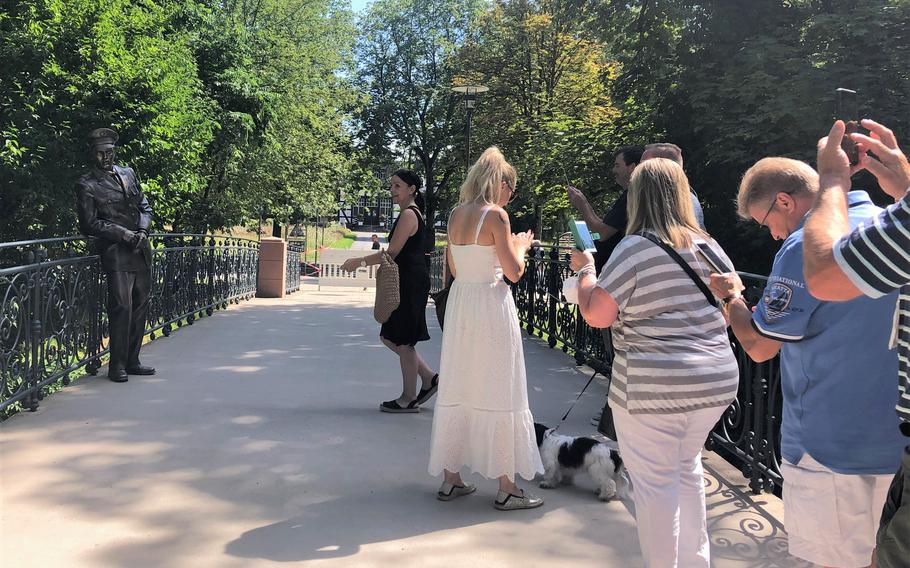 Once on the bridge, people ignored coronavirus rules and stood close to one another before handing their phones to strangers to take snaps of them close to what some said wasn't the best likeness of Elvis.
Coronavirus-wary Elvis fans can take photos by the statue after the festival is over; it's staying put on the bridge.
The three-day tribute to the King has been held every year since 2002 except for last year, when it was canceled because of the coronavirus pandemic. It always takes place over the weekend in August that falls closest to the anniversary of Presley's death on Aug. 16, 1977.
Presley was already a star when he shipped out to Germany in early 1958 to serve in Company D, 32nd Tank Battalion, 3rd Armor Division, based in Friedberg, about 4 1/2 miles south of Bad Nauheim, where he first lived in the Hotel Villa Grunewald on what is now Elvis-Presley-Platz.
Soon after arriving, he and his entourage, including his father, grandmother and some friends from Tennessee, had to move to a house on Goethestrasse, to make way for King Saud of Saudi Arabia, who had booked the entire hotel for one of his regular visits for spa treatments in the town.
For those who have never heard of Presley, aren't huge fans of his or visit the town outside of the festival dates, Bad Nauheim has plenty of other attractions, many within walking distance of one another.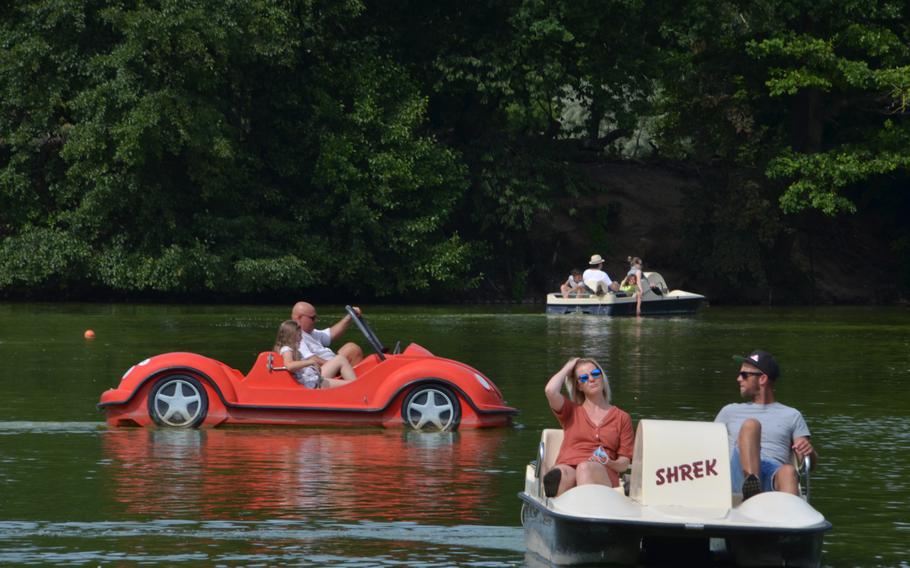 At the art nouveau Sprudelhof, visitors can sip the waters that bubble up from springs under Bad Nauheim and are said to treat heart conditions and backache.
They can stroll through the Kurpark, go paddleboating on its lake, tour a duck habitat or breathe in air laced with sea salt at any of the five giant "gradierbauten" around town.
Near the bridge and statue, bronze plaques lining the "walk of fame" show that other notable Americans — including a young Franklin D. Roosevelt, media magnate William Hearst and his wife, actress Marion Davies, Albert Einstein, Mark Twain, actress Lilian Gish, and Gen. George Patton — also spent time in Bad Nauheim.
Hearst reportedly met Italian dictator Benito Mussolini in the town and is said to have described him afterward as "a marvelous man."
But no one was bending over any of their commemorative plaques snapping photos in mid-August. At that time of year, Bad Nauheim and its visitors move to the beat of Elvis Presley, probably the coolest resident the town has ever had.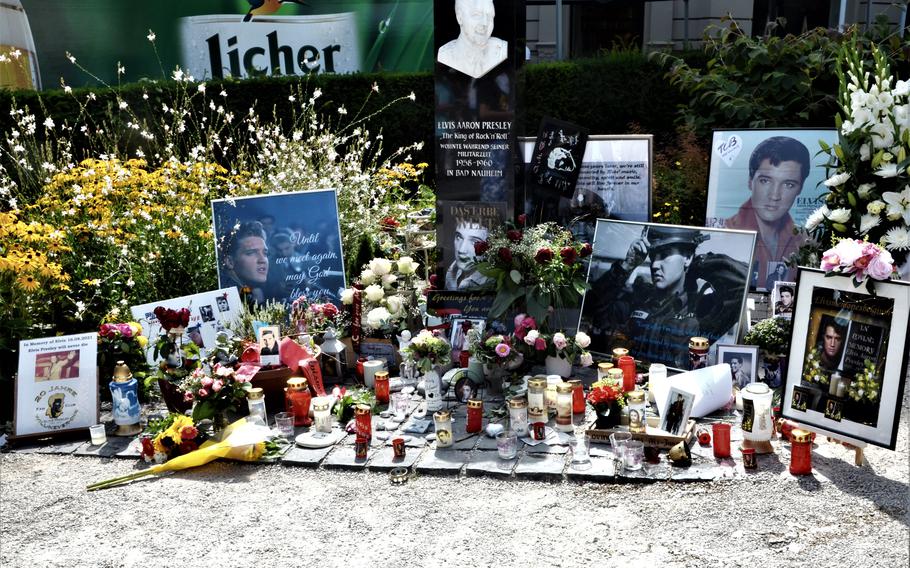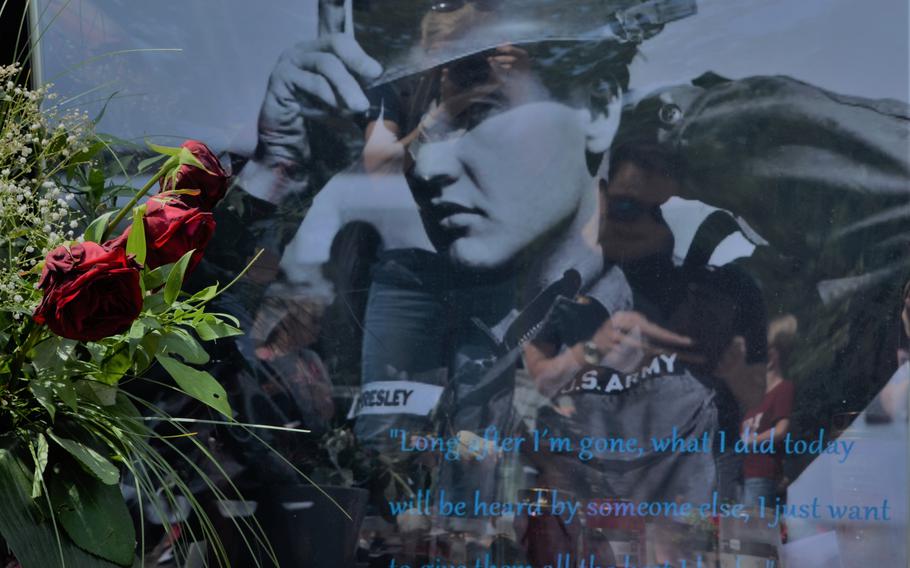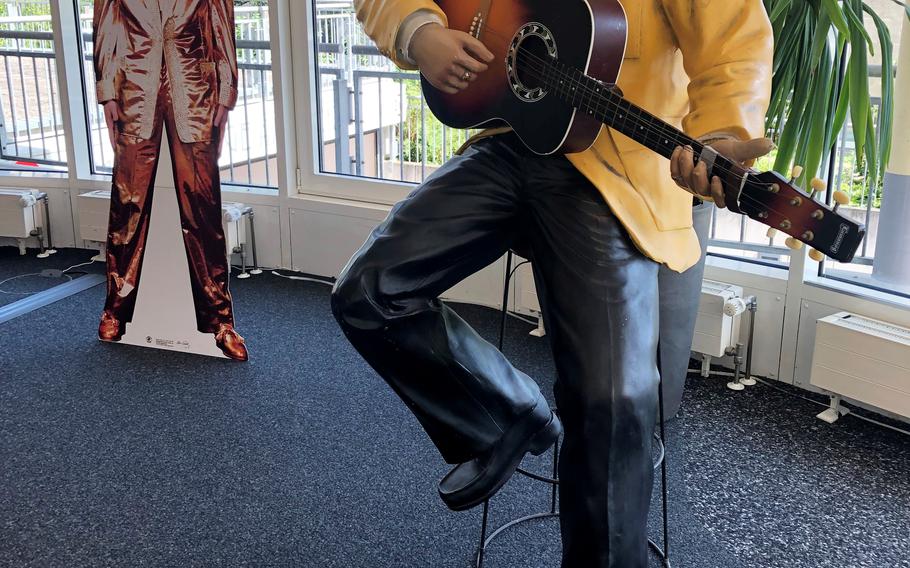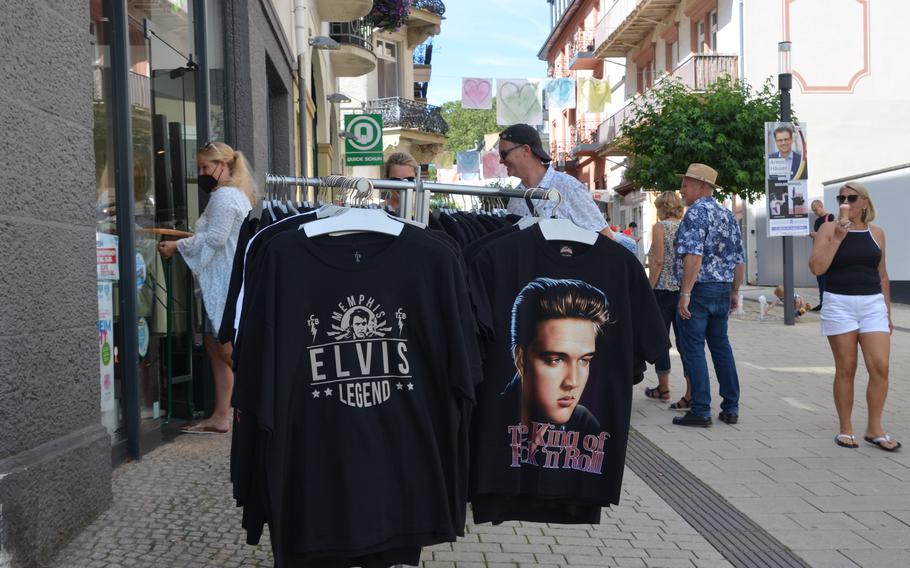 Directions: Bad Nauheim is about one hour from Wiesbaden, two hours from Kaiserslautern, 2½ hours from Spangdahlem and three hours from Stuttgart.
Cost: The large outdoor parking lot on Frankfurterstrasse costs 2.50 euros for four hours or 3.50 for 24 hours. Coins only. Walk from there through the Kurpark into the center of town. The Elvis statue on the bridge over the Usa River is a few hundred yards away.
Food: The many dining options include Fellini Cafe Vinoteca at Kurstrasse 3, where a salad and cappuccino run around $13, with U.S. credit cards accepted.
Information: Online: bad-nauheim.de/en