Pleasant pedaling complements the German Weinstrasse's famous offerings  
by
John Vandiver
Stars and Stripes
August 19, 2021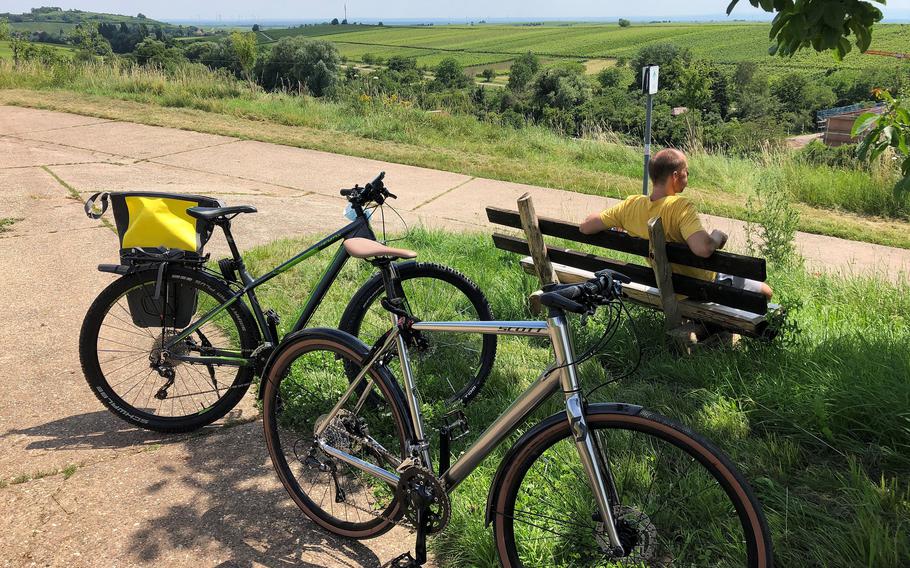 The steep, scenic vineyards scattered around Stuttgart catch the eye and the breath as I huff and puff on my bike around town. 
Indeed, Stuttgart's hilly landscape isn't the most inviting when it comes to long bike tours, a source of familial strain and protest when rides are suggested. 
In search of friendlier cycling terrain, we recently headed northwest for a weekend on the trails along the famed Weinstrasse, home to Germany's second largest wine-producing region. After a train ride and with bikes in tow, we landed in Neustadt an der Weinstrasse, which served as our home base. 
The Pfalz wine region, an area well-trod by the military community in nearby Kaiserslautern, is probably visited less by those based in other parts of Germany. But it's worthy of a visit even if you live farther away. 
On day one, we hit the trail early, opting for a southern route that took us from Neustadt down the wine roadway. We passed small towns where winemaking is the big business.  
Much of the ride was pretty flat, allowing us to cruise at a good pace as we cycled past landmarks such as Hambach Castle, said to be the birthplace of democracy in Germany. We hit some fairly steep climbs though, which made the eventual sips of wine all the more rewarding.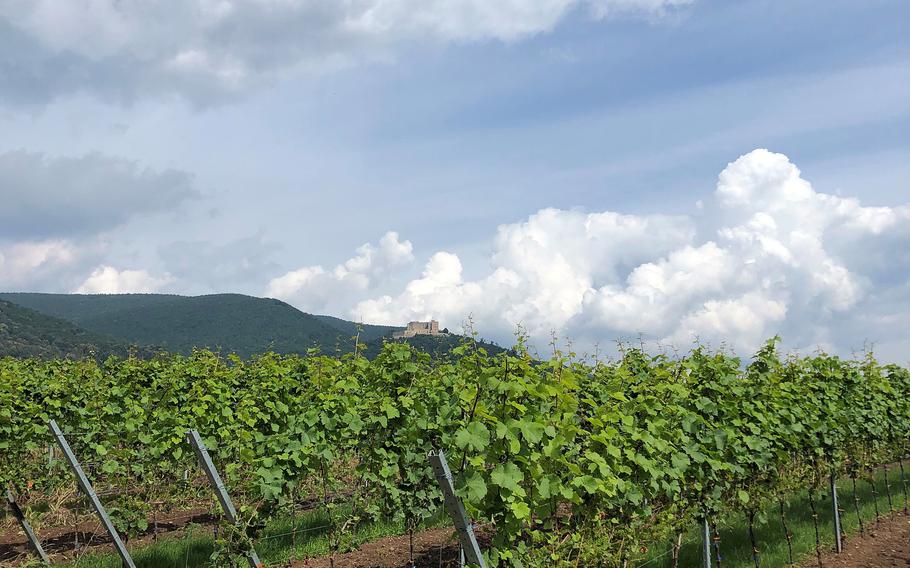 We stopped in the minuscule village of Eshbach after a little wine place caught our eye, the Bruno Wind Weingut Brennerei. There, we sipped on rosé in a cozy stonewalled open-air room with an old-world atmosphere. Refreshed, we carried on. 
We had aimed to make it to the French border, but after about 25 miles, we called it quits in Bad Bergzabern, where the most notable attraction is probably the Westwall Museum, a World War II-era bunker built to stop a French attack early in the war and later used to defend against the American push into Germany. 
In Bad Bergzabern, we strolled the picturesque old town, which was strangely desolate for a Saturday afternoon. But there were places to eat and drink. At Karls Driessen's Beerhouse, you get a prepaid card to access the self-serve beer taps, which we happily did. 
Later, we recouped in Neustadt, where there are lots of eateries to choose from. We especially liked "WeinGut," a tapas bar, and Winus, which has a wide range of local wines. 
On day two, we headed north from Neustadt with Bad Duerkheim as our breakfast destination. The route was just 12 miles but had a couple of unexpected challenging climbs that made it somewhat strenuous. Like our southern route, it brought vineyards as far as the eye can see. The trail was peaceful, with few bikers or hikers in the way. 
In Bad Duerkheim, we walked the city park and stopped at the Gradierbau, a big wooden building that uses a giant thatch of wooden sticks to extract salt from water. The process emits a refreshing blast of cool air.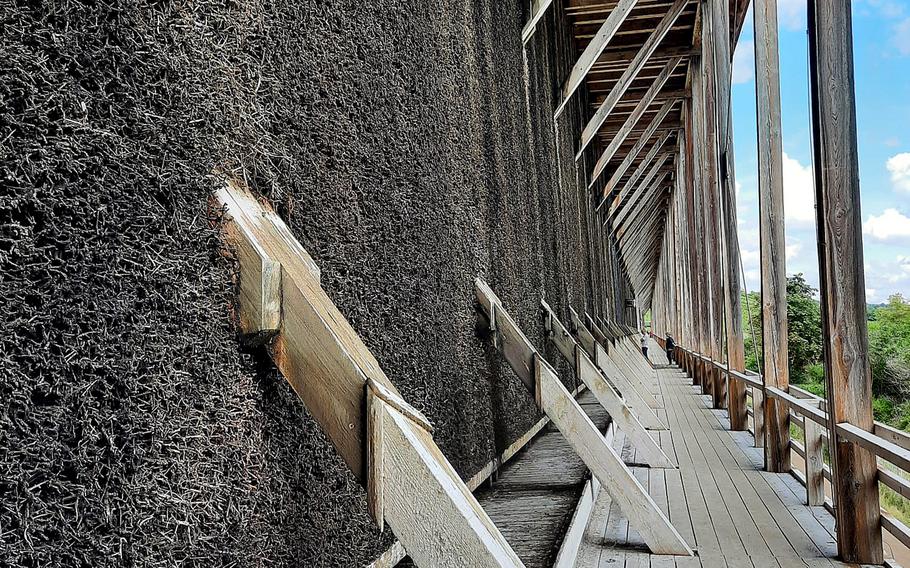 Unfortunately, we had to cut our day short and head to the train station bound for Stuttgart, where a steep bike ride home awaited.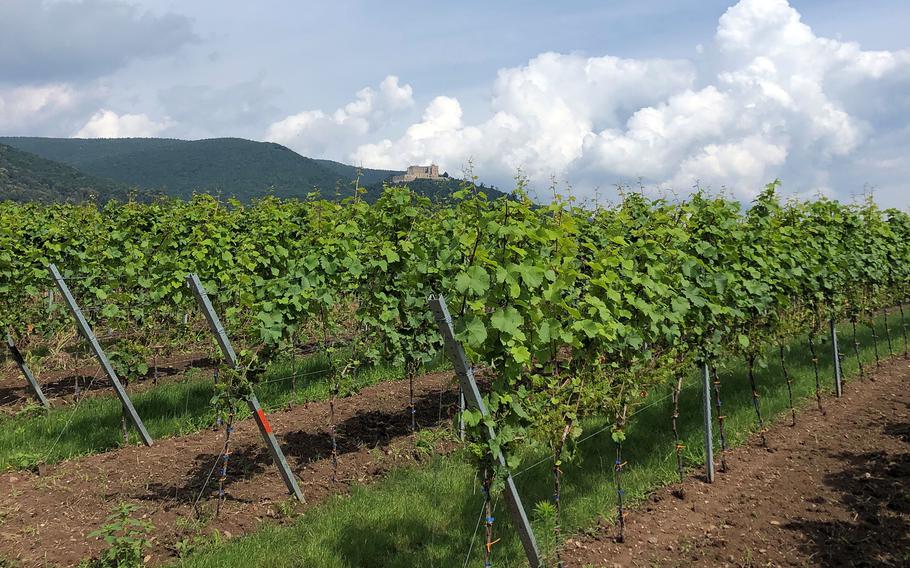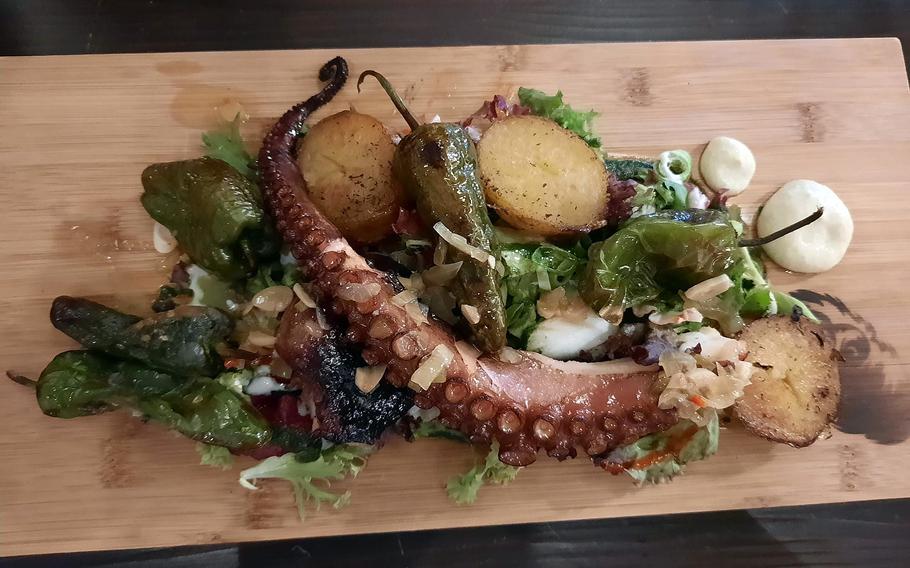 Directions: Neustadt an der Weinstrasse region is about 30-40 minutes east of Kaiserslautern, or 90 miles northwest of Stuttgart via the autobahns. There also are several train connections. 
Food: In Neustadt an der Weinstrasse and the surrounding towns and villages, choices abound.
Information: All around the Pfalz's wine region, there are countless cycling routes to choose from. Komoot.com's guide for the cycling routes around Neustadt an der Weinstrasse is a handy resource for anyone planning a trip.