This 15th century chapel houses a brewery with delicious regional German, French food
By
Stars and Stripes
September 1, 2022
---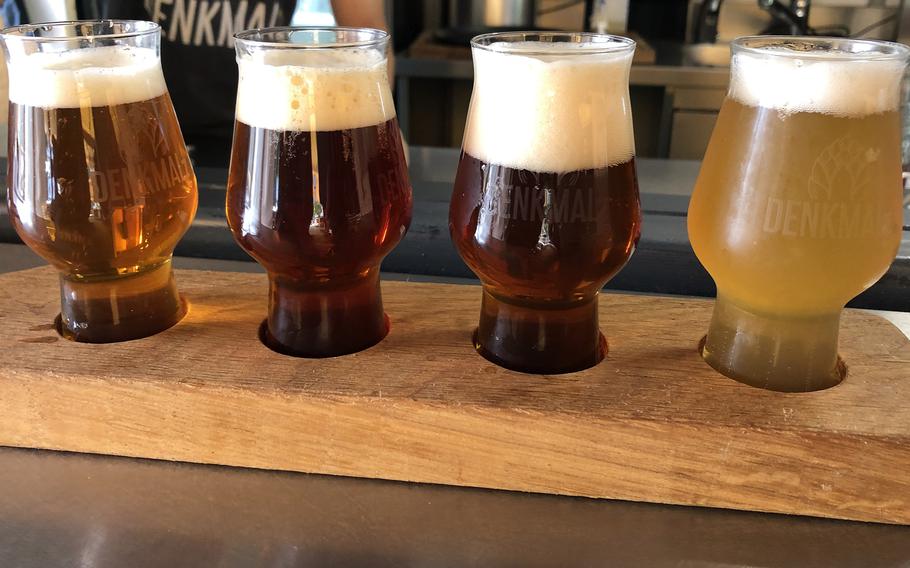 Going barefoot isn't the only reason to visit Bad Sobernheim, a quaint spa town along the Nahe River about an hour's drive north of Kaiserslautern.
After a shoeless stroll around the city's barefoot path during a hot summer day, my kids and I headed with a friend for the Denkmalz chapel brewery, a nearby restaurant and beer garden that produces its own craft beers.
The restaurant and brewery are inside a 600-year-old monastery that was abandoned and covered with ivy until one of the current owners, who has an interest in historic buildings and craft beers, restored it a few years ago, according to the Denkmalz website.
The best part about the place, besides the great craft beer, is that you can have two very distinct meal experiences.
If you're in the mood for more formal dining, then hit up the chapel kitchen in the church's former choir room. The architecture is stunning, with tables set under a high vaulted ceiling next to beautifully restored Gothic windows.
The experience is "creative upscale" German and French brasserie cuisine, prepared by chefs who "will spoil you with fresh, seasonal products from the region," the establishment boasts on its website. The craft beer, brewed on site, not only goes with the food but is often part of the recipe, according to the site.
A glance at the menu reveals a variety of meat, fish and vegetarian options. Entrees vary seasonally but have included duck liver, zander fish fillet with a baked calf's head, and a creamy risotto with king oyster mushrooms and truffle chips. The most expensive item on the July menu was the roast beef with potatoes for 32 euros.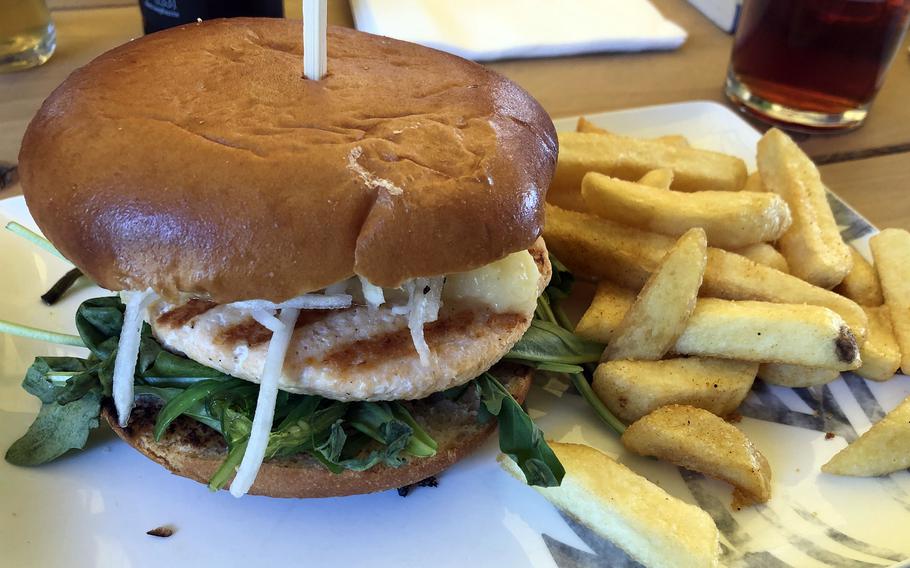 For more casual dining, head outside to the beer garden, a cozy affair with wooden tables and benches with pillows spread out underneath a patio area shaded by a white canvas covering.
Food and drinks are ordered at a kiosk. The menu offers cheaper, lighter fare, such as several varieties of bratwurst as well as pork, beef and fish burgers.
The salmon burger with wasabi sauce and rucola lettuce was a big hit in our party, as was the fish and chips. "Low-carb" salad bowls include one with shrimp, one with chicken and one with all vegetables.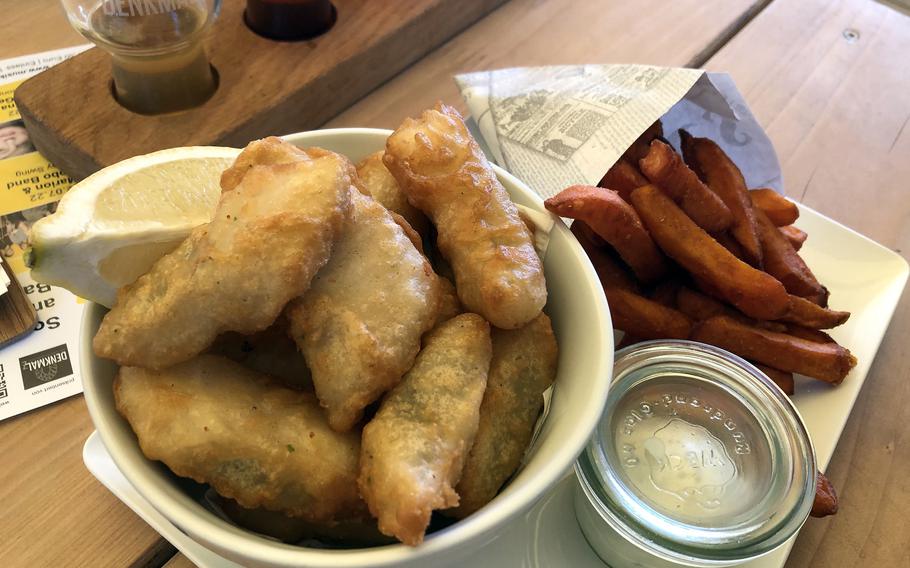 A tip: The German-only menus for both the chapel kitchen and beer garden also can be found online if you need to translate them to English.
Guests can try Denkmalz's craft beer, which comes in light, dark and wheat varieties, by ordering a sampler of four beers served in 0.1 liter glasses.
It also has specialties such as spelt and Marzen, an amber beer with origins in Bavaria, and wild ginger and honey beer, the latter a new favorite of my college-bound teenager.
Last year, Denkmalz was named the best craft brewery in Rheinland-Pfalz by the Falstaff, an Austrian gourmet wine journal published in Germany.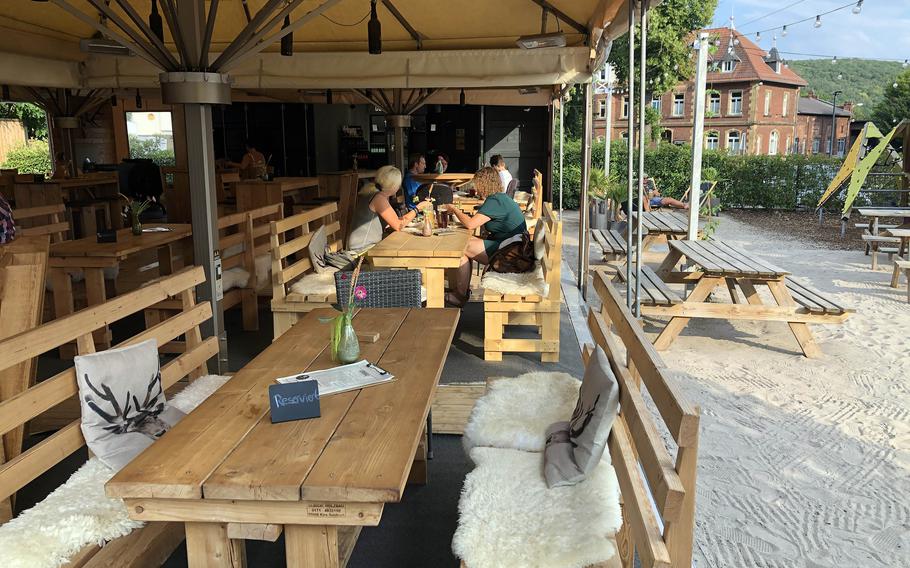 We enjoyed the ambiance of the beer garden and headed back to Kaiserslautern feeling quite satisfied. Despite the hour's drive, we definitely would go back for another round at the Denkmalz.
Denkmalz
Address: Kappellenstrasse 5, Bad Sobernheim, Germany
Hours: Beer garden, Wednesday to Friday, 5-11 p.m.; Saturday 2-11 p.m.; Sunday and holidays, 11:30 a.m.-11 p.m.; Monday and Tuesday, closed. Chapel kitchen summer hours, Monday to Wednesday, closed; Thursday barbecue and Friday craft beer pairings, from 5 p.m., reservations required; Saturday, 5-11 p.m.; Sundays closed.
Prices: In the beer garden, burgers cost from 11.50 euros to 14.90 euros, extra for french fries. In the chapel kitchen, appetizers start at under 10 euros and entrees range from 16.90 euros to 32 euros.
Information: www.denkmalz.de; +49 6751 8577080; info@denkmalz.de. Also on Facebook and Instagram. Reservations can be made online.
---
---
---
---