Osteria da Tonino's classic Naples cuisine comes with century of experience and a street show
By
Stars and Stripes
July 21, 2022
---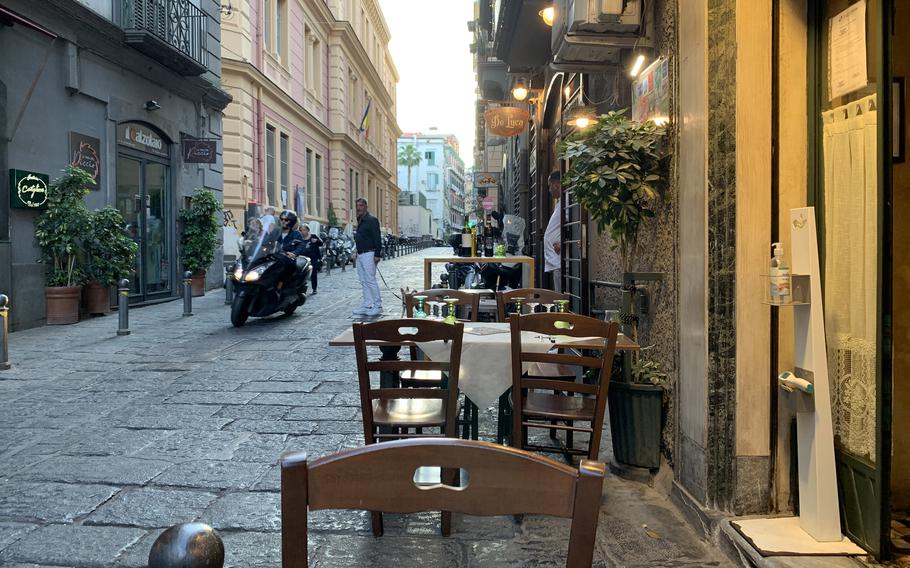 With its unassuming exterior and small size, the Antica Osteria da Tonino eatery can easily be overlooked. But missing it would be missing out.
The family-owned restaurant is tucked away on a side street in the heart of Naples' fashionable Chiaia neighborhood and boasts a history of more than 100 years of offering traditional Neapolitan cooking.
Founded in 1880 by Antonio Canfora, Osteria da Tonino has a simple credo: offering a limited menu du jour focused on bringing out the best of fresh, in-season vegetables, meats and seafood.
Five generations later, the restaurant now is operated by Paolo Canfora, his wife, Rossella, and the couple's sons Antonio and Simone, according to its website.
On a recent visit, a friend and I opted to dine al fresco at one of about six tables set streetside on Via Santa Teresa a Chiaia. The outdoor experience isn't for the faint-hearted.
Cars and motorcycles traveling the narrow lane pass just inches from your table, albeit at very slow speeds. But the adventure is well worth the chance to people watch as a steady stream of Chiaia's well-dressed denizens hurry home for dinner, walk their pups or simply enjoy an evening stroll.
Our meal started with mixed seasonal side dishes, one of three appetizers on offer when we were there.
The generous platter of spiced eggplant, grilled zucchini, sauteed friarielli (broccoli rabe), garlic roasted potatoes and a caponata was accompanied by a basket of thickly sliced bread.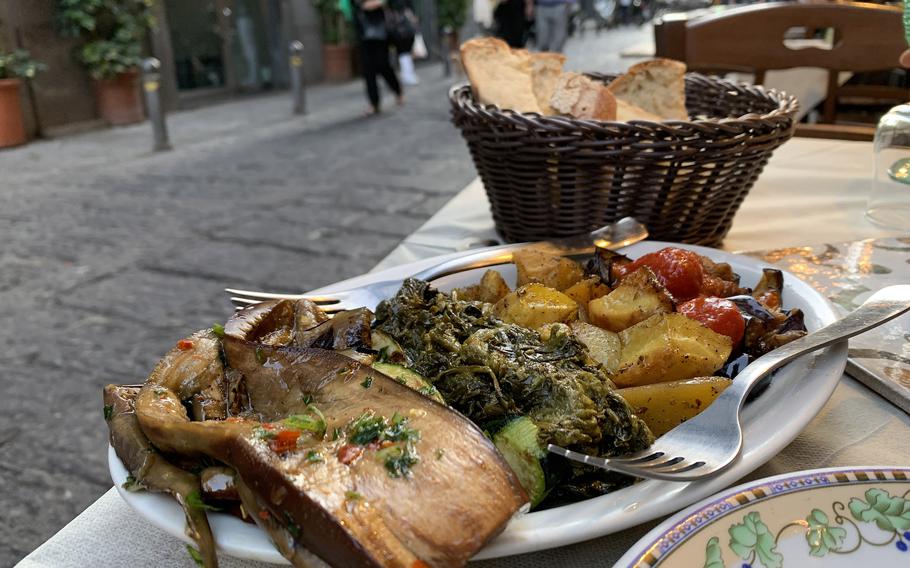 Among my favorites were the lengthwise cuts of roasted eggplant seasoned with just enough crushed red pepper to balance the coolness of the vegetable.
The bread offered an excellent way to sop up the juices and olive oil. Frankly, this dish and a glass of wine would be enough for a light meal.
Gnocchi alla Sorrentina is one of my favorite Amalfi Coast dishes, and Osteria da Tonino's version didn't disappoint. The generous portion of pillowy potato pasta tossed in a rich, velvety tomato sauce was expertly finished with the requisite mozzarella.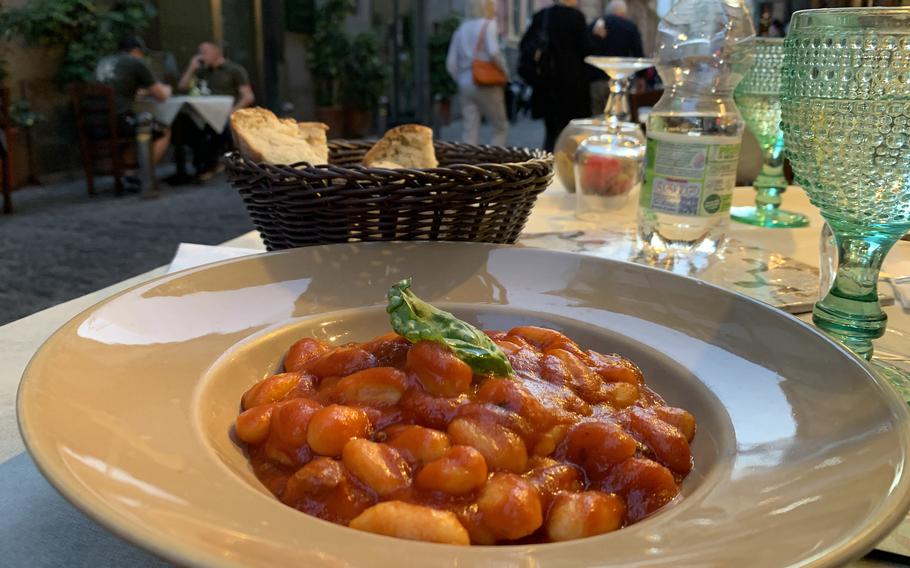 After having filled up on vegetables and bread, I couldn't finish the gnocchi, but it didn't go to waste. Our host graciously offered to pack it up for me, an uncommon occurrence in Naples.
Unfortunately, my friend had to wait a few more minutes for her polipetto alla Luciana, octopus on a toasted slice of bread covered in a chunky tomato sauce accented with capers.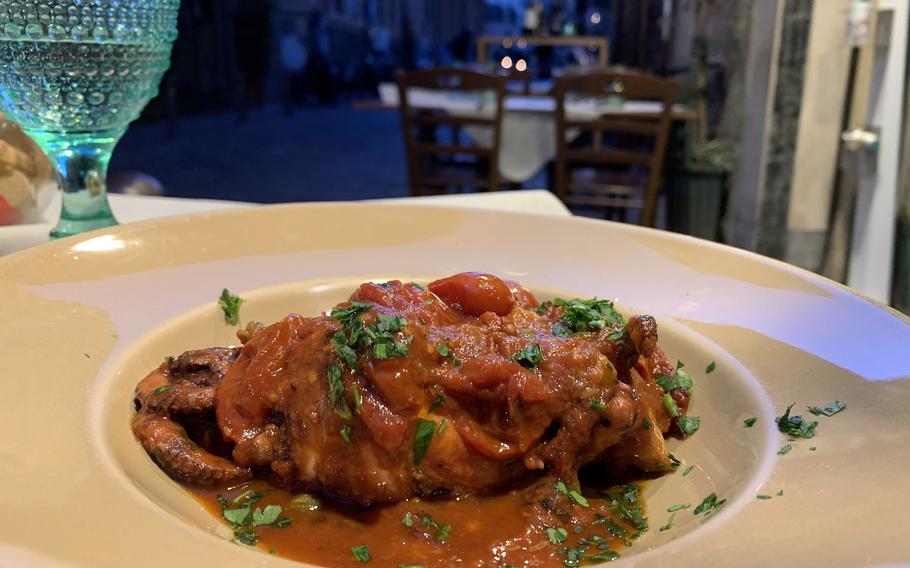 The first dish our waiter brought out was meatballs, called polpette in Italian, which we didn't order. The mix-up seemed to be due more to our pronunciation than an error by the waiter, but the dish was quickly taken back to the kitchen without problem.
My friend said the entree was rich and satisfying but the octopus was a bit mushy, indicating it may have been overcooked.
On the evening we visited, the restaurant's dessert menu was limited to strawberries or a torte of vanilla and chocolate gelato. We opted for the torte, which was rich and satisfying.
With friendly and efficient service and an ever-changing menu of Neapolitan favorites, Osteria da Tonino hits all the right notes and offers a chance to watch as the world walks — or drives — by.
Antica Osteria da Tonino
Address: Via Santa Teresa a Chiaia 47, Naples, Italy
Hours: Noon-4:30 p.m. (lunch), 7:30 p.m.-midnight (dinner), seven days a week
Prices: Starters, 8-9 euros; pasta, 10-15 euros; meat and fish, 10-15 euros; vegetable and other side dishes, 4 euros.
Information: Online: osteriadatonino.it; Phone: 081-421533; WhatsApp: +39 349-107-3337
---
---
---
---