Sirmione's San Lorenzo never lets diners down
By
Stars and Stripes
July 14, 2022
---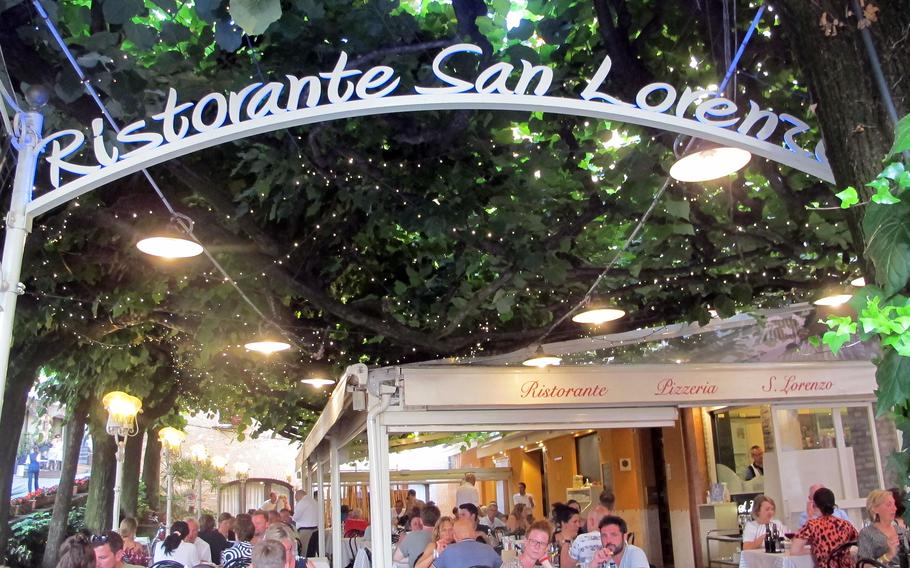 The Italian town of Sirmione, a heavenly spot on an elongated spit of land jutting into Lake Garda, is a place I've been frequenting for years, so I have eaten in many of its old-town restaurants.
In the center of town, next to a stone building covered in bougainvillea, under a canopy of lime trees and fairy lights is Ristorante San Lorenzo. It's much the same as the other eateries that share the Sirmio Peninsula, but for me it exudes familiarity.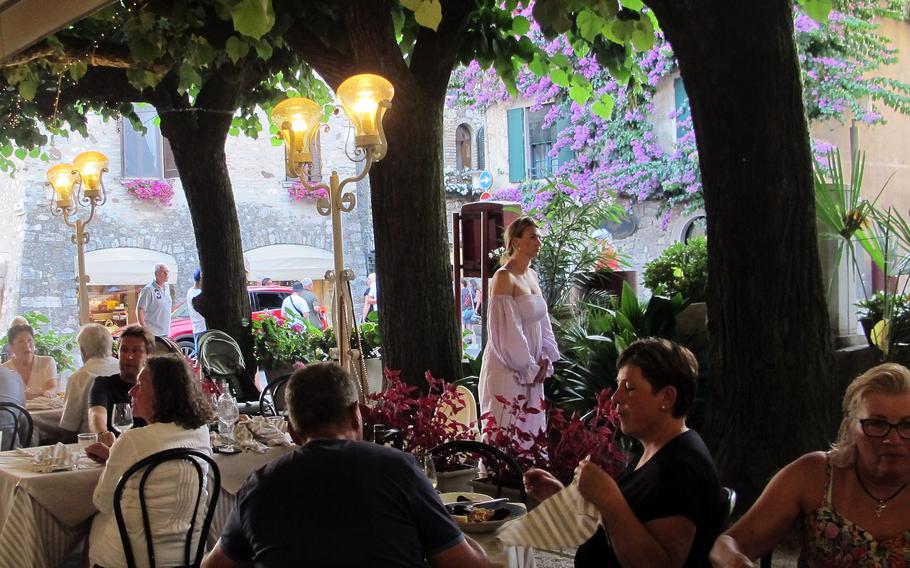 The servers know my face if not my name. Also, I've found that most dishes are a euro or two less than at other places, and complimentary glasses of prosecco and limoncello often appear.
Ristorante San Lorenzo makes no pretensions. It takes reservations, but they're rarely necessary. That's because its brisk, capacious staff, always on the move, wastes no time in seating you, serving you and bringing your check when you ask.
Also, the tables sit close enough together that you can chat with strangers, and the chairs are basic. Are there six people? They'll slam three tables together, take your order and bring water for your dog in what seems like seconds. 
The restaurant offers numerous pizzas, which I saw many people ordering. But I prefer pasta, seafood and pasta with seafood. Ristorante San Lorenzo doesn't miss with any of them. 
My first night there, I ordered spaghetti with mussels. Wonderful. The tender mollusks were enveloped in a lightly spiced tomato sauce, and the pasta was perfectly al dente.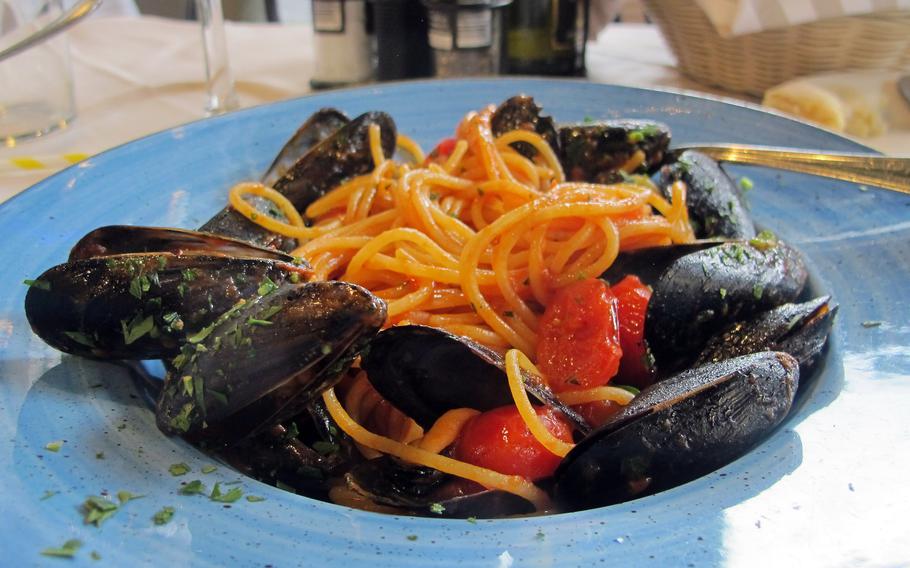 I also had a mixed salad, which was fresh and colorful, and a couple of glasses of a local white wine, a recurring theme in all my dinners there.  The restaurant also offers a variety of beers, soft drinks, and cocktails.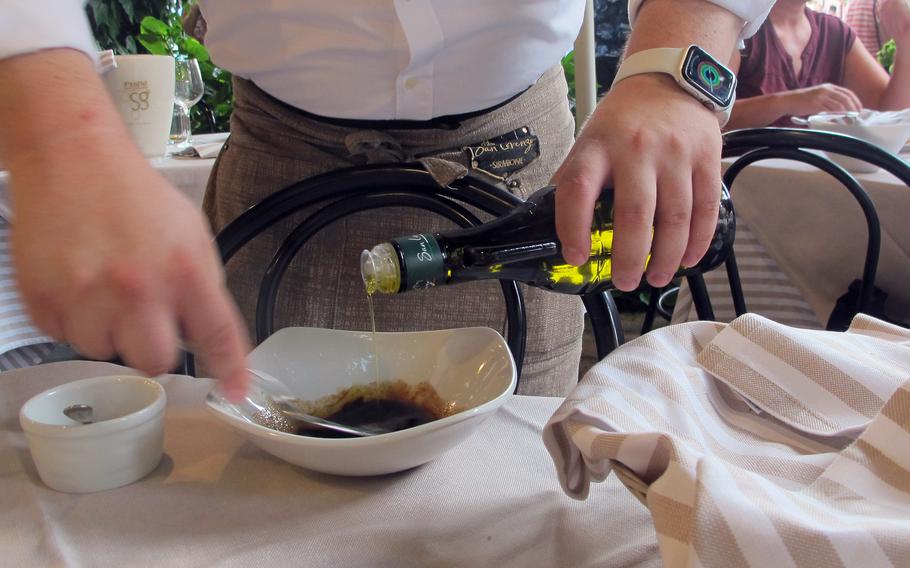 The next night, I had roasted sea bass along with the salad and wine. The fish was filleted at my table and delivered its usual sweet taste.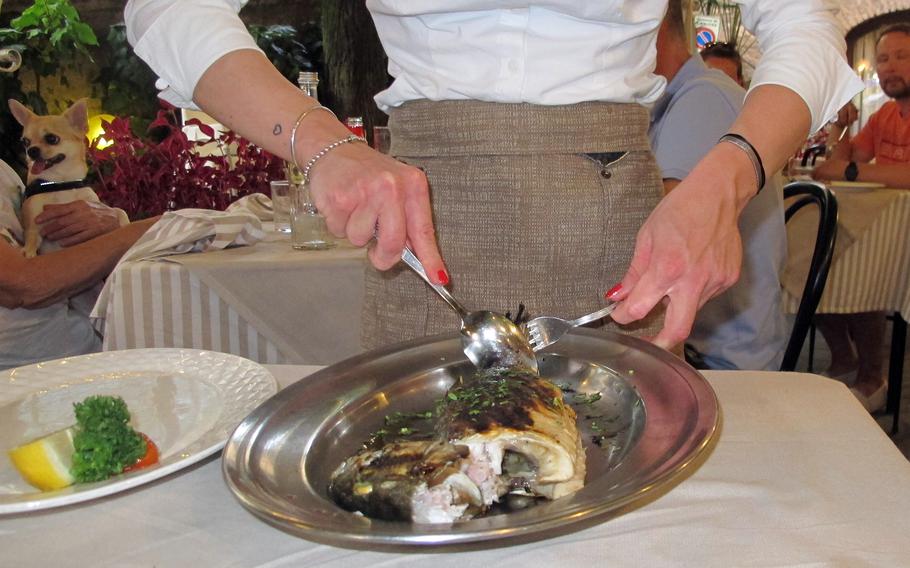 Another time, I had ravioli stuffed with spinach and ricotta after the woman at the table next to me ordered it and liked it. I did, too. But not as much as the mussels with spaghetti, which I ordered again on another visit.
On my last night, I asked my favorite server what she recommended. She lobbied for the roasted salmon with a light cream sauce, a dish I had never tried.
I'm generally no fan of Atlantic salmon, and I eschew cream sauces. But kudos to my server for persuading me. The dish was so good that I still think of it sometimes and salivate.
Those with a sweet tooth can order tiramisu, ice cream and other treats.
Ristorante San Lorenzo
Address: Via S. Salvatore 12, Sirmione, Italy
Hours: 11:30 a.m.-11:30 p.m. daily, kitchen closes at 10:30 p.m.
Prices: Pizzas are around 10 euros, small salads are 5 euros. Roasted fish is about 20 euros. The most expensive entree is steak Florentine for two at 90 euros.
Information: Phone: (+39) 030-916-186; Online: ristorantesanlorenzo.it
---
---
---
---