New Kaiserslautern smoothie bar pours fun vibes, dishes up TikTok-famous fruit bowls
By
Stars and Stripes
July 7, 2022
---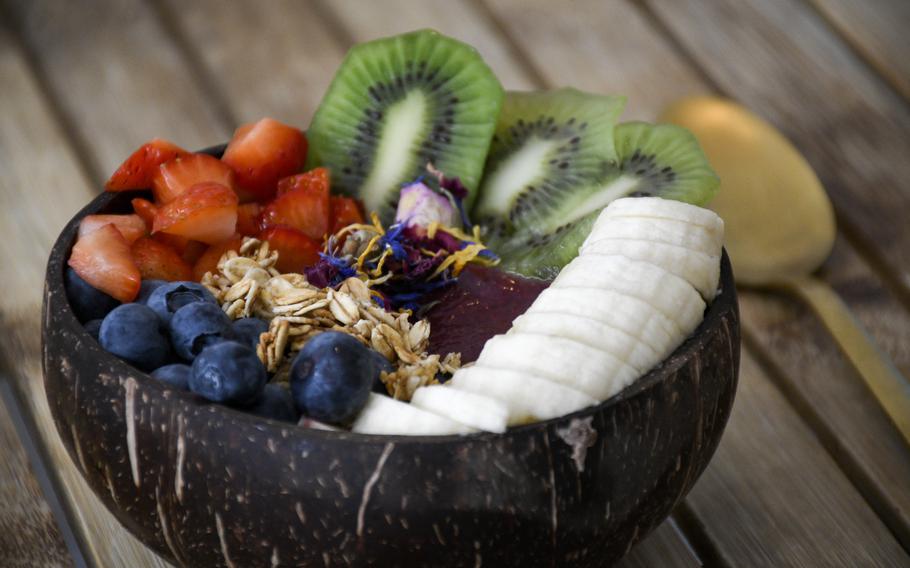 There's a new smoothie bar in Kaiserslautern and its refreshing, photogenic fruit bowls have already earned it some social media buzz after only a couple of months in business.
Juicy, which opened in April, seems perfectly suited for the times. The inspiration for it came from Instagram posts about fruit smoothie bowls, owner Veda Schuhmacher said.
A recent TikTok video about the restaurant got some 18,000 views and led to a surge in customers, Schuhmacher added.
Juicy's fruit smoothie bowls, topped with chia seeds and fresh fruit, look beautiful when photographed for social media posts, and they taste pretty great in real life. They are served in dishes made to look like coconut shells.
Customers are greeted with a bright, vibrant decor when they walk in the shop. Next to the door is a leafy green wall installation and a swing set that makes for fun selfies. The soundtrack is chill hip-hop from the early 2000s: Mariah Carey, Nelly, Jay-Z and other nostalgic throwbacks.
The smoothies start with either acai, dragonfruit or coconut, which is blended with bananas into a sorbet-like smoothie. After that, you can add such mix-ins as granola, cocoa nibs, cashews and other crunchy things.
Then there's a layer of fruit toppings: blueberries, kiwis, strawberries and bananas.
You can choose your own adventure and pick whatever you'd like, or you can ask the staff to guide you as to which toppings work best together. The fruit bowls are refreshing and delicious, but they can get too sweet if you overdo it on sugary additions.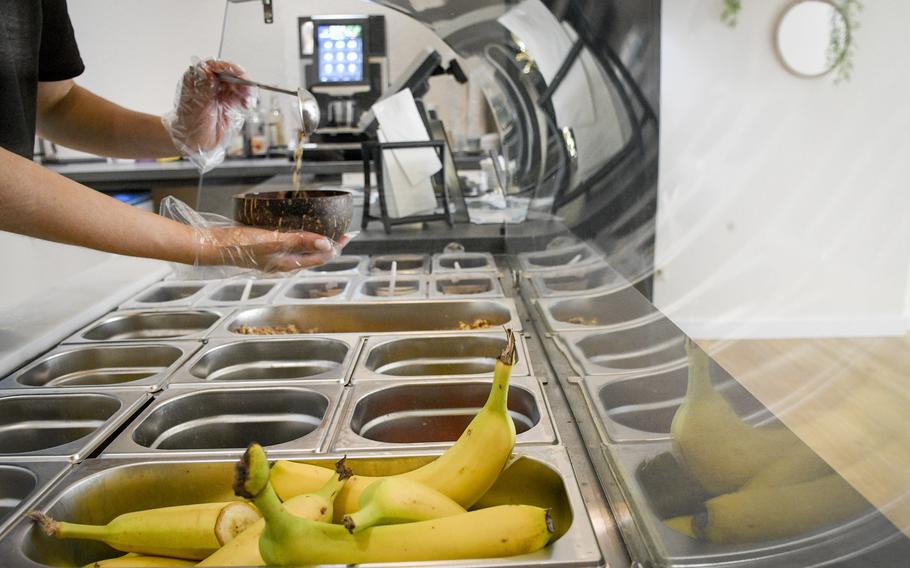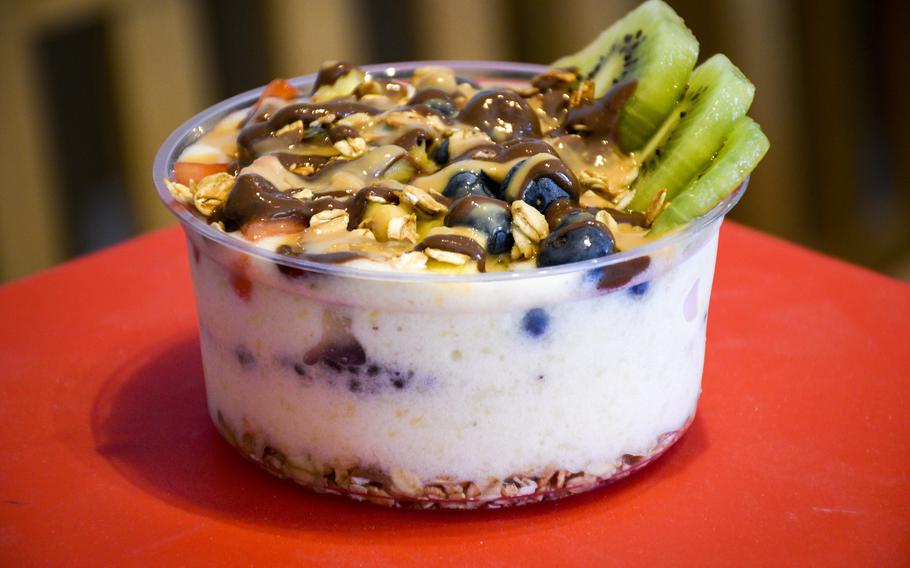 There's often a crowd at lunch and everyone invariably is taking photos of their food.
In addition to the fruit, the shop has American-style bagels. I usually get an everything bagel with eggs, and I've tried the hummus and avocado sandwiches. Both were a bit messy, but they were satisfying.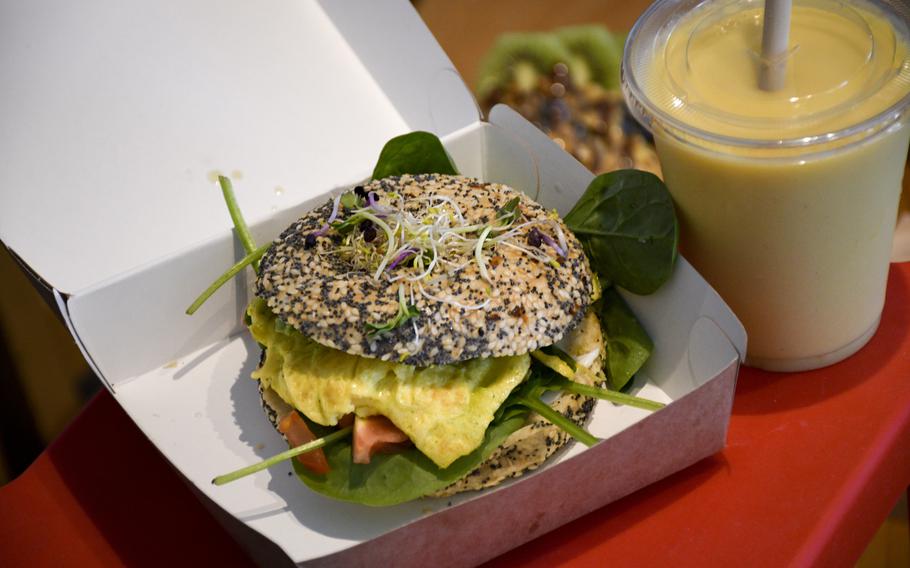 There are also espressos and cappuccinos available. Unlike a lot of other eateries in Kaiserslautern, Juicy is open on Sundays, making it a godsend for people who need their caffeine fix that day.
The menu could soon expand to include quinoa bowls and rice bowls in the fall, Schuhmacher said. If that happens, get ready for a new wave of food-and-photo combos making the rounds.
The food at Juicy can get a bit expensive, but good vibes and good posts for social media are priced into the experience.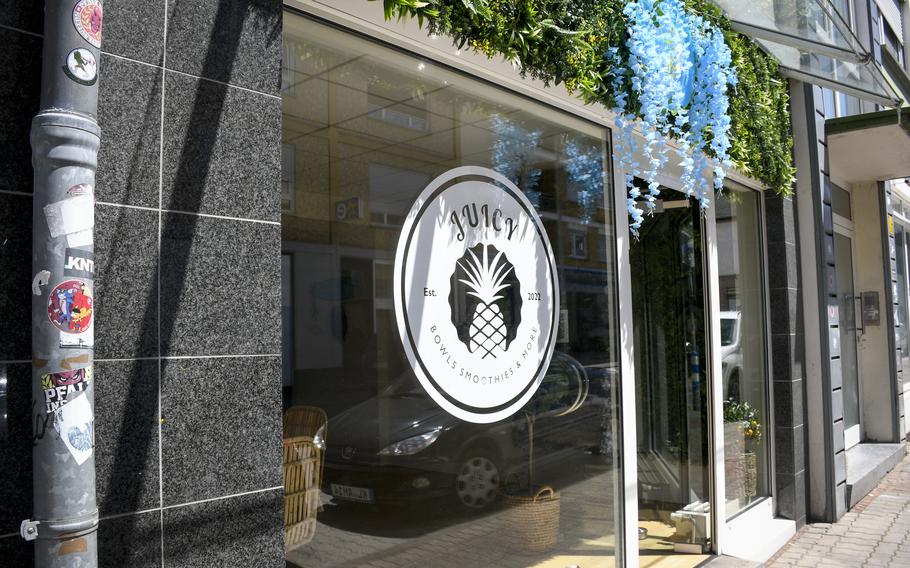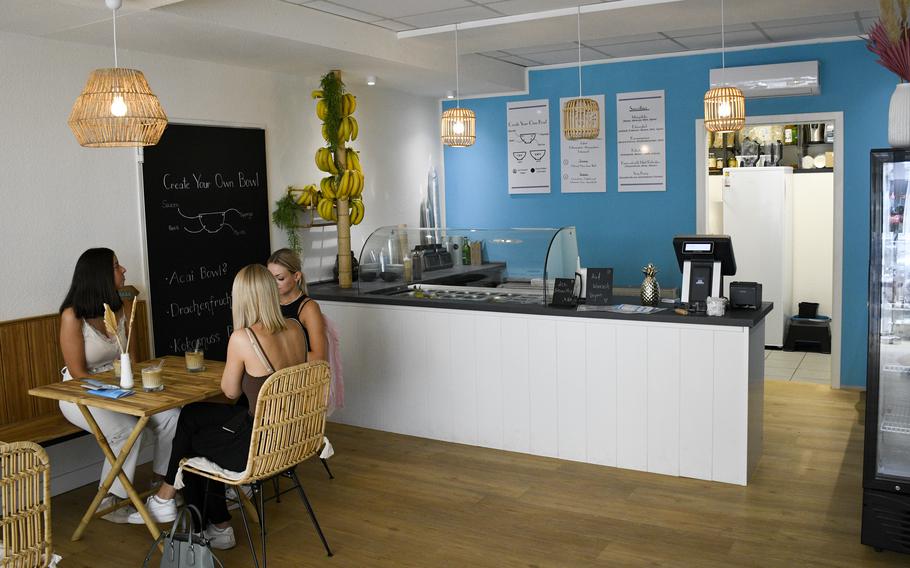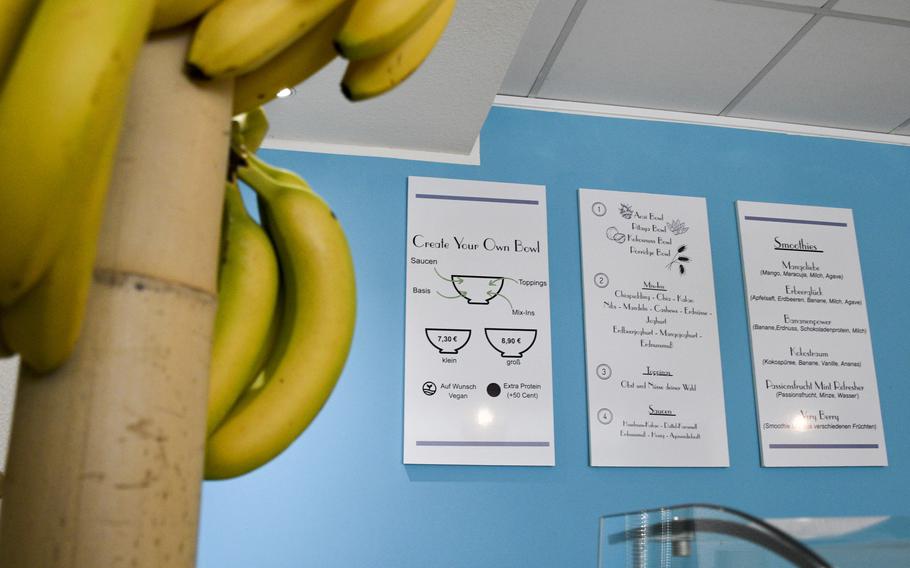 Juicy
Address: Steinstrasse 28, Kaiserslautern, Germany. The juice shop is across the street from the Kaffeeroesterei-Kaiserslautern and Moloney's Irish Pub.
Hours: Monday through Sunday, 10 a.m.-5 p.m.
Cost: A fruit bowl costs 7.60 to 8.90 euros. Smoothies go from 4.10 to 5.80 euros. Dairy-free options are available for an additional 50 cents. Bagel sandwiches go from 6.90 euros to 8.20 euros. An espresso shot is 2.10 euros.
---
---
---
---