Shade, suds and scrumptious German dishes on offer at Darmstadt's diverse beer garden
By
Stars and Stripes
June 30, 2022
---
The Mathildenhoehe in Darmstadt, Germany, with its art nouveau buildings and a chapel built by the last Russian czar, is the main attraction in this charming city just south of Frankfurt.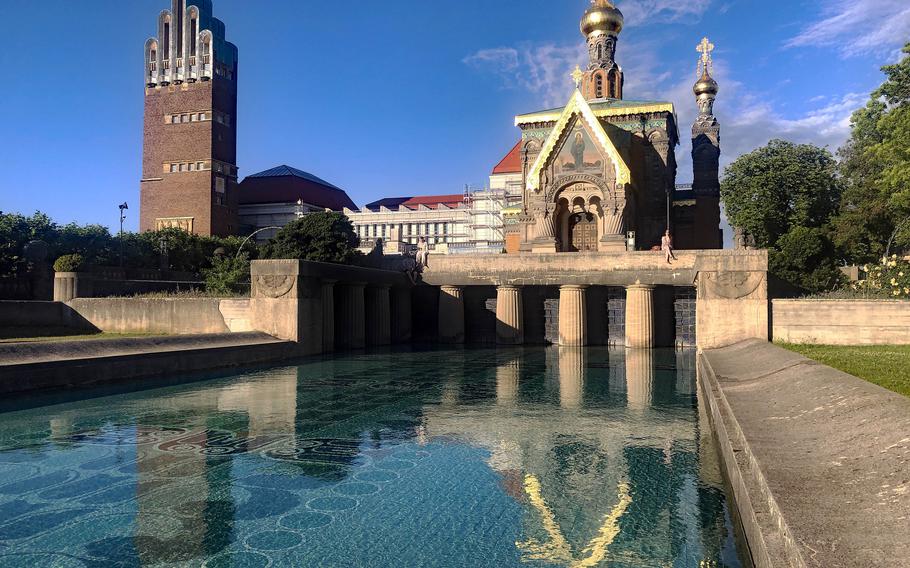 But tucked away under leafy chestnut trees is another place that draws crowds, the Biergarten, an outdoor watering hole popular with residents and tourists alike.
For the uninitiated, a beer garden is like an outdoor tavern, usually self-service, and often furnished with long wooden tables and benches. The best-known example is probably the one in Munich's English Garden.
While very popular in Bavaria, they can be found all over Germany. The Biergarten in Darmstadt opened in 1974 and since then has been a favorite meeting place for those trying to escape the summer sun's rays.
With a recent pre-summer heat wave hitting Germany, my wife and I made our way to a shady spot on the premises.
Here, in traditional German beer garden style, you order at the counter, pay and take your drinks with you. If you order food, a pager lets you know when it is ready for pickup.
Most of the beer served at the Biergarten is brewed by two local breweries, Darmstaedter and Grohe. Only the wheat beer is from Bavaria.
Not a fan of the wheat beer, I ordered two Grohes, wurst salad with fries and handkaese with mussigg.
Wurst salad is made with sliced cold cuts and pickles in a vinegar dressing and topped with red onions. Handkaese is a relatively low-fat sour milk cheese that gets its name from how it was originally formed, by hand.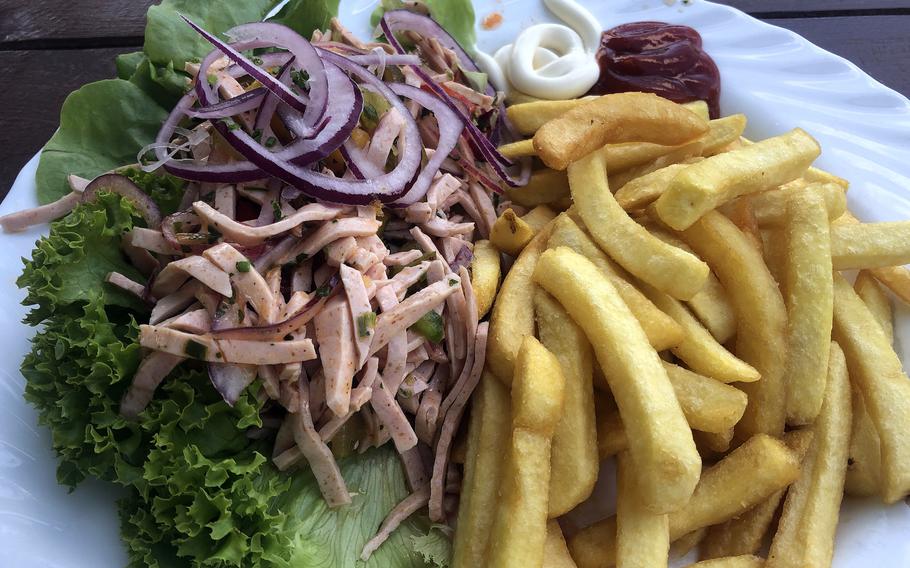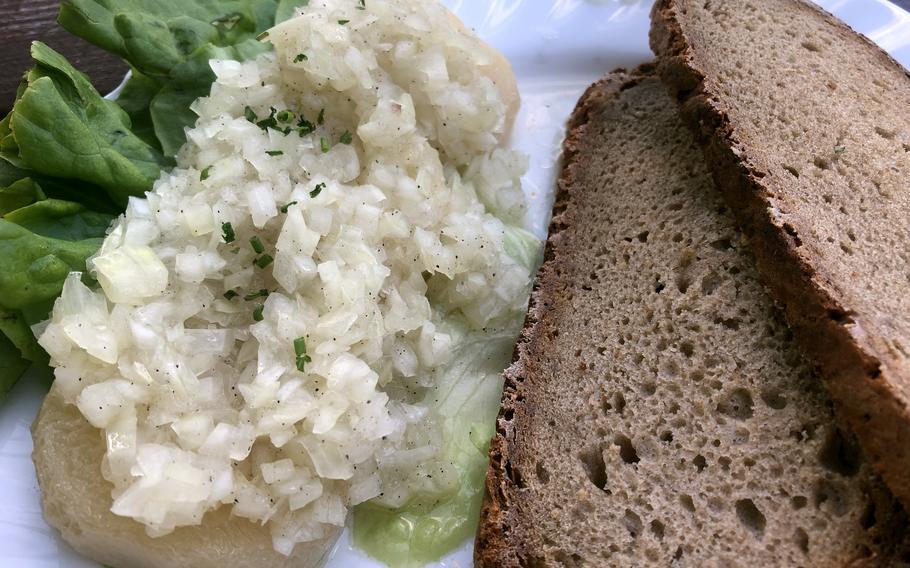 Mussigg, local slang for music, is a dressing of oil, vinegar and chopped onion that is served over the cheese.
Both were tasty, the meat dish nice and light in the heat. The onion-heavy dressing might make the handkaese an acquired taste, but it's worth trying.
Not quite ready to leave the Biergarten's cool shade, we each had a glass of apple wine to while away the heat. A specialty of southern Hesse, the German state in which Darmstadt is situated, the wine can be ordered straight or spritzed with water or lemonade.
A week later, the heat still had not dissipated, so after a hot day in the office, the Biergarten again beckoned.
I tried a grilled pork neck steak with homemade potato salad, and my wife chose the homemade kochkaese with mussigg.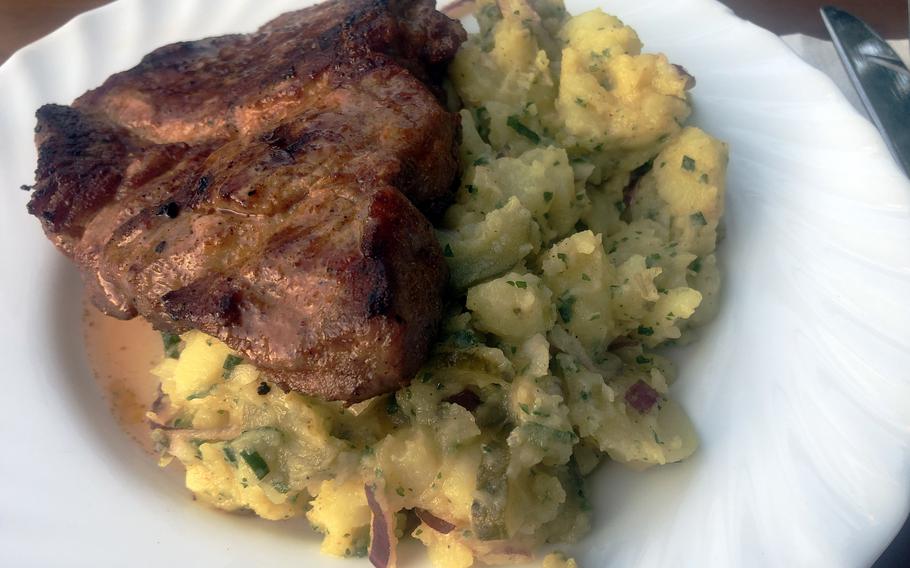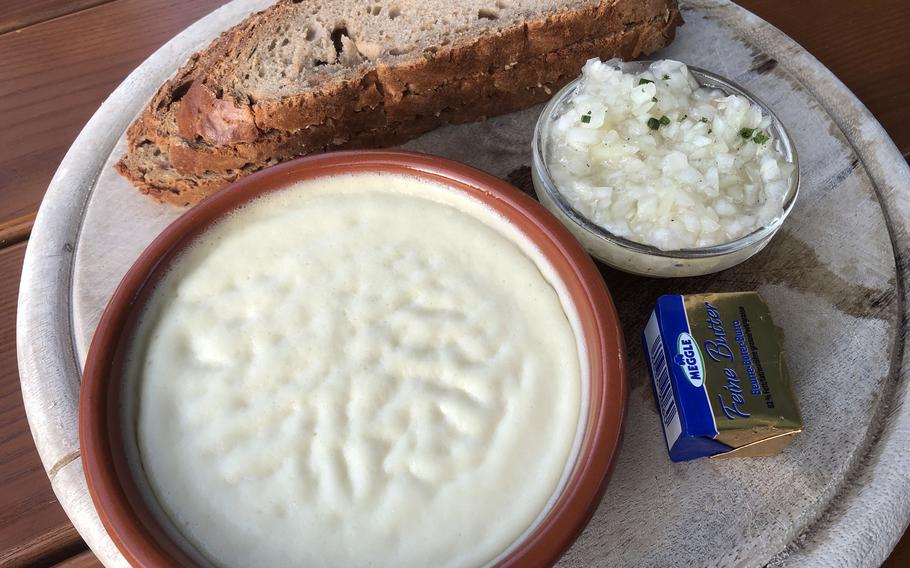 Kochkaese translates to "cooked cheese." The dish is made by cooking quark and butter with baking soda, then served cold. It was very good, but if you order it, let it warm up a little before spreading it on the delicious dark bread that comes with it.
The pork steak was tasty, but the potato salad was absolutely delicious. Made with a dill vinaigrette dressing, it was one of the best we have ever tasted while out to eat.
Grohe was again the beverage of choice. Despite the name beer garden, though, assorted soft drinks can be ordered there as well.
In terms of food, the Darmstadt Biergarten offers a variety of sausages and schnitzels, a salad, fries and potato wedges. Unfortunately, there is nothing vegan on the menu, unless you have one of the potato offerings plain.
But it always offers a shady place to enjoy a beer and escape the city heat.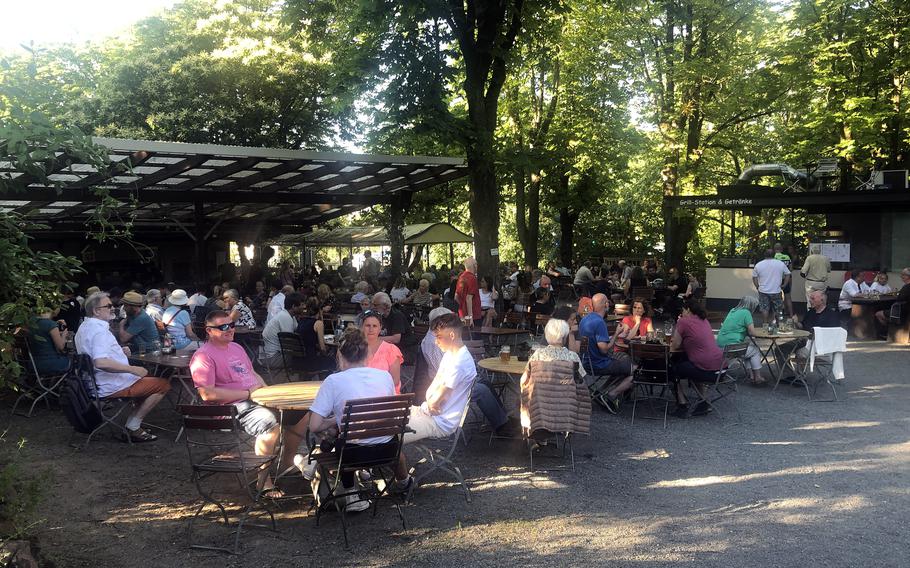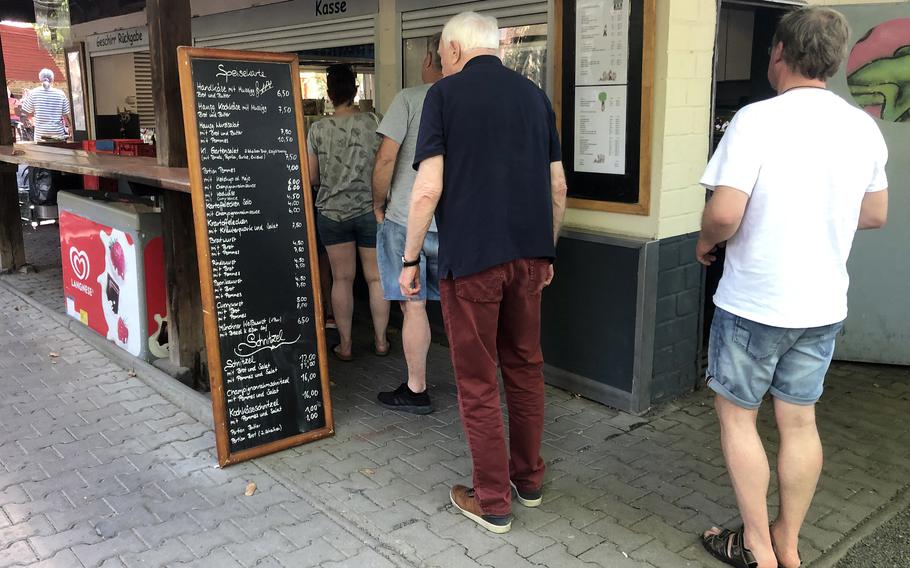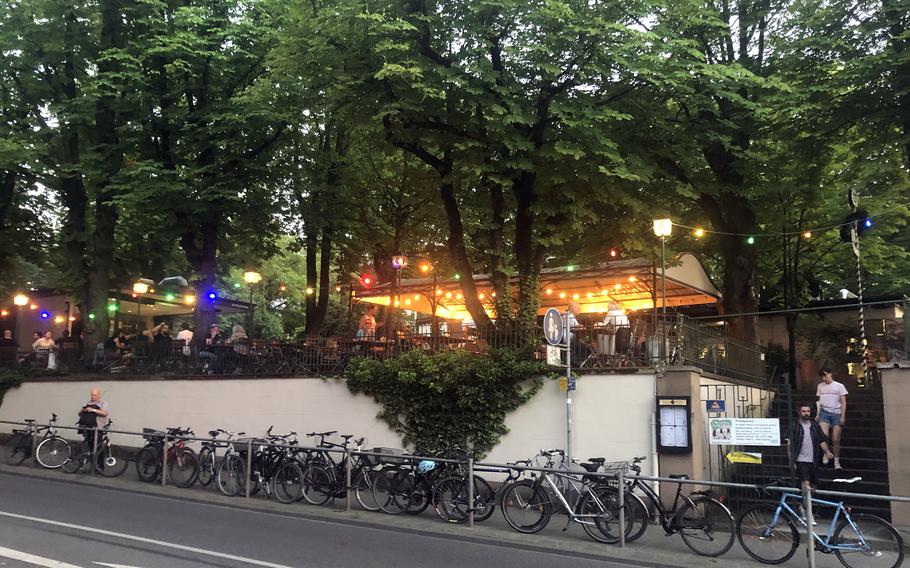 Biergarten
Location: Dieburgerstrasse 97, Darmstadt, Germany. It's about a 30-minute drive from Wiesbaden and 90 minutes by car from Kaiserslautern. Parking is very expensive in the area. The cheapest garage is under the Rewe supermarket on Dieburgerstrasse. If arriving by train at the city's main train station, take the F bus to the Mathildenhoehe stop.
Hours: Tuesday to Saturday 3-11 p.m., noon-10 p.m. on Sundays and holidays. Closed Mondays. Open from late March to mid-October when the weather is good. Check beforehand on cold, cloudy days.
Prices: From 4.50 euros for a bratwurst to 16 euros for a schnitzel in mushroom sauce with fries and side salad. Beer is 4.50 euros for a half-liter mug; soft drinks start at 2.50 euros.
Information: Online: biergarten-darmstadt.com; phone: 06151-43855
---
---
---
---