Restaurant at Germany's giant wine barrel serves hearty meals with matching-scale portions
By
Stars and Stripes
June 16, 2022
---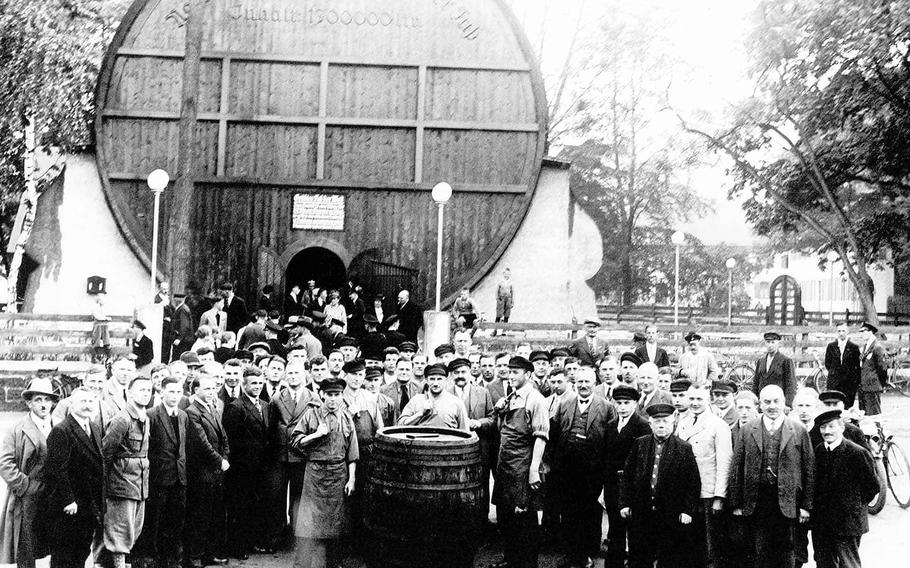 France and Italy are the European countries most commonly associated with wine experts, but rainy Germany boasts 13 prominent wine-growing areas of its own — as well as a gargantuan way of showing off its bottle bona fides.
In 1934, German vintner Fritz Keller wanted to create a memorial to German wine in his hometown of Bad Duerkheim, a village near Germany's famed Wine Route.
A master cooper, or trained maker of barrels and casks, Keller knew no better way to honor the work that goes into making wine than with a giant wine barrel.
Easily seen from the roadway, the barrel deserves its designation as "giant." It took nearly 200 trees to make and boasts a diameter of nearly 45 feet. If filled, the barrel could fit more than 449,092 gallons of wine.
However, it never contained the burgundy ambrosia but was always a tourist attraction. The barrel stands in a long tradition of giant "somethings" popular along American highways.
Having been to the world's largest fork in Springfield, Mo., and the Big Coffee Pot in Bedford, Pa., my wife and I knew we had to add this giant German monument to our list. We also wanted to find out how the food served there stacks up as a tourist draw.
The restaurant offers an American-size parking lot worthy of the giant barrel attraction.
A friendly member of the waitstaff showed us to our seat in an oak-clad dining room. To our dismay, we did not step right into the belly of the barrel.
After surviving World War II, the restaurant remained so popular that seating added outside the barrel is used for most daily traffic today. For those who don't want to miss out on the wine-barrel feel, the restaurant features rustic booths inside smaller wine-barrel-style cutouts.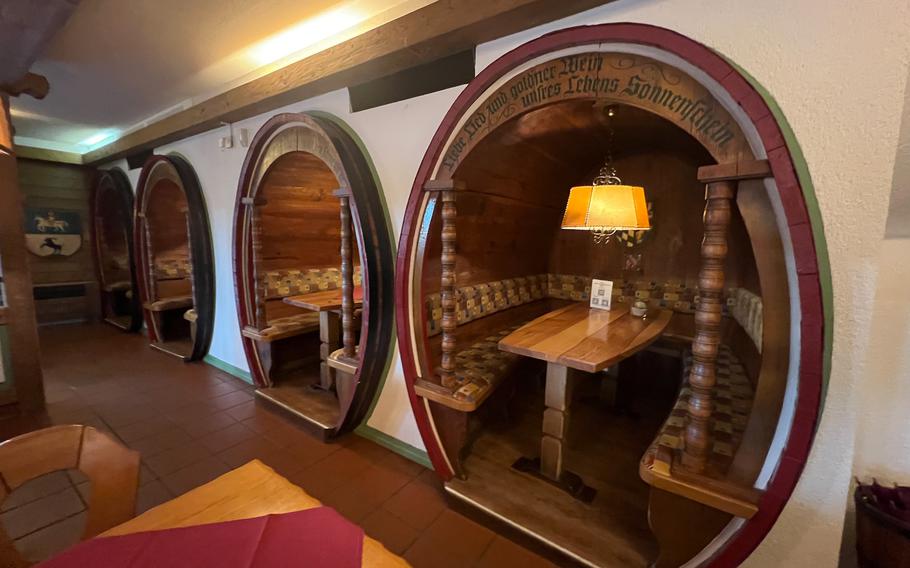 The dining room in the wine barrel is available but only for group gatherings, and it must be reserved for such occasions.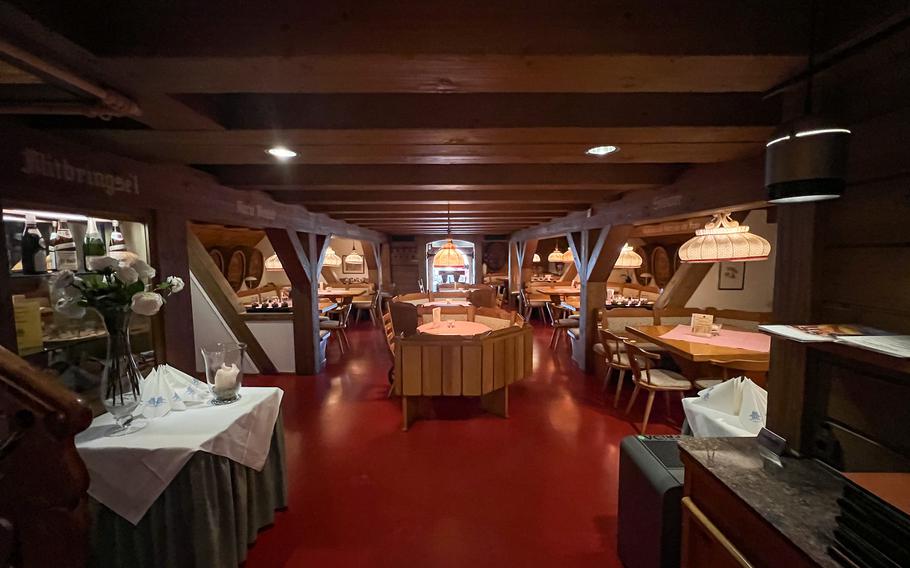 After we recovered from this slight disappointment, our waiter got us started by plopping down a leather-bound Bible of a menu. It featured a well-curated array of German traditional fare with some international additions, such as pasta and seafood dishes.  
The restaurant also offers a small vegetarian menu, but vegans and those with food allergies beware. An entire page in the restaurant's book-like menu is solely dedicated to describing all the allergens used in its kitchen, alongside a steadfast acknowledgment that the barrel proudly serves traditional German fare and is not allergen-friendly.
My wife, who follows a gluten-free diet, was nonetheless able to find satisfying options and chose the salmon filet with green sauce, saffron rice and a generous helping of mixed salad.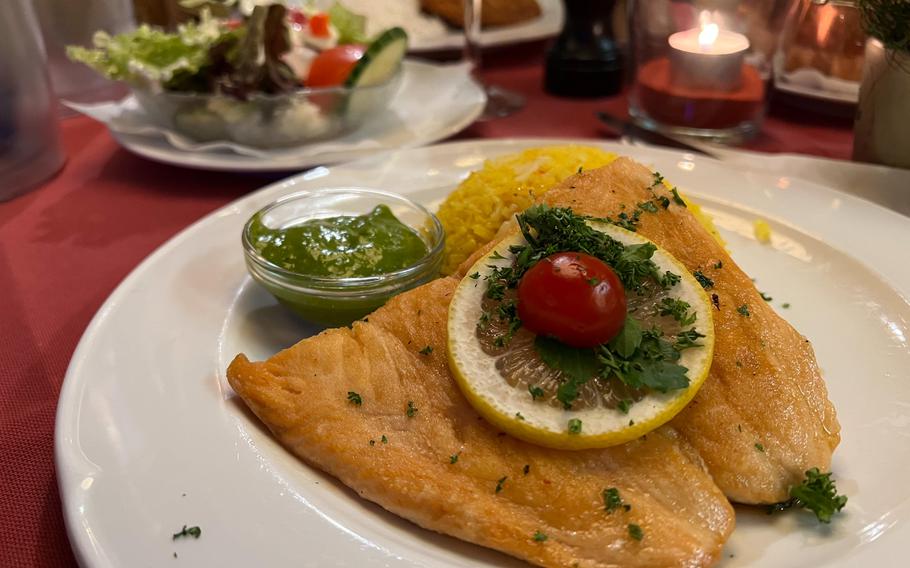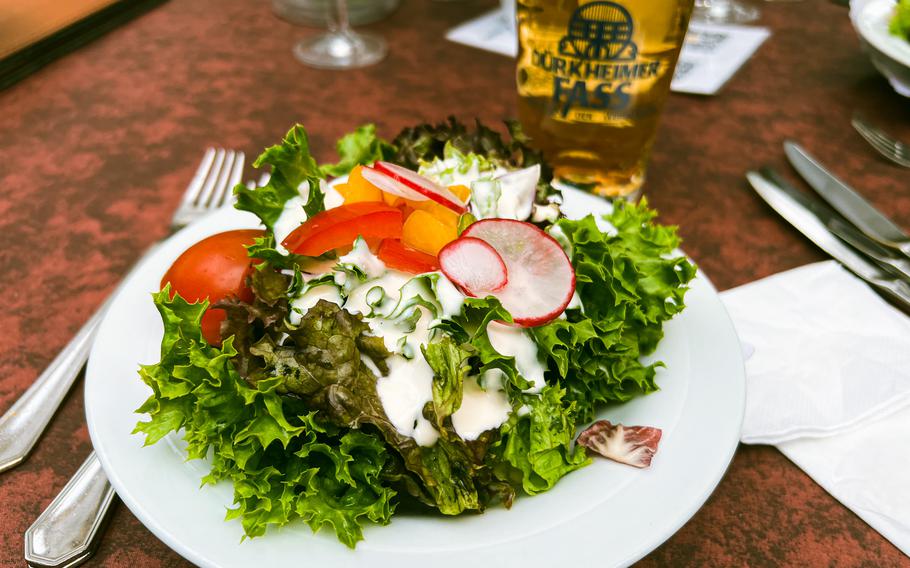 I chose the vegetarian rendition of the schnitzel, which came topped with a creamy bearnaise sauce and rice. The restaurant was well-visited but not crowded, and the clean, old-timey country flair seemed authentic and comfortable for both an extended lunch and relaxed dinner.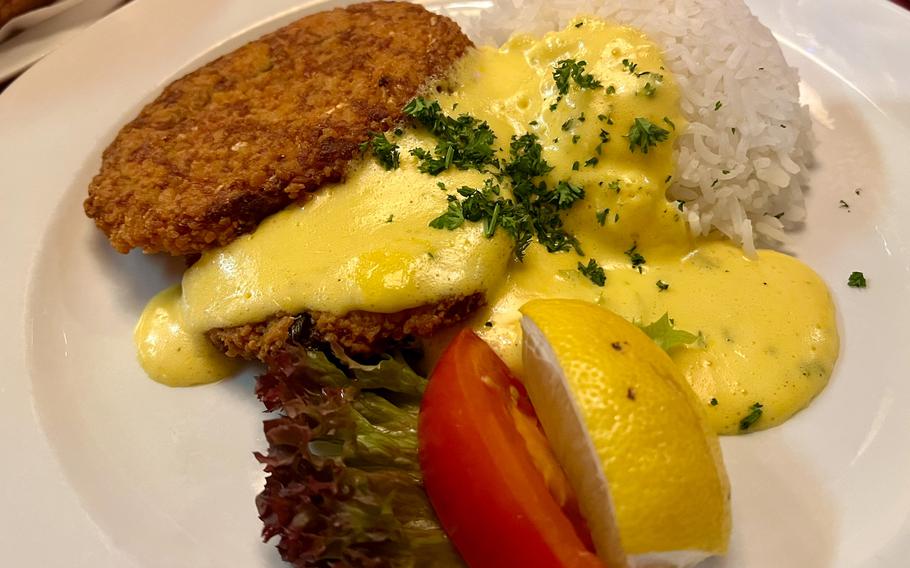 We made a second visit with family and chose to sit outside. Surrounded by trimmed hedges, the cozy patio gives a nice beer-garden atmosphere in the shade of large umbrellas and the barrel itself.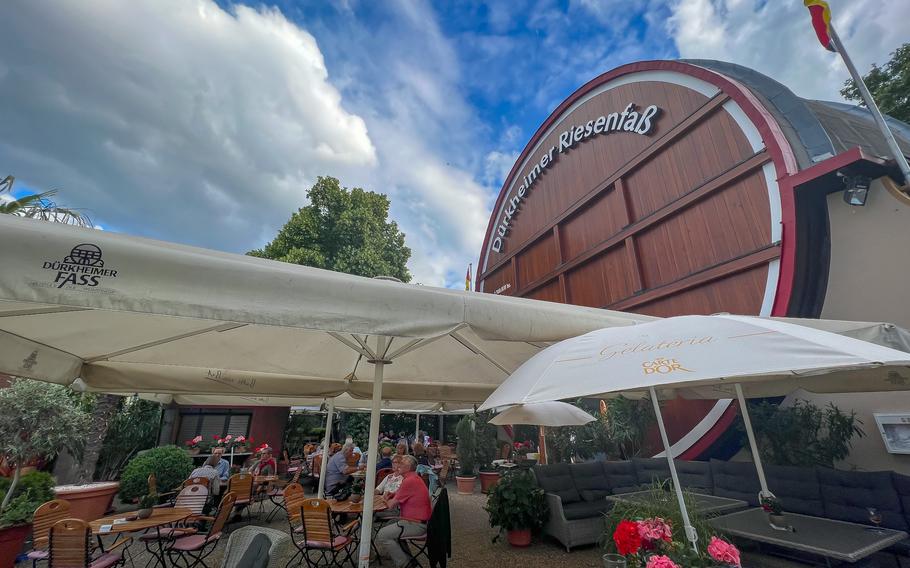 Sitting outside also gives visitors the opportunity to breathe in the air coming from the nearby Bad Duerkheim graduation tower, or saline, which allows saltwater to evaporate into droplets. The mineral-enriched air is said to have beneficial health effects similar to those of sea air, our waiter explained.
My family opted for such favorites as the traditional Jaeger schnitzel, which was perfectly cooked to golden-brown perfection and came with a deliciously creamy mushroom sauce.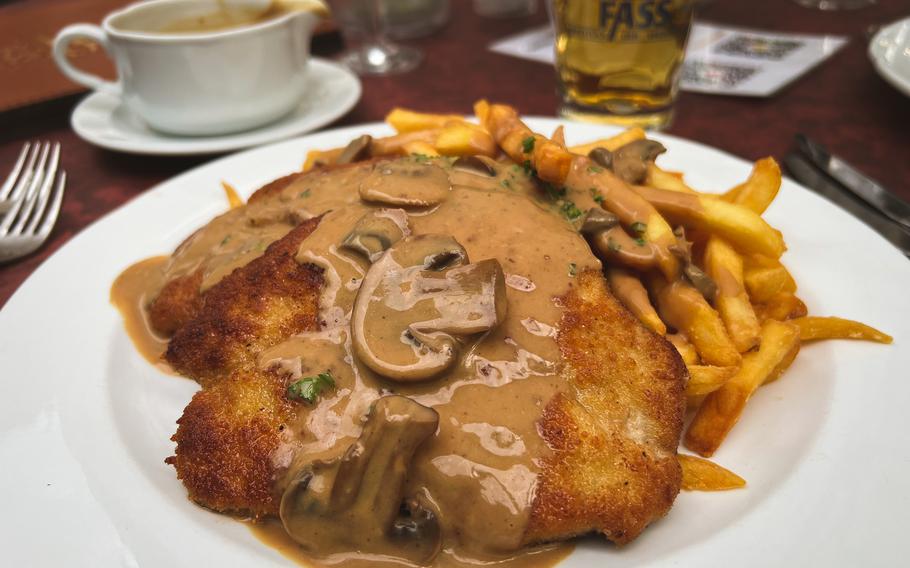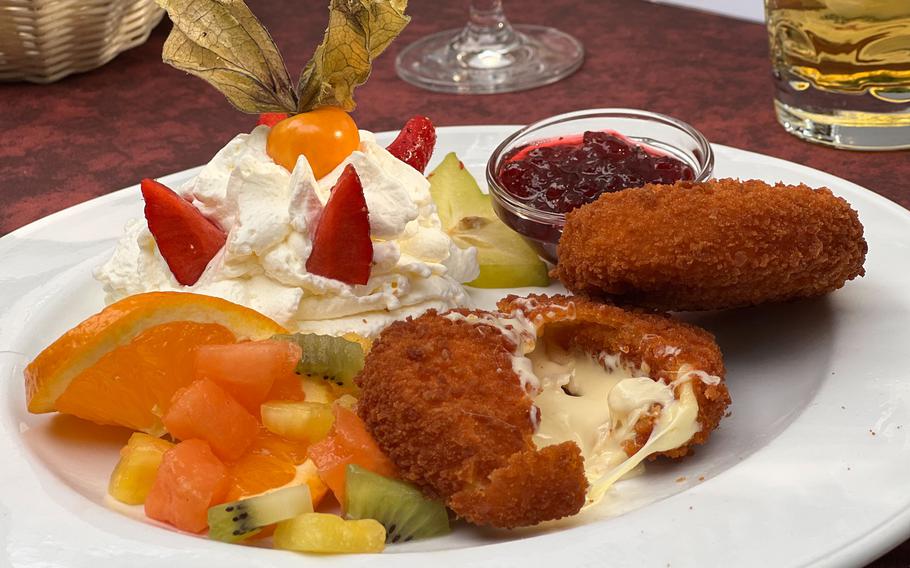 My wife chose the rump steak served the "Palatinate way," in au jus with pan-fried onions and country potatoes. She followed the menu's recommendation and paired the meal with the red Fitz, a red wine melange of cabernet, merlot and St. Laurent grapes matured in a local oak barrel with berry and smoky paprika flavors.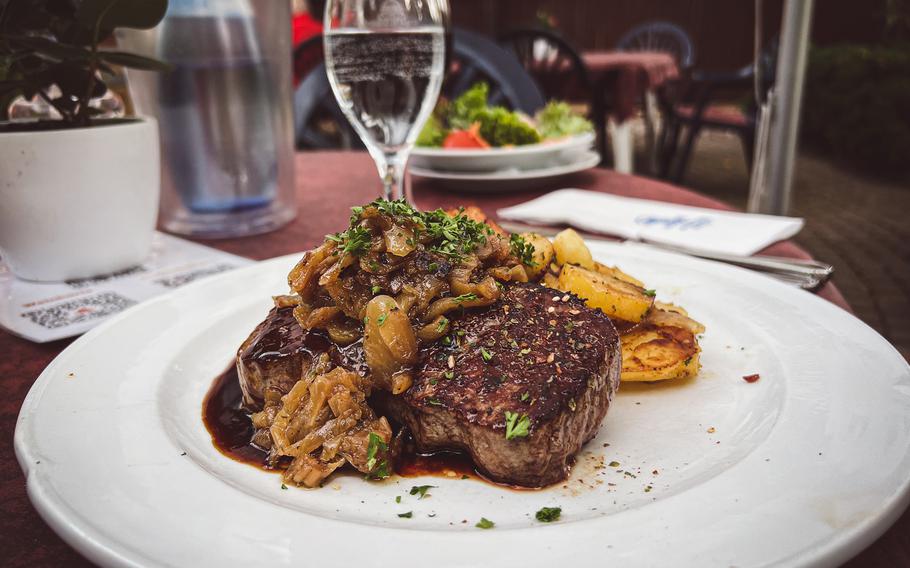 While the giant barrel has always been a bit of a gawker gimmick, the restaurant is anything but a tourist trap. It offers reliable and well-executed German favorites in a folksy traditional atmosphere without undue kitsch.
For me and my wife, it is the perfect place to take family visiting the area and looking for good German cuisine.
The best thing of all, however, is the lavish portions. After both visits, we left stuffed and felt as round as the barrel that beckoned us there. We already know we'll be back for the Wurstmarkt in September.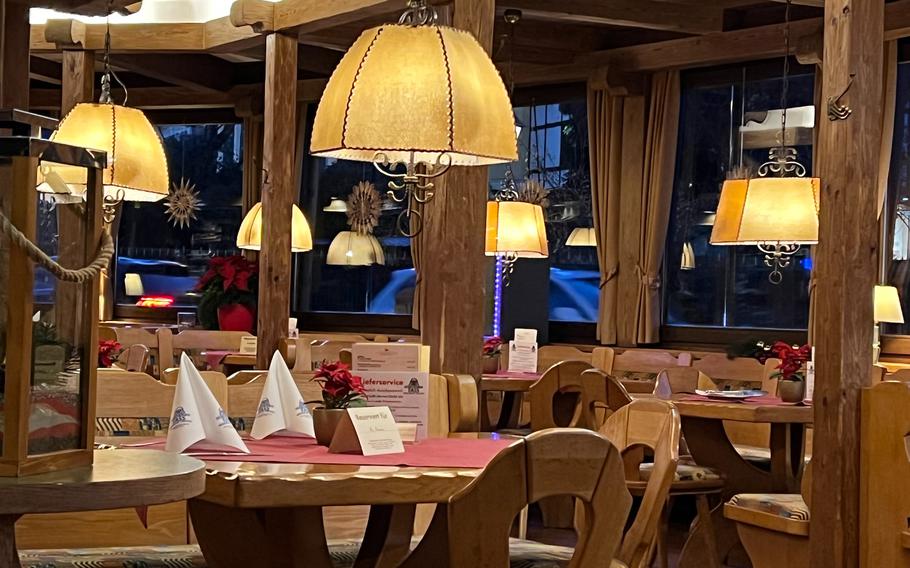 Duerkheim Giant Barrel
Address: St. Michael Allee 1, Bad Duerkheim, Germany.
Hours: Monday through Saturday, 11:30 a.m.-10:30 p.m. On Sundays and German holidays, the restaurant closes at 10 p.m. Last order for food is one hour before closing. Winter hours may vary.
Prices: Appetizers and soups 5.50-18.70 euros; main courses, 9.90-28.50 euros. Each menu item can be ordered in a "little smaller" size for a reduced price. Wines range from 3.90 per glass to 23.20 per bottle.
Information: Website, https://duerkheimer-fass.de; for reservations, call 06322-2143 or email info@duerkheimer-fass.de.
---
---
---
---