Hot Mama: Wiesbaden restaurant delivers fiery and filling fare from Ethiopia and Eritrea
By
Stars and Stripes
May 26, 2022
---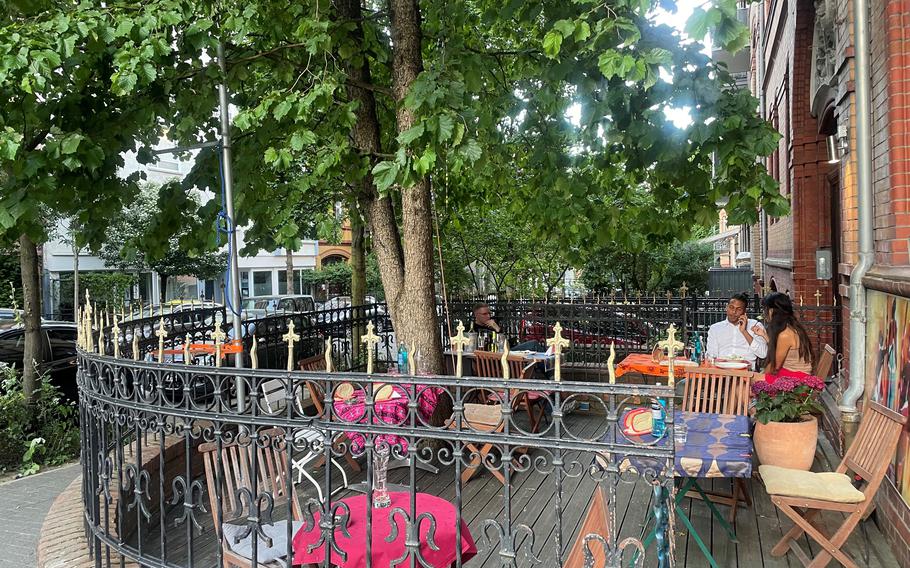 Wiesbaden has long had a reputation for prosperity.
Fortunately for service members stationed there, the city's bounty extends to its food scene. One of its best restaurants for my money is Mama of Africa, which serves Ethiopian and Eritrean dishes.
The restaurant is popular with Germans and the local east African community alike. I encountered a noticeable number of Ethiopian customers both times I ate at Mama of Africa.
Located in a residential area in central Wiesbaden, the restaurant is within walking distance of other shops and is about five minutes by foot from the closest bus route.
On both of my visits there, I decided to eat outside on the patio. That was a mistake when I went on a particularly warm day because there is little to no shade. You'll be better off inside for much of the summer.
The food menu has just 25 items and is available only in German. The drink menu, however, is almost as large as the food menu, offering a good selection of German drinks and Ethiopian beers.
My companion and I decided to share a bottle of honey mead. We both found it too sweet for our liking and struggled to finish the bottle.
After the mead, my companion ordered a Dju Dju, an Ethiopian flavored beer. He got the pineapple flavor and loved it. The beer also comes in mango, banana, passion fruit and palm flavors.
I don't like fruit in my beer, so I decided to try the Habesha Cold Gold, which I would describe as a cross between a pilsner and a helles. It was light and refreshing and very easy to drink.
Because our choices for a starter were limited to either a salad or one other offering, we decided to order solely from the main courses. Our exclusively German-speaking server, who was polite and attentive, brought out the diverse meal, and the heat was on.
I dug in to a mixed plate that came with three dishes, one of which was a simple minced beef curry. In addition, there was minchet abish, a minced meat dish in a thick sauce of ginger, chilis, butter, cardamom, cloves and other spices.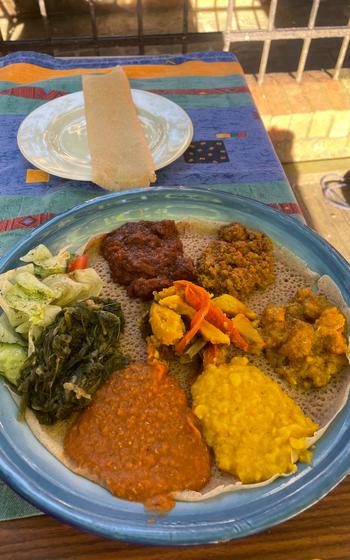 The third dish was alicha nai doro, or minced chicken with onions and a spiced butter sauce that was absolutely delicious, easily the best thing on my plate.
My friend ordered the gored gored, which is a cubed beef dish cooked in clarified butter and seasoned with two piquant spice mixes, berbere and mitmita. It is slathered in awaze, a spicy sauce consisting of berbere mixed with water, oil or wine.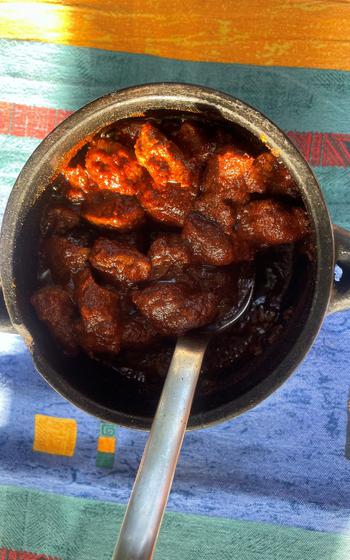 The gored gored had a rich, bold flavor. I could taste enticing hints of allspice, cinnamon and cloves mixed with garlic and chilis. Those flavors hit early, and then the heat kicked in.
With each bite, my mouth burned more, but the dish was addictive and very hard to stop eating.
Both main dishes were served with injera, the traditional bread of Ethiopia and Eritrea. It is a sour fermented flatbread with a slightly spongy texture and is made from teff flour.
An important side note about injera: It is used like a spoon. You tear off a piece and then use it as a scoop for the food.
For dessert, we shared an order of dried dates and caramel sauce with chopped almonds. I usually don't eat dessert, so I was pleasantly surprised that I loved the dish. The dates and caramel worked well together, and the almonds provided a much-needed textural component.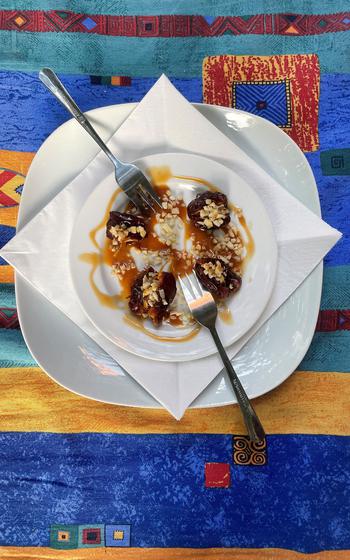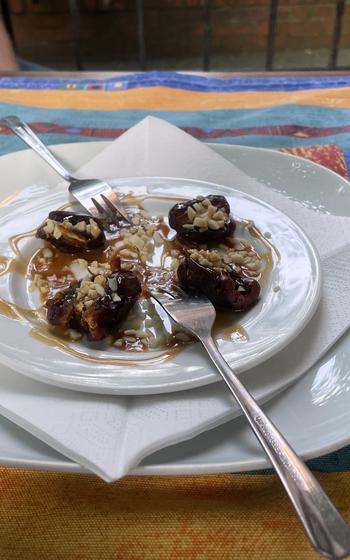 Mama of Africa is a welcome and delicious departure from the humdrum of pizzas, pasta or kebabs. The menu, while not impressive in the sheer number of choices, does offer a wide range of dishes and 10 vegan selections.
The portion sizes seemed small, but for the money, I found the food incredibly filling. Mama of Africa's cuisine delivered the desired punch to the palate and the satisfaction of being stuffed with stick-to-your-ribs goodness.
People who are considering the restaurant and would like a primer on the food served there can check out ethiopianfood.wordpress.com/glossary online.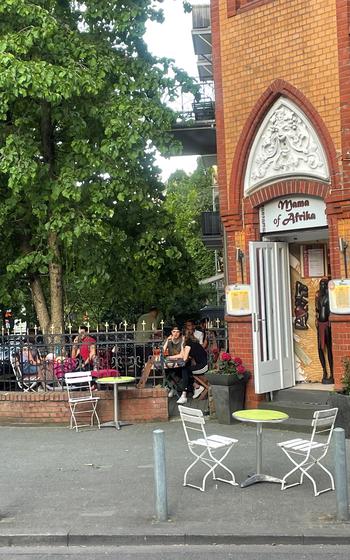 Mama of Africa
Address: Westendstrasse 30, Wiesbaden, Germany
Hours: 5-11 p.m. seven days a week
Cost: About 9 to 20 euros for most meals.
Information: Phone: 0611-171-7297; online: mamaofafrica-wiesbaden.de
---
---
---
---