Kaiserslautern cafe a good find for bacon lovers, coffee cravers and people watchers
By
Stars and Stripes
April 21, 2022
---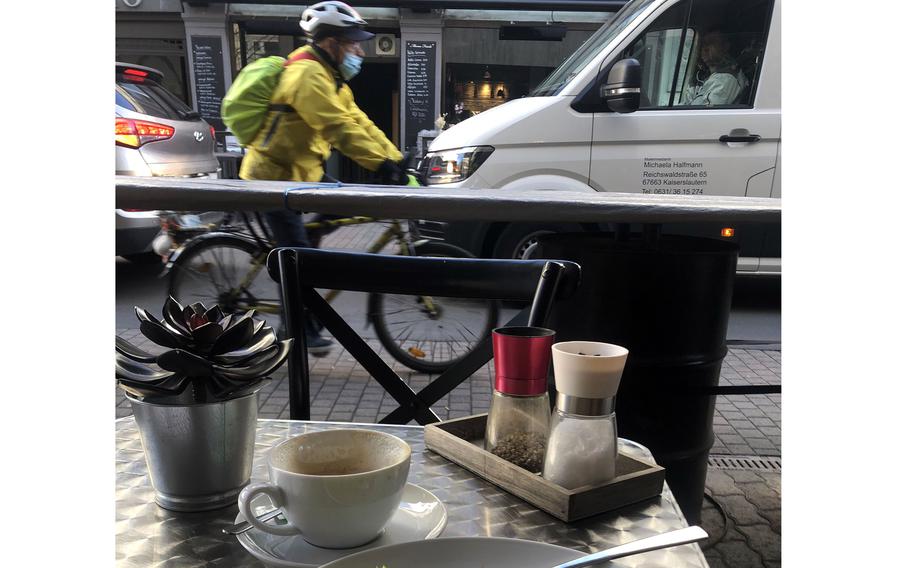 On a recent Monday, I was walking around downtown Kaiserslautern looking for a quiet place to sit and enjoy a delicious cappuccino.
It was 9 a.m., the city was just waking up and my favorite cafes were closed for another hour. Then I remembered the outdoor seating at It's Me.
One patron, who seemed to be a regular, was sitting outside drinking coffee when I arrived. I settled into the outdoor space on one of the wooden benches that faces the street.
The cafe is next to the post office near Stiftsplatz and gets a lot of pedestrians passing by en route to busy Eisenbahnstrasse.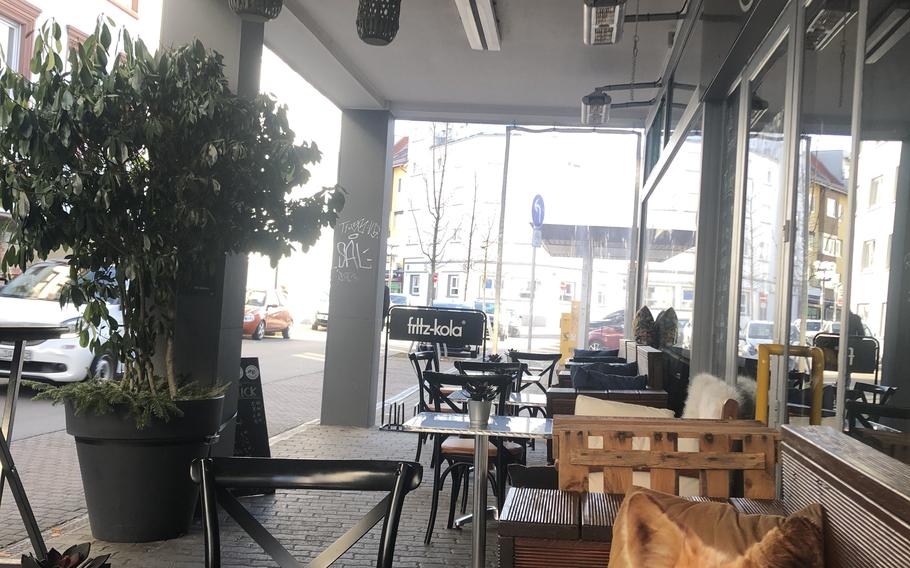 A friendly server quickly brought me my cappuccino and a food menu featuring breakfast options like eggs Benedict, pancakes and homemade muesli.
I sipped my cappuccino, which cost 3.40 euros and was better than Barbarossa coffee, but not as good as local favorites Kaffeerösterei or Carlo Ohio, and watched the scenery before calling a friend to join me for breakfast. 
It's Me serves breakfast until 3 p.m. and also offers Flammkuchen starting at 12 p.m. In addition to the coffee listings, there are various happy hour specials and wine.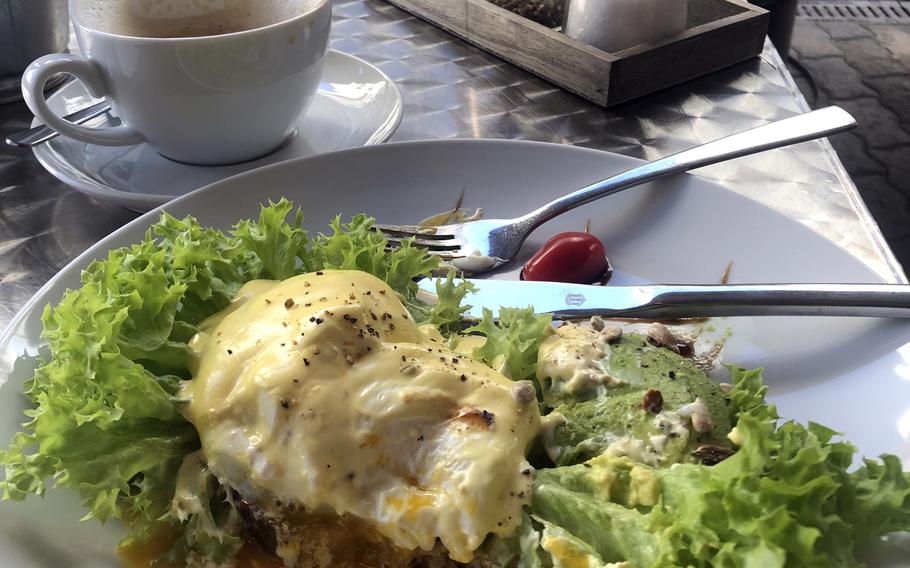 I ordered the eggs Benedict with avocado and hollandaise sauce for 10.20 euros. My dining companion tried the fried eggs with bacon for 6.50 euros. 
The avocado was a hardy and healthy substitute for the ham that traditionally comes with eggs Benedict, but I'm picky about eggs and found them too runny for my taste.
The toast didn't work as well as the usual English muffin to soak up the sauce, and the lettuce garnish just didn't fit the meal. The dish was oversaturated in hollandaise sauce and needed salt and pepper for flavor.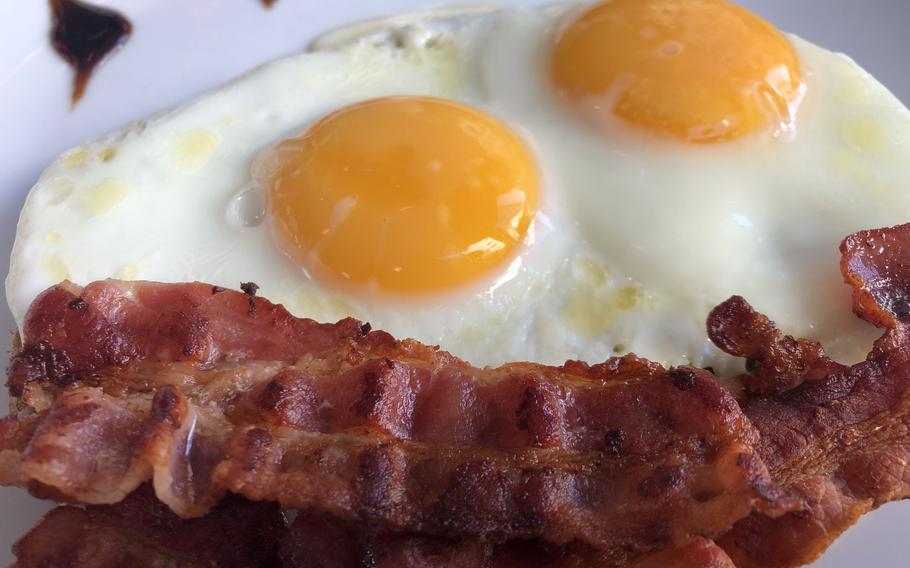 My friend had more success with his order. The eggs were to his liking, and he was especially satisfied with the bacon. He told me about his struggle to find crispy bacon in Kaiserslautern. It's Me got it just right, and he'd go back just for that. 
The cafe touts itself as a spot for "coffee/cake/drinks," but I missed the cakes on my first visit. So I went back a couple of days later. That morning, the restaurant had only a carrot coffee cake, but the server said it usually has two or three options.
I bought a slice to take home. It was full of chunky walnuts and thin slices of carrots and covered with powdered sugar and a flaky chocolate topper. It was dry and not as sweet as American desserts, but it was good with coffee.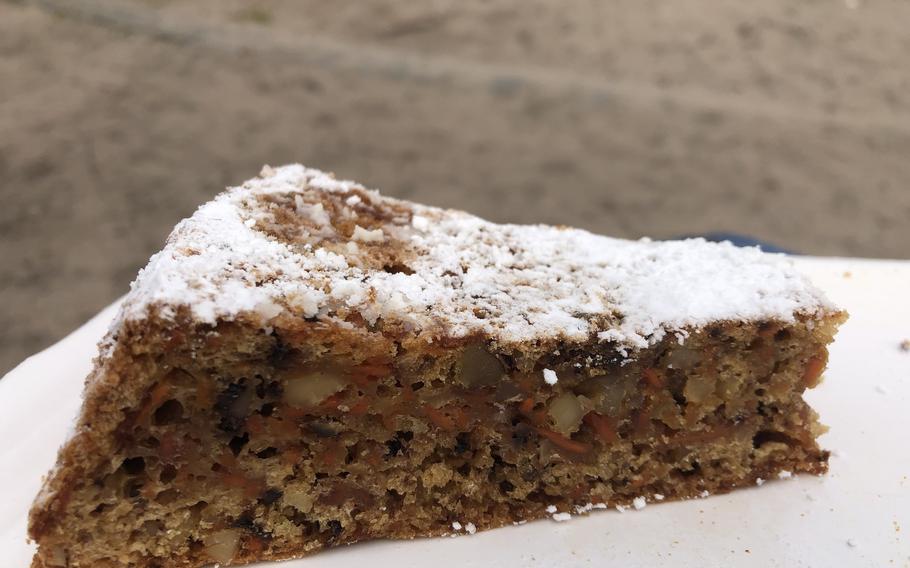 The service was warm and English-friendly on my second visit as well, and the vibe makes me hope that the cafe, which opened in spring 2019, stays open. So many restaurants around the city have closed during the pandemic.
The quality of the food was mixed and the prices high for breakfast, but It's Me is worth a stop if you are looking for a chill spot to drink a cappuccino or are on a quest to find crispy bacon.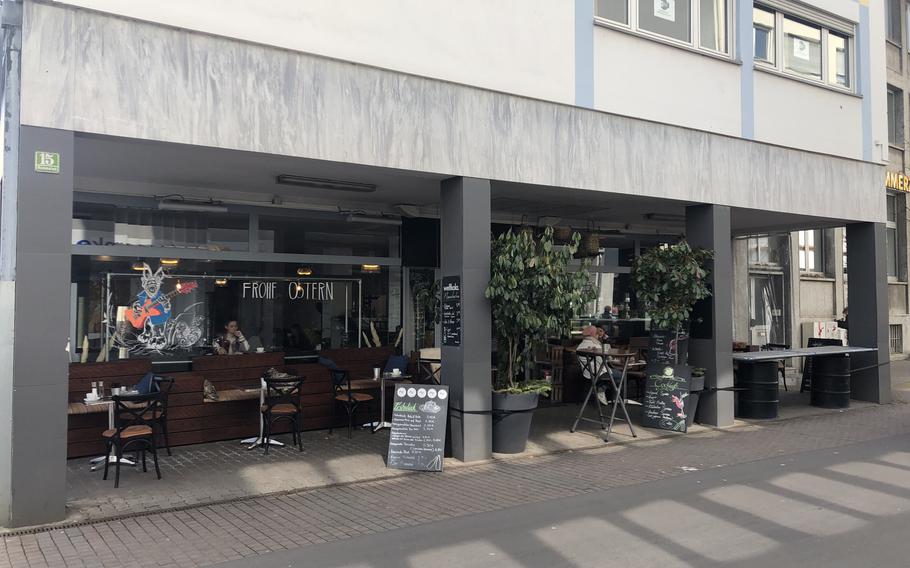 It's Me coffee/cake/drinks
Address: Rummelstrasse 15, Kaiserslautern, Germany 
Hours: 9 a.m.-5 p.m., Monday-Saturday
Prices: Breakfast from 4.90 euros for fried eggs and bread to 10.20 euros for eggs Benedict with avocado; cake is 3.20 euros; cappuccino is 3.40 euros
Website: https://www.its-me.coffee/
---
---
---
---