Food is hit and miss, but the brew and view at this Homburg beer garden impresses
By
Stars and Stripes
April 21, 2022
---
After the cold and gloom of a German winter, nothing quite beckons like a beer garden when spring blooms.
And one I found online, in Homburg next to Lake Jaegersburg and a forest climbing park for kids, held particular promise on a recent warm April weekday.
To my dismay, though, it was closed when I got there, despite posted hours advertising otherwise. Two German women who appeared equally disappointed by the unexpected closure pointed across the lake at another beer garden.
We all ended up at Peters Alm a few minutes later. The place was bustling with cyclists, hikers and families during what for many Germans was an extended Easter vacation. But plenty of tables were open.
The place checked all the boxes for beer garden ambiance: wooden tables and benches spaced amply apart; tall deciduous trees that would soon offer shade once their leaves sprouted; a nice view of the lake; and a small play area with a wooden pirate ship for kids.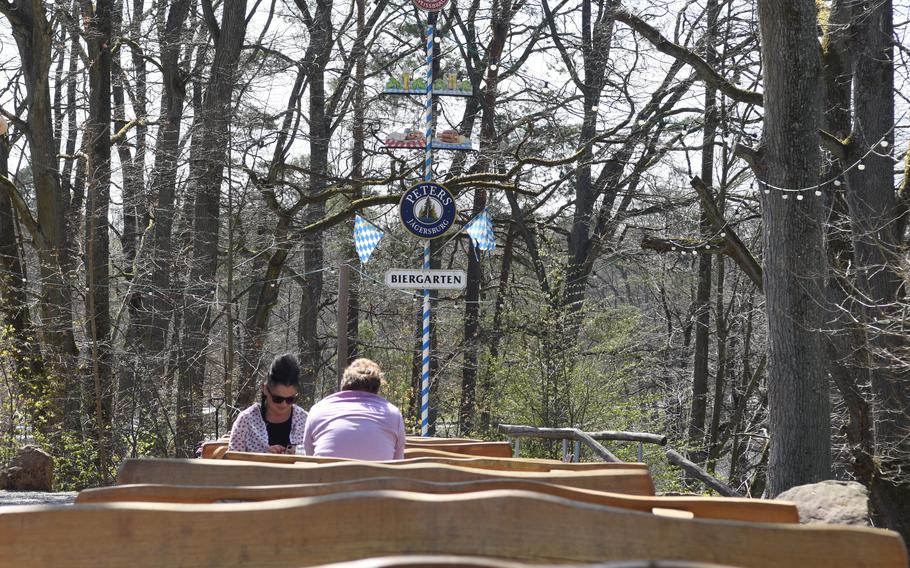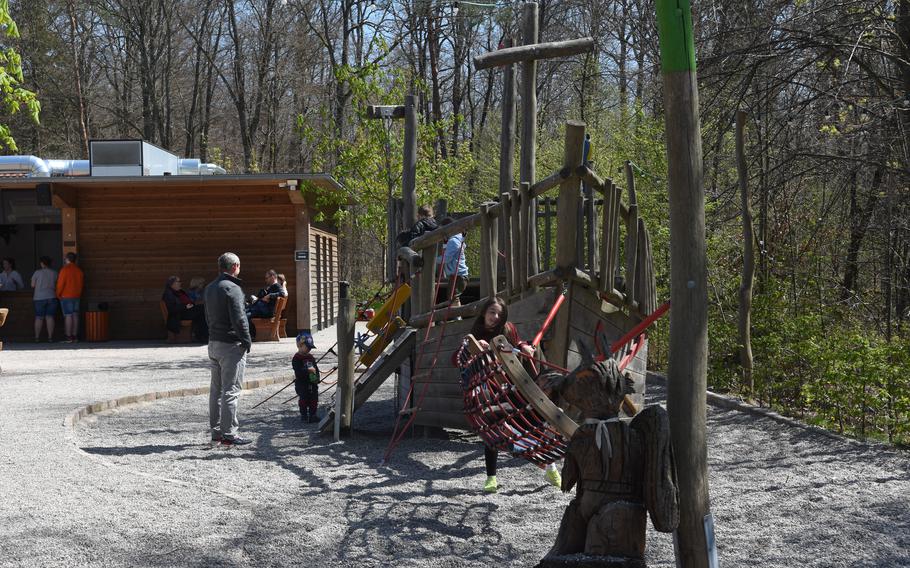 Unfortunately, the food somewhat missed the mark. I ordered the day's special, a fried chicken breast with traditional German potato salad. The chicken was crisp and tender, which surprised me. Since it was ready in minutes, I'm guessing it came from a warmer and wasn't freshly made.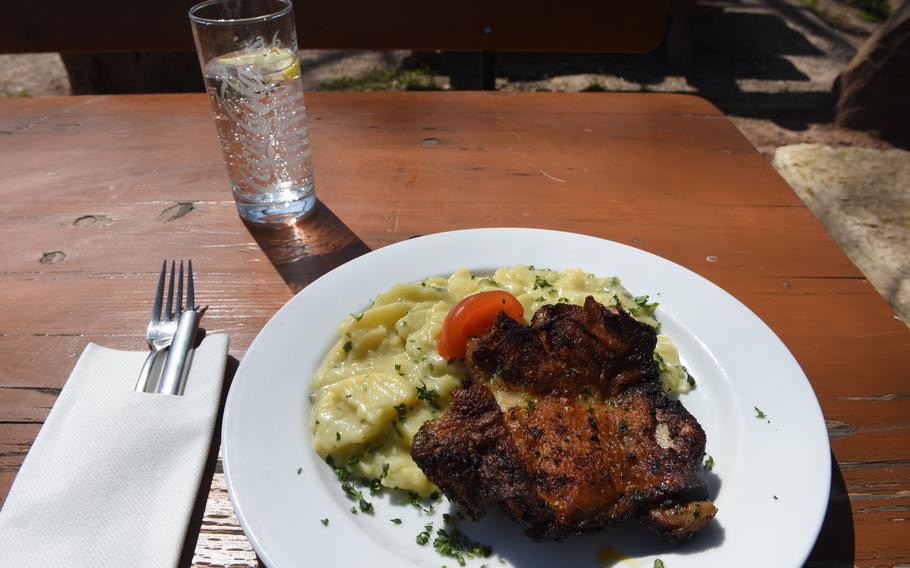 It was the potato-cucumber salad that put a damper on my picnic. It was enough to feed three people, if those three people liked their potato salad soupy and flavorless.
The tab for just the meal was 10.50 euros, which seemed on the high side. Traditional beer garden fare, such as french fries and bratwurst, might have been a better option.
Or one of the Saarland-Bavarian specialties on the menu, such as the crispy alpine pork knuckle. I saw a few plates go out with liver dumplings in dark beer sauce with a side of sauerkraut and brown bread, a hearty meal to be sure.
The few vegetarian options were labeled on the menu. They included cheese spaetzle with roasted onions or truffles; and several types of salad.
My consolation prize was a piece of chocolate cake and a cappuccino. My first choice was the tiramisu, but not for 6.50 euros.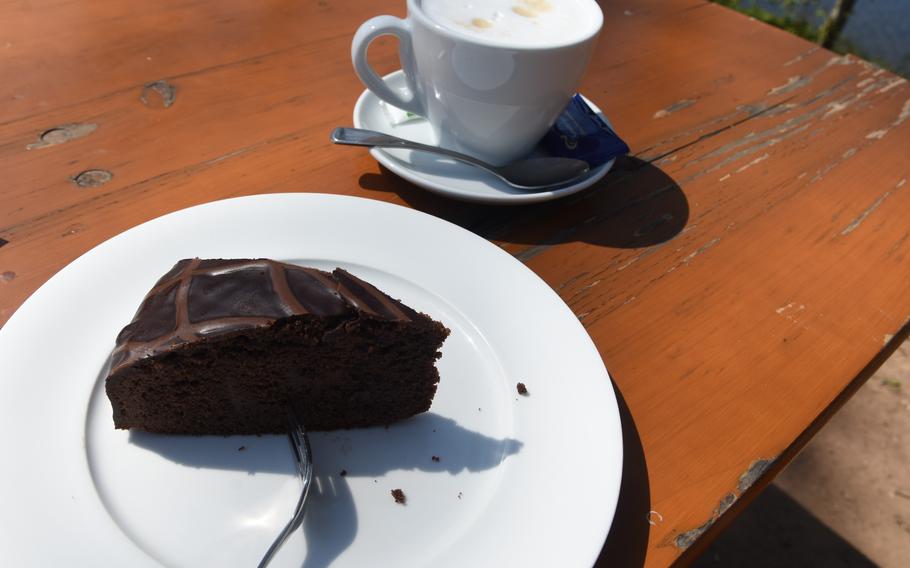 I'd visit the beer garden again to kick back after exploring the area. Visitors can rent bicycles and paddle boats from the beer garden and neighboring Peters Hotel and Spa.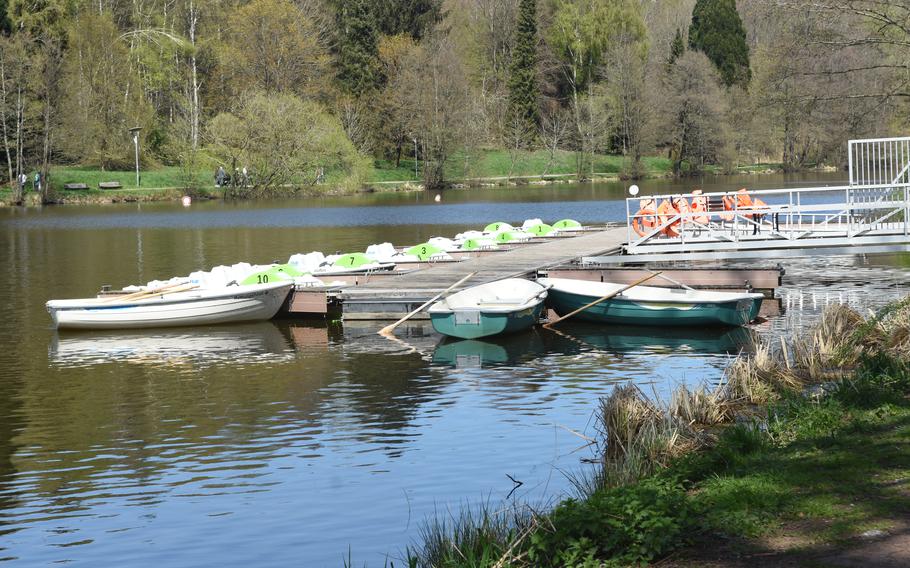 A network of hiking and biking trails circles the lake and branches into the surrounding forest. The climbing forest for kids is also within a short walking distance.
If you're looking for more memorable food, try the hotel. I discovered the restaurant at Peters hotel only while wandering around the grounds after discarding the beer garden potato salad.
The menu was pricey but diverse. Among the offerings: carrot-and-coconut-cream soup, ravioli filled with Pecorino cheese and figs, and wild boar goulash. Outdoor seating on a shaded patio overlooks the lake.
Peters Alm
Address and directions: Kleinottweiler Street 112, 66424 Homburg. From Kaiserslautern, take autobahn A6 toward Saarbruecken. Get off at exit 9 Homburg onto B423 toward Bexbach. After about 0.5 miles, turn right toward Jaegersburg and follow B423 for about 3.5 kilometers to the beer garden.
Hours: Monday through Saturday, 11:30 a.m.-11 p.m.; Sundays and holidays 10 a.m.-11 p.m. Kitchen open daily, 11:30 a.m.-9 p.m.
Prices: About 10 euros for a meal. On the cheaper end are Nuernberger bratwurst with sauerkraut for 7.40 euros; add 3.50 euros for french fries. More expensive items include steak for 13 euros and wild boar goulash with forest mushrooms for 16 euros. Cash and cards are accepted.
English menu: No
Contact information: Call 06841-189-330 or email, info@petersalm.de
---
---
---
---