New name, still baking with flame: Discreet Kaiserslautern flammkuchen spot now called Nora
By
Stars and Stripes
April 7, 2022
---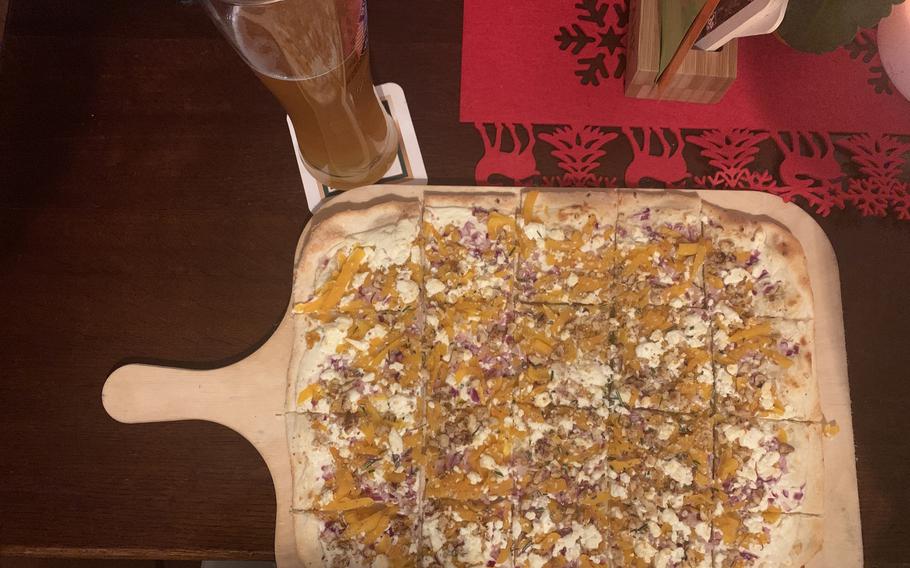 A post on the Ramstein/KMC Spouses group on Facebook grabbed my colleague's attention when it promised "the best flammkuchen" and an ever-pleasant waitress.
Did we know the restaurant, my colleague asked a few of us in the newsroom back in January. Had we tried it?
I had not, but quickly decided I must check it out. Journalism is a discipline of verification, after all. And I was not disappointed on the two occasions I've visited the quiet spot in Kaiserslautern's old town.
With vaulted ceilings and arched windows, it's like a little secular chapel dedicated to the simple "flame cake," an Alsatian meal of a thin pizza-like crust typically topped with cheese and bacon. I also sampled a delightfully fragrant one topped with pumpkin, walnuts, rosemary and feta.
But before that, I hadn't heard of the place, whose Facebook page at the time was humbly named Flammkuche & Pfannkuche — it's now been renamed Nora Restaurant. A sign hanging over its door is inscribed simply with the word "Flammkuche" on a piece of iron resembling an arched window, and that's how it's known to some.
"Surprise, surprise, Flamkuche makes flammkuchen," revealed a 2008 review in Stars and Stripes, which described the restaurant's apparent obscurity as its true mystery, a hidden local gem. It also serves soups, schnitzel and German pancakes known as pfannkuchen.
A quick look on Google revealed that it was located little more than a block from my apartment, in an area I'd walked past dozens of times, just off the main pedestrian zone. But I'd never noticed it.
Well, that's not exactly true. I'd noticed the red stone building with its facade at a 45-degree angle from the sidewalk and its ornate relief over the heavy wooden door, partly hidden by a spray of vines climbing the wall. I'd peeked into the darkened windows and wondered what went on in there at all those wooden tables.
But I'd never seen it open (business hours are after 6 p.m. most days) and perplexingly never noticed the glaring clue given in the one word on its well-lit sign, hanging from what resembles a cast iron pizza peel.
For the uninitiated, flammkuchen are like large, rectangular pizzas, but topped with sour cream in place of tomato sauce. Originating in the Alsace region of France that borders Germany, they're also known as tarte flambe or flammekeuche. They're typically baked in wood-burning ovens and served on wooden platters.
That's the case at Nora Restaurant, where the menu features the traditional Alsatian-style dish topped with cheese, onions and bacon. It's among a dozen meaty takes, along with a "Tex Mex" one made with corn and jalapenos and another topped with chorizo.
There are nine vegetarian styles and three dessert versions, too. I've tried the sweet one with apple and cinnamon, a warm and sweet late-night snack I ordered just before closing. My belly was actually still stuffed with the hearty, vegetarian pumpkin-walnut-feta dish from dinner and the hefeweizen that washed it down.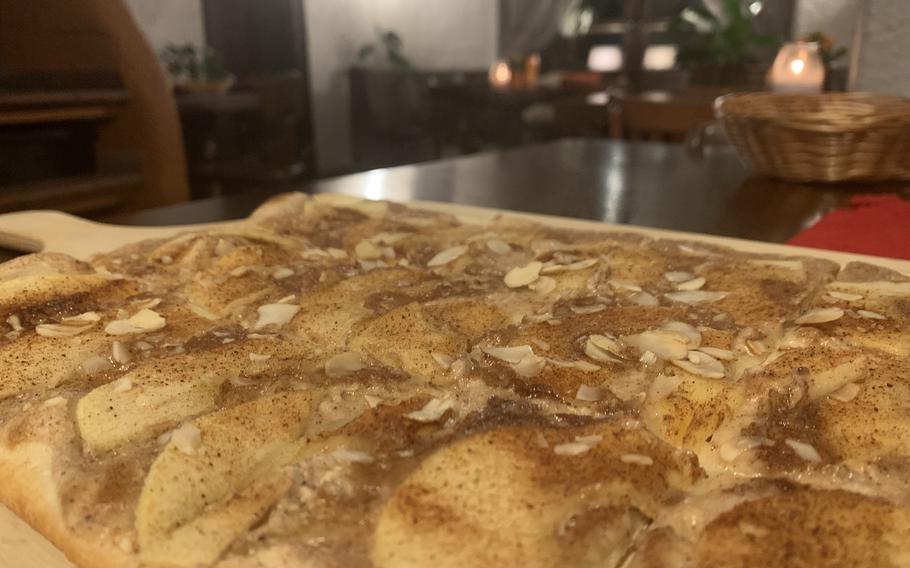 Yes, I had two courses of flammkuchen and I'd do it again. I haven't tried them all yet.
As advertised in the January post on the spouses group — and in a few others before that — the service was friendly and the atmosphere relaxing, with '80s music playing not too loud. On my first visit with a friend from out of town, there was only one other party in the restaurant, also Americans. On a second visit, I was the lone customer. A hidden gem, indeed.
It's small, so it could fill up quickly on a busy night, but it's easy enough to make reservations with a quick phone call. The staff speaks at least some English and communicating has not been a problem.
They've recently opened up some tables under umbrellas out back of the building for when the weather's nice. And for gray days when you'd rather stay in, they offer takeout ordering through the site lieferando.de, though still under the name Flammkuche & Pfannkuche there.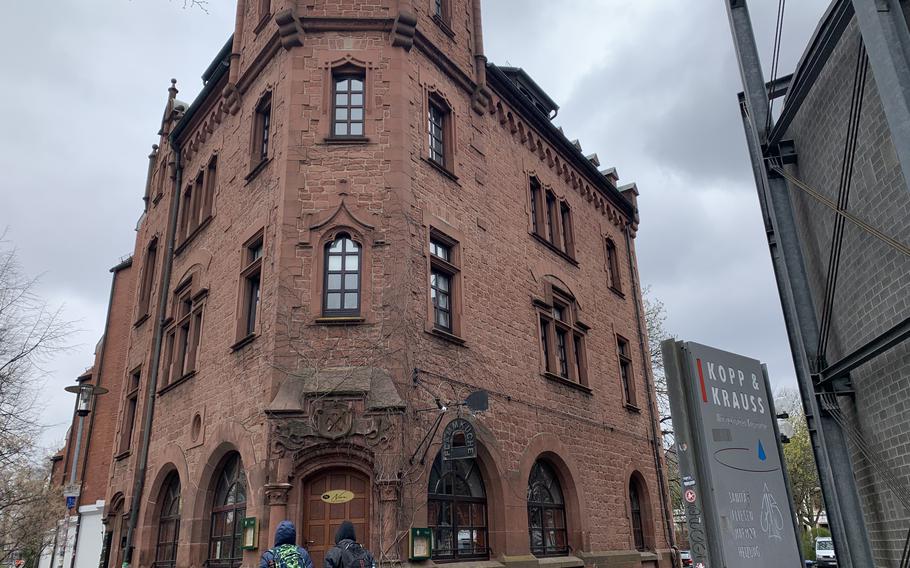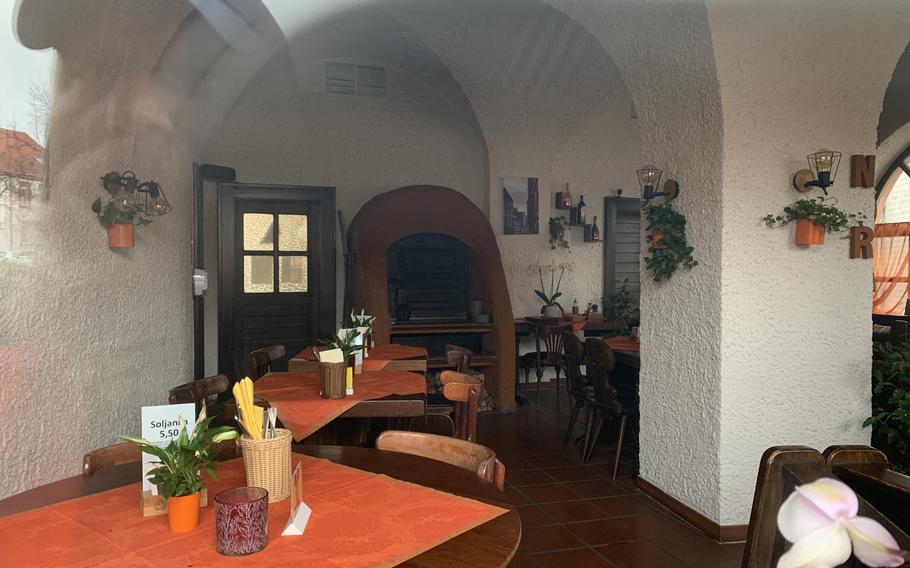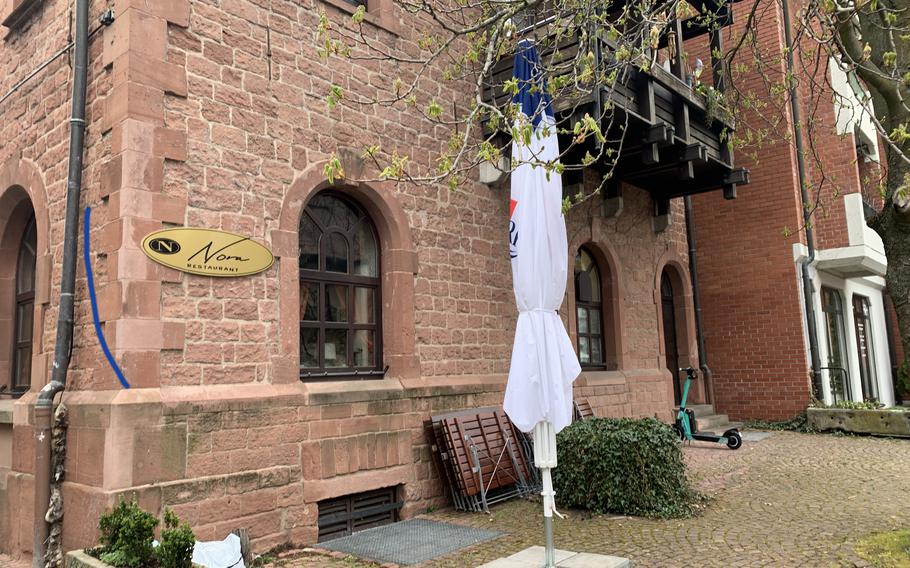 Nora Restaurant
Address: Ludwigstrasse 40 in downtown Kaiserslautern.
Hours: Wednesday – Friday: 6 p.m. to 11 p.m. (closed Mondays and Tuesdays); Saturday: 5 p.m. to 11 p.m.; Sunday: 2 p.m. to 8 p.m.
Prices: Flammkuche range from about 6 euros to 13 euros; pfannkuche are in the upper end of that range and schnitzel runs from 12 euros to 16 euros. Drinks range from about 2.50 euros for coffee and tea to about 3 to 4 euros for most soft drinks, juices, beer (on tap and in bottles), wine and spirits. Some wines are offered by the bottle for under 20 euros.
Menu: Online: app.yamnam.com/menu/uibo-catering-gbr or lieferando.de/en/menu/flammkuche-pfannkuche (takeout)
Information: Phone: 0179-4608675; email: tiia.catering@gmail.com; Facebook: facebook.com/NoraRestaurant
---
---
---
---