German vegan oasis along the Moselle River invites guilt-free gorging
By
Stars and Stripes
March 10, 2022
---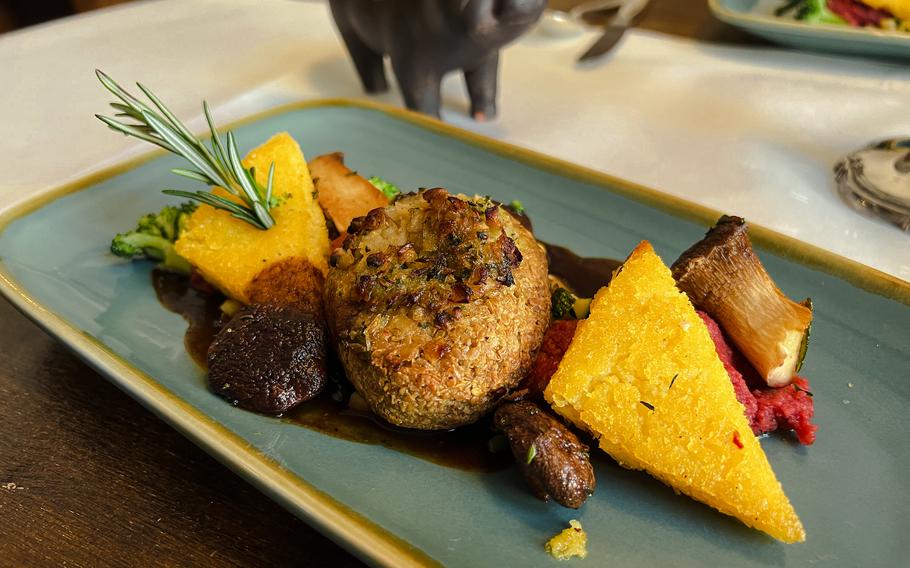 German cuisine is famous for its schnitzels, sausages and meaty roasts smothered in savory sauces.
Although restaurant offerings in Germany tend to be wide-ranging and varied, for vegetarians and foodies with allergies, like my wife, finding a great place to eat remains a bit of a challenge.
We therefore did not hesitate to make the hourlong trip from Kaiserslautern to the Hotel Nicolay 1881 in Zeltingen-Rachtig for an afternoon out at vegan standout Die Weinstube and its sidekick, the Sonnenuhr Cafe. The small riverfront town is nestled among hills along the meandering Moselle Wine Route, a popular tourist area in the summer.
We were seated in a cozy booth by a sunlit stained-glass window. The decor tastefully combines the building's German roots with modern charm.
Subtle hints of the owner's leanings include a small sign with the ironic question "Can you eat this, or is this vegan?" and small winged piglets with angelic smiles on each table.
The hotel was created as a postal route stop by the Nicolay family in 1881 and is now led by fifth-generation proprietor Johannes Nicolay, who is also the chef for the hotel.
Trained in renowned restaurants in the region and beyond, Nicolay decided to become a vegan in 2012. That same year, his reopened eatery became Germany's first vegan restaurant in a hotel. Since then, he has been concocting seeming magic from unusual ingredients.
"There are no restrictions imposed by veganism in the kitchen," Nicolay wrote on the restaurant's website. "It's more like telling a painter after 20 years that there are another 10 colors he has never used."
Ordering is definitely not complicated. You choose between the mushroom plate for two, or a chef's choice menu with up to five courses.
That may not sound special, but there's a bonus. Visitors can see the mushroom cultivation cellar through a small glass tile in the dining room floor.
We felt comfortable letting Nicolay surprise us and chose the three-course chef's choice menu. We were not disappointed.
Without delay, kitchen staff got us started with a vegan pesto spread and gluten-free bread followed by a sizable appetizer of scrumptious "Nicolachs," smoked carrot slices loosely inspired by the flavors of smoked salmon, served with crispy potato pancakes and a nondairy spiced mustard creme and side salad.
The entree was a delicately spiced golden flaxseed-and-lentil fritter with polenta, homegrown shiitake and herb mushrooms atop a savory vegetable jus reduction.
The flavors of the mushrooms and broth-based jus were so satisfying that we had no doubt even meat lovers would enjoy it.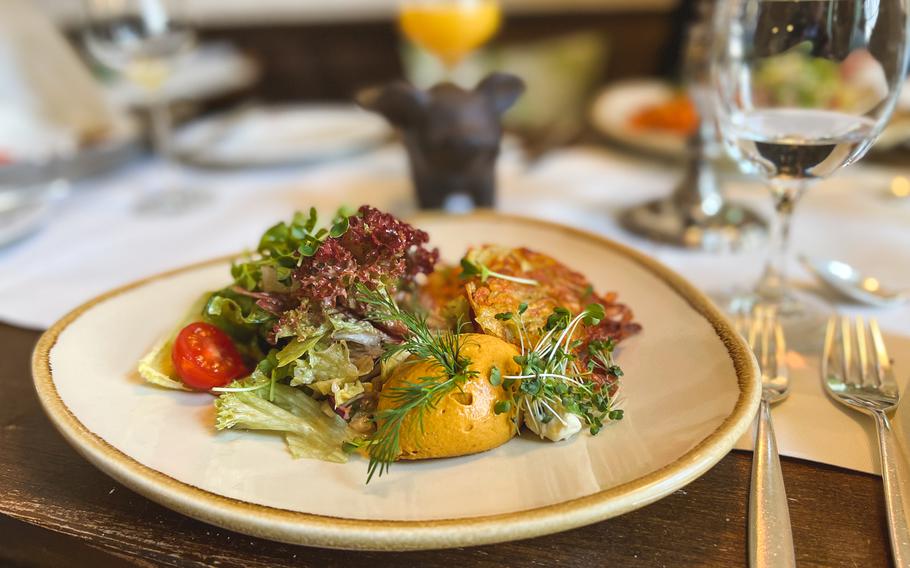 As the name implies, Die Weinstube also serves an assortment of carefully selected regional wines. Viticulture-savvy vegans know that many wineries use production methods that include animal-derived processing aids to bind and remove unwanted substances from the grapes. No need to worry about that here, though.
For those who like a bit more control over their menu choices, the more casual Sonnenuhr (Sundial) Cafe is next door.
The cafe offers seasonal salads customizable with the home-grown mushrooms, falafel and potato wedges. Entrees include animal-friendly twists on German classics such as a schnitzel made from lupin and seitan, spelt-based steaks and vegan burgers.  
Finally, the hotel bakery offers vegan cakes, gluten-free goodies and ice cream. We closed our meal with a vegan chocolate mousse with tonka beans and a cherry-vanilla sauce.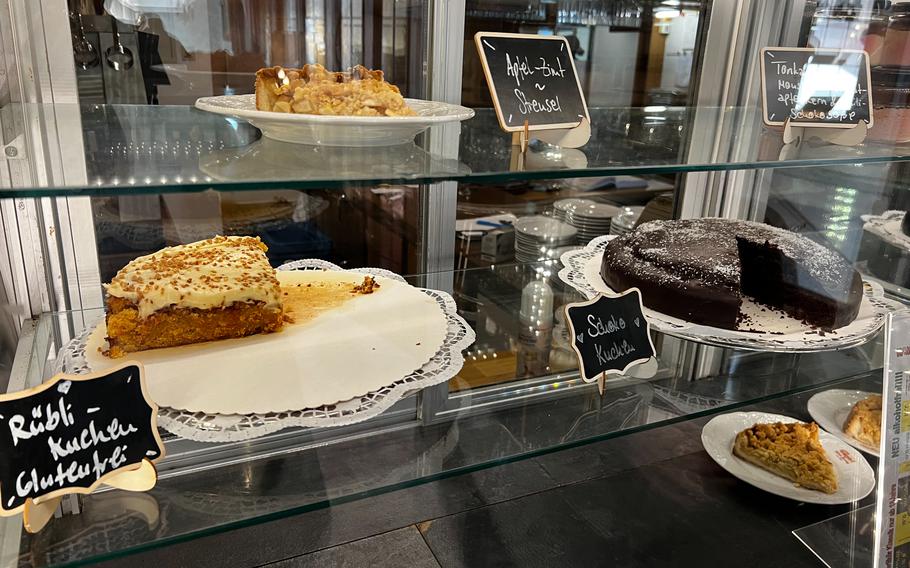 We paired our dessert with delicious cow-free cappuccinos topped with firmly whipped "milk foam," available in soy or oat options, that beat any whole milk rival.
While we stopped for a late lunch, Die Weinstube is great for a night out. And the Sonnenuhr's sunlit dining room and outside terrace seating offer a great daytime stop on a bike tour, hike or drive along the river.
The entire hotel follows an animal-friendly concept. All rooms are down-free, cleaning materials are not tested on animals and rooms can be booked to include a breakfast featuring vegan sausage, cheese, honey, muesli and fresh fruit and vegetables.
So strict are the Nicolay's standards that last year the hotel placed first on a list of vegan-friendly hotels in Germany and Europe compiled by People for the Ethical Treatment of Animals.
The commitment to veganism does not mean that guests miss out, however. The accommodations include a wellness spa, an indoor pool and three saunas, among other creature comforts.
For my wife and me, the visit was worry-free delight, and we'll most certainly be back for another gourmet treat.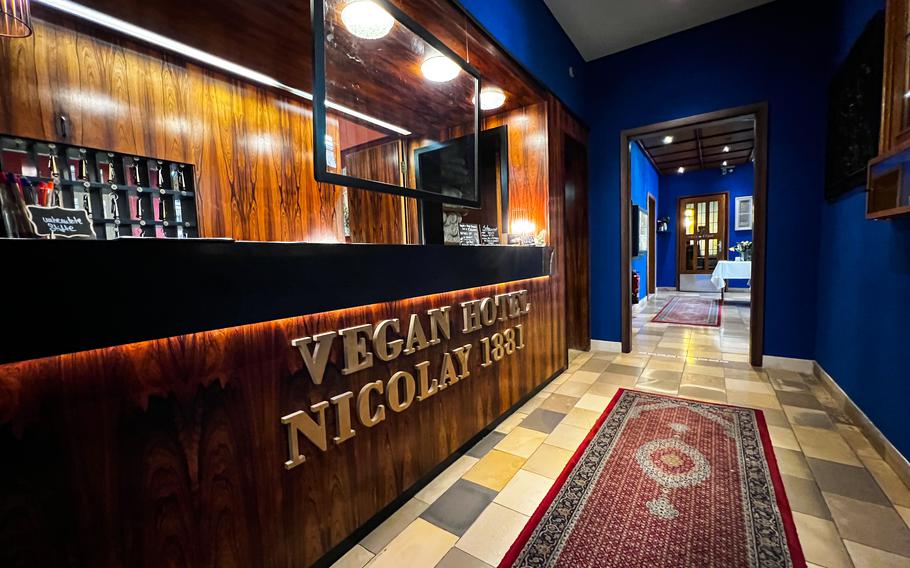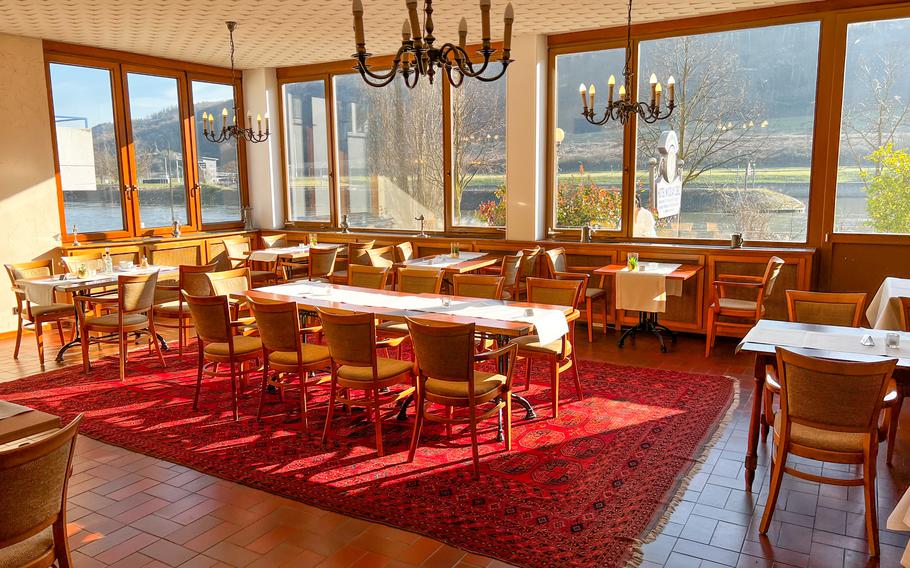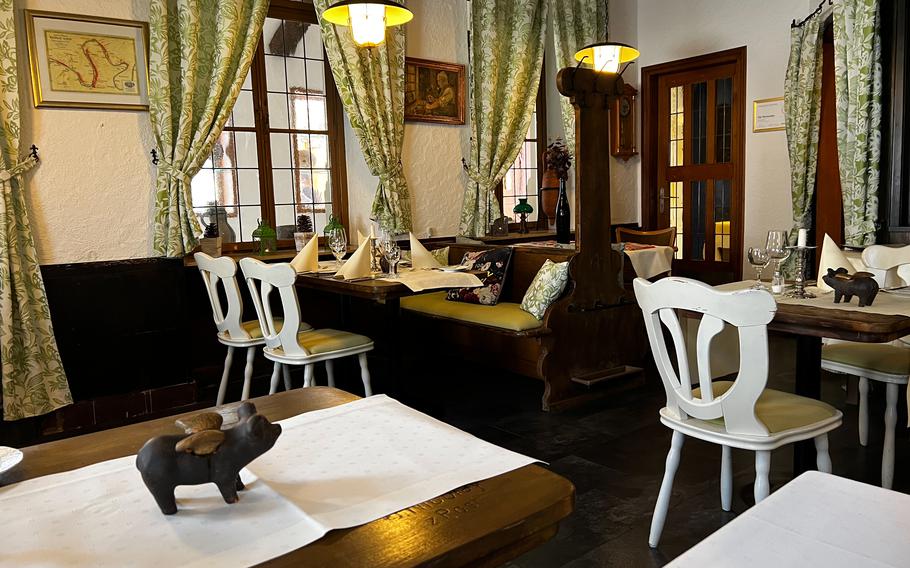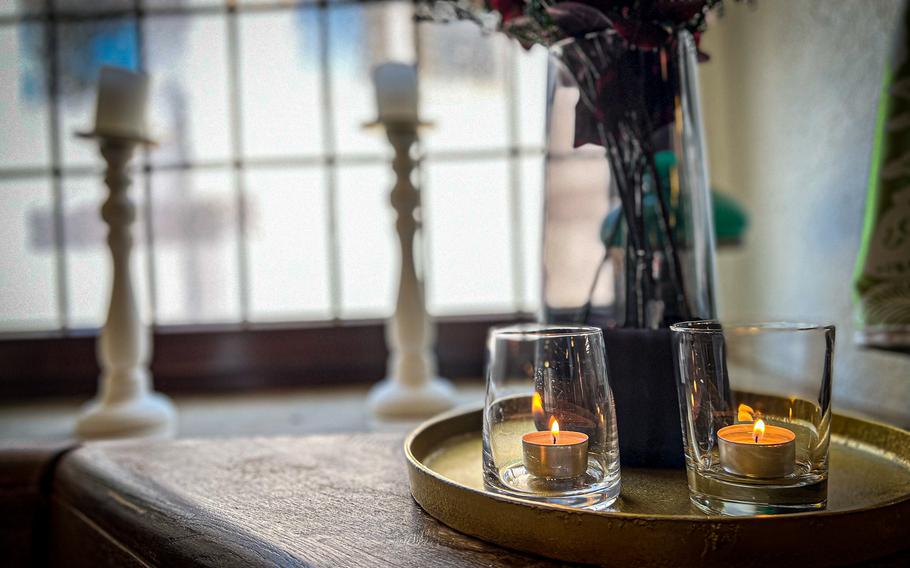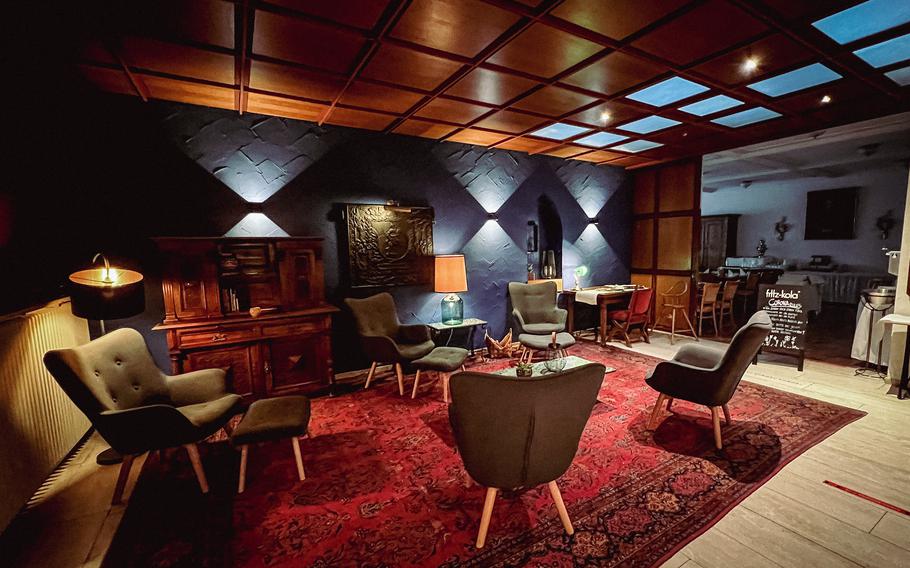 Die Weinstube and Restaurant Sonnenuhr at Hotel Nicolay 1881
Address: Uferallee 7, Zeltingen 54492
Hours: Wednesday and Thursday, 6:15p.m.-9:30 p.m.; Friday through Sunday, noon-2:30 p.m. and 6:15-9:30 p.m. Closed Monday and Tuesday.
Prices: In the wine bar section, entrees menu items range from the 28-euro mushroom plate for two, to 54 euros for the five-course surprise menu. Menu items at Sonnenuhr vary from no-meat burgers at 9.50 euros to the no-meat steak entree at 16.50 euros. The restaurant features a full drink menu and changing wine list.
English menu: Available on request.
Information: Online: hotel-nicolay.de and facebook.com/Weinstubevegan; email: info@hotel-nicolay.de; phone: 06532-93910.
---
---
---
---