At Neapolitan pizzeria Salvo, life and legacy are baked in
By
Stars and Stripes
February 10, 2022
---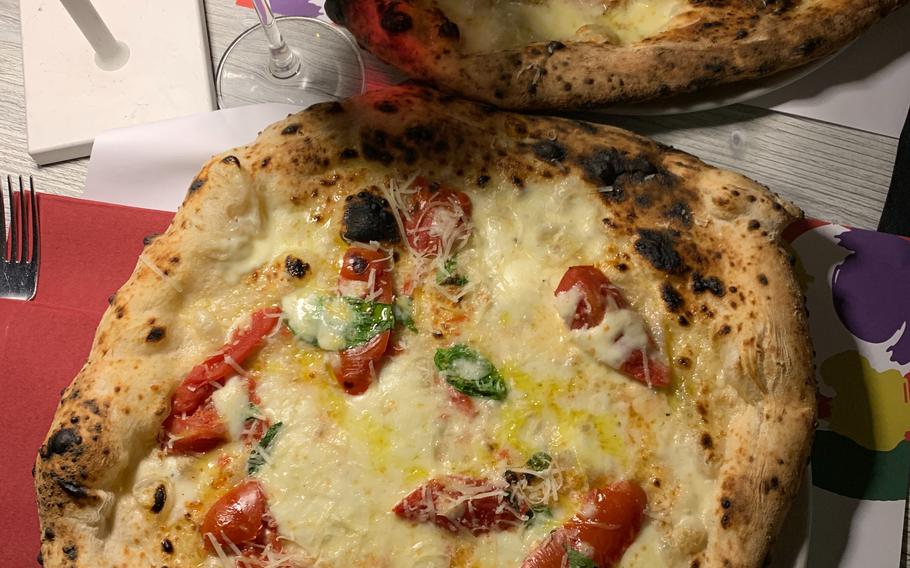 To say that pizza is life in Naples is an understatement.
Whether it's traditional Neapolitan (think margherita or marinara), portafoglio (folded in half for ease of eating it on the go) or trendy, with unusual toppings like figs or blue cheese, you don't have far to go to find a delicious, well-crafted, wood-fire-baked pizza.
The birthplace of pizza is home to some 800 pizzerias. Even the most upscale restaurants, such as Umberto or Palazzo Petrucci, offer their versions.
For brothers Francesco and Salvatore Salvo, pizza is not just life. It's legacy. Their Pizzeria Salvo restaurants, the first in the Naples commune of San Giorgio in Cremano and another along the city's famed Riviera di Chiaia, pay tribute to their father, Giuseppe, who started his own pizzeria in 1968, according to the restaurant.
Facing Villa Comunale, a park built by King Ferdinand IV in the 1780s, the Salvo in Chiaia has an unassuming exterior that belies the wood tables, parquet floors and modern setting.
The pizzeria also has comfortable, tented outdoor dining, which is a good option for those who may find climbing the steep steps into the restaurant a challenge.
The menu, which is available in English, isn't extensive beyond pizza. But that's by design. The focus at Salvo isn't on presenting diners with dozens of menu options.
Rather, the brothers and their team are dedicated to concocting a combination of ingredients that achieves their ideal dough, which becomes the canvas for the pizza.
A smattering of appetizers ranging from a mini calzone stuffed with Genovese meat for about 4 euros to deep-fried potato croquettes for about 2 euros are offered.
Among the appetizer selection, I recommend the frittatine di pasta e patate. Creamy and flavorful, it's a bit like macaroni and cheese with potatoes that's deep-fried until golden and gooey.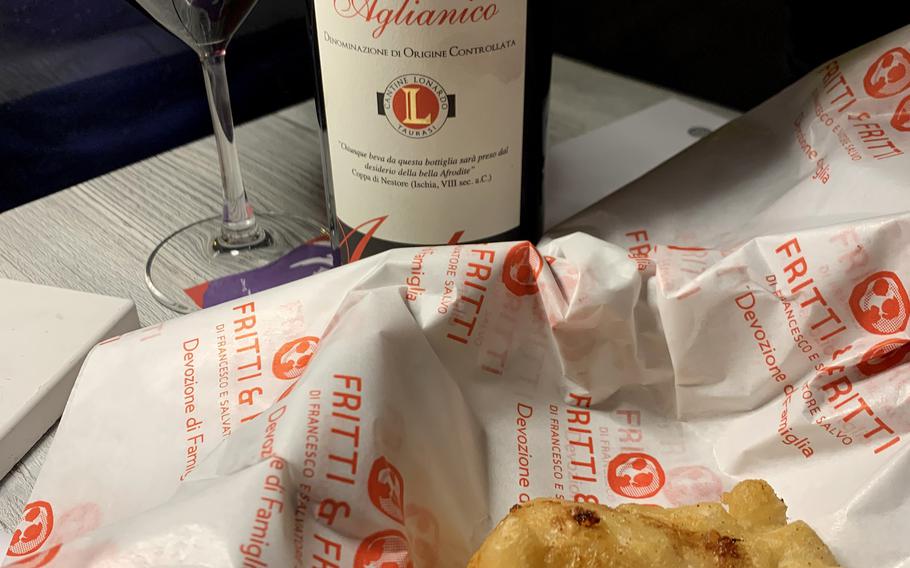 It costs just 2 euros and the generous portion is enough for two. But as tempting as the appetizers are, don't overdo it. An eating strategy is key here so that you can ensure enough room for the piece de resistance.
The pizzas, which run from traditional to more modern takes with tuna, seafood or pork belly, are platter-sized. You'll need a knife and fork, and a good appetite to savor every bite.
On our visit, we tried the Margherita della Signora Maria, featuring preserved San Marzano tomatoes, extra virgin olive oil, basil, fior di latte mozzarella and parmagiano reggiano cheese.
The pizza arrived piping hot with plentiful melted cheese. The chewy crust had just the right amount of char to add flavor and let you know it was fire-baked, but with none of the burned taste that sometimes characterizes other efforts.
The carciofi con pancetta featured artichokes, pancetta (bacon), fior di latte, grated ragusano (a cow's milk cheese from Sicily), extra virgin olive oil and basil.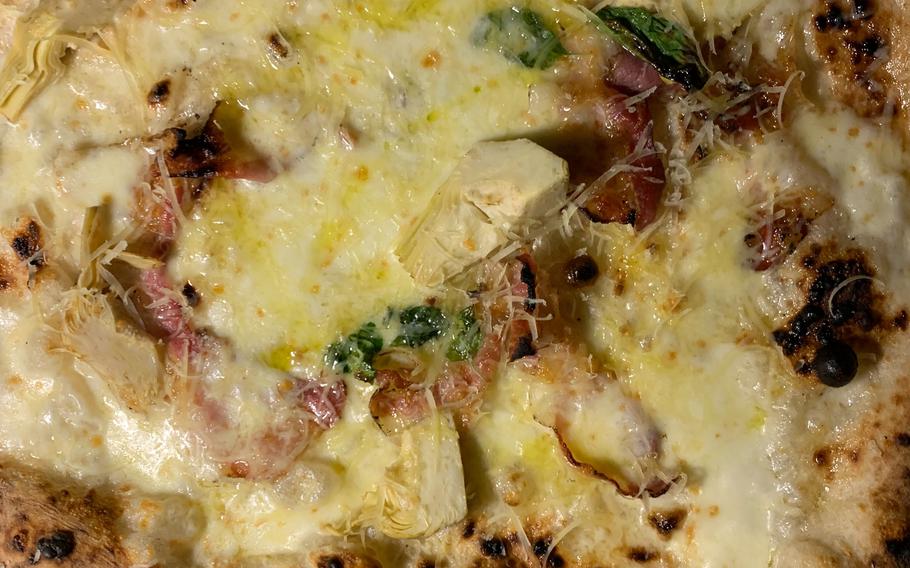 My dining companion said that the pizza was "quite good" but that she would prefer simpler ingredients next time.
The menu also includes calzones, desserts, beer and wine. But bear in mind that the wine list must be requested.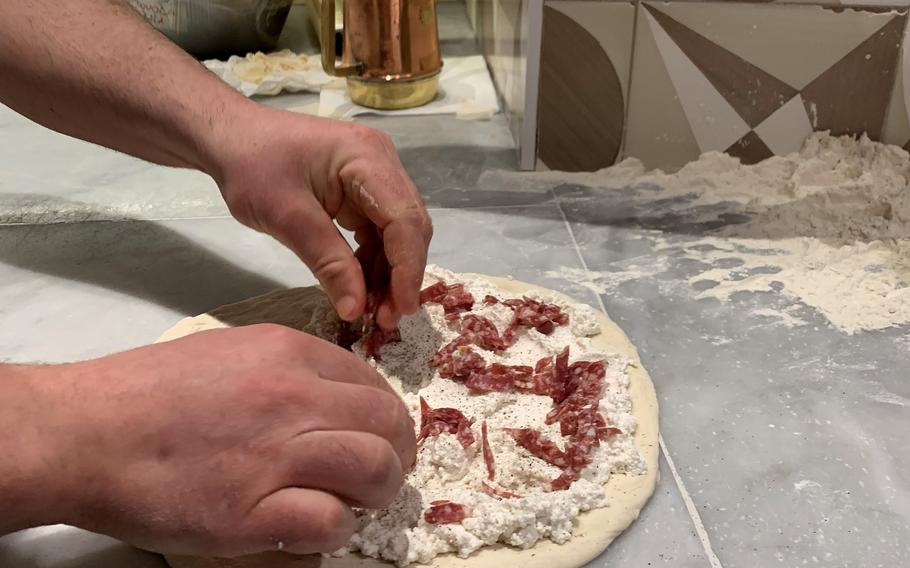 We received friendly and efficient service from our English-speaking waiter. I can't speak to the English abilities of other staff members, though.
The final touch to our meal was a gratis brown paper bag of zeppole put on the table by our waiter. The warm, bite-sized donuts were dusted in granulated sugar scented with citrus, and they were delicious.
In Naples, it's hard for a pizzeria to stand out, but Salvo manages to do just that with imaginative pizzas, excellent service and a relaxing atmosphere.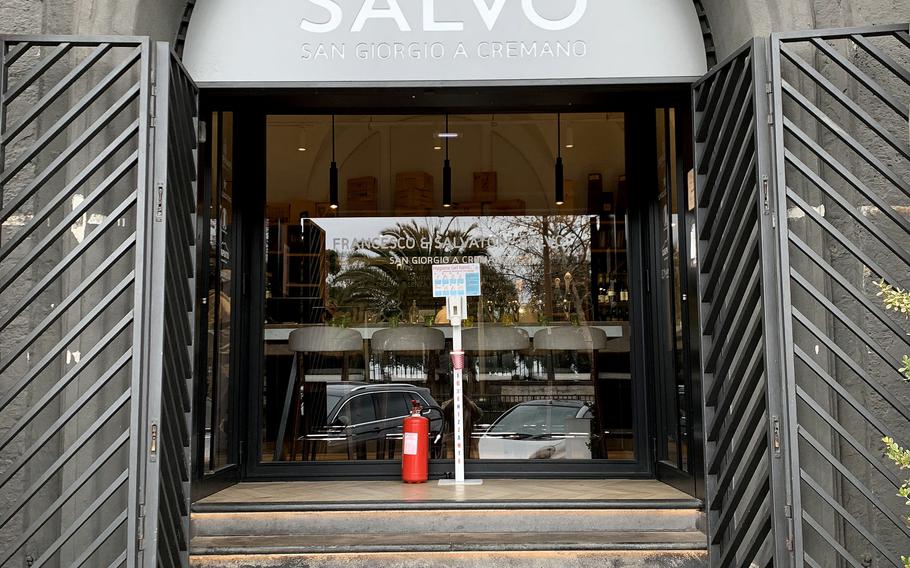 Salvo
Address: Riviera di Chiaia 271, Naples, Italy
Information: +39 081 3599926; info@pizeriasalvo.it
Hours: 12:30-3 p.m. and 7 p.m.-12:30 a.m. daily, reservations strongly recommended on weekends.
Menu: Available in Italian and English online at pizzeriasalvo.it/en/menu
Prices: 2-5 euros for appetizers; 6-13 euros for pizzas; 9 euros for stuffed pizzas (calzones); 4 euros for desserts; 3 to 5 euros for beer; and wine available by the glass or bottle.
---
---
---
---